Earthlove Spoiler #3 Summer 2021
Cultivate a more sustainable, healthy lifestyle with Earthlove, a seasonal lifestyle box for holistic, Earth-centered living. Each box is packed with full-sized eco-friendly goodies and a mini magazine with practical eco tips and earth wisdom. Every box also supports environmental non-profits dedicated to conserving and protecting natural ecosystems.
---
Here's a peek at the 1st spoiler for the Summer Earthlove box….
Choose between the following:
Pick Your Book (average value of $22.67) 
This year we have introduced a new customization feature: the ability for members to pick your own book (or go bookless)! We have three titles to choose from this season:
Our Wild Calling: How Connecting with Animals can Transform our Lives—and Save Ourselves by Richard Louv
Vegan Style: Your Plant-based Guide to Fashion + Beauty + Home + Travel by Sascha Camilli
What Would Buddha Recycle? A Mindful Guide to an Eco-Friendly Life by Adams Media.
The customization window opens for Annual members on May 17th and Seasonal members on May 24th. New members can choose when you signup on the website. If you would rather go bookless, we have an option to donate an additional $5 to our featured cause instead.
---
Here's a peek at the 2nd spoiler for the Summer Earthlove box….
Upcycled Sari Kimono (value $110) by Guru 
These one-of-a-kind kimonos are hand designed by Canadian Guru founder Kathryn Boese. The kimonos are handcrafted from Ragsulla saris that have been collected by bartering with Indian villages and put together in their certified fair trade facility in India. Each one is individual and perfect for stylish summer wear — great for the beach or sunny outing!
---
Here's a peek at the 3rd spoiler for the Summer Earthlove box….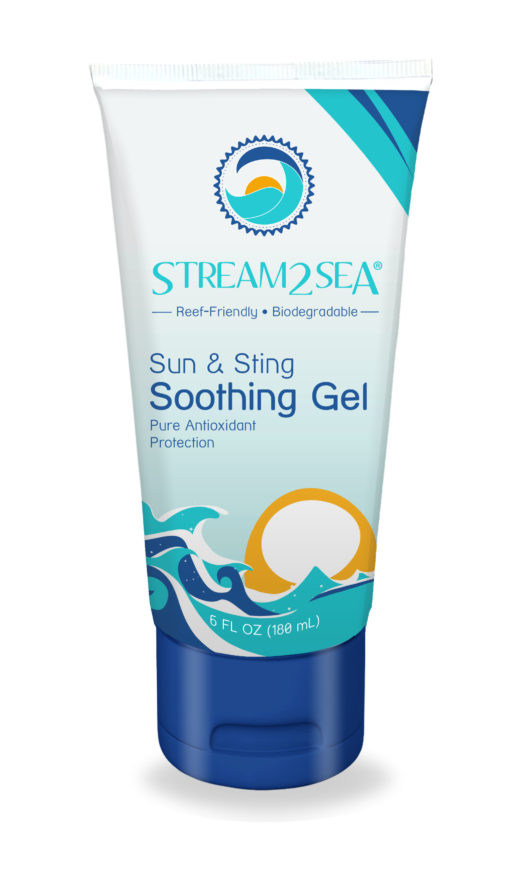 Sun & Sting 6oz Relief Gel by Stream2Sea (value $12.95)
Soothe your skin following sun exposure, insect bites or underwater stings with Stream2Sea's all-natural organic gel made with their potent antioxidant blend of Green Tea, Tulsi, Wakame, and Olive Leaf. Stream2Sea is a leader in sustainable skincare protection products, including zero waste packaging using sugarcane resin.
---
What You Get: Earthlove subscribers will receive 6-8 full size eco-friendly products and one book delivered to your door each season. The box includes items spanning different categories like snacks, tea, wildcrafting, wellness, apothecary, aromatherapy, beauty, outdoor, gardening, home decor, apparel, accessories, and more! Box value is always $100+
-AYOB
Explore.
Save.
Enjoy!
Sign up for a free account on A Year of Boxes to receive exclusive offers, be added to our monthly mailing list, and much more! We are always adding features to improve the experience for our users, from their valuable feedback!
Join Today!