Pipsticks Kids Club Classic Spoiler May 2020
Pipsticks is a monthly sticker club that sends 15 new designs from its collection to thousands of subscribers across the world each month. May's stickers are inspired by storybooks! With party pigs, DIY castles, pretty teacups, and a dragon's pizza party, we've put a little spin on the classic favorites! The Pipsticks Kids Club pack also has scratch n sniff toadstools and a GIANT puffy gem heart.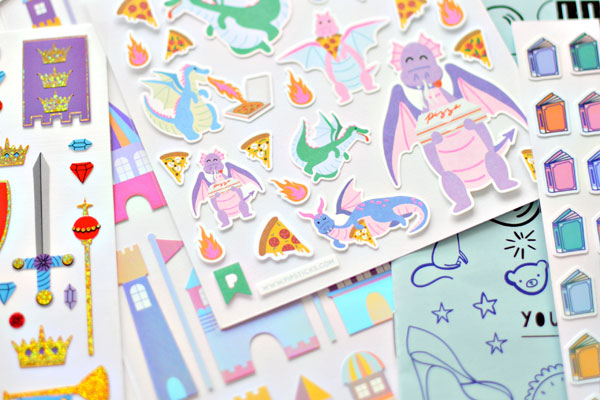 The Pipsticks Kids Club sticker pack comes with a collectible GIANT puffy sticker (it's HUGE) and scratch n' sniff Pipstickers as well as 13 other sticker sheets designed to inspire joy and spark creativity. When you subscribe, you'll get a sparkly pack with reusable storage pouch, Pippy (a zine for sticker lovers), a postcard, + 15 of squeal-worthy stickers.
-Pipsticks