Sweet Peas Baby Spoilers Spring 2021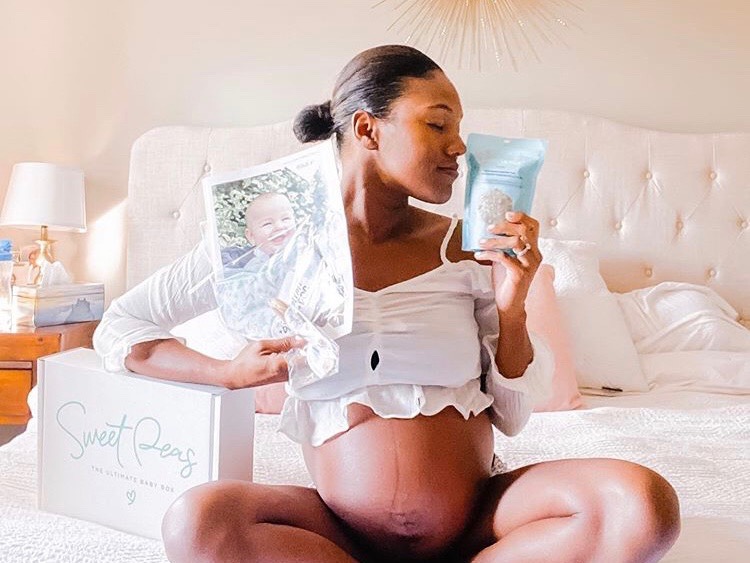 Sweet Peas Baby is a quarterly subscription and gift box service for Mommas and Babes 0-36 months. Featuring 6-10 full size locally Canadian sourced, natural, baby-friendly and handmade products.
---
Here is a look at a few of the items in the the Spring 2021 Sweet Peas Baby box….
Choose between 3 incredible scents filled with soothing essential oils.
CHEER – Refreshing Tub Tea
PASSION – Reviving Tub Tea
DETOX – Cleansing Tub Tea
This box was curated with the theme of Spring Fresh and Wellness. We really wanted to make sure that the products for Momma were creating opportunities for self-care. These luxurious Tub Teas from @solfulorganics are full of goodness and take self-care to the next level.
Suction Bowl – with a lip designed to minimize mealtime mess from purées to toddler snacks
Foldable Snack Cup – lightweight, easy to hold and remove snacks without all the mess
Sippy Lid – stretch over any cup or jar with a super tight fit to keep your babe hydrated but prevents all the spills.
To help with all the snacks you will be preparing during motherhood. Endless snacks!!! 100% BPA and phthalate-free food grade silicone meal and snack time dinnerwear from @threebeesbaby.ca will be your new go to. Perfect for at home or on the move. Three options to choose from for the stage your Sweet Pea is in. Easy to clean but also dishwasher safe! 
With Spring comes new growth and the sense of a fresh start. Now you can enjoy the fresh smells of spring with these @knitsnknotsco boho room or car diffusers featured in our Spring Box.
With a little dab of your fav essential oil you can create that fresh spring vibe. My go to scent is liquid sunshine. What's your?
BABY BALM – providing a natural moisture barrier that soothes irritations. Zinc free and packed with skin soothing properties.
BABY OIL – the perfect way to massage and relax your baby. Infused with organically grown chamomile and lavender.
Everything we LOVE!
@anointment is dedicated to making pure all natural products for the whole family that promote healthy skin. We have been using and loving their products and are so excited to share them with you.
This spring choose between the Baby Balm and the Baby Oil.
With motherhood there are times where we just need a little time out or moment to ourselves.
These essential oil rollers from @andieco.candles will be your new best friend for those self care momma timeouts!
WAKE – wake up and focus with sweet orange, peppermint and grapefruit
CALM – reduce stress with peppermint, grapefruit and rosemary
BREATHE – help with headaches and open up those sinuses with peppermint and eucalyptus
Which one is for you?
It has been so hard keeping these adorable bunnies a secret! We are so excited to share that @little.lo.and.co Luxe Bunny Loveys will be in our Spring Box.
They are handmade with love and so incredibly soft! We can't wait to get them out to all our little Sweet Peas.
Three beautiful colours and patterns to choose from. 
---
What You Get: Each of Sweet Peas Baby boxes is curated with 6-10 full size products that are customized to your babes, gender/gender neutral, age, and development stages.
-AYOB