TheraBox Spoilers October 2019
TheraBox is a monthly subscription box curated by practicing therapists to inspire happier lives. Each box incorporates 1 happiness boosting activity inspired by research in mindfulness, psychology, and neuroscience to rewire the brain for more joy and positivity. Additionally, they select 6-8 wellness products sourced from vendors that produce natural, organic, and feel-good products ranging from aromatherapy, clean beauty/skincare, and unique lifestyle goodies. Themes and items change each month so it's always a delightful surprise!
---
Here's a peek at a few items from the October TheraBox…..
AMINNAH SKINCARE | COSMIC CANDY HIMALAYAN BATH SALTS ($19)
Taking a soak in a long, hot bath is one of life's greatest pleasures and, while bath time might be a daily necessity, there's nothing to stop you turning it into an exercise in self-indulgence! Banish negativity and uplift your mood with the Cosmic Candy Himalayan Bath Salts — a vegan, organic and cruelty free infusion of premium pink Himalayan salt rocks, shea butter, cocoa butter and rose gold fragrance oil. Made with Himalayan salts, a powerful ionic detoxifier that helps extract the toxins out of your skin and tissues, leaving you feeling refreshed and nourished. The natural shea & coco butters moisturize and keep your skin soft & smooth so you can slip into a dreamy & magical state whenever you need it!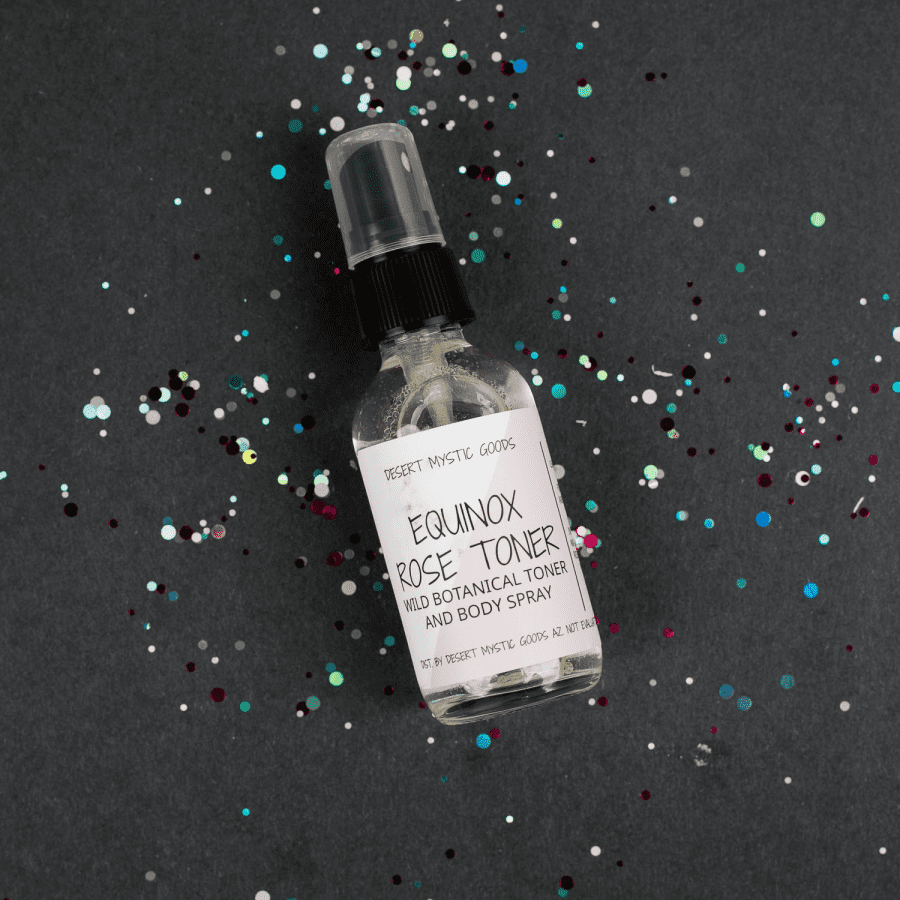 DESERT MYSTIC GOODS EQUINOX ROSE TONER  ($18)
Skin feeling parched from the cold autumn wind? A toner that offers superior hydration as well as intense calming benefits, the Equinox Rose Toner boasts of a cosmic blend — brewed with ethically sourced rose, chaparral & mint and crafted under a new moon for a fresh start & clear intent. Organic rose hydrosol has plenty of minerals, vitamins and antioxidants + it helps restore beauty to the skin, smooths wrinkles and balances the skin's pH. The amethyst and rose quartz are positively charged through a full moon cycle to awaken the third eye, protect + strengthen the bonds of self-love and provide stress relief + calming clarity to our bodies. This toner is perfect as a post-cleansing toner or a standalone cleansing step without ever stripping your natural oils! Vegan & cruelty-free, it can be used on practically everything, including your furry pets!
MEASURABLE DIFFERENCE GALAXY – CHARCOAL INFUSED ILLUMINATING BODY OIL  ($35)
The most important thing to remember is to love the skin you're in and when you feel good about your body, magic happens! The Galaxy Body Oil is a natural, hypoallergenic and GMO-free combination of Frankincense, Orange and its hero ingredient, Charcoal. Charcoal tightens pores, smooths skin while reducing inflammation and draws bacteria, dirt & other microparticles to the surface of skin, helping you achieve a flawless complexion + it leaves skin stronger and healthier and helps clean clogged pores! Frankincense deliver potent moisturizing and soothing effects to prevent dry skin and skin cracks while Orange seals the deal with its citrusy aroma! HOW TO USE: Use daily before moisturizing. Start with a single drop and add more as needed. Massage a thin layer over face, neck, and body and let this beautiful shimmering charcoal infused oil be the highlight of your day!
---
What You Get: Each TheraBox includes 1 research inspired therapeutic activity to wire your brain for more joy plus 6 to 8 self-care wellness goodies to reduce stress & enhance your life! They aim to inspire more love & happiness in every box through mindfully curated products to feed your mind, body & soul.
-AYOB
Explore.
Save.
Enjoy!
Sign up for a free account on A Year of Boxes to receive exclusive offers, be added to our monthly mailing list, and much more! We are always adding features to improve the experience for our users, from their valuable feedback!
Join Today!