Travelista Box Spoiler #4 Fall 2021
The Travelista Box is the travel subscription box you've been looking for! A quarterly premium Canadian subscription box made by travellers, for travellers bringing travel inspiration right to your door.
---
Here is a peek at the first spoiler for the Fall 2021 Travelista box…
Come to France with us this fall! We will whisk you away with what to wear, eat, and use as if you were right in the lavender fields of provence, or on the streets of Paris yourself!
Our France box has a combination of products made from France and products made in Canada.
See you there, Travelista!
Lark and Ives silk French scarf and twilly set. ($60 Value)
(Scarf on model and lavender accessories on bag). We worked with them to design this specifically for us. The scarf has been worn in France for decades and has a classic striped French design. The twilly is used to accessorize bags, hair, luggage or baskets and has an iconic lavender theme to go with lavender fields in France.
---
Here is a peek at the 2nd spoiler for the Fall 2021 Travelista box…
Eiffel Tower Necklace by Judith at Miandu Jewellery 
Handmade from Alberta, Canada.
Of course being a France box we just had to get these beautiful eiffel tower necklace in gold, silver and rose gold.
---
Here is a peek at the 3rd spoiler for the Fall 2021 Travelista box…
Have you always wanted to learn how to make the classic French macaron? Well- so have we!
We are so happy to announce a digital product in our fall France box – A private macaron baking class with Le Dolci in Toronto.
Mark your calendars for September 25th at 1pm est when we go live. Can't make it? Don't worry we will have a recording! 
In your box we will provide the ingredients list for the big day.
Le Dolci baking courses are a $50 value.
Pictured Chef Amanda will be joining us live.
---
Here is a peek at the 4th spoiler for the Fall 2021 Travelista box…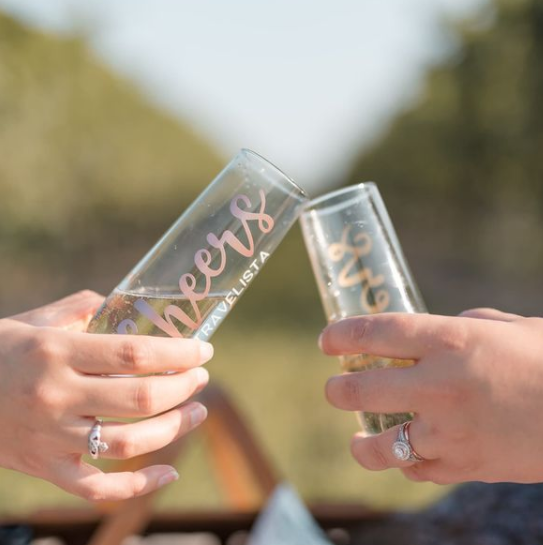 Champagne Flute by Nav Fiorro
Another spoiler for our fall France box. Custom stemless champagne flute. This was the next best thing to actually having champagne in your box.
Retail value is $16.50 and custom made for the travelista box by Canadian Etsy vendor Nav Fiorro.
Cheers travelista!
---
What You Get: Each Travelista Box will include 5-8 travel lifestyle items shipped to your door quarterly. Products include home decor, clothing/accessories, jewellery, stationery/books, drinkware, and food & beverage. Each box has a destination or theme with the inclusion of professionally curated travel tips & destination guide.
-AYOB