US Subscription Box Awards: 2020 Winners
This past month we launched the 2nd Annual US Subscription Box Awards! Voting was open for 2 weeks and we received an amazing response! With your help we were able to determine the Best US Subscription Boxes in 35 different categories.
Join our US Subscription Box Facebook Group – CLICK HERE
And without further ado……here are the 2020 US Subscription Box Award WINNERS….
1: Best Overall Box – CAUSEBOX
CAUSEBOX is a quarterly curation of socially conscious lifestyle products for women. Every box is filled with products that have a story and make a difference!
Coupon Code: Use code YEAROF for $10 OFF your 1st box! – CLICK HERE
Past Reviews: CLICK HERE
2: Best Lifestyle Box – Bombay & Cedar
Bombay & Cedar is a monthly luxury aromatherapy, beauty, wellness and lifestyle subscription box featuring vegan and cruelty free full and deluxe size products ranging from essential oils, diffusers, skincare, books, activities, healthy snacks and other surprises.
Coupon Code: Use code AYOBGET10 for 10% OFF your first box! – CLICK HERE
Past Reviews: CLICK HERE
3: Best Splurge Worthy Box – Curateur
Curateur is a luxury subscription box curated by editor and designer, Rachel Zoe. Each edition features at least 5 of the season's most coveted fashion and beauty finds valued at over $500. To subscribe, style enthusiasts can choose from two subscription options: a Seasonal Membership at $99.99 per quarter, or an Annual Membership at $349.99 per year.
Past Reviews: CLICK HERE
4: Best Seasonal Box – Oceanista
Oceanista is a seasonal subscription box filled with a selection of beach-inspired apparel, jewelry, skincare products, flip flops, beach accessories & other handpicked beach boutique essentials.
Coupon Code: Use code YEAR10 for 10% OFF your first box! – CLICK HERE
Past Reviews: CLICK HERE
5: Best Aromatherapy Box – Simply Earth
Each month, Simply Earth delivers four simply pure essential oils, extras, and easy recipes, curated around a specific theme. Simply Earth helps you "create a healthy and chemical free home for your family". When you shop Simply Earth, 13% of profits go to help fight human trafficking.
Past Reviews: CLICK HERE
6: Best Jewelry Box – Emma & Chloe
Emma & Chloe is a subscription box service sending a unique piece of French designer jewelry each month!
Past Reviews: CLICK HERE
7: Best Women's Fashion Box – LD Accessory Box
The LD Accessory Box is a subscription of style and fun for women. Shipped monthly and packed with a surprise variety of women's apparel and accessories that can include anything from scarves, gloves, belts, hats, tops, bottoms, socks, hosiery, handbags, wallets, sunglasses, makeup and jewelry.
Coupon Code: Use code AYOB15 for $5 OFF your 1st box! – CLICK HERE
Past Reviews: CLICK HERE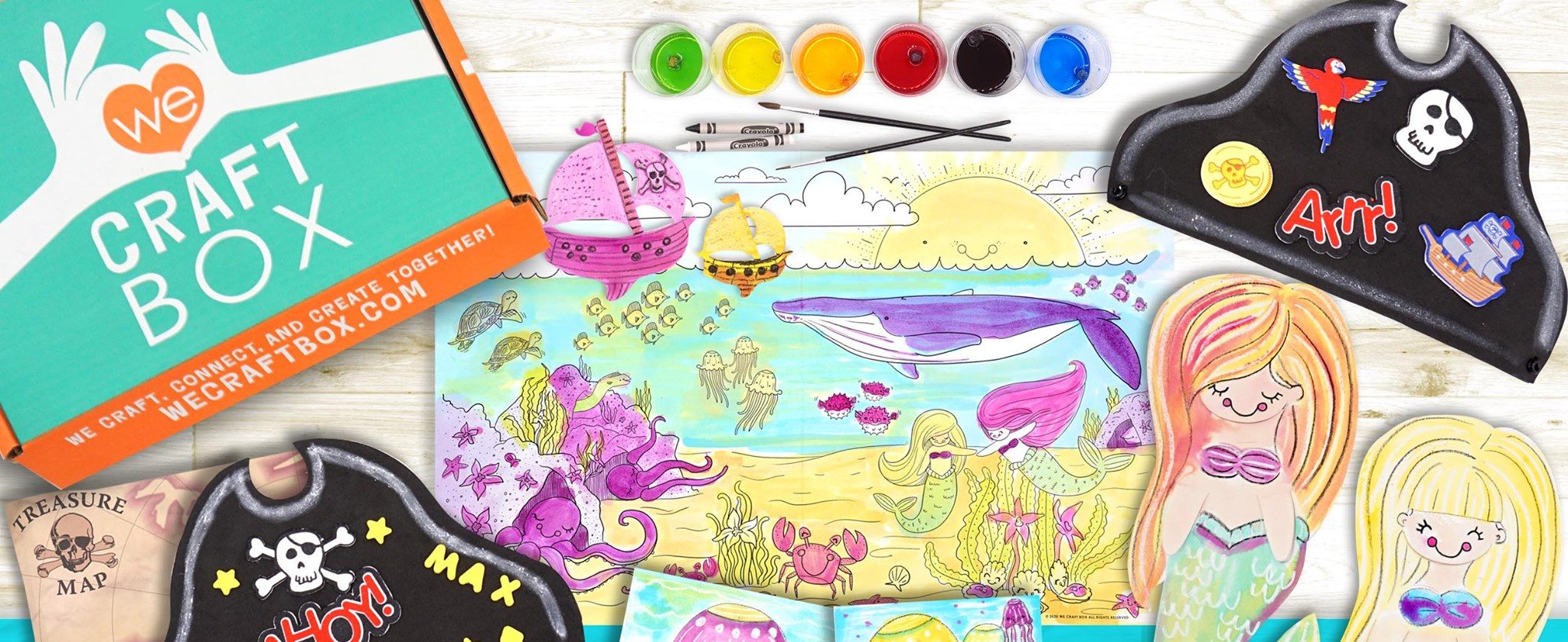 8: Best Kid's Box – We Craft Box
We Craft Box is prepared craft boxes delivered to your doorstep! Be creative, make memories, and enjoy time together, as each monthly subscription box comes with a themed story, coordinating crafts, ready-to-follow photo directions, and all material needed that can be shared between two children.
9: Best Pet Box – WagWell Box
WagWell Box is the Organic and All-Natural Monthly Dog Box. They're focused on helping you give your dog premium quality items that are both healthy & fun because we understand how important your dog is to you! Each monthly box features a new different theme with 2 bags of 100% organic treats, 2 all-natural bully sticks, premium fun toy, and a fashionable dog bandana.
10: Best Sock Subscription Box – Southern Scholar Socks
Southern Scholar Socks combines the comfort of their super soft 'Signature Material Blend' with the craftsmanship of 200 Needle Count Knitting to bring you a better dress sock option. Each pair is designed around a specific business casual and business professional outfit and style tips are included to help you get the most out of your look. Their socks have the perfect combination of stretch, comfort, and breathability and form-fit to your foot and leg allowing them to stay in place throughout your entire work day, guaranteed. '
Coupon Code: Use code AYOB20 to save! – CLICK HERE
Past Reviews: CLICK HERE
11: Best Wellness Box – TheraBox
TheraBox is a monthly subscription box curated by practicing therapists to inspire happier lives. Each box incorporates 1 happiness boosting activity inspired by research in mindfulness, psychology, and neuroscience to rewire the brain for more joy and positivity. Additionally, they select 6-8 wellness products sourced from vendors that produce natural, organic, and feel-good products ranging from aromatherapy, clean beauty/skincare, and unique lifestyle goodies. Themes and items change each month so it's always a delightful surprise!
12: Best Stationery Box – Postmark'd Studio
Postmark'd Studio is a stationery and gift boutique delivering a monthly subscription box. Reach out, stay connected-be extraordinary. Postmark'd Studio makes it easy.
Coupon Code: Use code YOB404ME for 50% OFF your 1st month of a 3-month subscription! – CLICK HERE
Past Reviews: CLICK HERE
13: Best Book Box – Once Upon a Book Club
Once Upon a Book Club is a unique, interactive online community that offers a monthly subscription service where readers will receive a monthly box in the mail containing a newly released book to read for the month, along with 3-5 individually wrapped gifts.
Coupon Code: Use code AYOB for 10% OFF your first order! – CLICK HERE
Past Reviews: CLICK HERE
14: Best Box Under $25 – Vellabox
Vellabox delivers all-natural, artisan-made candles to your door every month. Unbox your escape to relaxation and enjoy high quality candles made by America's finest small-batch makers. Every candle found in Vellabox is made with 100% soy or coconut wax, premium fragrance oils, lead-free cotton wicks, and never contains artificial coloring additives. A team of experts curate the best scents for the time of year, so your home always smells in season. Box options range from 25 to 100 hours of total burn time, depending on your monthly candle burning habits.
Coupon Code: Use code AYEAROFBOXES for $5 OFF your 1st box! – CLICK HERE
Past Reviews: CLICK HERE
15: Best Food Box – Splendid Spoon
Splendid Spoon is a subscription box service offering ready-to-eat, nutrient dense, plant based smoothies, soups and grain bowls. Plans are designed to create healthy routines for breakfast and lunch, so you can reach your health goals. Each meal contains fresh plant-based, gluten-free and GMO-free ingredients – all clean ingredients.
16: Best Snack/Candy Box – SnackSack
Smarter snacking starts right now. Give SnackSack a try, and discover new unique better-for-you snacking that is sure to delight your tastebuds!
17: Best Artisan Box – GlobeIn Artisan
The GlobeIn Artisan Box is a monthly subscription featuring exclusive, handcrafted products from global artisans. Each box is curated around a monthly theme by their editor to bring you exciting products that make you feel well traveled and connected with distant cultures around the world.
18: Best Beauty Box – Kinder Beauty Box
Kinder Beauty Box is a cruelty-free & vegan subscription. Finally. Makeup and skincare that's: Vegan, clean & cruelty-free! Get up to $165 worth of products in each monthly box. Co-founded and curated by actresses Evanna Lynch (Luna Lovegood from the Harry Potter films) and Daniella Monet (Trina Vega from "Victorious").
19: Best Men's Box – Basic MAN
Basic MAN is a monthly subscription service that will deliver 3 essential pieces of your daily life to your doorstep. Every month, they will send you a t-shirt, boxer briefs and socks. It's time to say goodbye to those saggy tee's, stained underwear and socks with holes in them.
20: Best New Box – Women's Collective Box
Women's Collective Box is a subscription box for women who want to build up women-owned businesses and give back. Each box features 5-8 women who run their own businesses and an item from each of them. 5% of our proceeds go back to other women who are trying to start their own businesses!
21: Best Eco-Friendly Box – Earthlove
Cultivate a more sustainable, healthy lifestyle with Earthlove, a seasonal lifestyle box for holistic, Earth-centered living. Each box is packed with full-sized eco-friendly goodies and a mini magazine with practical eco tips and earth wisdom. Every box also supports environmental non-profits dedicated to conserving and protecting natural ecosystems.
22: Best Fitness Box – Miss Musclebox
Miss Musclebox is a monthly subscription box tailored for women. Each month is themed differently and comes with 7+ items including an array of gym apparel, healthy treats, fitness accessories and custom workouts designed by qualified trainers.
23: Best Teen/Tween Box – Pipsticks
Pipsticks is a five star subscription for sticker lovers of all ages! Pipstickers are the hottest new stickers on the market and each month we unveil a new collection of designs to thousands of subscribers  across the world.
24: Best Vegan Box – Vegancuts
Vegancuts makes it simple to discover the best vegan products. Their experts search every corner of the cruelty-free world to uncover new vegan brands and meticulously review and select products that they can stand behind.
25: Best Bath & Body Box – Bath & Spa Gift Box
Bath & Spa Gift Box is perfect for collecting premium bath and body items for your self-care routine. Every month will feature a theme and will include specially hand crafted and curated items to make your box an exciting experience!
Coupon Code: Use code YOB10 for $10 OFF your first box! – CLICK HERE
Past Reviews: CLICK HERE
26: Best Bride Box – Miss To Mrs Box
Miss To Mrs Box is your monthly companion for the wedding planning journey. Every month you will receive a box filled with must have wedding essentials, pamper perfect items, and stunning gifts to help you plan and prepare for the big day! Countless brides are planning their wedding with Miss To Mrs Box, and so should you!
27: Best Home Decor Box – Decocrated
Not all home decor subscription boxes are created equal. Decocrated is for you if you love styling your home, and you want a little inspiration. Every three months, they'll send you a handpicked selection of home décor that evokes the season, keeps your space feeling fresh, and works with the pieces you already own and love.
Coupon Code: Use code AYEAROFBOXES10 for $10 OFF your 1st box! – CLICK HERE
Past Reviews: CLICK HERE
28: Best Mom Box – Moms + Babes Box
Moms + Babes Box is a subscription box for MOMS + their babes founded by Jana Kramer and Sarah Boyd. With 3 boxes to choose from, each season subscribers will receive high-quality, premium products for both moms and their kiddos.
Coupon Code: Use code MOMSANDBABES to receive $10 off your first order! – CLICK HERE
Past Reviews: CLICK HERE
29: Best Beverage Box – Vine Oh!
Vine Oh! is a wine and lifestyle subscription box company for today's woman to relax, recharge and unwind. Each box contains 2 bottles of premium custom wine, 4-6 full-size products that are made up of rejuvenating products, delicious treats and fun unique gifts.
30: Best Box that Gives Back – Crunchy Mama Box
Crunchy Mama Box is much more than a subscription box company; they are a community of Mamas that are on a mission to spread love, support, and encouragement. They support women-owned, small, and eco-friendly businesses that make clean, healthy products and that are motivated by a cause. They are also passionate about giving back, which is why they donate a portion of each box to a different Cause Partner each month.
31: Best Fragrance Box – ScentBox
ScentBox is an affordable and fun way for members to seek out and sample wonderful new designer fragrances each and every month….only $14.95/mo. Every month choose from over 750 designer fragrances and get them delivered right to your door!
32: Best Skincare Box – See New
See New is the skincare box experience including four to six full-size luxury clean skincare products bi-monthly or quarterly. Every box holds an average value of $180! For every purchase we donate a matching subscription to empower women in need.
33: Best Personal Growth Box – Passion & Growth
Passion & Growth is a monthly subscription box just for women. Each month, you'll receive 4-6 items to encourage you to take care of your emotional, physical and mental well being. These items include books, affirmations, self-care items + an exclusive online community.
34: Best Baby Box – Lovevery
Lovevery is a bi-monthly subscription designed by experts for your child's developing brain. Their goal is to help every parent feel confident. Their play products are designed by child development experts and distilled to their simplest, purest purpose: to be exactly what children need at each stage.
35: Best Yoga Box – BuddhiBox
BuddhiBox lovingly curates monthly mindfulness by sending you a box full of goodies that enhance your yoga practice and lifestyle. Each month, delivered straight to your mailbox, you will receive 4-6 accessories, jewelry, bath and beauty products that will make you feel inspirted and uplifted.
-AYOB