Amoda Tea Review: February 2023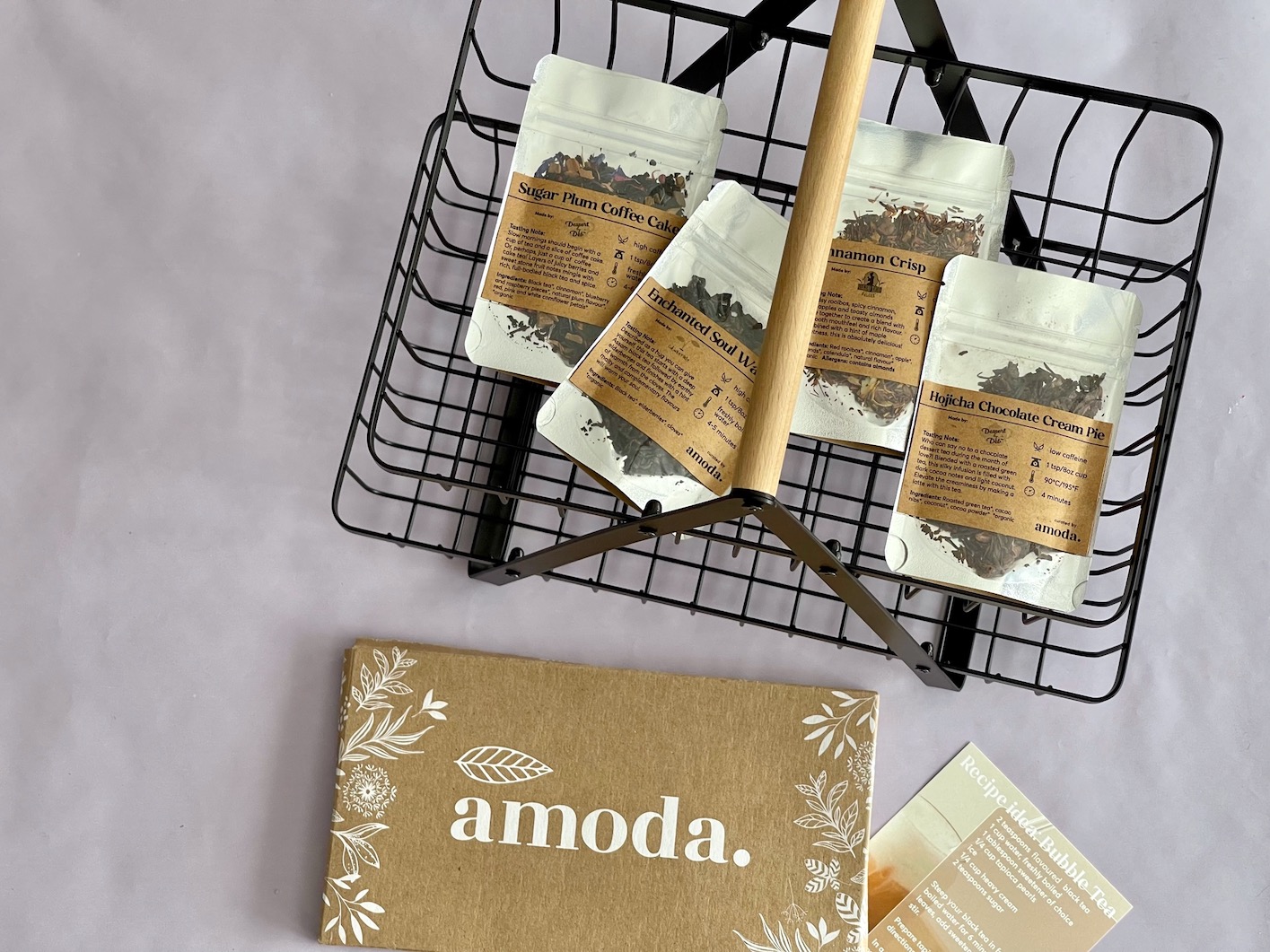 Amoda Tea is a subscription designed to help tea lovers sample a variety of blends from niche brands across North America. I have a cup of tea at my elbow all day long and like to try different flavours so it's always fun to see a new box in the mail. I've got the March box to share with you very soon but first here's a catch-up on February's delivery.*
*They kindly sent us this box for review.
Amoda Tea is available in monthly, 3-, 6- and 12-month subscriptions starting at $22/month including shipping across Canada and the US.
Each box comes with four handmade looseleaf teas, a roll of 10 biodegradable tea filters and a subscriber-only discount for 20% off at Amoda Tea.
February's Amoda Tea also included a bubble tea recipe. I've only ever tried a few kinds of bubble tea and have never made it myself but it would be fun to experiment.
The teas in each box are a surprise mix from a selection of featured teas so mine might be different than other February boxes you've seen.
Sugar Plum Coffee Cake · Dessert by Deb · "Slow mornings should begin with a cup of tea and a slice of coffee cake. Or, perhaps, just a cup of coffee cake tea! Layers of juicy berries and sweet stone fruit notes mingle with rich, full-bodied black tea and spice."
Enchanted Soul Warmer · Cultivate Taste · "Described as a hug you can give yourself, this tea starts with a deep Assam black tea followed by earthy elderberries and finishes with a hint of warmth from the cloves. The malty and complementary flavours will warm your soul."
Sara Lee coffee cake was one of my favourite Sunday morning treats as a kid so coffee cake tea sounds delicious. The blueberry and raspberry pieces throughout this one give it a lovely natural sweetness 😋 and the hint of cinnamon warms it up just a touch.
Enchanted Soul Warmer wasn't for me on account of the cloves (cloves are my kryptonite) but my guy is a fan and happily drained my cup.
Cinnamon Crisp · Naked Teas Galore · "Woodsy rooibos, spicy cinnamon, crisp apples and toasty almonds come together to create a blend with a smooth mouthfeel and rich flavour. Combined with a hint of maple sweetness, this is absolutely delicious!"
Hojicha Chocolate Cream Pie · Dessert by Deb · "Who can say no to a chocolate dessert tea during the month of love?! Blended with a roasted green tea, this silky infusion is filled with dark cocoa notes and light coconut. Elevate the creaminess by making a latte with this tea."
I only like cinnamon in small doses so I didn't expect to enjoy Cinnamon Crisp but it's my favourite this month. While the cinnamon is the most fragrant ingredient it's the apples that really shine flavour-wise and oh my goodness, so delish! 😋Reminds me of all of my favourite apple desserts.
My friend Sophie came by for tea last week and tried the Hojicha Chocolate Cream Pie but didn't finish her cup. She likes green tea and dark choco on their own but found them odd together. What can you do? 🤷‍♀️ Different strokes for different folks.
Amoda Tea is a fun treat for tea lovers, a chance to try all kinds of interesting flavours and support small businesses. There's enough of each variety to find out what you like (and what you don't) and the 20% shop discount is bonus should you want to stock up on your favourites. The packaging is simple but sweet and beautifully done. One of life's little luxuries, delivered.
Try Small Things – https://trysmallthings.com