Amoda Tea Review: January 2023
"The problem with winter sports is that — follow me closely here — they generally take place in winter."
— Dave Barry
Amoda Tea is a subscription designed to help tea lovers sample a variety of blends from niche brands across North America. January's box included a selection of teas created especially for wintertime, which I was especially glad to see in the mailbox given our lacklustre shovelling. (The snowfall here in Ottawa has been ridiculous but our mailman always delivers!)*
*They kindly sent us this box for review.
Each Amoda Tea box comes with four handmade looseleaf teas, a welcome card, a roll of 10 biodegradable tea filters and a subscriber-only discount for 20% off at Amoda Tea.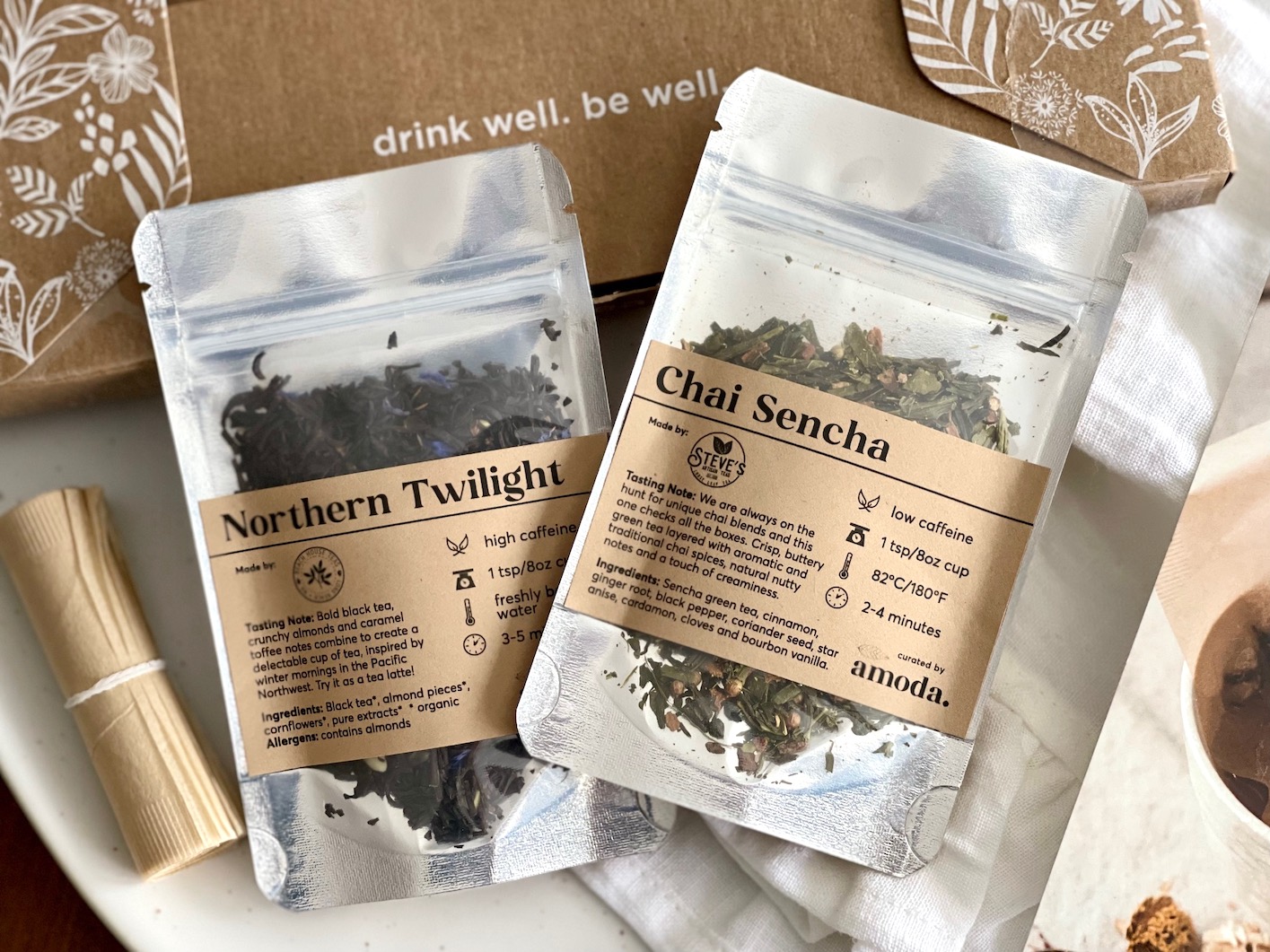 This month I enlisted my guy to try all four varieties with me. I thought he'd be more helpful than was, ha ha — (he described his first one as "mild" and "tea") but here are some thoughts nevertheless.
Northern Twilight · "Bold black tea, crunchy almonds and caramel toffee notes combine to create a delectable cup of tea, inspired by winter mornings in the Pacific Northwest. Try it as a tea latte!"
I love a bold black tea so I'm not surprised this is my favourite. Smells earthy but not in a bad way, and I do get the caramel toffee notes (they remind me of a Spanish liqueur I tried last weekend). Delicious with a splash of milk.
Chai Sencha · "We are always on the hunt for unique chai blends and this one checks all the boxes. Crisp, buttery green tea layered with aromatic and traditional chai spices, natural nutty notes and a touch of creaminess."
Le monsieur loves a good chai but not green tea and this was still his number one. He said it was "interesting, peppery and a bit floral" and "the cardamom gives it a bit of freshness." And apparently it loosened the lips 'cause he had more to say about this one than any other. I didn't try it. (Chai spices aren't my thing.)
Winter Jubilee · "Wintery flavours of cranberries and ginger with a texture that is refreshing and lively. A hint of sweetness from the honeycrisp apples and liquorice root linger."
I didn't expect to like this one on account of the ginger but I found it really mild and I like the hint of sweetness from the apples. (Honeycrisp are my favourite!)
Happy Tummy · "Feeling out of balance? Let this feel-good blend of peppermint, spicy ginger, gentle chamomile and lemon help with digestion after meals. The taste is cool and citrusy with a comforting kick of spice."
The strong peppermint scent didn't agree with my guy but I enjoy it. Tastes similar to other digestive teas only the ginger is muted which is perfect because that's what usually makes it a hard no for me.
If you're a tea lover, Amoda Tea makes a fun treat and a great excuse to invite some friends over to share. A tea-tasting party is my idea of a good time!
Amoda Tea is available in monthly, 3-, 6- and 12-month subscriptions starting at $22/month including shipping. Amoda ships across Canada and the US.
Try Small Things – https://trysmallthings.com