Amoda Tea Review November 2017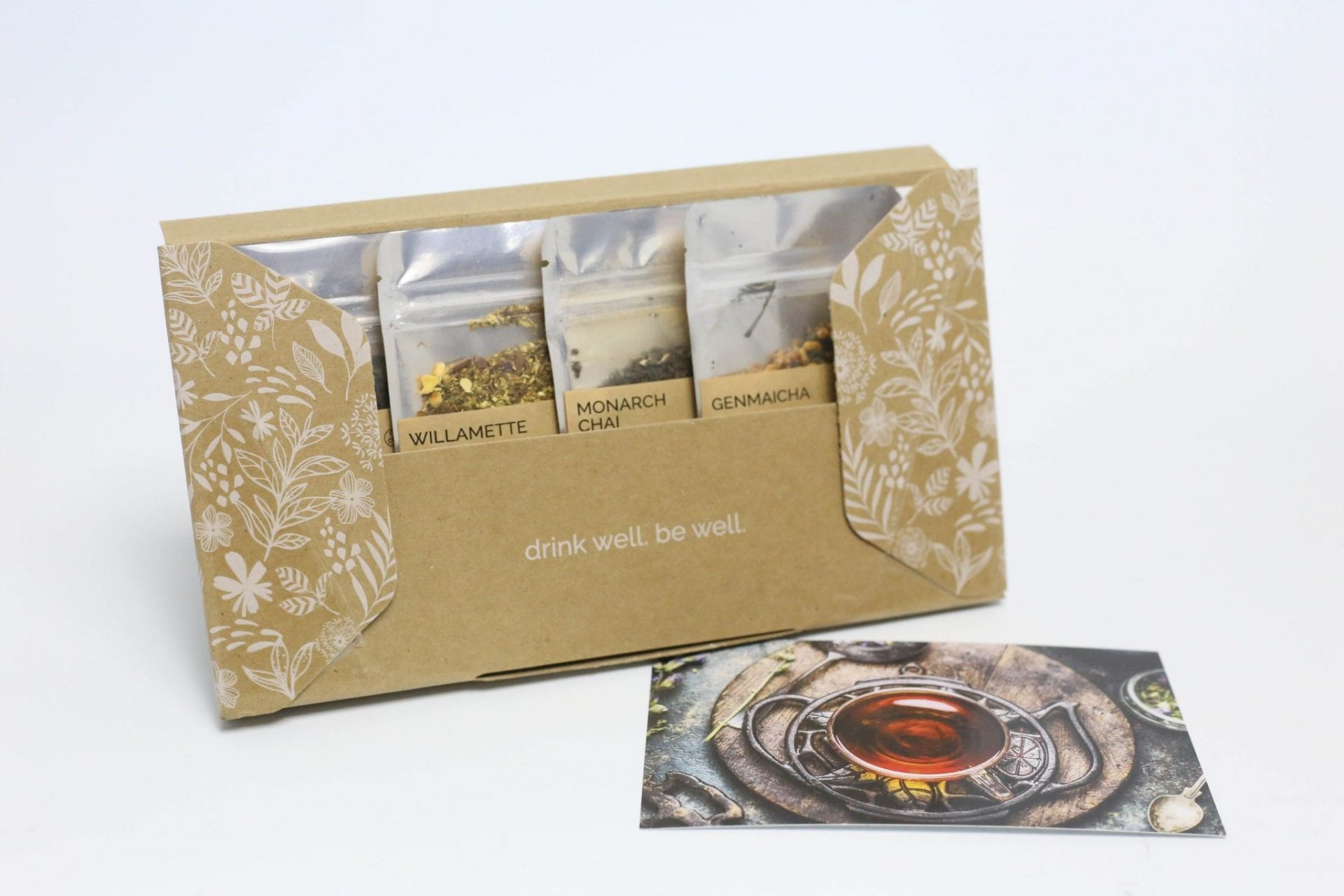 Amoda Tea is the easiest way to discover new teas you'll love. Receive a monthly delivery of 4 tea samples delivered right to your door. Explore the industry's best tasting teas and the talented, small-batch brands that produce them. Every month you'll receive 4 different tea samples, steeping instructions, tasting notes, biodegradable tea filters and exclusive membership perks.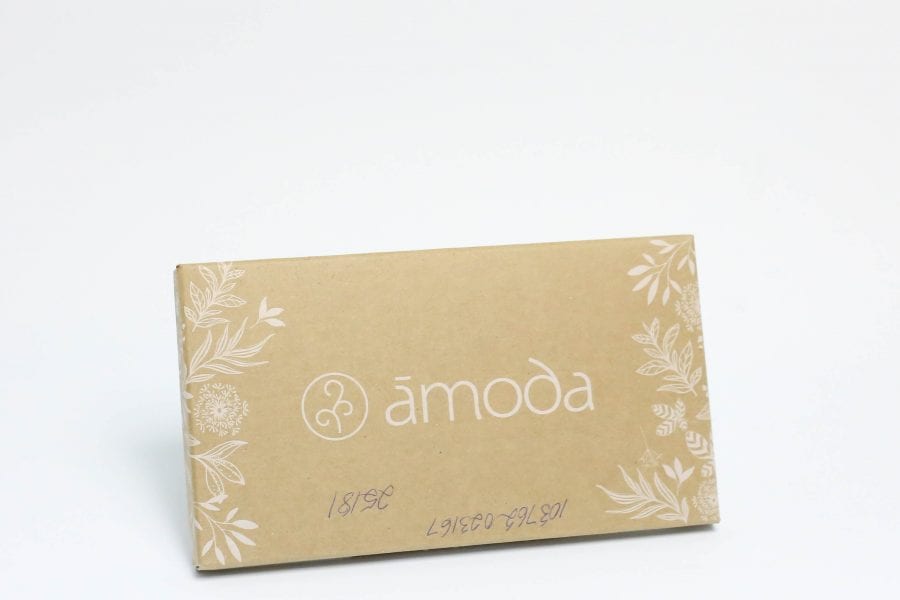 November Box
For a lot of us, November means the onset of Winter.  Even here in the Pacific Northwest it's been surprisingly cold!  To make winter more bearable, we like to think of it as tea drinking season instead.  Monarch Tea Co. is back for their second month and we're featuring one of the darkest black teas we've had in the box. Sip it on those cold mornings with a bit of milk and a swirl of honey.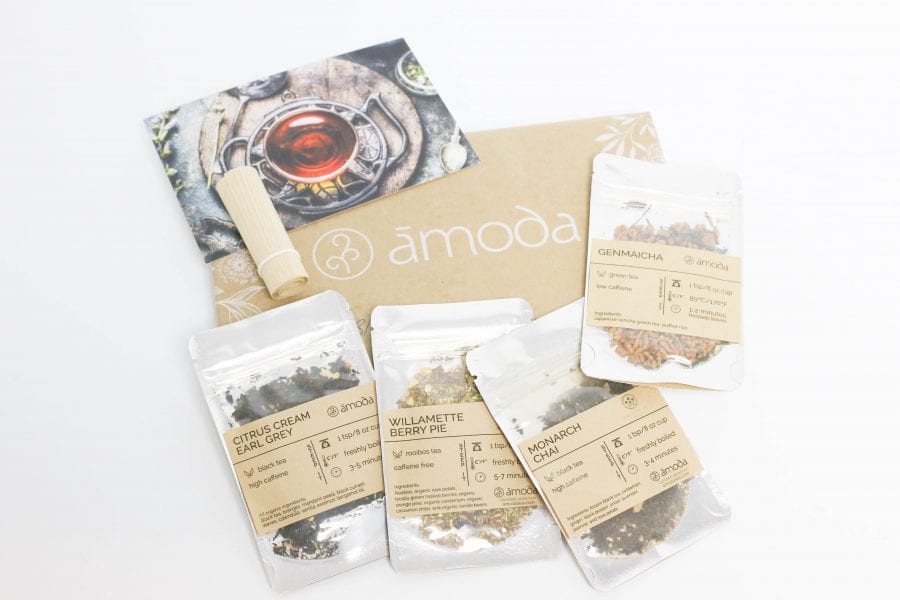 Ok, I have only missed ONE Amoda tea review in a year and I seriously missed it!  The month wasn't quite the same without receiving my Amoda Tea subscription.  My work stash is getting low and my home stash needs a refresher.  It truly is tea season and the kettle is going daily around here.  I can't wait to see what Amoda Tea has for me!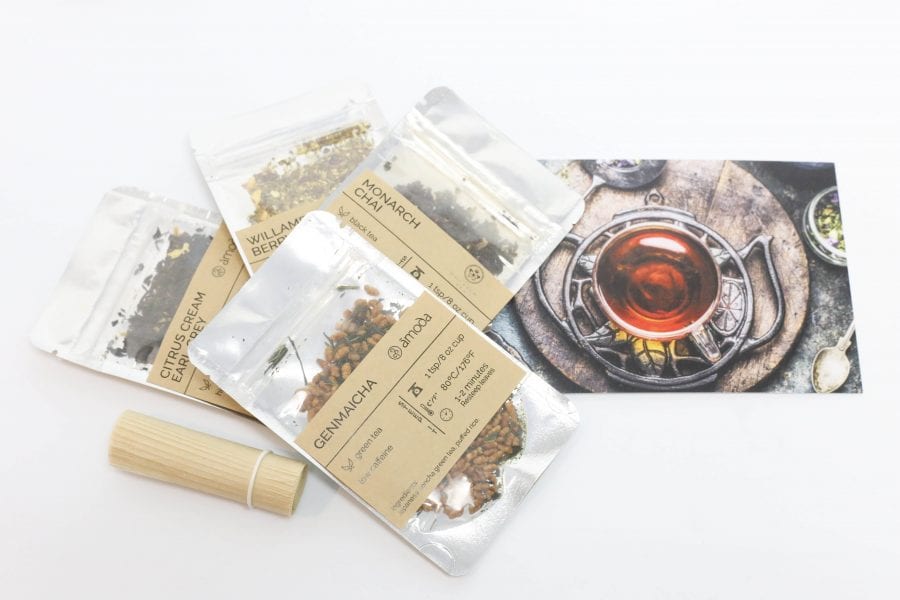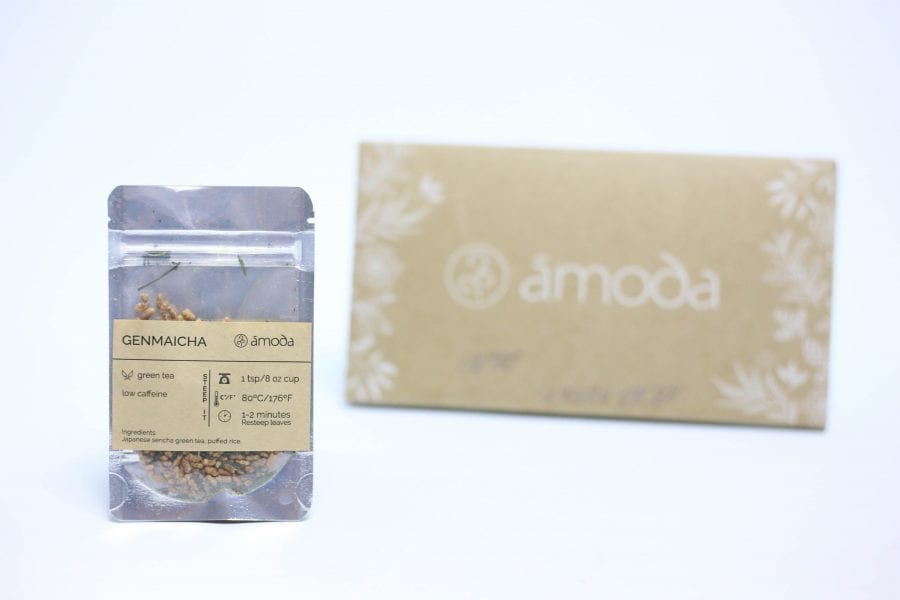 Genmaicha
A classic Japanese green tea.  Our genmaicha is a custom blend from our tea partners in Uji, Japan.  Dark green slender sencha green tea leaves blended with roasted brown rice makes a warming cup with fresh grassy flavour and nutty notes.
Ok, I have truly been won over in the green tea category.  I was never a fan and found it too bitter, but it turns out I've been steeping it too long all these years.  Just a quick dip of the leaves, enough to turn the water green and out it comes.  Now I love it!  I do have to say I'm not a huge fan of rice in teas and have received a few like this from Amoda, but the tea they supply is just so good I'll have to give this a taste test.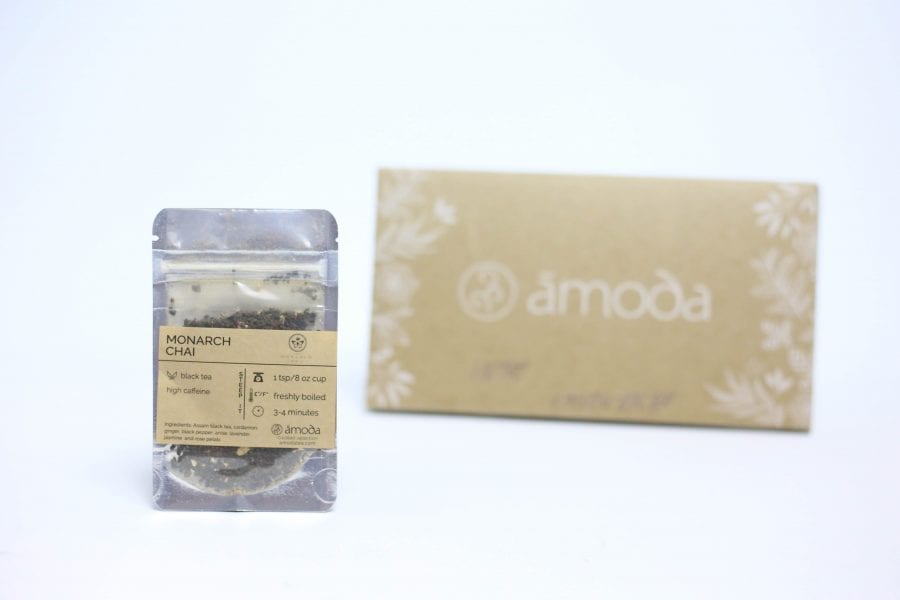 Monarch Chai
A spicy, robust chai balanced with soft floral notes.  This will warm you up on a cold day.  Broken leaf Assam (an Indian black tea) is used, which steeps quickly and gives a full body.  Be sure to time the steep for 3-4 minutes.  Don't oversteep!
See?!  What did I just say!  Notorious over-steeper over here…. Always read the instructions first people.  I have been loving the black teas lately.  I'm not usually a cream and sugar person, but when the weather turns like this you really want a comfort cup, and that boasts milk and sugar.  This one will go nicely as my Saturday morning cuppa!
Willamette Berry Pie
A green rooibos blend with Oregon flare – haskap (honey berries). Haskap and green rooibos are both high in antioxidants.  This tea is sweet at the start and sweet on the finish with welcome tart berry notes in the middle.
I feel like I'm picturing mistletoe when I read that.  There is something about berries and comfort that say Christmas to me.  Maybe its the cranberries at turkey dinner.  I do love a good rooibos, though I've never had a green rooibos, so I'm pretty excited to give this a try.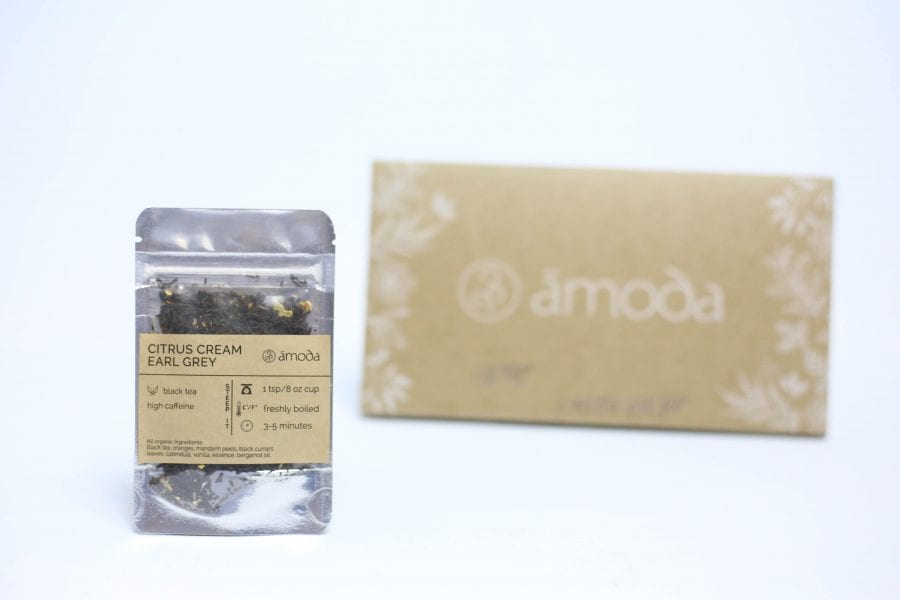 Citrus Cream Earl Grey
Traditionally, Earl grey is a black tea flavoured with the oil from the rind of the bergamot orange.  In this blend we've bumped the orange up a notch by adding two different types and we've mixed in some creamy sweet vanilla!
This sounds unreal!  I'm a big fan of citrus teas and earl grey has been my go to lately.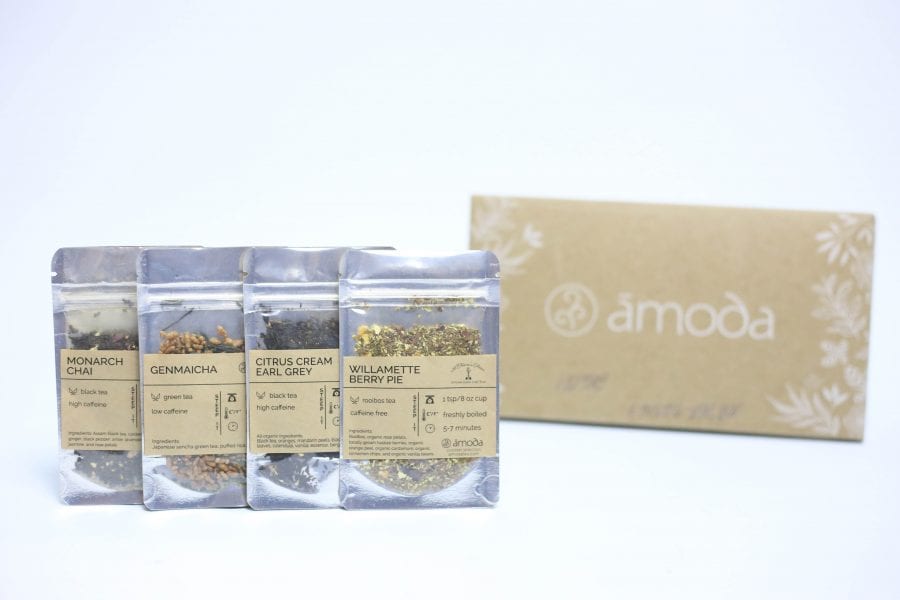 Amoda Tea November 2017 – Final Thoughts
Another win!  I'm so happy to add a few more teas to my collection.  It was seriously getting low.  The Citrus Earl Grey will probably be my favourite out of this batch, but I'm pretty excited to give all four a taste.  One thing I love about Amoda is you are able to purchase more of your favourites right off their site in a variety of quantities.  I also love that Amoda keeps it's teas to the season, making sure you are sipping the right flavours, hot or cold, for the right time of year.  They also provide a nice blend of tea types from black to white to green and red.  I usually find I can get two pots out of the sample packs, which is a really nice amount for this price point!
-Shonah
Explore.
Save.
Enjoy!
Sign up for a free account on A Year of Boxes to receive exclusive offers, be added to our monthly mailing list, and much more! We are always adding features to improve the experience for our users, from their valuable feedback!
Join Today!