Amoda Tea Review November 2022
What's the difference between a tea bag and the Canadian soccer team?
A tea bag stays in the cup for longer.
(Oof! Sorry Canada.)
I've never developed a taste for coffee but tea I'll drink all day long. (And I do. All night too.) So it's weird that it's taken me so long to try to a tea subscription box. But I'm so glad I did, 'cause this one is so good! It's the Amoda Tea Box from Vancouver, founded way back in 2012 to help tea lovers sample a variety of blends from niche brands across North America. Here's a look at November's box.*
*They kindly sent us this box for review.
I think we can all agree the packaging is stinkin' cute. I mean that might be the sweetest envelope I've ever seen. Inside you'll find four handmade looseleaf teas, a product card, a beautiful blank postcard and a roll of 10 biodegradable tea filters (not shown here).
Each bag of tea comes includes tasting notes and steeping instructions. My teas all have caffeine but caffeine-free subscriptions are also available. Each box makes about 16 to 18 cups of tea. (All with no sugar added and no artificial flavourings.)
This month's teas are by three different makers — Plum Deluxe, Dessert by Deb and Amoda. Subscribers get 20% of all teas at Amoda.
So what teas did Amoda Tea send this month?
Fireside Chat (Plum Deluxe) · "This blend features Lapsang Souchong, a smoked black tea from China. The hints of chocolate and walnut complement the powerful pine flavour. This bold infusion will make you feel like you're cozying up by the fire on a brisk day."
Hojicha Powder (Amoda) · "Traditional Japanese tea made from roasted green tea leaves milled to the consistency of matcha. Smooth with delicious nutty and roasted flavours. You can enjoy it as a hot tea but it's great for lattes, baking and smoothies too!"
Fireside Chat is the coziest tea, just perfect for a chilly Fall day. I don't pick up on the pine or chocolate — instead it reminds me of speculoos cookies, which I love love love. And I have a friend who enjoys green tea so I'll give the Hojicha Powder to her. (Green tea is my kyptonite.)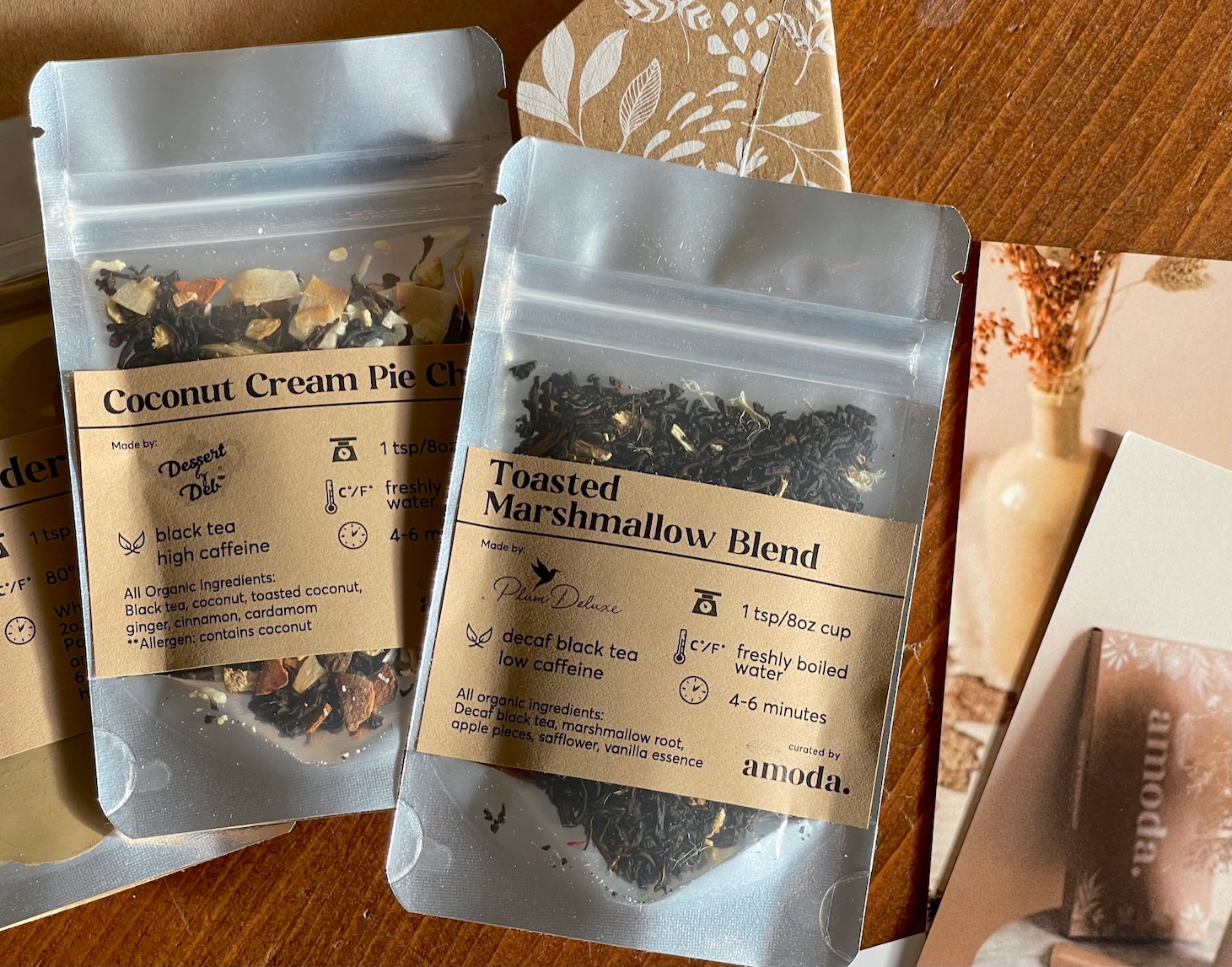 Coconut Cream Pie Chai (Dessert by Deb) · "A fall tea wouldn't be complete without a chai. This dessert-inspired chai is warm and lightly creamy with strong notes of cardamom and toasted coconut in every sip. Make a stove-top chai or latte with this blend!"
Toasted Marshmallow Blend (Plum Deluxe) · "Rich notes of gooey marshmallows roasting over the first, naturally sweet and vanilla undertones. This limited edition blend is made with a decaffeinated black tea, so it's a perfect after dinner treat."
We're close to Christmas and my hubby's a big fan of chai so I saved the Coconut Cream Pie blend to put in his stocking. But the Toasted Marshmallow Blend I couldn't wait to try. It tastes (and smells!) as delicious as it sounds. I've been drinking it in the afternoon when I'm craving something sweet and it's been such a treat.
I'm really happy with my first Amoda Tea box. The presentation is lovely, the teas delicious and fresh, and I love the thoughtful extras in the biodegradable tea bags, pretty postcard and 20% discount. Amoda also offers customized boxes so that's a great bonus too. I think it would make such a nice gift!
Amoda Monthly Tea Box is available in monthly, 3-, 6- and 12-month subscriptions starting at $22/month including shipping. Amoda ships across Canada and the US.
Are you a tea drinker? What kind of teas would you like to see in your Amoda subscription?
Try Small Things – https://trysmallthings.com