Beachly Review Fall 2021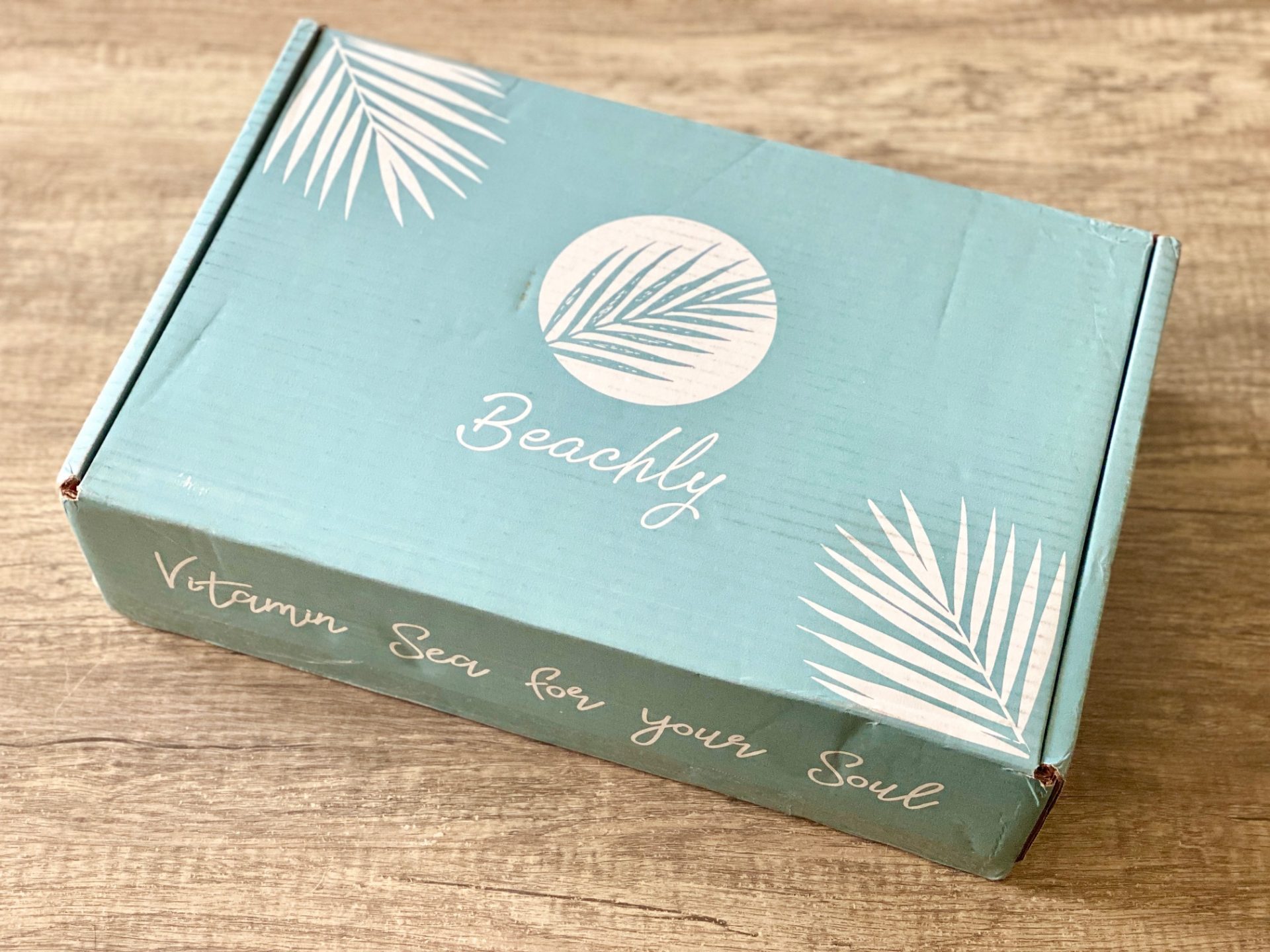 Beachly is a quarterly curation of beach-inspired products valued at $250 or more. They curate Beachly boxes for men and women, and they sell out fast! Reserve now to bring those #beacheveryday vibes straight to your door. Tailored to the season and your location, the Beachly tribe is rocking the best in beach style year-round. Each box contains a mix of accessories, beauty/skincare products, apparel, lifestyle products and more!
**They kindly sent us this box for review.**
I was so excited to review the Beachly Fall 2021 box even if that means our hot summer weather is dwindling and the sun is setting sooner each day. With it getting cooler, I am excited to see what beachy items I will receive to bring some warmth into my life. If you want to add some beach vibes to your life, then I would highly recommend a Beachly subscription. It's a seasonal subscription full of beach-inspired goodies. And while they embrace the season at hand, the box itself will always have a beachy vibe. Sign me up!
Subscription Details
Beachly has subscription options for both men and women. Here are the details for the women's subscription:
Join the Tribe – Become a member for only $99 + shipping per season. 4x per year, Beachly will send you a box of premium, beach-inspired products valued at $250+ or more.
Curated Coastal Style – Each box contains 6-8 premium pieces of apparel, accessories & lifestyle products from the coastal brands you love and the hottest newcomers you haven't found yet!
Delivered to Your Door – Every 3 months, a new box arrives at your door with savings of up to 50% off retail price – the good vibes are free.
Let's take a look inside…
Subscribers did not receive a product card this season, but that's okay as all the Beachly fall Box details are listed on their blog and social channels! I am all about saving the trees!
"Aloha, Beachly Tribe!
As the sun sets on Summer, the team here at Beachly knew we had to make our Fall box extra special. As beach lovers and sunshine seekers, it was important for us to bring our favorite places and the warmth of the Summer season with us into Fall. With this in mind, we created a box that captures the nostalgic feeling of our favorite beachy memories. This box was carefully curated to bring the warmth of Summer days with you right into cooler Fall days. With subtle coastal touches, this is the perfect bundle of goodies to help you ease into the new season effortlessly."
Aloha means Hawaii, and who doesn't love Hawaii?! Fall is one of my favourite seasons! I love the colours and shades that fall brings and I especially love comfy items!
Let's take a closer look at the items we received in the Fall 2021 Beachly box…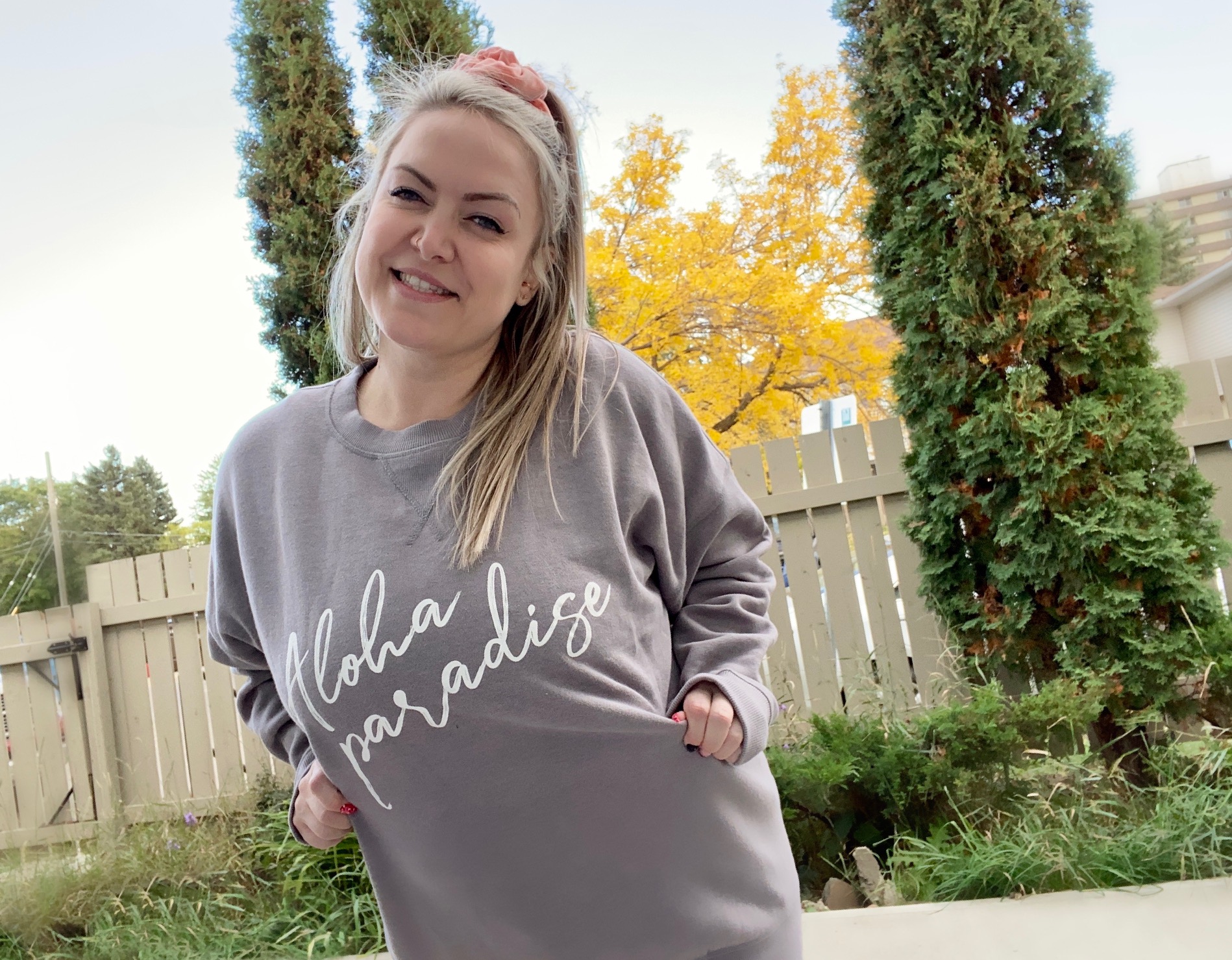 Aloha Reversible Pullover – Jaxsea
"The Aloha Reversible Pullover combines the signature Aloha Paradise graphic from the JAXSEA line and island-inspired floral of the Hawaiian islands. Either way you wear it, this soft crew brings just the right amount of beachy bliss to carry you through chilly weather and cooler days in Fall."
This Aloha Reversible Pullover is an exclusive design made by Jaxsea in collaboration with Beachly. It is very soft, the fun phrase, "Aloha Paradise" and the fact that it is reversible, make me adore it even more. This pullover has an oversized style that would fit many shapes and sizes. I will most likely rock it with jeans and I also love that it is a neutral grey colour that will easily pair with many items.
Sunshine Dew Antioxidant Cleansing Oil – Earth Harbor
"Sweet tropical sunshine with silky dew drops sail smoothly across your face removing impurities, pollution, and makeup. Antioxidant-rich oils infused with Sea Kelp + Papaya Enzymes will arouse your senses while profoundly cleansing and softening your complexion. Sunshine Dew rinses completely clean with water; no tugging, scrubbing, nor greasy feeling. Just an effortless oil massage & rinse leaving skin fresh, soft, hydrated, and bright."
I was hesitant at first to try an 'oil' cleanser, but to my surprise it does such a fantastic job at removing my makeup and leaving my face clean, soft and glowing.
Salty Shell Necklace – Salty Cali
This season, all subscribers will receive a gorgeous shell pendant necklace from Salty Cali. Beachly always seems to include a cute jewelry item in their boxes. Annual subscribers could select between 18K gold and sterling silver for their necklace. The pendant is just the right size hanging from a lightweight chain that has an extender piece for a custom fit. The chain is 15 inches long with a 2 inch component.
The Paradise Palm Backpack – Lu & Elle
"It's the perfect accessory for all of life's adventures. Whether you're heading to the beach or a hiking trail, this printed beauty fits all of your necessities. Made with a heavy weight printed cotton in a trendy palm print with faux leather trim, this backpack is stylish enough for everyday use. The interior pocket keeps your phone handy and the drawcord closure with a magnetic snap guarantees to keep all of your items snug and secure."
I have been in search of a cute backpack and this is it! I absolutely adore the design, the colours and the material. It has adjustable straps and the cognac brown leather details are everything! I appreciate that it has a snap closure and drawstrings to tighten it up. I am obsessed! It also pairs perfectly with the next item…
The Paradise Palm Elastic Wallet – Lu & Elle
"This wallet gives you an effortless way to keep all of your cards and cash in one spot! Made with faux leather and printed cotton, this wallet is the ideal travel companion. The matching duo of the Paradise Palm Backpack and Elastic Wallet will have you feeling that dreamy, wanderlust craving for adventure in no time."
This wallet is perfect! I have been looking for something small and compact like this that I can take on adventures when I still need a few things, but don't want to take my whole purse. I love that it matches the backpack…the perfect duo to take on adventuring!
Billie's Seaside Catchall
This handmade tin catchall is stunning! I am in love with the colour, the pineapple and the details in the tin itself. I will place it at my front door to catch the keys and other odds and ends that show up there.
Beachly Review Fall 2021 – Final Thoughts
Yes! This is an incredible box to receive from Beachly and as always, but especially now, I am so impressed. They have curated a fantastic box to hype us up for the Fall season, even if it means the days are shorter and cooler. Every item in this box is so useful and I love them all. The Aloha Paradise Reversible Pullover is so cool and The Lu & Elle Paradise Palm Backpack and Wallet are so amazing! What a fantastic selection of goodies! Be sure to subscribe to get your own dose of sunshine and #Beacheveryday vibes!
Hayley Savanna – https://www.instagram.com/hayleysavanna/