Beachly Review Spring 2021
Beachly is a quarterly curation of beach-inspired products valued at $250 or more. They curate Beachly boxes for men and women, and they sell out fast! Reserve now to bring those #beacheveryday vibes straight to your door. Tailored to the season and your location, the Beachly tribe is rocking the best in beach style year-round. Each box contains a mix of accessories, beauty/skincare products, apparel, lifestyle products and more!
**They kindly sent us this box for review.**
I was so excited to review Beachly's Spring 2021 box as that means Spring is officially on its way! I absolutely adore Spring as it means our horrible road conditions, thirsty skin and snow are gone for a while! In Alberta, though some of our weather can suck, it also gets incredibly hot and we are blessed to live by so many lakes! If you want to add some beach vibes to your Spring or Summer months, then I would highly recommend a Beachly subscription. It's a seasonal subscription full of beach-inspired goodies. And while they embrace the season at hand, the box itself will always have a beachy/summery vibe. Sign me up!
Subscription Details
Beachly has subscription options for both men and women. Here are the details for the women's subscription:
Join the Tribe – Become a member for only $99 + shipping per season. 4x per year, Beachly will send you a box of premium, beach-inspired products valued at $250+ or more.
Curated Coastal Style – Each box contains 6-8 premium pieces of apparel, accessories & lifestyle products from the coastal brands you love and the hottest newcomers you haven't found yet!
Delivered to Your Door – Every 3 months, a new box arrives at your door with savings of up to 50% off retail price – the good vibes are free.
Heal the Bay – Proceeds from every box sold fund beach clean ups hosted by our partner, Heal The Bay.
Let's take a look inside…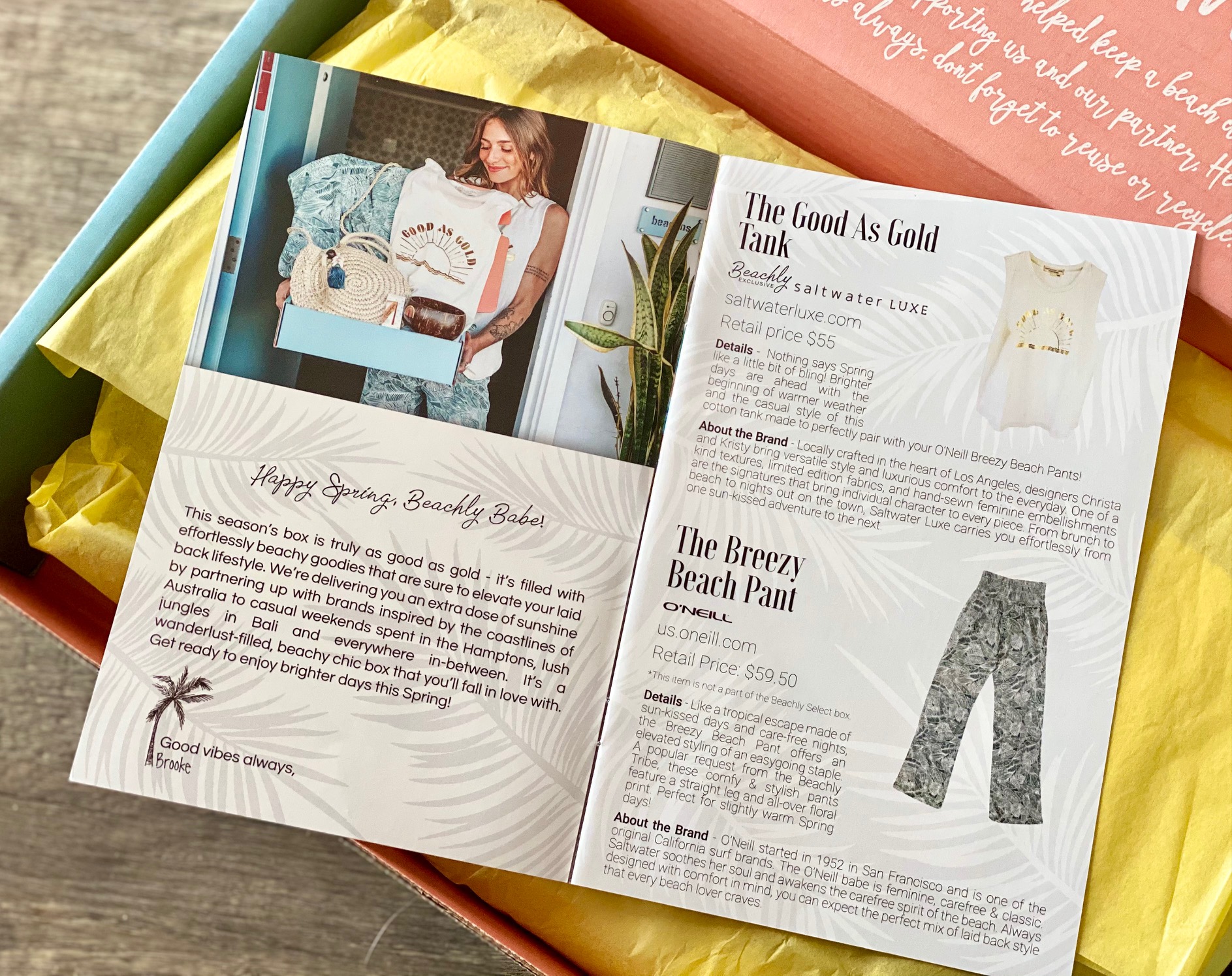 "Happy Spring, Beachly Babe!
This season's box is truly good as gold – it's filled with effortlessly beachy goodies that are sure to elevate your laid back lifestyle. We're delivering you an extra dose of sunshine by partnering with brands inspired by the coastlines of Australia to casual weekends spent in the Hamptons, lush jungles in Bali and everywhere in-between. It's a wanderlust-filled, beachy chic box that you'll fall in love with. Get ready to enjoy brighter days this Spring!"
Gold is my favourite 'metal' and Spring is my favourite season! Though we are still very much in the middle of a pandemic, who's to say I can't travel to a local beach and enjoy my Beachly goodies?!
Here's a closer look at the items we received in the Spring 2021 Beachly box…
The Good As Gold Tank – Saltwater Luxe
"Nothing says Spring like a little bit of bling! And this Good as Gold Tank has all the beachy chic bling a girl could ever dream of. Coming out of Winter, the team here at Beachly was beyond ready for brighter, warmer days. We wanted to partner up with a local Southern California brand to design a Beachly exclusive tank and decided to collab with our friends over at Saltwater Luxe."
This Good As Gold Tank is an exclusive design made by Saltwater Luxe for Beachly. It is very soft, the fun phrase, "Good as gold" and the gold metallic designs are everything to me. This tank has an oversized style that would fit many shapes and sizes. I will most likely rock it with the bottom tied up in a knot. I also love that it is a creamy colour and it will pair with many items including the next item..
The Breezy Beach Pants – O'Neill
"Like a tropical escape made of sun-kissed days and carefree nights, the Breezy Beach Pant offers an elevated styling of an easygoing staple. A popular request from the Beachly Tribe, these comfy and stylish pants feature a straight leg and all-over floral print. Perfect for slightly warm Spring days!"
These pants are made of a light, airy fabric and are a beautiful sage green. I am slightly obsessed with them and I cannot wait to rock them with my Good as Gold Tank, a jean jacket and other Beachy accessories. I have to get them hemmed, because I am short – but I cannot wait to rock them! The wide waistband is flattering and these pants have some room in them should you indulge in a big meal whilst wearing them.
The Boho Beach Crossbody Bag – Solid & Striped
"Effortlessly chic with a surprise pop of color, this beach-to-street essential is like a Spring dream. It's an upgraded take on this season's latest round bag, featuring wipeable, sand-repellent lining and dual carry options, with handles and a long crossbody or shoulder strap. We teamed up with one of our favorite contemporary swim brands to create this beachy beauty! Highlighting a 2021 swim print from the Solid & Striped line and lightweight woven straw design."
This beautiful, Boho Beach Crossbody Bag is another Beachly exclusive designed in collaboration with their friends at Solid & Striped. I am so happy to have received this bag as I have been wanting one just like it and I do not know if I would have purchased it on my own. I feel like 'straw' is very in right now, especially for home decor, and it is perfect for Spring/Summer! I do not care that the snow just melted merely days ago here in Alberta, I have rocked this bag to the market and store, and I received so many compliments! I adore that it comes with a removable long strap, as it makes things so much easier when you want it to be handsfree. The inside is a gorgeous vibrant green and it has a magnetic closure. Love!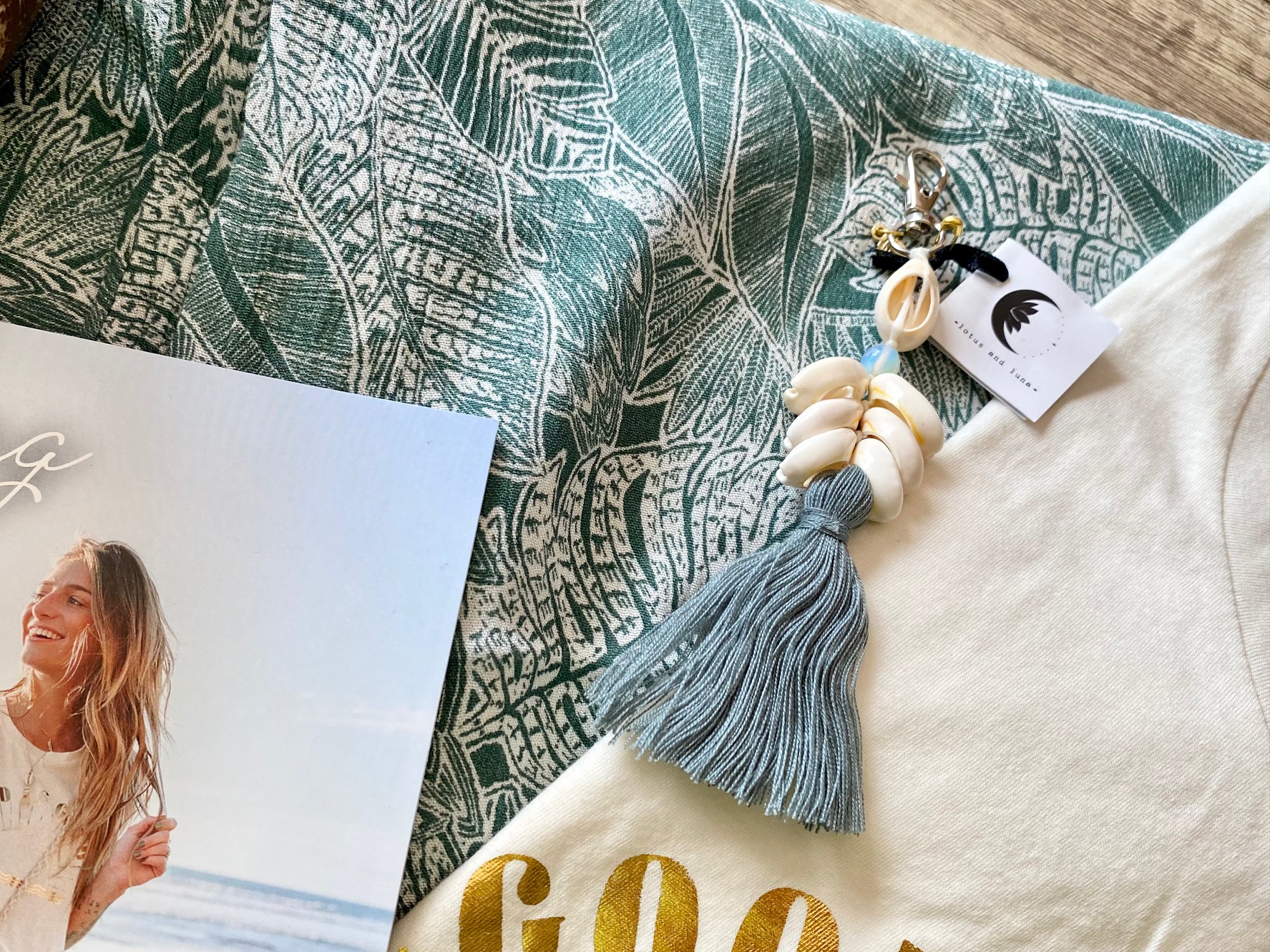 Moonstone Cowry Shell Keychain – Lotus and Luna
"This handmade keychain is decorated with cowry shells, an iridescent Moonstone, and tassel. Did you know that Moonstone is known to stabilize emotions, decrease stress, and enhance intuition?"
I love this sweet handcrafted keychain as it has been made by a female artisans from a village in Northern Thailand. Lotus and Luna have a mission of providing fair and consistent employment to each artisan who handcrafts their accessories. I have only discovered my love of crystals this past year, and absolutely believe in their beauty and power. The moonstone bead, blueish tassel and cowry shells pair perfectly together. This keychain could be adorned to any bag, keys or perhaps hung from the mirror in your car.
The Jumbo Aloha Coconut Bowl – Earthy Andy x Coconut Bowls
"These Jumbo Coconut Bowls are handcrafted from coconut shells that have been discarded as waste. They are sanded until smooth and polished with coconut oil to bring out their natural beauty This bowl, in collaboration with Earthy Andy (@earthyandy), also features a beautiful, hand-painted Aloha Rainbow Earthy Andy seeks to inspire people to be more health conscious and provides guidance to adopt a lifestyle rich in health and fitness."
This coconut bowl is so, so cool! It totally gives me 'beach vibes' and I cannot wait to make a smoothie bowl or eat gelato from it. I also considered using it as a planter as I am obsessed with plants and love to use unlikely objects as my plant pots. The little painted rainbow is everything – I love the colours and it is a special touch.
Coconutter 101 Ointment Multi Balm – Lano
"Using ultra-pure grade Aussie lanolin, this cult-classic 101 ointment offers a safer, more effective and 100% natural alternative to common petroleum-based balms. This super-rich balm penetrates and seals in moisture to give extreme hydration for dry and chapped lips, skin patches, cuticles, elbows and more. No petrolatum. No parabens. No artificial fragrance. No mineral oil. No sulfates. No PEG's. No animal cruelty. NO MORE DRY SKIN!"
This multi-balm is a true skin-saver and has been so handy to keep in my purse and have in my collection. "All Lano products are made with lanolin, a deeply moisturizing oil naturally occurring in sheep's wool. Humanely sourced from Australian sheep farmers. Lanolin mimics the skin's own oils to heal and hydrate. It is so safe that doctors recommend it to treat burns, and mothers can use it with nursing infants."
Beachly Review Spring 2021 – Final Thoughts
Yes! This is a great first box to receive from Beachly and I am so impressed. They have curated a fantastic box to hype us up for the Spring season. Every item in this box pairs well with one another yet they can stand strong as single items, too. The Good As Gold Tank is so hip, the O'Neill beach pants are stylish, light and comfortable, and Stars & Stripes Crossbody Beach Bag is so on-trend for this year. The keychain is a nice reminder to breathe, and the Lano Multi Use Balm/Coconut Bowl are also super useful to have. What a wonderful selection of goodies! Be sure to subscribe to get your own dose of sunshine and #Beacheveryday vibes!
Hayley Savanna – https://www.instagram.com/hayleysavanna/