Beachly Review Spring 2022
Beachly is a quarterly curation of beach-inspired products valued at $250 or more. They curate Beachly boxes for men and women, and they sell out fast! Reserve now to bring those #beacheveryday vibes straight to your door. Tailored to the season and your location, the Beachly tribe is rocking the best in beach style year-round. Each box contains a mix of accessories, beauty/skincare products, apparel, lifestyle products and more!
**They kindly sent us this box for review.**
I was so excited to review Beachly's Spring 2022 box as that means Spring is officially on its way! I absolutely adore Spring as it means our horrible road conditions, thirsty skin and snow are gone for a while! In Alberta, though some of our weather can suck, it also gets incredibly hot and we are blessed to live by so many lakes! If you want to add some beach vibes to your Spring or Summer months, then I would highly recommend a Beachly subscription. It's a seasonal subscription full of beach-inspired goodies. And while they embrace the season at hand, the box itself will always have a beachy/summery vibe. Sign me up!
Subscription Details
Beachly has subscription options for both men and women. Here are the details for the women's subscription:
Join the Tribe – Become a member for only $99 + shipping per season. 4x per year, Beachly will send you a box of premium, beach-inspired products valued at $250+ or more.
Curated Coastal Style – Each box contains 6-8 premium pieces of apparel, accessories & lifestyle products from the coastal brands you love and the hottest newcomers you haven't found yet!
Delivered to Your Door – Every 3 months, a new box arrives at your door with savings of up to 50% off the retail price – the good vibes are free.
SeaTrees – Proceeds from every box sold fund protection and restoration of vital coastal ecosystems by our partner, SeaTrees.
Let's take a look inside…
"Hey there, sunshines!
Dreaming of warmer days and brighter vibes? The Beachly Spring box has just what you need and more! It's filled with tropical vacay essentials with a touch of flirty, feminine flair for all the adventures waiting on the horizon. Get ready to make a splash in seaside-inspired, laid-back style this Spring."
I am so excited to see what sunshiney items will be in this box!
Let's take a closer look at the items we received in the Spring 2022 Beachly box…
The Shorebreak Weekender Tote By Rays for Days ($120)
"This season, we knew we wanted to design the ultimate weekender tote for all our favorite Beachly gals on-the-go. The Rays for Days Shorebreak Weekender Tote is the perfect hand-held accessory to top off your fresh and beachy Spring style. It's oversized – which we love! – and boasts enough room for beach treasures, weekend essentials, or everyday staples. Whether you're heading to the beach, the market, or an exotic holiday, this sidekick adds a touch of style and function to your laid-back look."
The Shorebreak Weekender Tote retails for $120 and it's a Beachly exclusive! I am obsessed with the pattern/color-combination of it! It is quite large and would easily fit some towels, sunscreen, and snacks… perfect for a day at the beach or summer festival! I also love that it has a zipper and zippered internal pocket to store things like keys!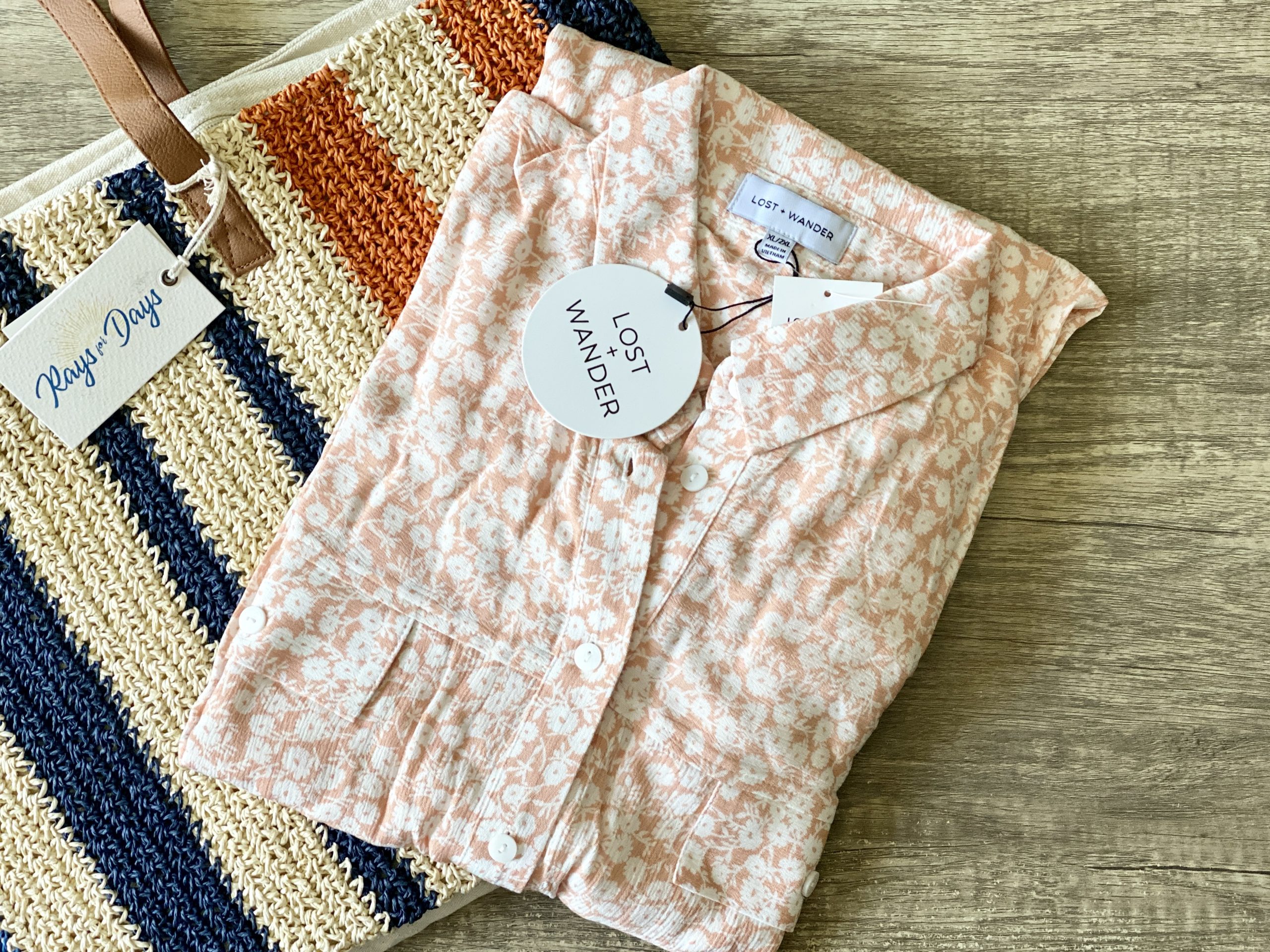 The Seascape Cover Up Dress By Lost + Wander ($118)
"This oh-so feminine and oh-so versatile, gives you endless options to customize to your own personal style. Wear it buttoned up as a dress, open over your favorite swim piece, or tied up as a casual top. Light and flowy, this is the PERFECT transitional piece as the weather warms up in the Spring. Better yet, it comes in one of two prints!"
Lost + Wander designed this Beachly Exclusive Seascape Cover Up Dress for the Spring box this season. The Bloom print I received is soft and has a perfect touch of feminine flair. It has not been warm enough to wear as a beach coverup yet but I tried it on as a dress and loved it! I will most likely sport it with a belt or open over a tank and jeans. This beautiful piece makes me especially excited for warmer days ahead and summer!
The Fun In The Sun Packing Cubes By Cleobella ($75)
"This 2-piece set is perfect to help you keep all your beach getaway essentials compact and organized. The larger cube is ideal for tops, tees, and cover ups while the smaller cube is perfect for swimwear. No matter what vacation you have planned, Cleobella's Spring feature is sure to keep your travel belongings organized to make for a hassle free vacation."
Cleobella's ability to blend culture derived from Bali and India into such unique, beautiful pieces is something special about their band that uplifts women. Cleobella designed this Beachly Exclusive Fun in the Sun Packing Cubes for the Spring box this season. I am in love with the color combination and palm leaf designs. These will be perfect for weekend road trips to the lake this summer.
The Salt Air Rollerball By Skylar ($29)
"It's the smell of endless summers and breezy days, the ones that flood your senses with serenity any time you come within a mile of the ocean. The Salt Air Rollerball Fragrance flawlessly captures the scent of a dreamy seascape, with grounding driftwood and green seaweed mingling to invoke those summertime feelings we all know and love."
Skylar is a clean and vegan beauty brand that creates clean perfumes filled with eco-friendly ingredients to craft modern scents for the beach babe on-the-go. Their perfumes are hypoallergenic and safe for sensitive skin. I am obsessed with their Salt Air scent as it is light, fresh and beachy! I am often sensitive to certain scents but have zero issue with this one. It is my new go-to scent and fits perfectly in my purse.
The Tropical 3 Pack Travel Pouches ($12)
"These little beauties meet TSA carry-on requirements, are compact, lightweight, and our favorite part… the prints are cute enough to show off on your vanity! They're perfect for a weekend getaway to bring your must-have beauty products along with you."
These travel pouches are stunning! I adore the beachy designs and colours. They will be perfect for storing my shampoo, conditioner and body wash for quick trips away. How convenient and cute to boot!
The Beachcomber Convertible Bracelet/Anklet By Lotus and Luna ($12)
"This beautiful Beachly Exclusive was handmade with love, making an impact you can be proud of! Featuring opalescent beads and an adjustable cotton cord, it can be worn as a bracelet or an anklet. Stack it with other Lotus and Luna treasures or enjoy the delicate simplicity and splash of seaside vibes all year long."
Lotus and Luna is a social impact brand that supports artisan villages in Thailand, and improves their artisans' quality of life by empowering individuals with new skills, fair wages, and the freedom to work from home while caring for their families. This convertible bracelet/anklet is so lovely! I have been wearing it stacked with some other bracelets and have received so many compliments.
Beachly Review Spring 2022 – Final Thoughts
Love! This is an amazing box to receive from Beachly and as always, I am so impressed. They have curated a perfect box to excite us about the warmer Spring season. Every item in this box is going to be useful for your next adventure. The Seascape Cover Up Dress By Lost + Wander and The Shorebreak Weekender Tote By Rays for Days are perfect for your next warm adventure (and cute), and The Salt Air Rollerball By Skylar smells incredible! What a fantastic selection of goodies! Be sure to subscribe to get your own dose of sunshine and #Beacheveryday vibes!
Hayley Savanna – https://www.instagram.com/hayleysavanna/