Beachly Review Summer 2022
Beachly is a quarterly curation of beach-inspired products valued at $250 or more. They curate Beachly boxes for men and women, and they sell out fast! Reserve now to bring those #beacheveryday vibes straight to your door. Tailored to the season and your location, the Beachly tribe is rocking the best in beach style year-round. Each box contains a mix of accessories, beauty/skincare products, apparel, lifestyle products and more!
**They kindly sent us this box for review**
I was so excited to review the Beachly Summer 2022 box as that means beautiful weather is officially here! It has already been very dry and warm in Alberta, so I am excited to see what Beachy items Beachly has sent to help me celebrate this sizzling weather and summer break from teaching! If you want to add some beach vibes to your summer, then I would highly recommend a Beachly subscription. It's a seasonal subscription full of beach-inspired goodies. While they always embrace the current season, the box itself will always have a beachy/summery vibe. Sign me up!
Subscription Details
Beachly has subscription options for both men and women. Here are the details for the women's subscription:
Join the Tribe – Become a member for only $99 + shipping per season. 4x per year, Beachly will send you a box of premium, beach-inspired products valued at $250+ or more.
Curated Coastal Style – Each box contains 6-8 premium pieces of apparel, accessories & lifestyle products from the coastal brands you love and the hottest newcomers you haven't found yet!
Delivered to Your Door – Every 3 months, a new box arrives at your door with savings of up to 50% off the retail price – the good vibes are free.
Let's take a look inside…
New this season, members had the option to customize their box with a choice between Diff Sunglasses or a Turkish beach towel. I chose sunglasses as they are a staple accessory for me year-round!
Subscribers did not receive a product card this season, but that's okay as all the Beachly Summer Box details are listed on their blog and social channels! I am all for saving the trees!
"Happy Summer, Beachly Babe!
This season features beach essentials designed with tropical prints, pops of color, and the promise of an endless Summer ahead—from summertime picnic staples to laid-back, seaside styles. This season's box also boasts a $300 retail value, at a price of just $99!"
I adore fun, bold, vibrant prints and colours and of course, summer is one of my favourite seasons! Hot weather and sunshine mean I get to enjoy my Beachly goodies right away!
Here's a closer look at the items we received in the Summer 2022 Beachly box…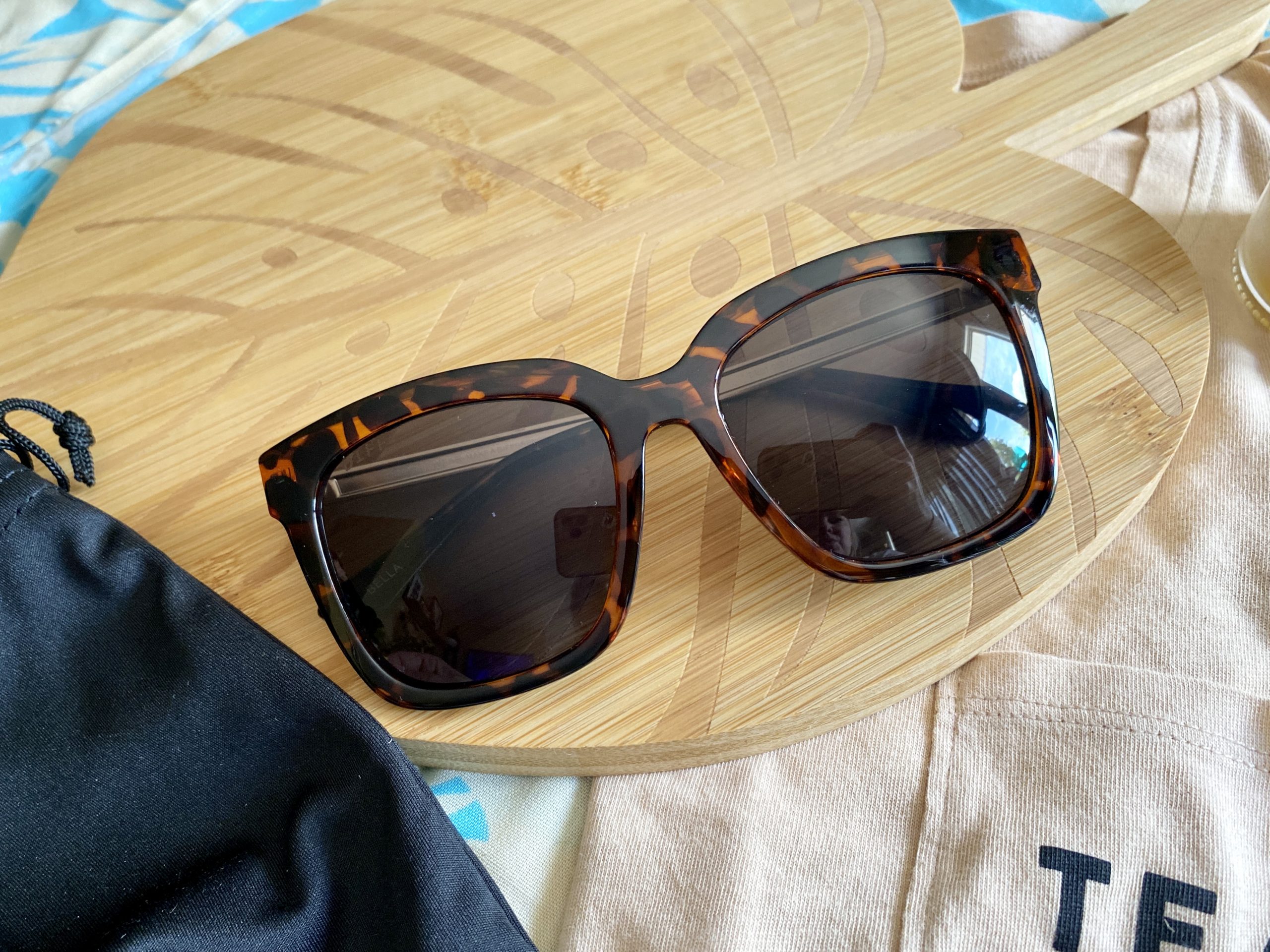 The Bella Sunglasses – Diff Eyewear ($75)
"Ciao Bella! Discover the fan-fave Bella shades designed by local Southern California brand, DIFF. These sunnies are insta-worthy, beach-worthy, and YOU-worthy! Featuring an oversized fit, classic square shape, & sleek metal temples, the best-selling Bella is a true Summer beach day staple."
I love sunglasses and what better sunshine essentials for summer than sunglasses? The Bella Sunglasses are stunning – I am in love with the oversize look and the gold arms. Fun fact, since 2015, DIFF has donated over 1,400,000 pairs of reading glasses to individuals in need worldwide!
The Monstera Cutting Board – Beachly Exclusive ($44)
"Carved of natural bamboo in the shape of a monstera leaf, this Beachly Exclusive serving board is detailed with a laser-cut design. It's the perfect tropical complement to any Summertime party or beach picnic! Style it on your kitchen counter for a beachy chic touch or bring it along to all your seaside adventures all Summer long."
This beautifully designed monstera cutting board is my new favourite addition to my kitchen. It is absolutely stunning, high-quality and very unique. I cannot wait to bring it along for picnics and use it as a charcuterie board at summer gatherings. It will also look so chic displayed on the shelf in my kitchen.
The Team Aloha Pocket Tee – Guava Shop Hawaii ($44)
"Team Aloha is the team we all want to be on! This signature soft pocket tee features an easy neutral colorway and oh-so-tropical 'Team Aloha' graphic. Throw it on over your go-to swimsuit and head out into the sunshine or tuck it into your favorite pair of jeans for a laidback beach babe look."
This Guava Shop 'Team Aloha' Pocket Tee is quite possibly my favourite t-shirt I own! I love the unique neutral colour and how it pairs perfectly with a pair of jeans, or how it can be worn over beachwear. The pocket detail and logo on the back are everything! I am officially a fan of this female-founded, based on the tropical shores of Hawaii, Guava Shop! This cute tee definitely makes me want to visit Hawaii again soon!
The Waimea Hair Tie and Scarf – Maaji ($20)
"Secure your salty strands with this perfectly tropical-printed hair tie. And there's an added bonus – you can untie the longer piece for endless styling options. This 2-in-1 can be tied as a scarf, scrunchie, bracelet, headband, or even as a knotted accessory to your favorite handbag. The options with this fun, vibrant beauty are endless!"
Maaji is a Colombian-based swim brand known for its fun mix of prints and bright colors. I am already a huge fan of scrunchies, bright colors, and prints so this 2-in-1 duo is perfect for me! I often sport scrunchies as wrist and hair accessories, and I think I will tie the longer piece to my bag or purse to jazz things up. So fun!
The Shorebreak Picnic Cooler Bag – XIX Palms, Beachly Exclusive ($99)
"It's a Summer staple that is both super stylish and functional! From farmers market finds to beach-bound essentials, this cooler-turned-backpack keeps everything beautifully intact for all the hot days on the horizon. From the vegan leather straps on the outside to the custom-printed cooler lined inside – this bag is about to be your Summer day sidekick."
How cute is this picnic cooler bag? I love that it has a wicker look with handles and straps, in case you want to sport it as a backpack or have a long way to trek. The inside has a stunning blue and white beachy print that is also water-resistant, perfect for keeping your summer drinks and treats cool! XIX Palms was a sister-founded brand born in Honolulu and designed on the North Shore of Oahu creating items designed for the unapologetically feminine, effortlessly chic beach babe.
The Endless Summer Throw – XIX Palms, Beachly Exclusive ($75)
"This exclusive throw is the perfect lightweight addition for any beach adventure, summertime picnic or poolside lounge. The beautiful print and bright colors can even make for the perfect home accent as a bed throw or hung as a tapestry piece on the wall for a dose of fun tropical flair."
This custom-made XIX Palms Design matches the liner in the Shore Break Picnic Cooler Bag and can be tied into the picnic cooler straps for easy carrying and an added pop of beachy flair! I am so happy to have received this lightweight, beachy throw and I will definitely keep it in my vehicle to take on my summer adventures. I adore the tassel details and the vibrant blue XIX Palms design. Love!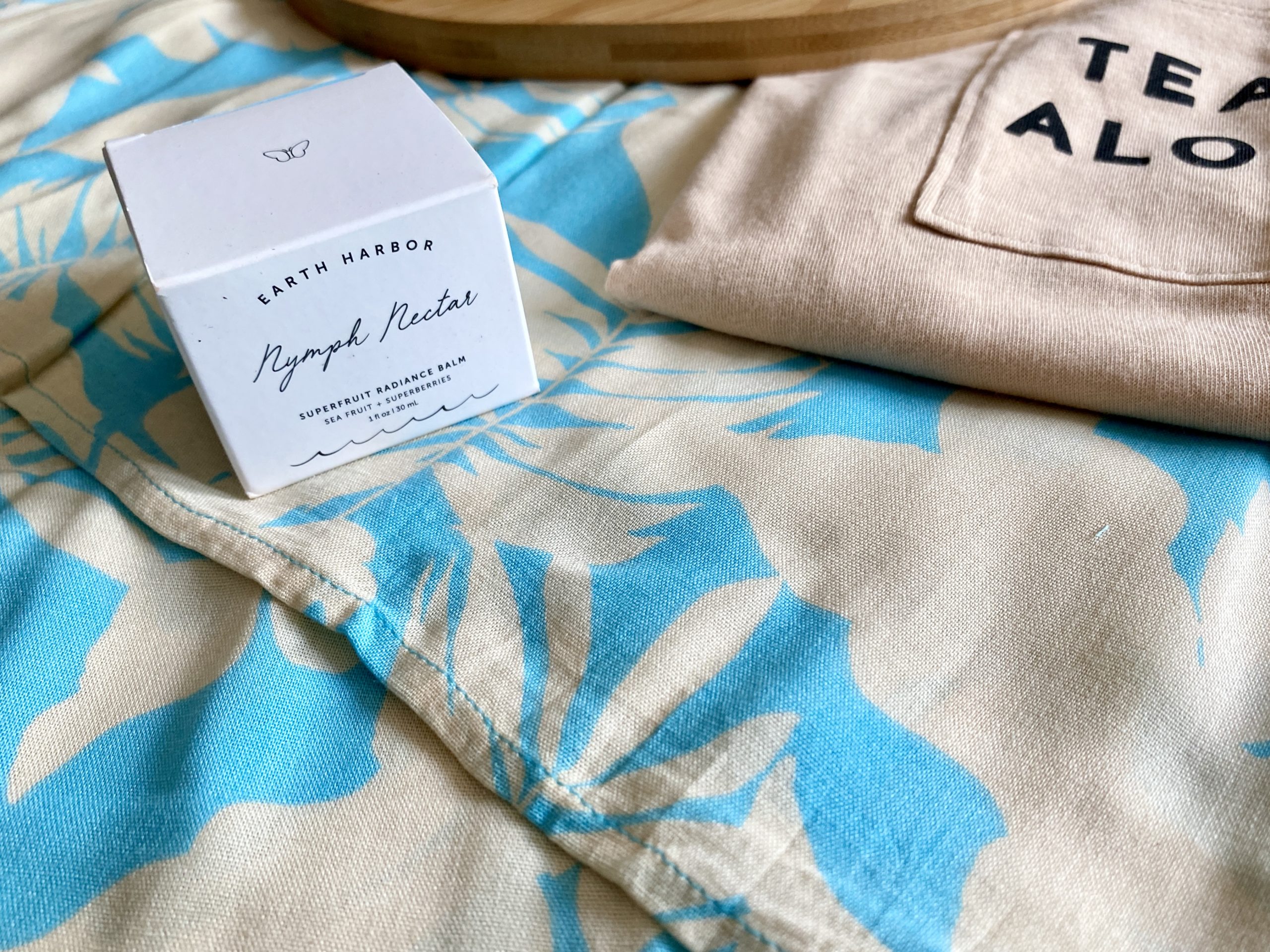 Beauty Surprise: Nymph Nectar Superfruit Radiance Balm – Earth Harbor ($38)
"As a special thanks for being a loyal part of Beachly, we're giving you an extra dose of vitamin sea and a splash of sunshine to celebrate the Summer season with this beauty surprise. Enjoy a surprise clean, cruelty-free, coastal-inspired beauty product all season long – you deserve it!"
All subscribers received a surprise beauty product in their box. After a long day in the sun, there's nothing your skin needs more than a little extra TLC. Give your skin rest and renewal by masking with Earth Harbor's Nymph Nectar Superfruit Radiance Balm. It's perfect for deep hydration following sun exposure and helps with premature aging, environmental damage, and dehydrated skin.
Beachly Review Summer 2022 – Final Thoughts
Beachly amazes me time and time again with their high quality, impressive and perfectly curated beachy goodies! They have curated a fabulous box to hype us up for the summer season. Each item in this box pairs well with one another yet can stand strong as single items. The Guava Shop 'Team Aloha' Pocket Tee is so cute and stylish, the Beachly-exclusive Monstera Cutting Board is so unique and perfect for picnics or kitchen decor and the XIX Palms Shorebreak Picnic Cooler Bag and Endless Summer Throw are so on trend for this summer and will make my summer adventures so much better, adding functionality and ambiance. The Diff Bella Sunglasses are easily one of my favourite items as they are trendy, comfortable and pair well with many outfits. The Maaji 2-in-1 hair ties are perfect and the beauty surprise Earth Harbor Nymph Nectar is so nice to use after spending time in the sun! What an incredible selection of goodies! Be sure to subscribe to get your own dose of sunshine and #Beacheveryday vibes!
Hayley Savanna – https://www.instagram.com/hayleysavanna/