Beachly Review Winter 2019
Beachly (formerly Coastal Co.) is a quarterly curation of beach-inspired lifestyle products. With a women's box and a men's box to choose from, the only decision to make is how quickly you can sign up everyone you know! Reserve now to bring that #beacheveryday mentality straight to your door. Tailored to the season and your location, the Beachly tribe is rocking the best in beach style year-round. Each box contains a mix of accessories, beauty/skincare products, apparel, lifestyle products and more! They kindly sent us this box for review.
Beachly made a name change (formerly Coastal Co.) a few months ago. This will be our second review since the name change and we feel like there has been a bit of a change in regards to curation as well. It still focuses on beach-inspired lifestyle products but we definitely see a change in regards to style, brands, etc……
Subscription Details
Beachly (formerly Coastal Co.) has subscription options for both men and women. Here are the details for the women's subscription:
Join the Co. – Become a member for just $99 per season. 4x per year, we'll send you a box of premium, beach-inspired products valued at $200+ or more.
Curated Coastal Style – Each box contains 6-8 premium pieces of apparel, accessories & lifestyle products from the coastal brands you love and the hottest newcomers you haven't found yet!
Delivered to Your Door – Every 3 months, a new box arrives at your door with savings of up to 50% off retail price — the good vibes are free.
Here's a look at the items we received in the Winter Beachly box….
Baja Hooded Poncho by Lira ($60)
We've partnered with LIRA to create the Baja Hooded Poncho exclusively for the Beachly Tribe. This piece is stylish, yet cozy with a vintage baja vibe. It's a beach style staple that can be worn year round.
First up we have our clothing item for the season. It's not necessarily our favorite clothing item from Beachly to date, but some subscribers are going to love it. Pair it with jeans or jean shorts, or use it as a layering piece under a denim jacket. It's a really beautiful knit material and the pineapple logo is adorable.
Shell Necklace by Fresh Produce ($25)
We are obsessed with this must-have statement necklace from one of our favorite California beach brands, Fresh Produce. It's the perfect top-off to any beach Winter look.
We received a gorgeous necklace in the Fall box so even though we would have liked to see something different this season, it's still a fun piece. It will pair best with a casual outfit. You could also layer it with smaller necklaces.
Mexicana Zip Wallet by Cleobella ($68)
Inspired by recent travels, handmade and uniquely Beachly, the exclusive Cleobella wallet brings a coastal touch to an everyday staple. It can be used alone to carry credit cards and a few essentials to your favorite beach locale.
The embossed palm print on this fun little wallet is unique and adds just a touch of flare. The smaller size makes it convenient for travel or for carrying in smaller purses. The color is definitely giving us beachy vibes.
Coconut Lime Vintage Jar Candle by Surf's Up ($16)
Cozy up with this coconut lime scented candle from our friends at Surf's Up, with hints of lime, orange, coconut and vanilla. The best way to transport you from Winter Blues to a tropical state of mind.
While we LOVE our festive, wintery scented candles, this is a nice change. It's refreshing and will be a great way to get us through the last few months of Winter……while we dream of warmer days. It smells absolutely wonderful…..lots of coconut and just the right amount of lime.
Loula Palm Throw by Noho Home ($50)
Looking for something both coastal and cozy? This beautiful palm print throw blanket from Noho Home has you covered. Keeps you warm on a cool night, but also looks great as a decorative piece in your home. Doubles as a beach or picnic blanket during the warmer months.
One of our favorite items in the box this season. We are always happy to receive home decor items….espcially cozy blankets that double as a beach blanket. This would be a great piece to keep in your car during the warmer months.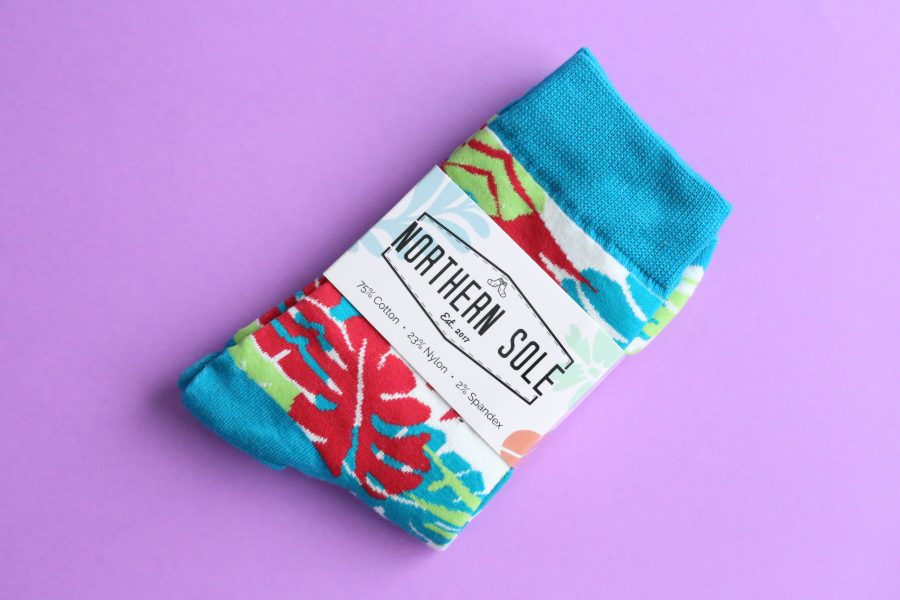 Winter Palm Socks by Northern Sole ($14)
With vibrant pops of color, and a tropical vibe, these socks will add warmth to a chilly winter day.
A fun pair of socks are a great way to brighten your day. Wear them around the house, or add them to your cozy winter outfit just in case you need a little pick-me-up throughout the day…….just look down:)
Palm Utensil Set by Vagabond Goods ($20)
Enjoy this hand-crafted, bamboo utensil set with your favorite meal. Say no to plastic utensils wherever you go. Keep your set together in this tropical printed drawstring pouch.
This is another great item to keep in your car. In fact, we have been playing with the idea of creating a environmentally friendly car kit and this is the perfect way to get us started. Keep a bag in your car with all your reusable items – straws, water bottles, coffee cups, canvas shopping bags and your new utensil set.
Beachly Review Winter 2019 – Final Thoughts
The Winter 2019 Beachly box has a retail value of approx. $250. The cost of the box itself is only $99 which means we are getting great value. We received a lovely mix of items this month – home decor, accessory, jewelry, clothing, etc….. All of the items are season appropriate, which we appreciate, but are versatile enough to be used year-round. When it comes to style and brands, this season's box (kind of like last season's box) has more of a baha beach style as opposed to a classic beach style or boho beach style like we have seen in previous boxes. Overall, it is a great box for any beach lover.
-AYOB