BuddhiBox Review January 2020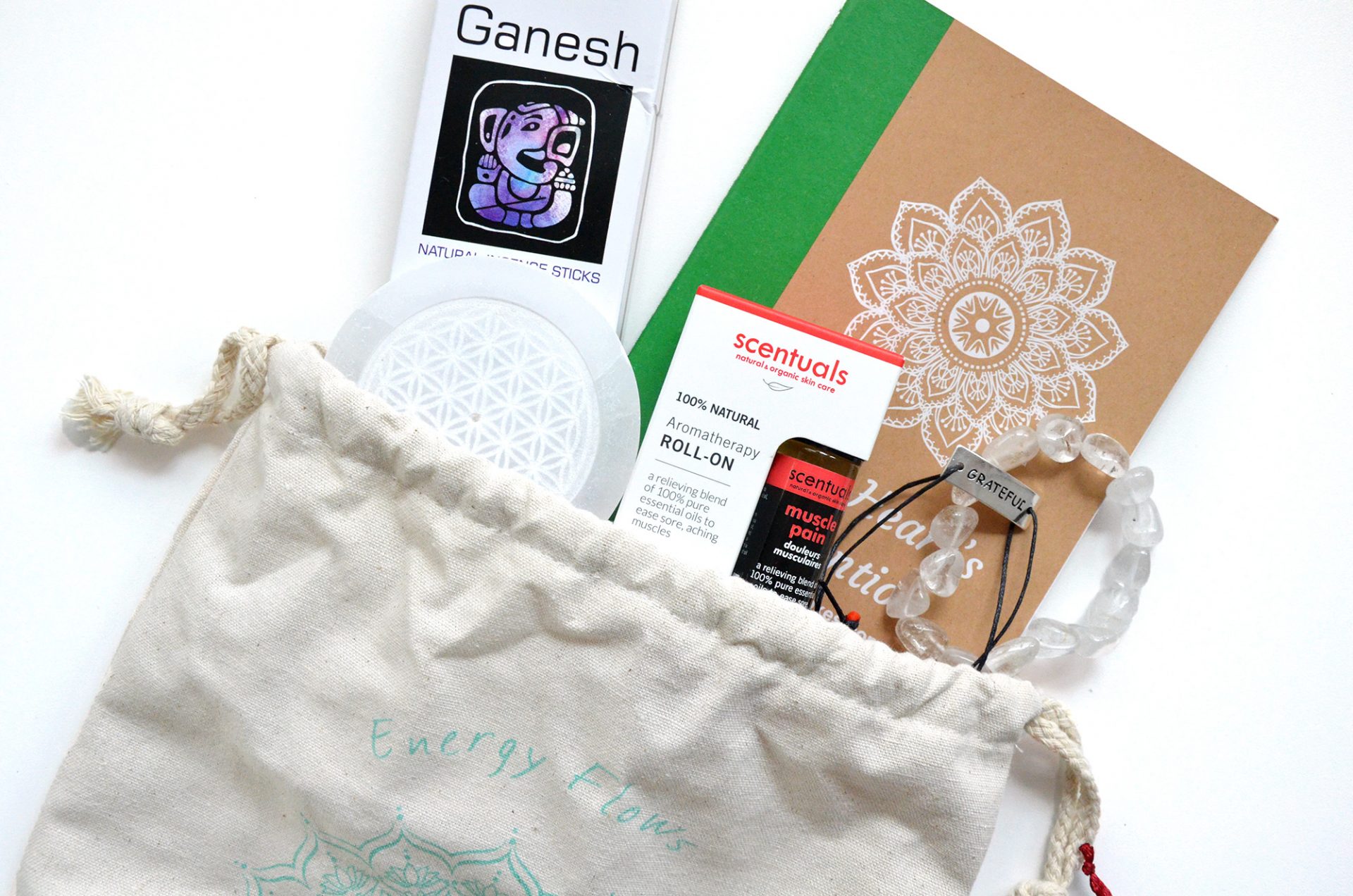 BuddhiBox is a monthly Yoga inspired box that's based on discovery, union and compassion. Each box contains 4-6 sample and full sized yoga-related products that will inspire your life, workouts and community. Products will be from different categories, including fitness, skincare, and fragrance. You'll get to try staff favorites, product launches, and more. BuddhiBox believes it's better to give than to receive, so each month a portion of proceeds from the sale of the boxes is donated to a different charity. They kindly sent us this box for review.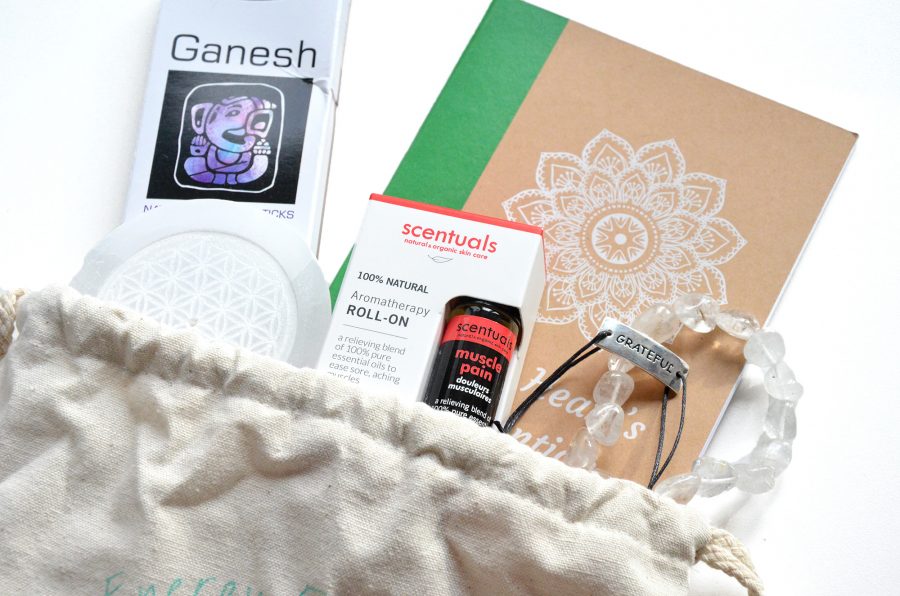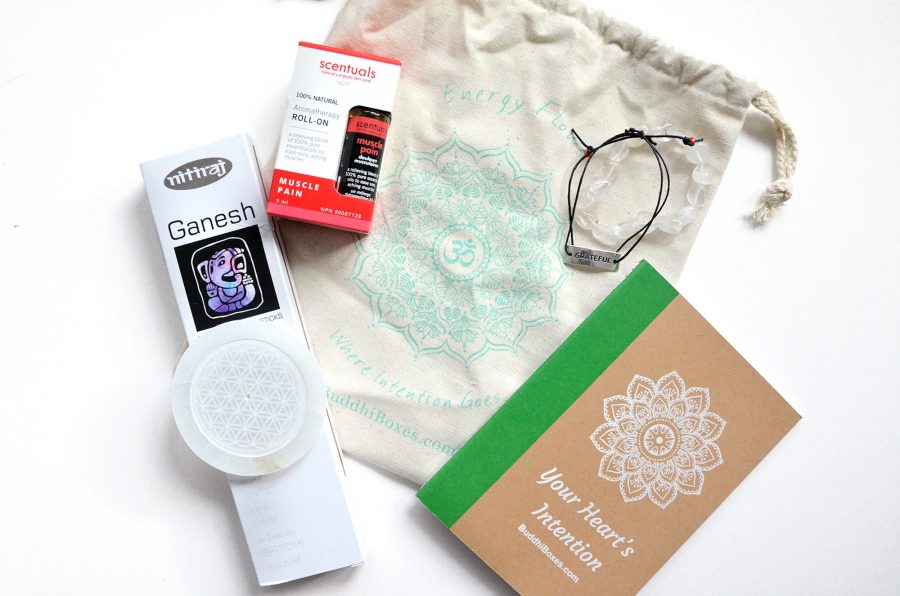 January Box Details
The January BuddhiBox has a wonderful theme: "The Heart's Intention or Sankalpa" which means:
"Is an intention we set from our heart and can be translated to higher truth (san) and vow (kalpa). Sankalpa is a promise to stay with our highest truth and to act from our hearts."
Here's a look at what was in this month's BuddhiBox: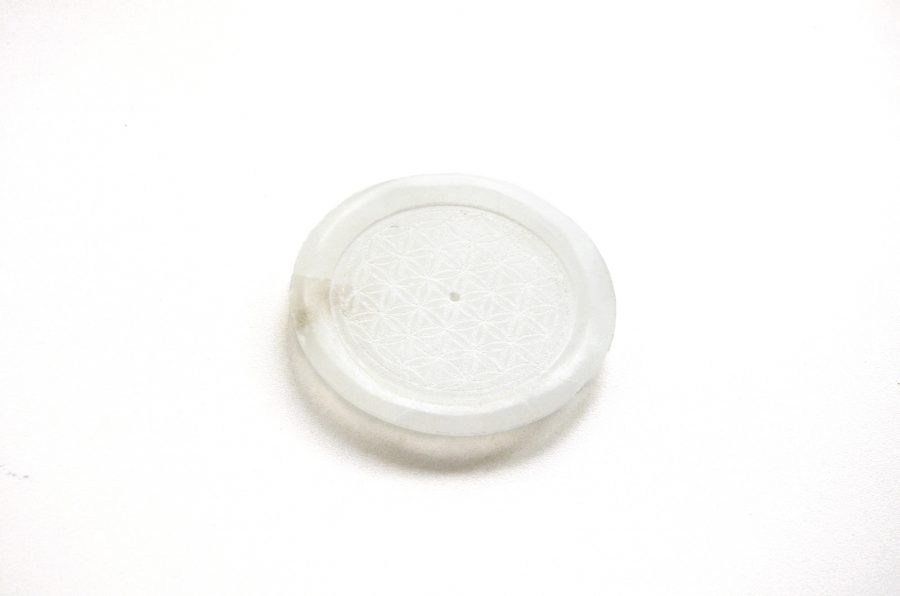 Soapstone Tray or Incense Holder ($15)
"The flower of life design is symbolic of our blossoming or awakening into higher consciousness. It invites us to follow our hearts in every moment."
This is great and useful incense holder, especially since some incense came in this month's box too. I like that it's small in size and is a neutral color with a subtle, yet pretty design on it. I love that the design is symbolic too, a good visual reminder when burning incense. If you don't like incense it seems like it could also be used as a little ring tray or something on the bathroom counter. I'm all for multi-use items!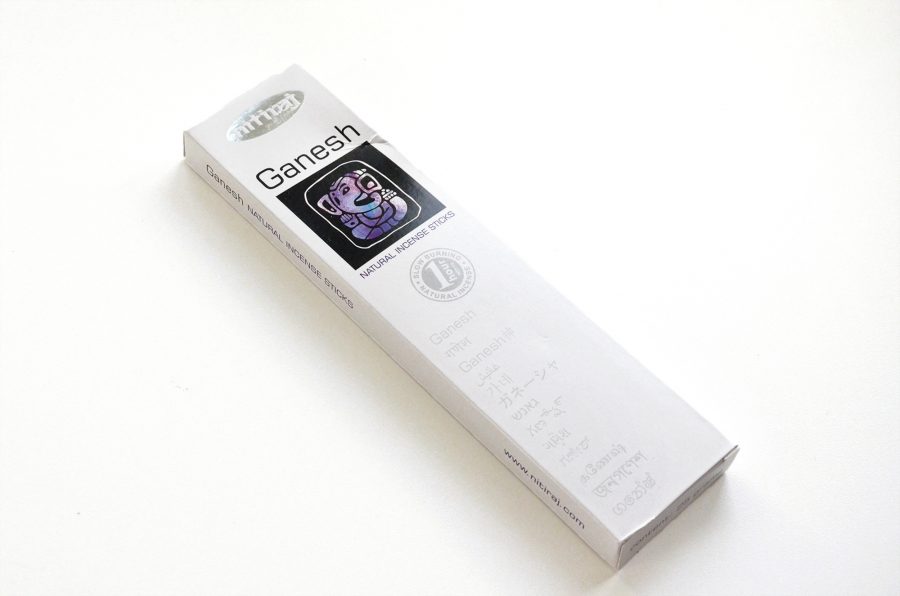 Nitaraj Incense – Lord Ganesh ($7)
"Incense is offered on many spiritual paths. As we begin the New Year, Ganesha, "remover of obstacles "within us and in our circumstances is a powerful energy to invite for support. Light the stick, then blow it out, the "cherry" red tip will emit smoke that 'carries blessings and intentions to the heavens where the Gods and Goddesses will receive them. Best to do outside to support indoor air quality."
This incense obviously goes perfectly with the incense burner. The box says this particular scent blend was created to honor lord Ganesh who brings good luck and removes obstacles so it really is perfect for use as we start a fresh new year. The scent is woodsy, spicy and vanilla-y and smells really nice. I happen to like the scent of incense, even though it can be a little intense. This would be nice to incorporate into a meditation session.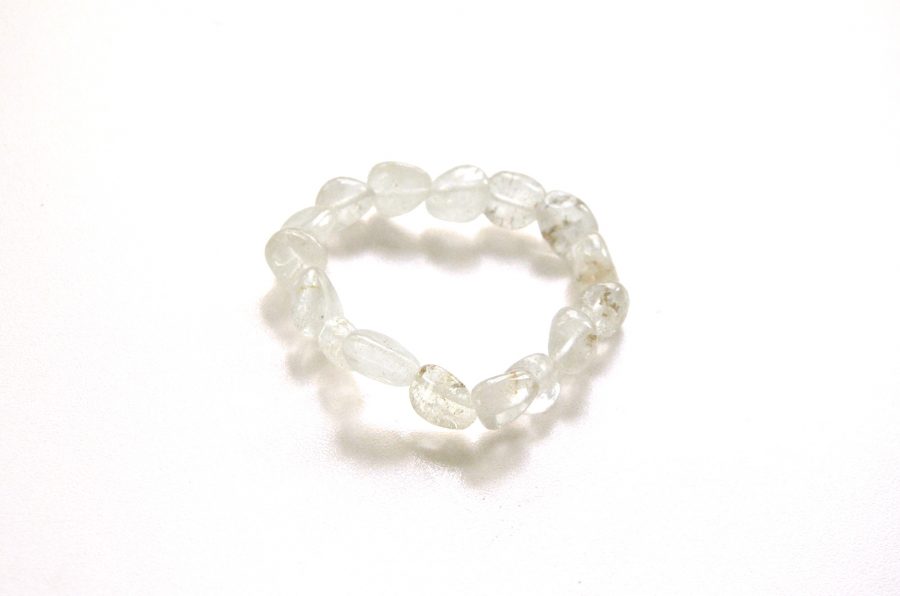 Clear Quartz Tumbled Bracelet ($25)
"Clear quartz crystal is symbolic of the purest form of who we truly are. This stone attunes to your higher self, is said to remove pain and also amplify intentions."
Such a pretty bracelet made with simple and beautiful stones. I love when jewelry in subscription boxes is neutral and subtle so it can be worn with many things, plus it increases the likelihood that it would match more subscribers tastes.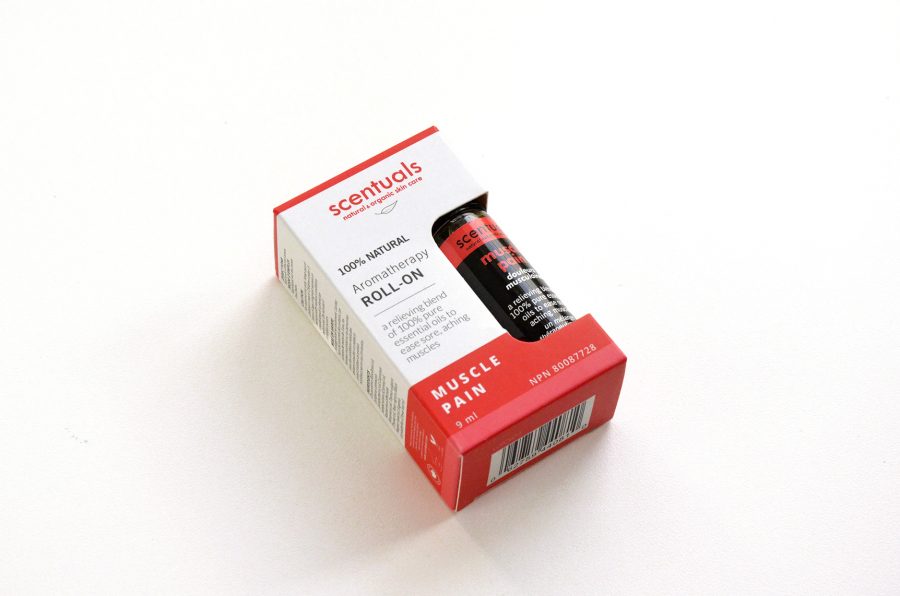 Scentuals Muscle Pain Roll On ($12.25)
"Infused with pure Juniper, Rosemary and Thyme essential oils among others this 100% natural roll on reduces swelling and inflammation and reduces muscle aches and pains."
This couldn't have come at a better time! My shoulders are so sore so I'll be curious to see if this can help ease the tension. It's a roll on essential oil blend that's said to help achey muscles. A few spicy and earth essential oils like juniper berry, clove, thyme, rosemary and black pepper should bring a little heat to the muscle in order to speed up healing and reduce inflammation.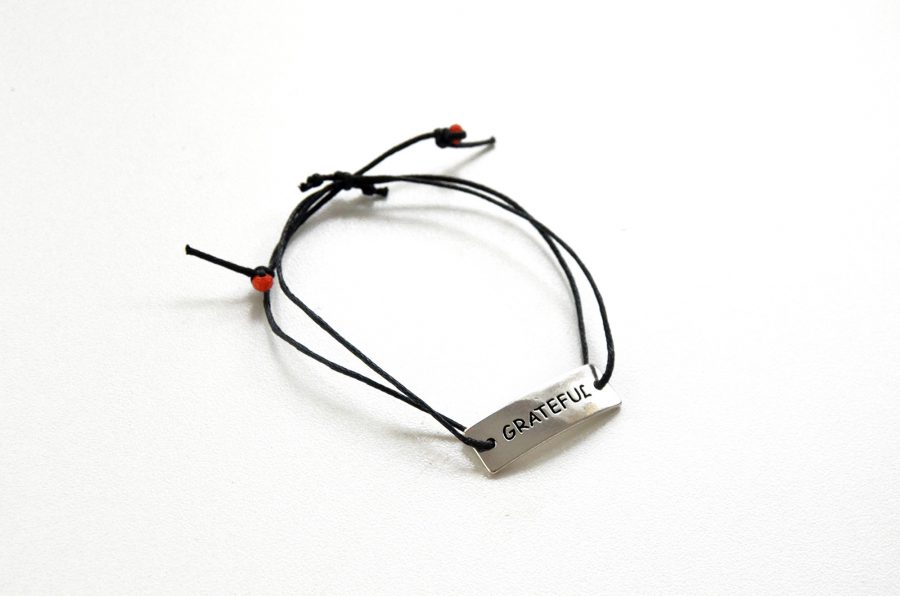 Grateful Silver Plate Slide Bracelet ($5)
"To manifest intentions the first step is being grateful for where we are and what we have right now."
Another simple and beautiful bracelet that could (and maybe should!) be worn all the time. Especially because it's a written reminder to find gratitude in your day. Seeing that reminder often thought the day would be a nice uplifter and a good way to keep a positive outlook on life. I like that this one is adjustable so it would fit all wrist sizes.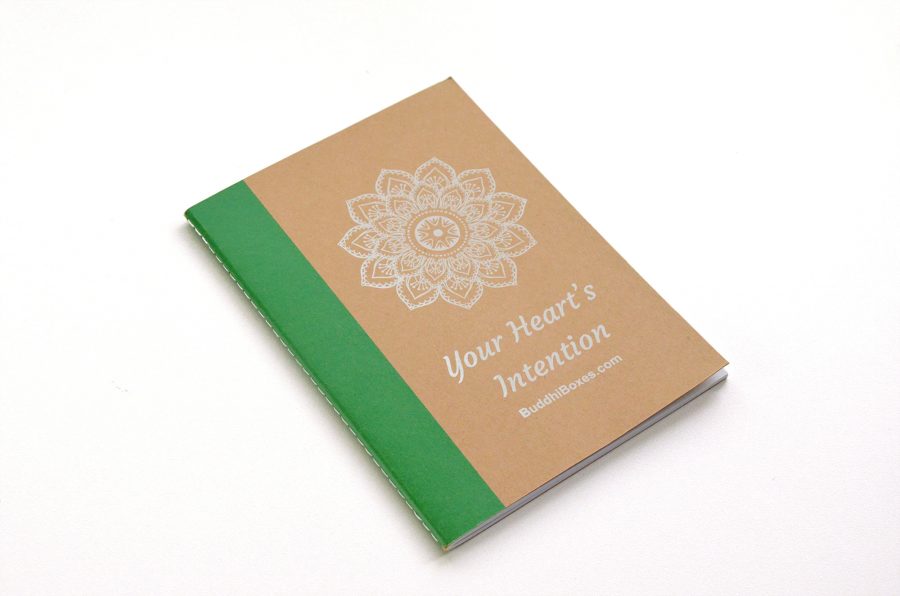 Heart's Intention Journal ($15)
"Take some time to truly connect in the heart. When you are ready, let your insights fill the pages of this journal and begin to live from the place of the clarity of your own sankalpa."
I don't think you can ever have enough journals or places to write down thoughts and notes. I really think it helps clear you mind and make you feel lighter so this is a great item to fit the theme. This one is the perfect size for taking anywhere and I love the simple design. The words on the front will surly inspire journalling moments.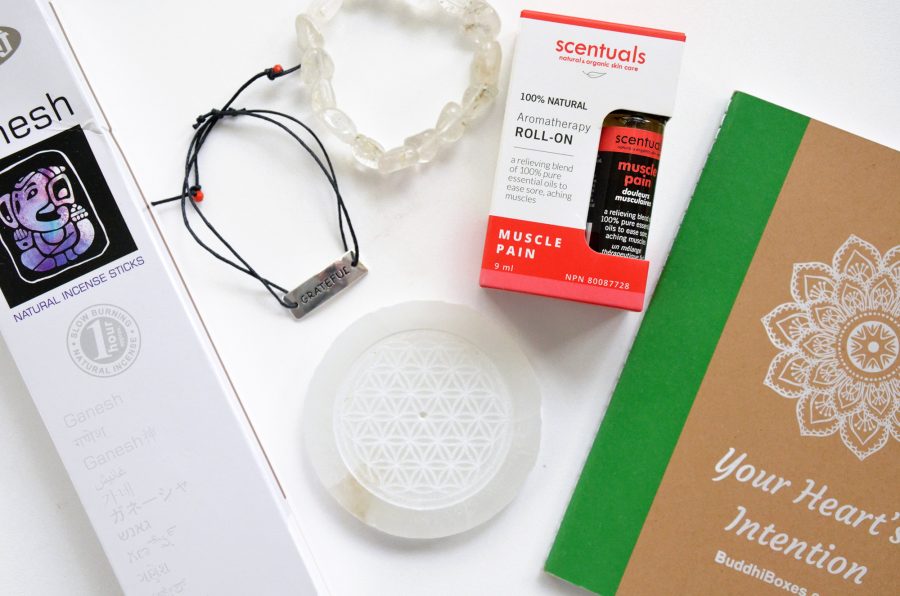 BuddhiBox Review January 2020 – Final Thoughts
The January BuddhiBox is a nice way to start out the new year as it's contents are themed around intention, specifically of the heart. I've never been big on new years resolutions, but setting intentions for how your heart would like to manifest the year ahead is right up my alley. The items included can all play a useful roll in seeing that through too, and if nothing else they'll get you to calm your mind and clear your head of any negative energy carrying over from the year past.
The Botanic Gal – http://www.botanicgal.com
Explore.
Save.
Enjoy!
Sign up for a free account on A Year of Boxes to receive exclusive offers, be added to our monthly mailing list, and much more! We are always adding features to improve the experience for our users, from their valuable feedback!
Join Today!