BuddhiBox Review May 2020
BuddhiBox is a monthly Yoga inspired box that's based on discovery, union and compassion. Each box contains yoga-related products that will inspire your life, workouts and community. Products will be from different categories, including fitness, skincare, and fragrance. You'll get to try staff favorites, product launches, and more. BuddhiBox believes it's better to give than to receive, so each month a portion of proceeds from the sale of the boxes is donated to a different charity. They kindly sent us this box for review.
Each month you'll receive a mix of 4 to 6 full-size products from artisans in India, the birthplace of the ancient art of yoga, as well as women-owned businesses in the U.S. All products are cruelty-free, organic, kind to the earth and safe for the artisans creating them. BuddhiBox is shipped around the 10th of each month & subscribers receive within 5-7 business days. There are 4 subscription options:
Monthly: $34.95/month
3 Month: $33.95/month or $101.85 total
6 Month: $32.95/month or $197.70 total
12 Month: $30.95/month or $371.40 total
May Box Details
The May BuddhiBox has a wonderful theme: "Being Well in May" and comes with a great mantra to inspire that theme:
"May she dwell in safety. May she be happy and healthy. May she be free of afflictions. May she be at peace."
Oh, I love the mantra that came with May's BuddhiBox! This would be a great one to have on repeat in your mind to calm anxieties and fill your headspace with mental wellness. Kind words to yourself can have such a positive impact on your health and you know what can help, all the fun items below curated for this months box!
Here's a look at the May BuddhiBox:
Sisal Soap Pouch from Me Mother Earth ($4)
"These soap pouches are a natural way to get an invigorating scrub and lather! Being well means we need to soap up, so replace plastic loofahs use every last bit of your soap bars. Made from sisal fibers (agave plant) with a wooden bead, these are 100% biodegradable."
This is the perfect match for that beautiful purple soap bar below! This pouch holds soap so you can easily suds up for some gentle shower exfoliation. It's pretty soft, but still has texture to slough off those dead skin cells. I love that it's the perfect size for a bar of soap and I really love that there's not plastic involved and that they are biodegradable when they've come to the end of their life cycle.
Rose Quartz Bracelet from Kheops ($25)
"Add this stone as a part of your overall wellness journey. It's said to open the heart, increase self acceptance and the ability to love others. It soothes heartaches and brings peace, compassion and kindness. It relieves childhood trauma and guilt, and eases transitions."
Rose quartz is always a favorite stone and because it's so inherently pretty it always makes for pretty jewelry too – this bracelet is no exception! It's simple, but I love the soft pink color. It will go with anything and be great for every day wear. Quartz is the love stone and love for your self is essential to a wellness journey so this bracelet really fits in with this month's theme.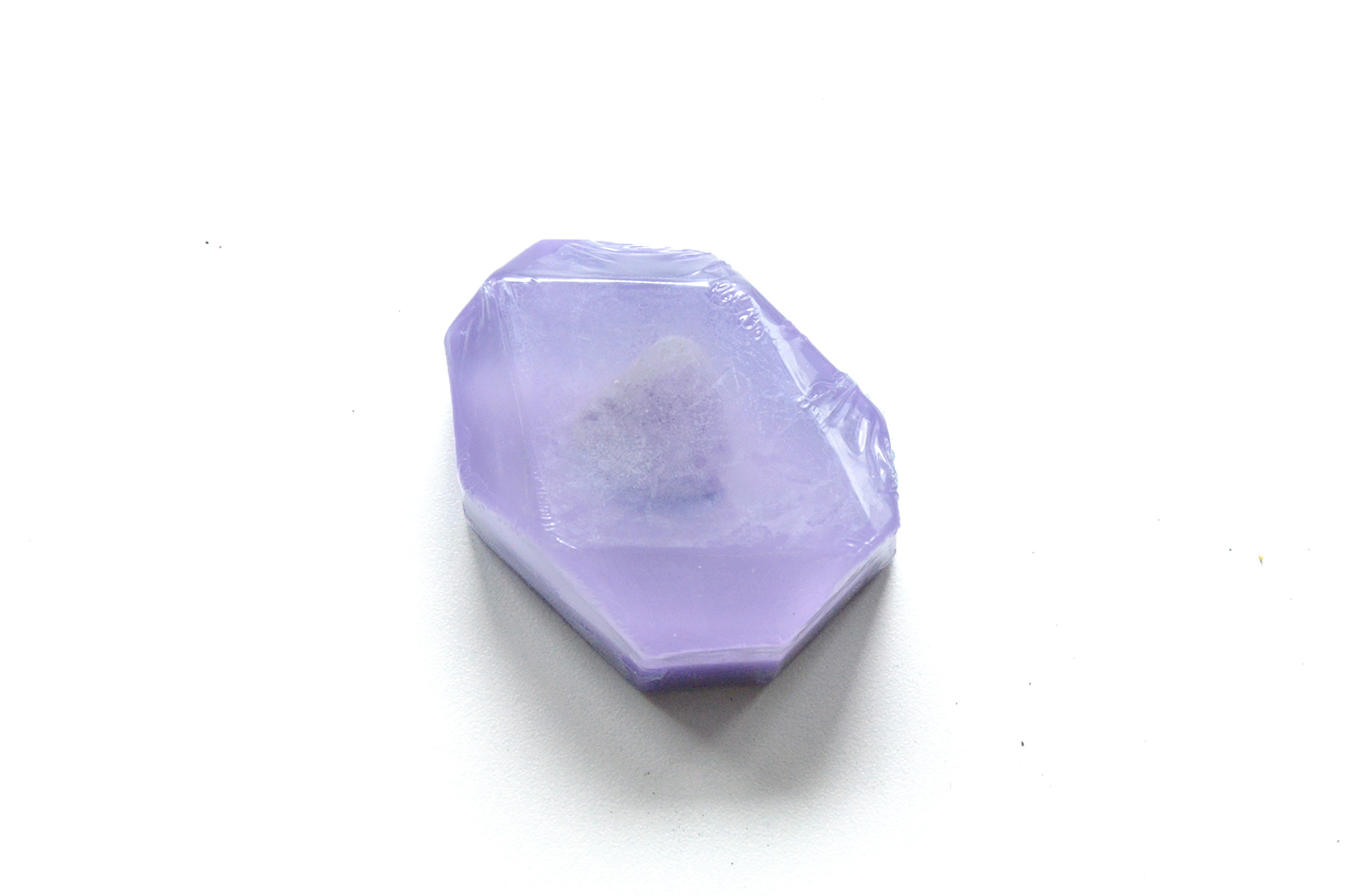 Amethyst Crystal Glycerine Soap from Crystal Crowe ($9)
"Made with a luxurious blend of natural butters and cruelty free ingredients this amethyst infused soap cleanses you inside and out. Paired with the scent of Lavender this combo makes for a relaxing and sacred wellness bath experience, boosting intuition and spirituality."
Such a pretty an fun soap bar! There's an actual amethyst stone inside that's revealed with use. Amethyst is a healing and protective stone. It helps clear negative energies in the air (perhaps good for any negative self-talk happening!) and it helps relieve stress and anxiety. The scent of this soap is lavender which is one of my favorite calming scents. A good smelling soap alone can help relieve tension and stress, so when you add amethyst to the mix it boosts those energies way up! This soap is almost too pretty to use, but I want to find that stone so I'm sure I'll be using it soon.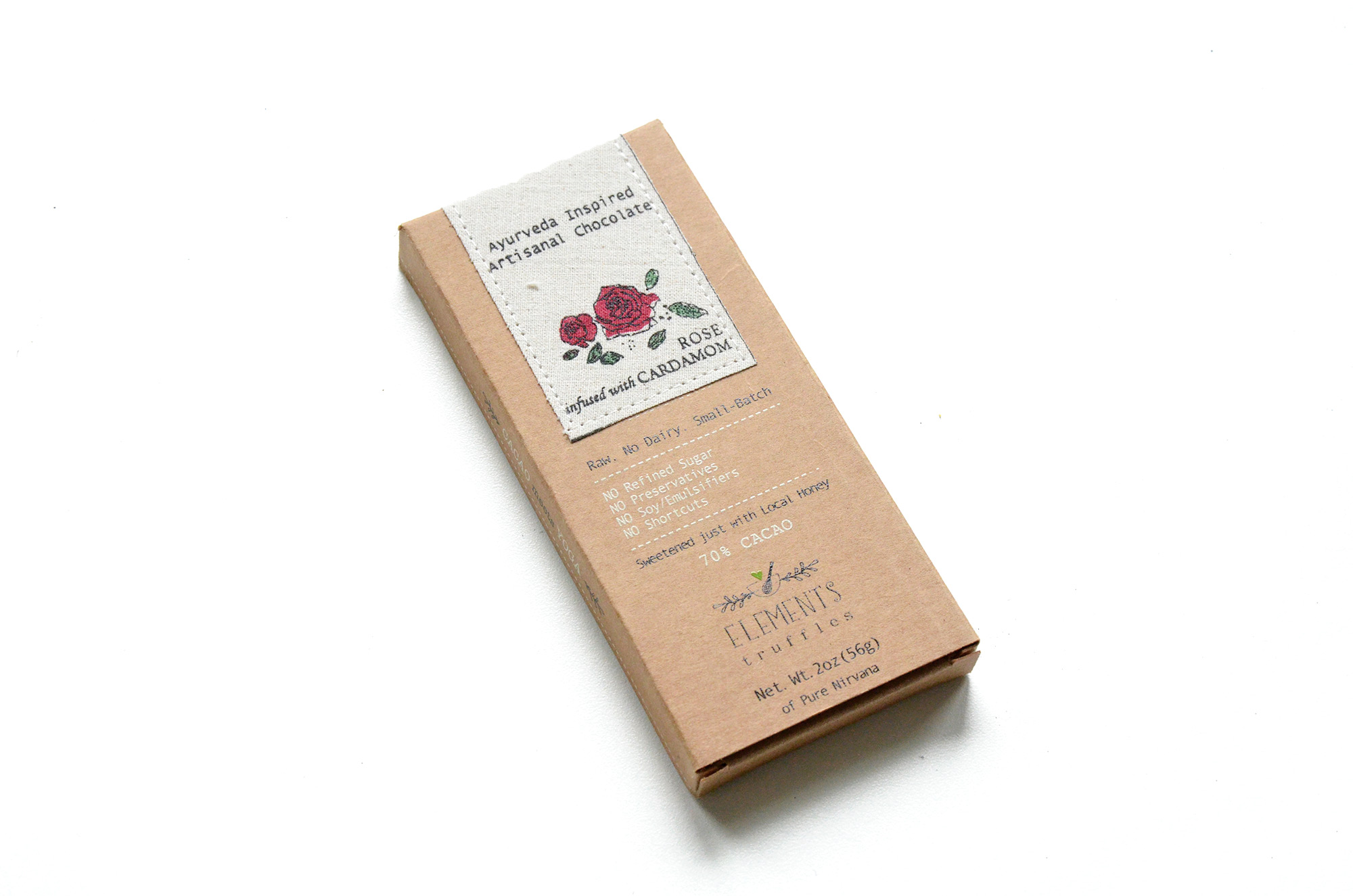 Ayurvedic Rose Cardamom Candy Bar from Element Truffles ($8)
"Delicate floral notes with aphrodisiac overlay, based in dark chocolate which is known for it healing properties. This healing treat is infused with cardamom and garnished with sun-kissed rose petals. Enjoy this mystic."
Chocolate is the best! And this chocolate sounds oh so delicious. This bar is made with simple and organic ingredients including organic raw cacao butter, organic raw cacao powder and just raw honey for the sweetener. It's flavor comes from rose geranium, cardamom essential oils and it even has actual rose petals sprinkled throughout. So fancy! It smells amazing and I'm sure is going to be a decadent treat! The ingredient combo for this one was chosen for it's healing properties, it helps bring balance to your being.
Loose Incense from Crystal Crowe ($9)
"Lemongrass, white sage, rosemary, rose petals, and mugwort merge to form a loose incense blend used for smoke cleansing. Clear your space of any unwanted energies. Light charcoal and place a small amount of incense on it. Use in a bowl to avoid any fire danger. See our blog for further instructions."
I've never used a loose incense before so I'm intrigued to try this one out. This mix is a sweet, herbal, earthy blend of goodness and has a healing amethyst crystal tucked inside too. It comes with this charcoal disk for combining to clear negativity and bring peace. Spring is the perfect time to clear everything out to make way for new growth and healing so this item has great timing.
Live Well Love Well Cosmetic Bag ($25)
"Being Well is about Love and Life. This cosmetic bag reminds even the seasoned yogi to stay focused on your intentions for yourself. This little reminder will support you in wellness of all kinds."
I love that this month's box came in this cute little cosmetics bag! It's a great size for travel or even every day use for keeping things organized in your bag or purse. It has a nice message on the front and inspires wellness and kindness to yourself and others with just a glance. It can also be a reminder to only keep things that make you feel your best inside it too.
BuddhiBox Review May 2020 – Final Thoughts
I know I just said it, but I love that this month's BuddhiBox came housed in a little cosmetics bag. This month and last month they switched it up a bit and instead of everything coming in their normal drawstring bag, they picked an item that's more useful longterm to hold all the goodies. I was starting to get too many of the drawstring bags, so this is a refreshing and useful change of pace. Of course I can't forget to mention all the awesome items in this month's BuddhiBox too. It was the perfect collection to inspire self care and wellness and everything feels like it will be a real treat to use – for both the mind and body! This might be one of my more favorite overall boxes I've received in awhile. I mean they always send interesting things, but collectively these items are just so good! Can't wait to try everything out this month!
The Botanic Gal – http://www.botanicgal.com
Explore.
Save.
Enjoy!
Sign up for a free account on A Year of Boxes to receive exclusive offers, be added to our monthly mailing list, and much more! We are always adding features to improve the experience for our users, from their valuable feedback!
Join Today!