BuddhiBox Review November 2019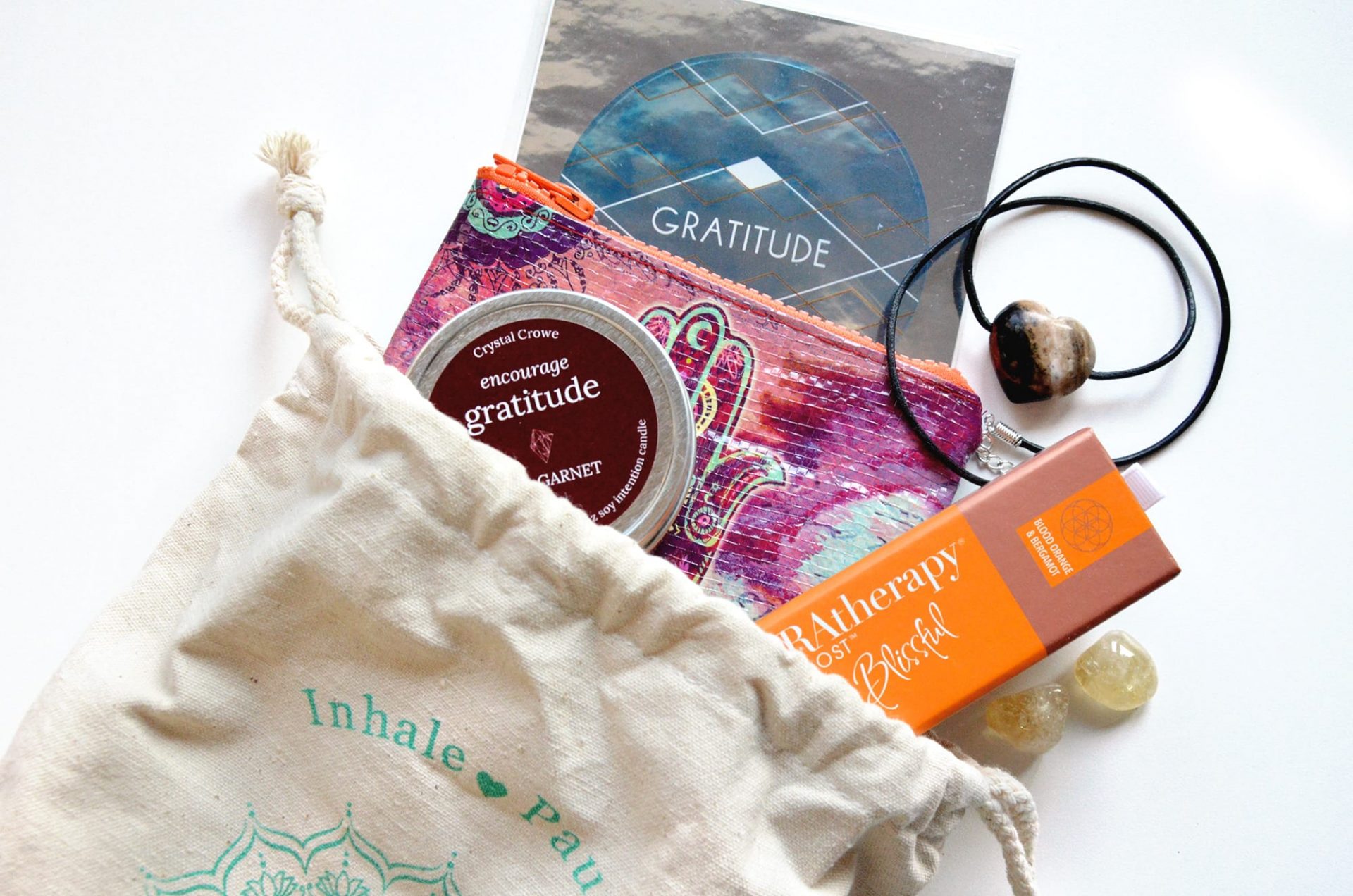 BuddhiBox is a monthly Yoga inspired box that's based on discovery, union and compassion. Each box contains 4-6 sample and full sized yoga-related products that will inspire your life, workouts and community. Products will be from different categories, including fitness, skincare, and fragrance. You'll get to try staff favorites, product launches, and more. BuddhiBox believes it's better to give than to receive, so each month a portion of proceeds from the sale of the boxes is donated to a different charity. They kindly sent us this box for review.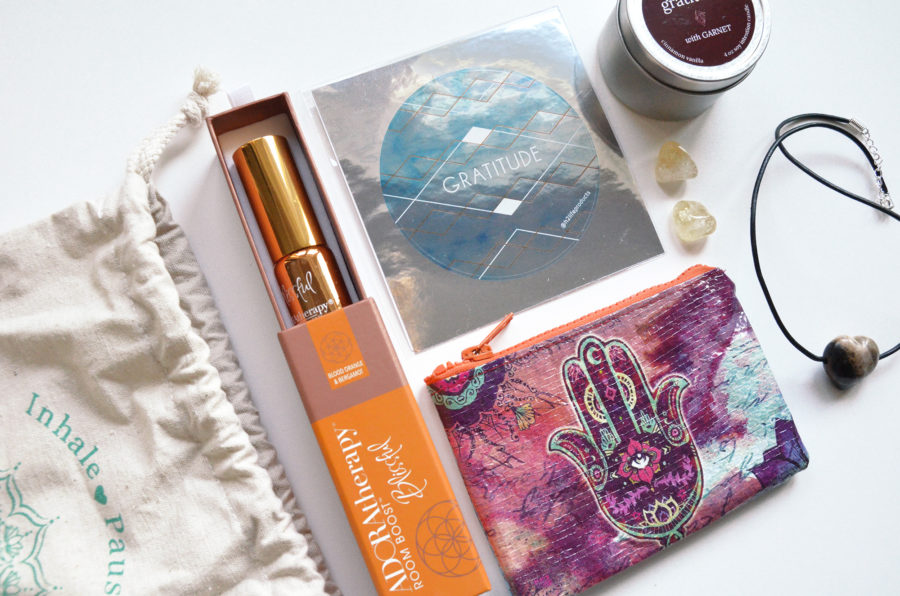 November Box Details
The November BuddhiBox has the most fitting theme: "Gratitude" and comes with a great quote to inspire that theme:
"The attitude of gratitude is the highest Yoga." ~Yogi Bhajan
Thanksgiving really is all about gratitude and appreciation so there couldn't be a better theme for the month of November. I think when we think of gratitude we often think of what other's have done for us, but it also includes what we do for ourselves. This month's box not only reminds us to be thankful for what we have but what we can give to ourselves which includes a bit of reflection and relaxation time. These tools will certainly help with that!
Here's a look at what was in this month's BuddhiBox: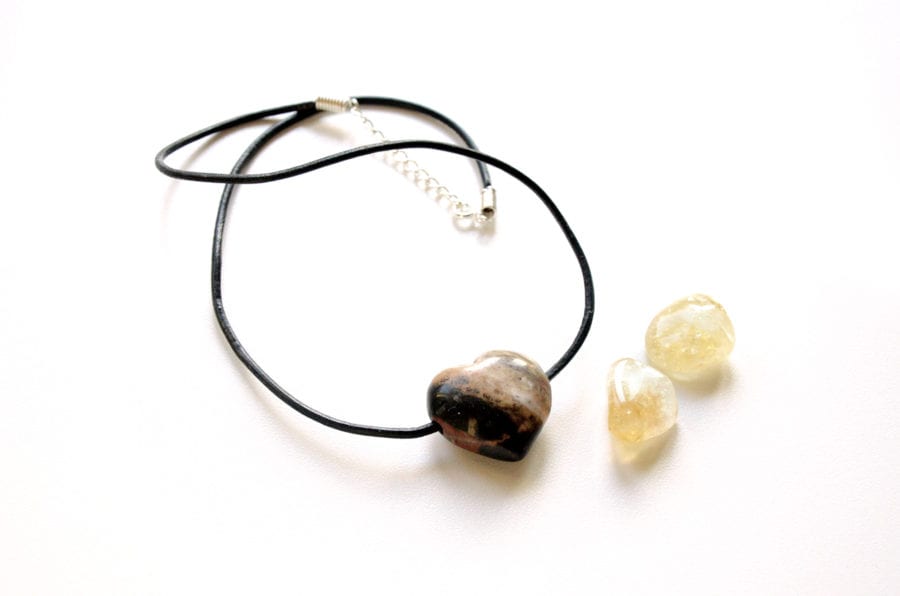 Puffed Heart Necklace & Citrine Gratitude Intention Stones ($20 & $10 respectively)
"Citrine is a stone of abundance and gratitude. Carry them with you to amplify your focus and manifestation. Your puffed heart necklace is either Black Sardonyx or Red Jasper both chosen for their protection and strengthening qualities for you."
This is a really pretty heart stone necklace. I received the black sardonyx stone and is kind of a marble effect of deep blacks and light browns and tans. This stone is said to provide protection and strength and attracts friends and good fortune. It's a good stone to wear every day and it's simple design works well for that use too! The necklace also came with two small citrine stones which are energizing stones said to help with manifestation and attracting happiness and success. These are a great size for keeping with you in your purse or pocket as a reminder of gratitude for all the good in life.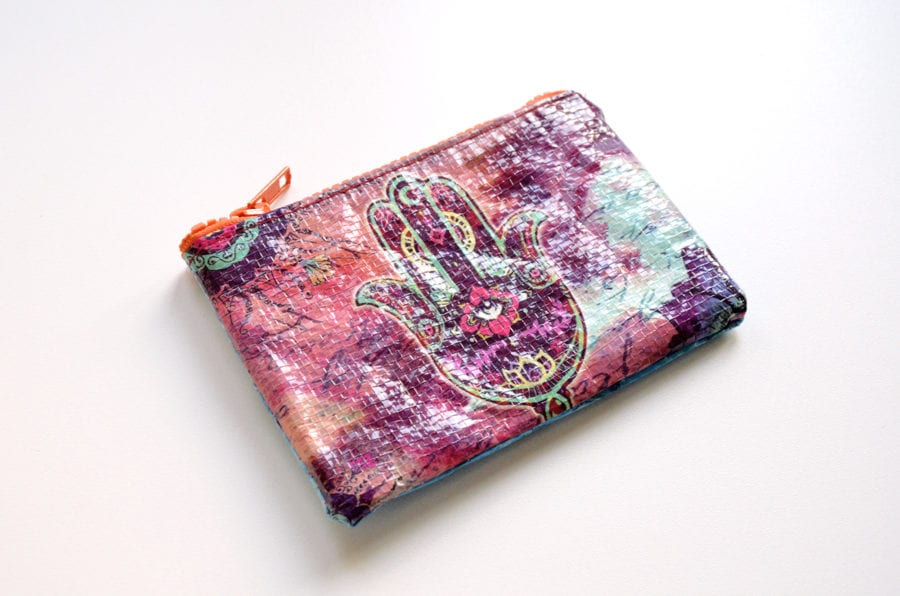 Hamsa Coin Purse ($10)
"The symbol of the hamsa hand is one of divine blessings and abundance. May it be so!"
Not only does this literally hold something we can all be grateful for (money), but the symbol on the front is said to bring the individual good fortune – so it's very fitting! This is a great size to hold cards or coins as well as small trinkets or makeup and would easily fit in any purse or bag. It has a zipper closure so it will easily keep everything safely inside.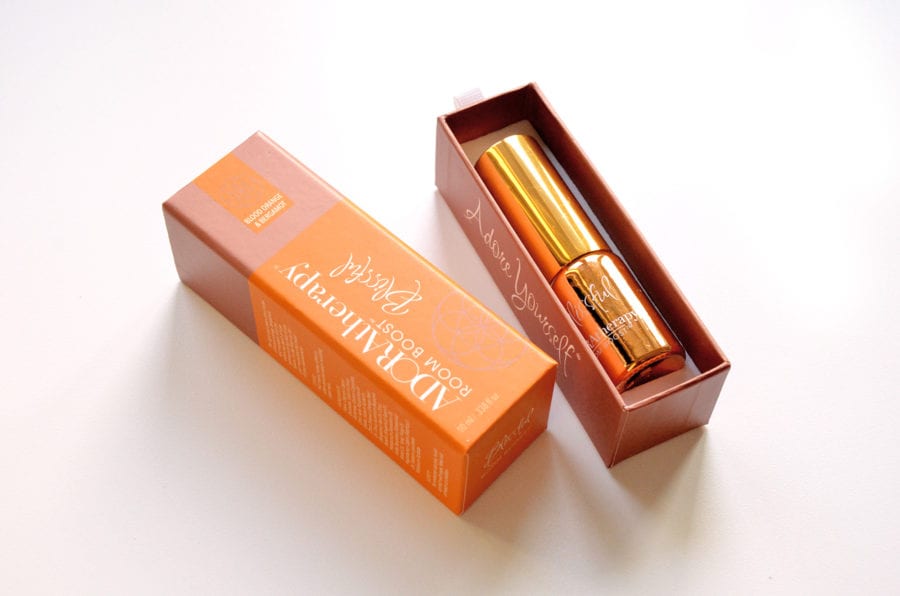 Adoratherapy Blissful Room Boost Spray ($20)
"Vibrant and Joyful, Blissful is exuberant and uplifting. With top notes of blood orange, ylang-ylang and mandarin. If an open heart, self-expression and gratitude are what you desire most then Blissful will ground your intention. An alternative to candles, room fresheners and diffusers, this spray is all natural, organic, vegan & cruelty free."
This is a nice and uplifting aura spray. It can be used as a room spray, for linens, or even for a yoga mat to start a practice off right. It's aroma is bright, light and crisp citrus with an earthy undertone from the bergamot and patchouli. It's a great size to keep on your desk or in your yoga bag for easy use anytime. It's also a really pretty bottle too!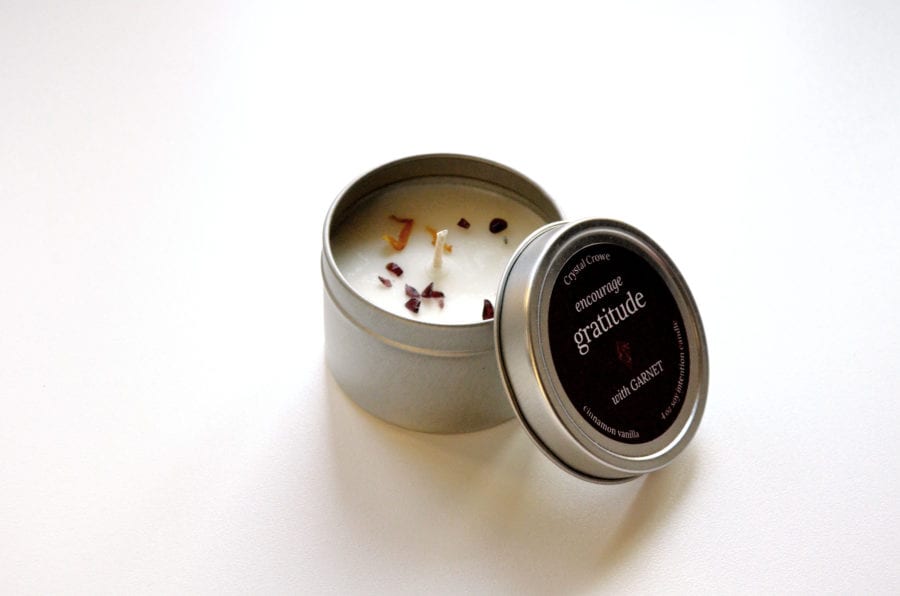 Crystal Crowe by Paige Encourage Gratitude Soy Candle Tin ($12)
"Light your candle and sit with intention to cultivate gratitude, a process that will cleanse and purify the heart."
This candle smells so good! It's scent is cinnamon vanilla and is just the perfect blend. It's spicy with a sweet undertone and reminds me of the holiday season. It also includes a handful of small garnet stones. Garnets are said to be the stone of prosperity and abundance and they are to encourage gratitude and service to others so the stone is perfect for this candle's meaning and this time of year!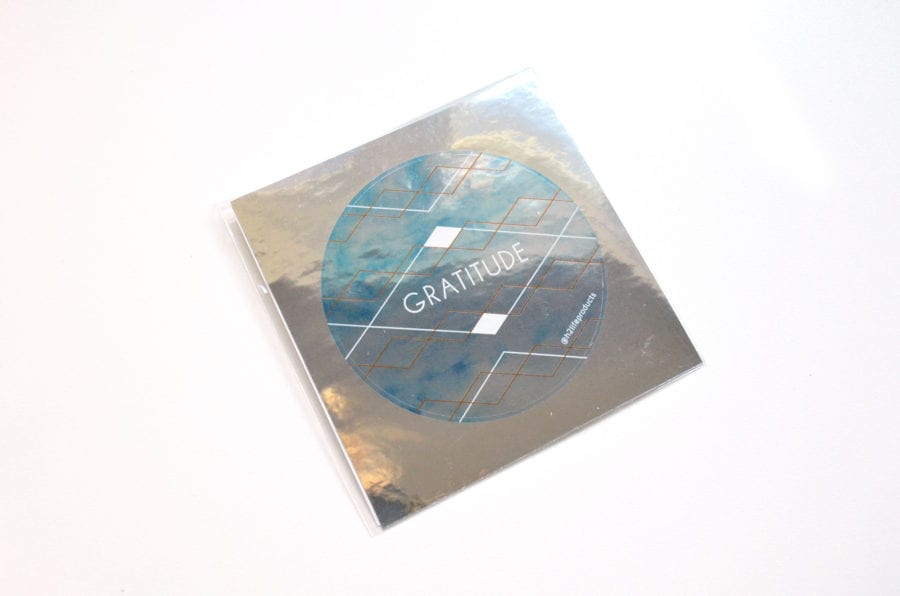 H2Life Sacred Geometry Gratitude Sticker ($2.95)
"Studies show that positive vibes can bring good things in life. Live in gratitude and feel life get brighter by the minute! This waterproof sticker is great for water bottles, computers, anywhere."
A fun and eye catching sticker that would be great for a water bottle since you'd drink out of it often you'd be reminded of gratitude often too. It's about 4 inches wide and has a subtle, calming design on an catching, metallic silver background. Very pretty!
Jen Dial Meditations on Gratitude ($50)
"This is a golden opportunity! Jen is offering her Book of Gratitude Meditations … 3 recorded mindset shift sessions. A gift to use again and again."
I always appreciate guided meditations because I find them easier to follow and stay focused on so this is a great addition to this month's box. These 3 meditations are for helping when you feel stressed and stuck in negativity. They are geared towards the gratitude theme as it's shown that when you practice gratitude anxiety levels are decreased. These are intended to be listened to in the morning and then again before bed to help cultivate the practice.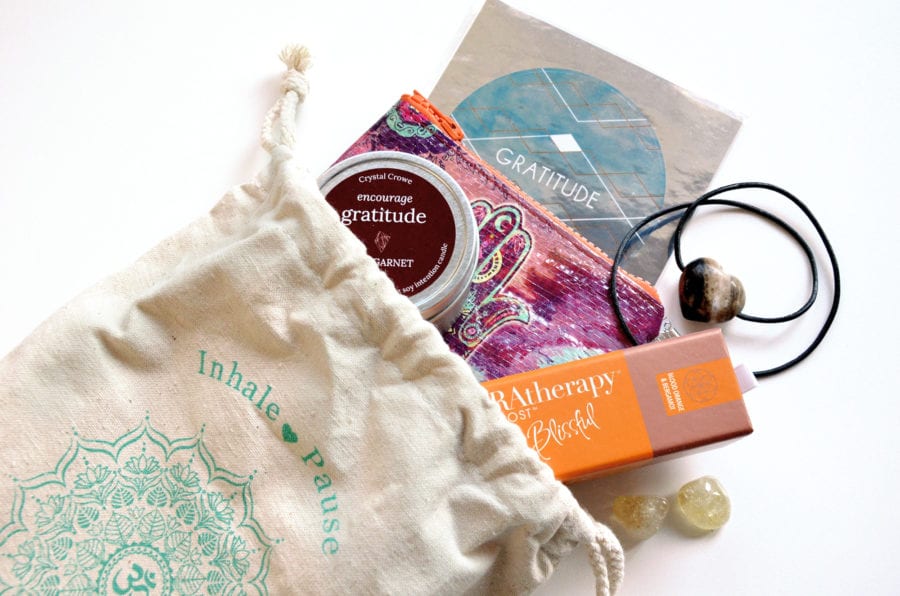 BuddhiBox Review November 2019 – Final Thoughts
I love a good subscription box theme and this one is perfect for the holiday season. It's good to practice gratitude throughout the whole year but it feels especially important and meaningful during the holidays so this theme and the box contents are a great reminder to make that a focus. I especially like the candle that was included as it not only looks festive but emits a feeling of gratitude from the aroma and the stones it includes. But really, all the items are great for starting or continuing a gratitude practice to last throughout the next year. I'm *grateful* for the inspiration that BuddhiBox always brings with it!
The Botanic Gal – http://www.botanicgal.com
Explore.
Save.
Enjoy!
Sign up for a free account on A Year of Boxes to receive exclusive offers, be added to our monthly mailing list, and much more! We are always adding features to improve the experience for our users, from their valuable feedback!
Join Today!