California Found Review February 2019
California Found is a monthly collection of expertly curated, beautifully crafted small-batch and handmade goods from California's most talented artisans. They kindly set us this box for review.
It has been a little while since I've had the chance to personally review this wonderful subscription. Cournty and Sabrina from our review team have received the last few boxes. I still remember the very first California Found box I received and how much I enjoyed it. So it should come as no surprise that I was pretty excited to get my hands on another box.
Subscription Details
California Found is a subscription service that delivers a sunny box of beautifully crafted California artisan products to your door. Every month, California Found subscribers receive a collection of expertly curated items that may include gourmet, spa & beauty, home goods, jewelry, stationery and more, beautifully packaged and with a retail value of at least $90.
Cost: Month-to-month subscriptions cost $49.00
Three-month subscriptions cost $144.00
Shipping: $7.95 to US
Shipping Schedule: The current month's box subscription closes on the 30th of the month. If you subscribe after the 30th, your subscription will begin with the next month's shipment. If they are sold out of boxes the month you subscribe, you will be notified and your subscription will begin the following month.
Here's a closer look at the items we received in the February California Found box….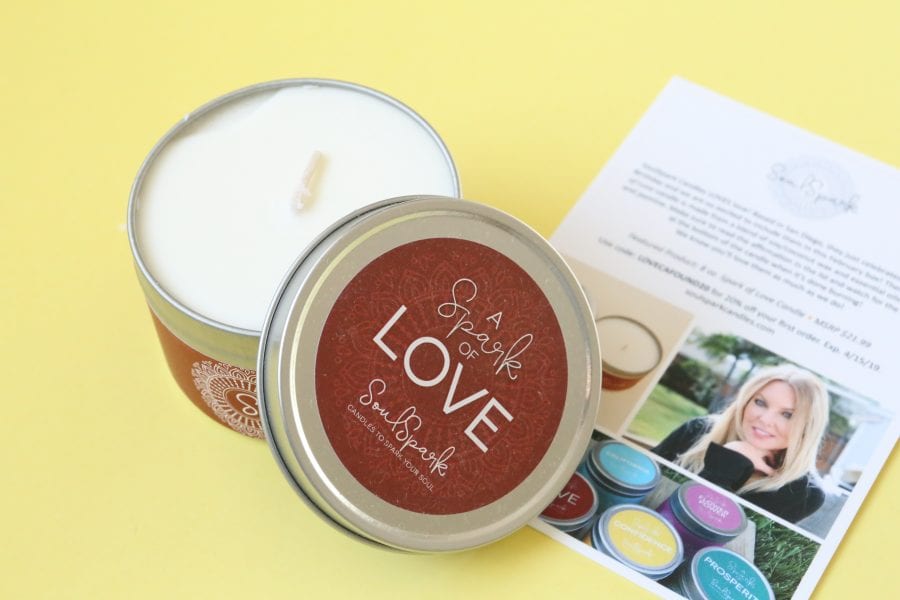 8 oz. Candle in Spark of Love by Soul Spark Candles (retail $21.99)
A true floral will fill your room with Jasmine and Rose. Read the love affirmation written in the lid, plus find a charm at the bottom when the candle is done burning to keep the good vibes going.
I am always happy to receive candles. In fact, I prefer to receive them and if given the option I would want to see a candle in all my lifestyle boxes. Is that too much? Maybe, maybe not. I LOVE candles and I love to discover new candle brands. This one has a lovely floral scent which is a nice change from the fruity, rich, or sweet scents I usually opt for.
Three (3) Seasoning Blends by Gustus Vitae (retail $30.00)
Pacific Seafood Blend – transforms a simple seafood meal into a signature dish
A Taste of California – delicious on meats, fish, veggies and even in yogurt
California Strawberry Cane Sugar – great for baking, dusting cookies, frosting or
drink rims
Yes!!! I was so excited to see these seasoning tins tucked inside the February box. I am a huge fan of spices and I still think about the Applewood Smoked Sea Salt that I received in the January 2018 Box. This time around I received some amazing spices that can be used for tofu, veggies and cookies……just to name a few.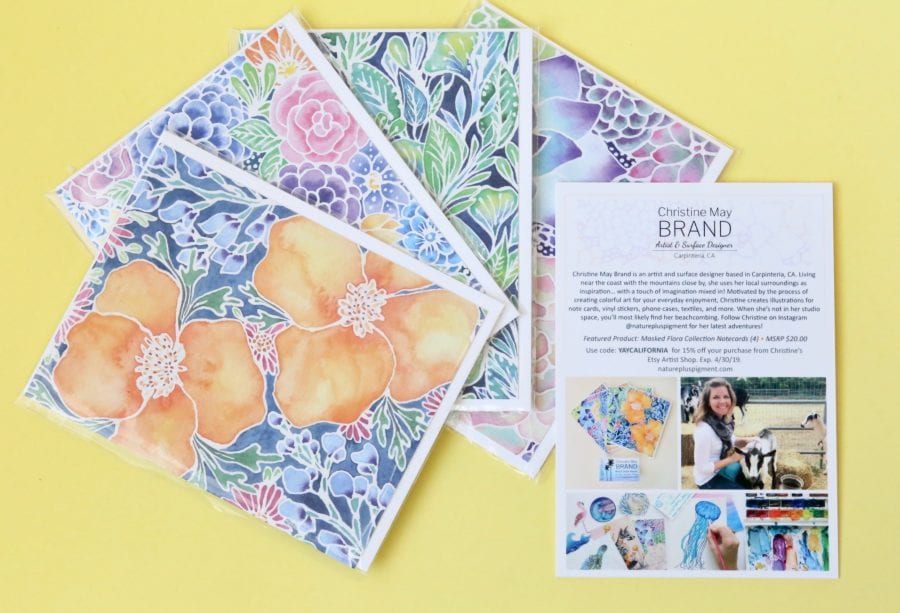 4 Greeting Card Collection in Masked Flora by Christina May Brand (retail $20.00)
Even more beautiful in person, these watercolor botanicals make the perfect thank you or "just because" greeting or would be stunning as a framed collection.
The February stationery item is a set of beautiful greeting cards. I like to have a selection of greeting cards on hand at all times so these will come in handy. I like that they are versatile enough to be used for a number of different occasions.
Antioxidant Face Oil by Belle & Beast Organics (retail $22.00)
An all-in-one Facial Oil to combat: Wrinkles, Acne and Oily/Dry/Damaged skin, this thoughtful blend of 11 oils, is very light in consistency, containing "dry" oils that are quickly absorbed into the skin without leaving any residue and won't clog pores!
Oh…..this is exciting. If you read my reviews on a regular basis you will know how much I LOVE face oil. I use it twice a day and am always happy to test out new brands. As long as it is all-natural (which this one is) then I am more than happy to give it a go.
It is a blend of 11 oils – sunflower oil, sweet almond oil, jojoba oil, apricot seed oil, rosehip oil, evening primrose oil, geranium, frankincense, neroli, jasmine and myrrh.
Makenzie earrings by Robyn Rhodes Design in Aquamarine or Clear Crystal (retail $43.00)
For everyday sparkle, Swarovski ball stud earrings, just under 1/4 inch around. Every piece is hand-made by Robyn Rhodes.
These pretty little earrings are simple enough to be worn daily, which is something I look for when it comes to my jewelry. It's not often that I dress up so I am drawn to simple pieces with just a little bit of pizazz…..just like these.
California Found Review February 2019 – Final Thoughts
I am absolutely thrilled with the February California Found Box. It is full of items that are not only useful, but fun and pretty too. I say pretty because even the spice tins are cute enough to be displayed on my kitchen counter for all to see. I love the variety of items as well – something for the kitchen, skincare, jewelry, stationery and home decor. The pretty little candle already has a spot on one of the shelves in my living room. California Found is a gorgeous box……it never disappoints.
XOXO