California Found Review November 2019
California Found is a monthly collection of expertly curated, beautifully crafted small batch and handmade goods from California's most talented artisans. They kindly set us this box for review.
Each month you'll receive a beautifully packaged box valued at over $90 that's filled to the brim with natural spa & beauty products, locally sourced gourmet treats, beautifully crafted home goods, infinitely wearable jewelry and more. Every item introduces you to a new maker, each from different parts of the state with unique stories to tell.
They've recently become members of the 1% of the Planet and have committed to donating at least 1% of their gross revenues to the organization to help in their mission to build, support and activate an alliance of individuals and businesses committed to creating a healthy planet.
As a fun bonus, each month one subscriber's California Found box contains a golden ticket (it is the Golden State after all!) that entitles the recipient to one FREE box!
Subscription Details
The cost of the California Found box is $49 per month with the option of three-month subscription costing $144.00. Shipping is $7.95 in the US, $16.95 CAD and $23.95 everywhere else. Current month's subscriptions close on the 30th of each month. New boxes are shipped between the 20th & 30th of each month and will arrive to subscribers within 5 business days after shipping.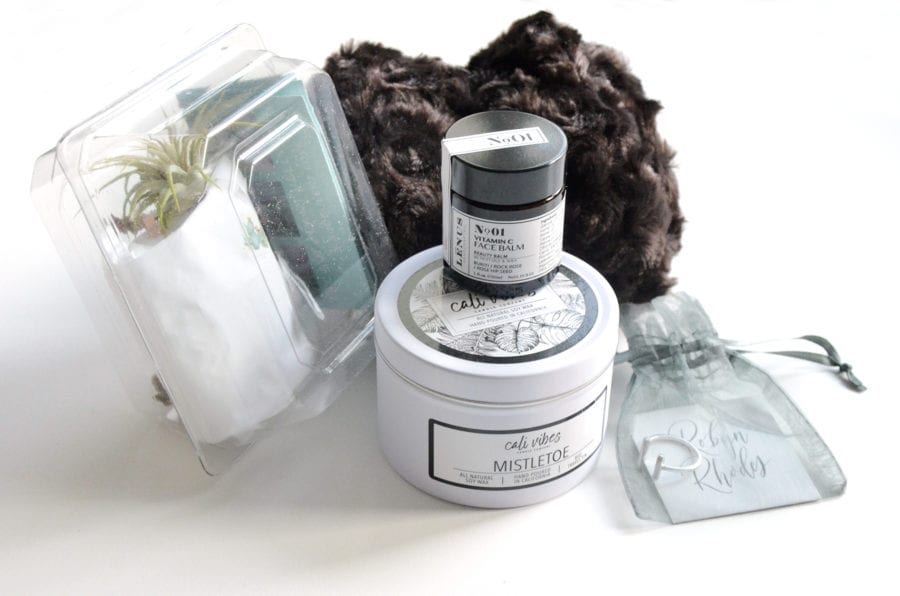 November Box Details ($135 total value)
"We're excited to bring you this month's collection of gorgeous California artisan-made products! To celebrate our anniversary, this month's box features some of our very favorite makers from the past year. You're so going to love it!"
What a fun theme for this month's anniversary California Found box! If you have been subscribing for awhile some of the brands would be familiar since they are favorites from the past year but since I'm relatively new to receiving, these are all new to me. Either way, it's a fun surprise since the items aren't the same!
Here's a look at what's in this month's California Found box:
Box Insert
The inserts included in this box are so thoughtful and informative. There's an individual card for each product giving the item it's own spotlight. They include a little background about the makers and the company as well as include a product photo and additional related pictures. They also all contain discount codes for future purchase from each company so you can buy more of the same product if you fall in love, or even try something new if the company inspired intrigue. I've included a few bullet points from each card below.
In Succulent Love DIY Jellyfish Ornament ($23)
"In Succulent Love blossomed by complete accident while maker Jessica Cain was making succulent pumpkins with her grandmother each Fall. Jessica ships over 120 different varieties of succulent plants, DIY kits like the one we're featuring this month, and pre-made arrangements.
Jessica's first book, Stylish Succulent Designs & Other Botanical Crafts, filled with 40 different DIY botanical projects, is available now."
I wasn't familiar with this brand or these products before so finding a little plant in this month's box was such a fun and unexpected surprise. It's a really sweet little air plant that comes with a shell to insert the plant into. You then use the included string and hang it upside-down so it looks like a little jellyfish. It's too cute! It would make a really fun gift item.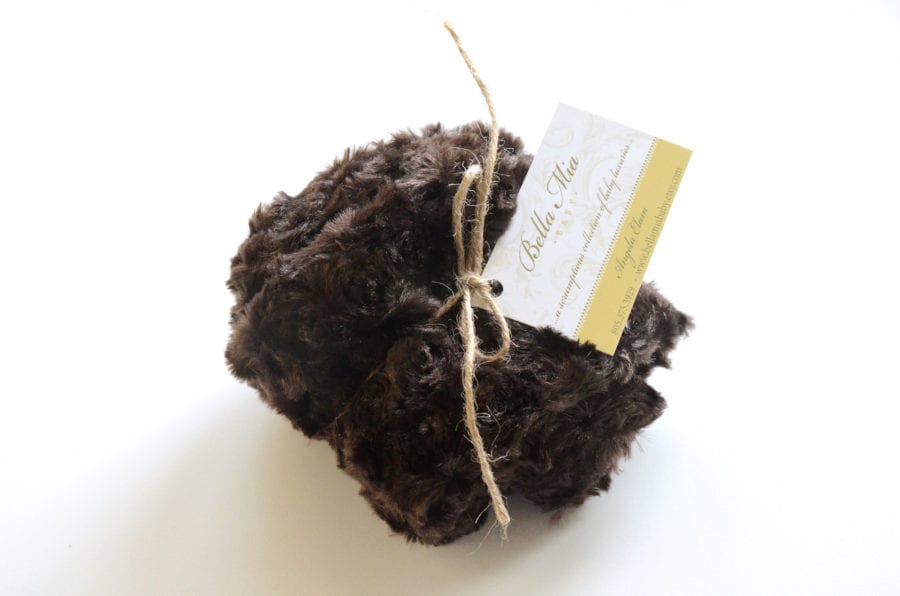 Bella Mia Mama & Baby 60″ Minky Scarf ($25)
"In 2002 after her first child was born, Angela Elam decided to turn her creative passion for hand-crafted products for babies and mamas into a business. Angela hand selects each designer fabric and creates one of a kind, scrumptiously soft bibs, blankets, throws, pillows, handbags, scarves and more."
This scarf is SO soft! It's the perfect scarf for winter because it will keep you warm and won't be all itchy on your neck like many others. It's made of minky fabric that's often used for baby items. My baby actually really likes this scarf too! Brown isn't really a color I wear often but I like how thin it is. It's a good size that would work well with a more dressy coat so I might wear this occasionally. If not, my little girl really loves it and it would certainly keep her neck warm too!
Cali Vibes Candle Company 8 oz. travel candle in Mistletoe ($18)
"Cali Vibes Candle Company is a beach brand inspired by the California lifestyle. Each candle is hand poured in Orange County, California using all natural soy wax and phthalate free fragrance oils blended with essential oils."
Give me all the Christmas scented items starting with this one! I just love holiday scented candles. I can't get enough of them so I was happy to find this candle in this month's box. It smells so perfectly like Christmas. It's aroma is like a fresh wreath with a hint of fruit and spice. I like that it's made with natural ingredients like soy wax and essential oils. This travel tin is a generous size and will likely be just the right size for getting me through the holiday season.
LĒNUS Handcrafted 1 oz No. 01 Vitamin Beauty Balm ($24)
"In 2013, Laura Lisauskas distilled a passion for botany, a love for design and a drive for independence into the all-natural skincare brand LĒNUS Handcrafted. LĒNUS cleansers, toners, face masks, scrubs and balms are formulated with clean and effective bases of aloe vera, plant oils and local raw honey, and infused with essential oils. The LĒNUS No. 01 Beauty Balm is a unique blend of deeply nourishing botanical oils, vitamin C + E + B, and organic shea butter. Use this luxurious multipurpose balm to nourish dry skin, relieve minor rashes, and even cleanse the skin!"
This beauty balm is great! It's rich and moisturizing and perfect for my dry winter skin. It says it's for the face but I think it would be great for hands too. My hands get extra dry in the winter and I'm sure this would help. It's full of mega moisturizing ingredients like shea butter and kokum butter along with skin repairing ingredients like vitamins and carrot and sea buckthorn extracts. I really like the all natural ingredient list, many are even organic. It smells light, yet rich. It's a little sweet, a little floral and a little earthy. It doesn't feel greasy on my skin but since it's a richer balm if I were to use it on my face I'd probably use it at night.
Robyn Rhodes Ronnie Ring in Silver ($45)
"Each and every piece is handcrafted within the greater Los Angeles area, helping to support local artisans while maintaining the highest level of quality in craftsmanship, materials, and style. We love the architectural quality of the Ronnie uneven double bar ring. It's bold while still being ultra feminine, and can be size-adjusted by gently squeezing or stretching."
I like simple and understated jewelry, especially for rings so this is right up my alley. I also usually have a tough time finding rings that fit my boney fingers right so I like that this one is adjustable. I can really be worn on any finger then which is nice. It's made of brass and coated in sterling silver so it's really shiny and pretty and shouldn't bother sensitive skin. I will wear this one a lot as it goes with really any outfit.
California Found Review November 2019 – Final Thoughts
I love that this month's California Found gathering of goods is an ode to some of the favorite brands included throughout this past year! I haven't received all the boxes for the last 12 months so all of these brands were new to me and fun to discover. As usual I really like all the items include so it's hard to pick a favorite, but since I'm really into all natural skincare I'd have to say I was most excited by the LENUS Skin Balm. But I've also been wearing the ring around a lot too! All of the items included would really make wonderful gifts too. So with the holidays coming up it's fun to have this inspiration delivered right to my doorstep! Overall a really fun and celebratory box this month! Happy Anniversary to California Found!
The Botanic Gal – http://www.botanicgal.com