California Found Review October 2019
California Found is a monthly collection of expertly curated, beautifully crafted small batch and handmade goods from California's most talented artisans. They kindly set us this box for review.
Each month you'll receive a beautifully packaged box valued at over $90 that's filled to the brim with natural spa & beauty products, locally sourced gourmet treats, beautifully crafted home goods, infinitely wearable jewelry and more. Every item introduces you to a new maker, each from different parts of the state with unique stories to tell.
They've recently become members of the 1% of the Planet and have committed to donating at least 1% of their gross revenues to the organization to help in their mission to build, support and activate an alliance of individuals and businesses committed to creating a healthy planet.
As a fun bonus, each month one subscriber's California Found box contains a golden ticket (it is the Golden State after all!) that entitles the recipient to one FREE box!
Subscription Details
The cost of the box is $49 per month with the option of three-month subscription costing $144.00. Shipping is $7.95 in the US, $16.95 CAD and $23.95 everywhere else. Current month's subscriptions close on the 30th of each month. New boxes are shipped between the 20th & 30th of each month and will arrive to subscribers within 5 business days after shipping.
October Box Details ($129 total value)
This month's California Found box has a great selection of artisan goods from snacks to skincare, jewelry and a candle. I'm feeling some cozy fall vibes start to creep in with this combination of items which is perfect timing since it's starting to get crisp here. Since October is Breast Cancer Awareness month, one of the items (see which below!) supports breast cancer research and 10% of California Found's profits this month are being donated toward research too! I love supporting companies that give back!
Here's a look at what's in this month's box:
Box Insert
The inserts included in this box are so thoughtful and informative. There's an individual card for each product giving the item it's own spotlight. They include a little background about the makers and the company as well as include a product photo and additional related pictures. They also all contain discount codes for future purchase from each company so you can buy more of the same product if you fall in love, or even try something new if the company inspired intrigue. I've included a few bullet points from each card below.
Barton Burns Soy Candle in Pumpkin Pancakes ($18)
"Barton Burns was created to help fund physical therapy medical mission trips the owner, Erica Barton, goes on. She also creates cement containers, succulent arrangements and 11 other soy candle scents."
This is an eco-friendly soy candle scented with premium grade essential oils and fragrance. It smells like pumpkin bread meets pancakes – a bit like warm pumpkin, a bit like spicy cinnamon and a bit like sugary syrup. Just smelling it is making me hungry! It's the perfect scent for fall and will bring a feeling of comfort and warm up any space it's burned in. I can't wait to use it!
Honey Belle Moisturizing Face Creme Duo ($30)
"Honey Belle is a natural beauty brand that started in a home kitchen, founded by Iris Cherng and Calvin Hang in 2015. Iris began formulating natural creams and soaps for a solution to their individual skin concerns (psoriasis and eczema). She created and entire clean skincare line to connect real people with real products that work."
I love clean beauty and skincare so this is a fun duo to find in the box! It's a pairing of a complementary day cream and night cream. They seem to both have the same or a very similar ingredient list but the day cream is said to be lightweight while the night cream is said to be moisture rich. I think the day cream seems to have a bit of a thinner consistency. Both are made with organic aloe juice and organic coconut oil for mega moisture along with rosehip, hibiscus flower and neem seed oil that help balance skin. I unfortunately can't use coconut oil on my skin as it causes congestion but for anyone that can, this would be a great duo to try out as cold temps bring on the dry and itchy skin.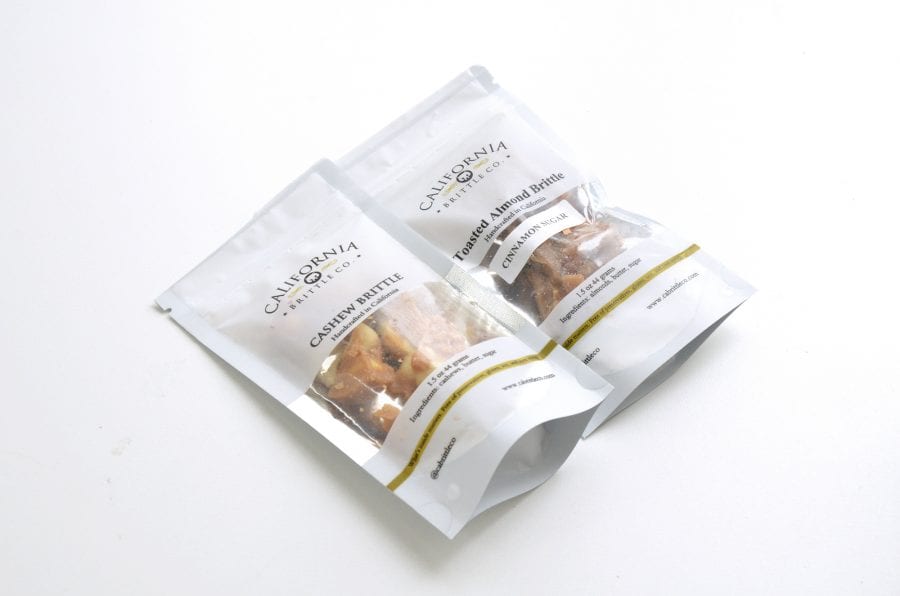 California Brittle Co. Mini Bags of Toasted Almond Brittle & Cashew Brittle ($3.50/each)
"California Brittle Company, founded in a small town off the central coast of California, has always been about treasuring the simplest of pleasures. Amy Hinden, the founder says that creating treats for life events is something that connects her with her customers and makes each batch that much more special. Every batch of brittle is still handmade with a few simple ingredients and a signature "soft crunch."
Brittle is just so delicious and is reminiscent of simpler times. My grandmother makes it for the holidays so it makes me all nostalgic. The flavors sound amazing: one is a simple cashew brittle and the other is a cinnamon sugar almond brittle. I love cashews so I'm digging into that one first. I have such a sweet tooth so I'm sure both of these will be gone soon after I open them. The "soft crunch" description reminds me of the texture of toffee, which is one of my favorites so I'm sure these will be delicious!
Revive Charitable Jewelry Sterling Silver Stud Earrings in Green ($35)
"Nikki Zazzali finds beauty in unsuspected places- cell images of disease. Each of her designs incorporates these cell photos in an attempt to use the disease against itself and help us take our power back from it. 10% of every sale goes directly to disease research."
These earrings are so beautiful! I especially like the simple and small design as I generally wear that type of jewelry most often. I also really like that there is such meaning behind each piece of jewelry made. I think that the cell images make lovely pieces of art. They end up looking kind of like stones with the textures they have. Each box came with one of three colors, light pink, dark pink or green and I got the green ones, which in person are actually kind of blue/green, and I'm so glad because it's one of my favorite colors. I especially love that every purchase gives back to disease research. These would make a great gift for anyone, affected by disease or not.
Bon Vivant Designs Amethyst Rollerball and Sleep Essential Oil Blend ($39)
"Bon Vivant Designs is obsessed with building beauty and a little luxury into all things leather, metal and stone. They are committed to preserving our planet's future by using only recycled, lead-free pewter and recycled leather whenever possible."
This roller ball is filled with an essential oil blend to help encourage restful sleep and help with insomnia. It's made with vanilla, benzoin, bergamot, ylang ylang and lavender essential oils. It smells, soft, soothing, calming and restful and would be great to apply to wrists or temples right before bed. The raw amethyst stones within the oil blend along with the polished amethyst roller ball are said to bring calming energies to help with insomnia, physical ailments and emotional issues. This will be a great addition to my nightstand for use every night. I need all the sleep help I can get!
California Found Review October 2019 – Final Thoughts
This is the second box I've reviewed now and California Found delivered again! I like the varied selection of goods and how there is no overlap in this box. Every item is so thoughtfully well made and shows the care that went into crafting them. I'm most excited about the candle and the essential oil roller because both give me major cozy hibernation vibes as we approach winter. I'm not the biggest fan of winter so between these two items and the general California vibe of this box, my mind can be taken elsewhere when that first flake of snow arrives.
The Botanic Gal – http://www.botanicgal.com