Chef's Plate Review: Mediterranean Rainbow Veggie Bowl
Chef's Plate is a subscription service that delivers chef-designed recipes and fresh ingredients each week. There is no subscription or membership fee to join. Their recipes range from $8.99 per serving on the Family Plan up to $12.95 on the 15 Minute Meal Plan.
Do you subscribe to a meal delivery service? If so….don't you just love it! And if not…..what are you waiting for? Chef's Plate is a must-have in our house. In fact…..we subscribe to two different (sometimes 3) meal delivery boxes and often receive two boxes every week. I have come to rely on these deliveries more than I like to admit. Chef's Plate saves me time and money. Not to mention the fact that my cooking skills have never been better! I learn so much from my Chef's Plate recipes and am so much more confident in the kitchen than I was before.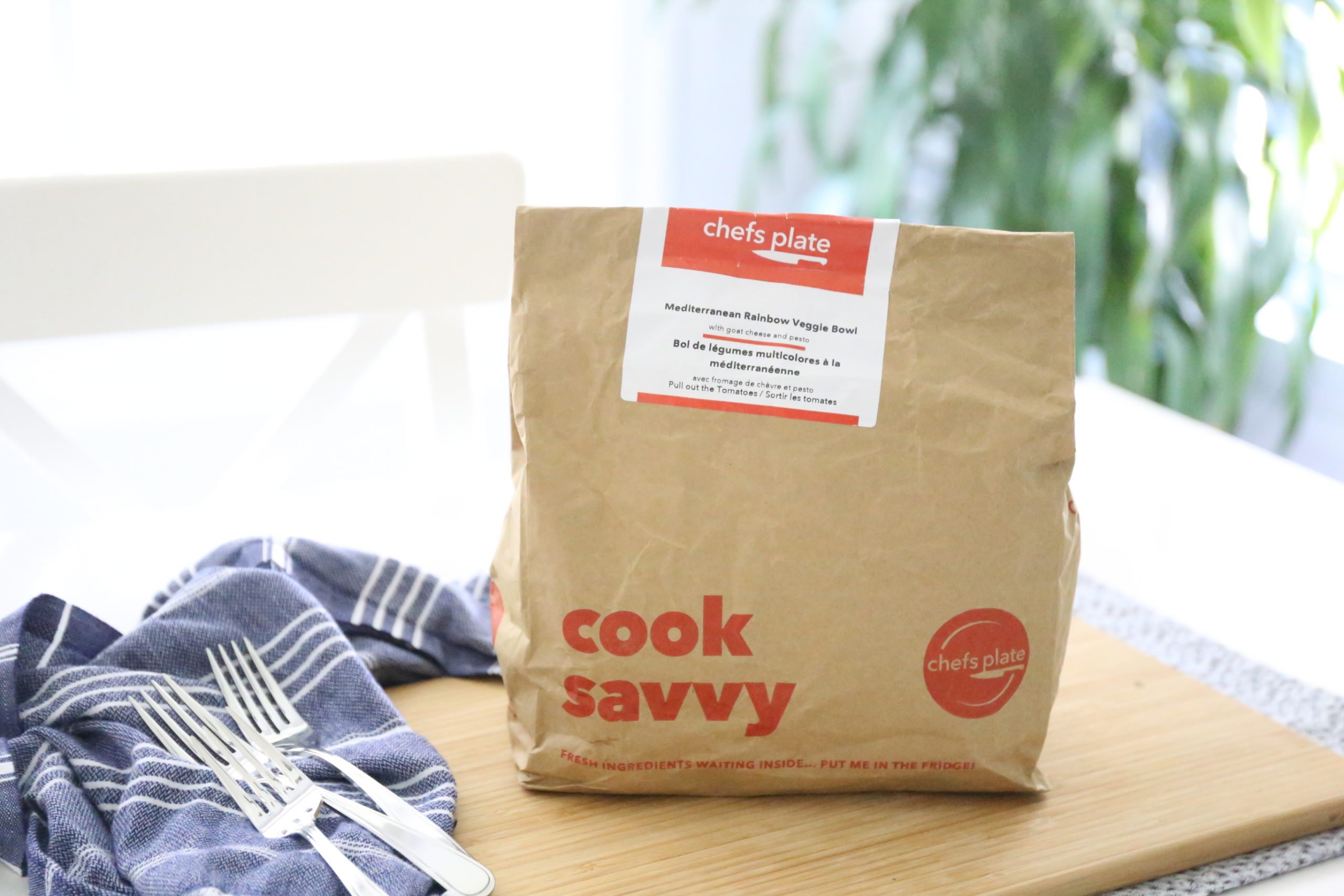 Subscription Details
Chef's Plate has 3 subscription options to choose from:
Classic: The widest selection of recipes in one meal plan. Starting at $9.99 per serving. Choose 2-4 recipes per week. Each recipe is 2-4 servings.
Family: Exciting recipes the whole family will enjoy. Starting at $8.99 per serving. Choose 2-4 recipes per week. Each recipe is 2-4 servings.
Vegetarian: Delicious vegetarian recipes packed with fresh produce, whole grains and plant-based protein. Starting at $9.99 per serving. Choose 2-4 recipes per week. Each recipe is 2 servings.
We order 3 new Chef's Plate recipes each week, and have been since August of 2016. Here's a look at one of the recipes we received this past week….
Mediterranean Rainbow Veggie Bowl
Eating the rainbow can be delicious, and this Mediterranean grain bowl is proof. You'll top the cracked wheat high with a tumble of healthy toppings: roasted zucchini, bell peppers, and arugula. The pesto goat cheese and balsamic dressing will keep you coming back for more.
Ingredients:
113g cracked wheat
1 bell pepper
1 zucchini
56g baby arugula
113g goat cheese
1 roma tomato
28g balsamic glaze
14g basil pesto
vegetable stock reduction
1 lemon
3g mediterranean spice mix
Directions:
Prepare Ingredients: Read recipe card, wash and dry produce, cut zucchini into half moons, thinly slice pepper, chop tomato, juice half lemon, cut other half into wedges.
Roast Veggies: Add pepper zucchini, tomatoes, spice mix, and 1 tbs oil to bowl, season with salt & pepper, toss to mix, add to baking sheet, roast in oven (450) for 4-16 minutes.
Cook Cracked Wheat: In small pot add vegetable stock, 3/4 cup water, 1 tbs oil and 1/4 tsp salt, cover and bring to boil, add cracked wheat, cover and set aside off heat for 16 min, fluff with fork.
Toss Salad: In medium bowl whisk together 2 tsp lemon juice, 1 tsp balsamic glaze, 1 tbsp oil, season with salt and pepper, add arugula and toss to coat. In small bowl, stir together pesto and goat cheese.
Assemble Bowl & Serve: To cracked wheat, add roasted veggies and toss. Plate cracked wheat with arugula salad. Drizzle over balsamic glaze and squeeze lemon wedge to taste. Top with goat cheese mixture. ENJOY!
Thoughts: You may notice a trend with my meal delivery boxes….I always opt for the recipes with the most veggies. This one looks a little more colourful on the recipe card because it's made with red peppers instead of yellow but it still turned out beautifully. I changed the recipe slightly, something I have been doing with most of my recipes as of late, and added a can of chickpeas. I had extra in the pantry and it allowed me to stretch the recipe into 3 servings as opposed to 2. I simply added the chickpeas to the pan of veggies while they roasted in the oven. Overall the flavour was great, the recipe was easy and the ingredients were fresh. Chef's Plate continues to be a favourite!
-AYOB Sarah