Chef's Plate Review September 16th, 2016
Chef's Plate Review September 2016
It should be pretty apparent that I am in love with this subscription. This is already my fourth delivery and I only found out about Chef's Plate just over a month ago. This new subscription service is saving me money on my grocery bill, and it's forcing me to try new cooking techniques. It's my new favourite!
Chef's Plate Details
If you aren't familiar with Chef's Plate it is a subscription service that delivers chef-designed recipes and fresh ingredients each week. There is no subscription or membership fee to join. Our recipes begin at $10.95 per plate for the 2-Person Plan and $9.75 per plate for the Family Plan.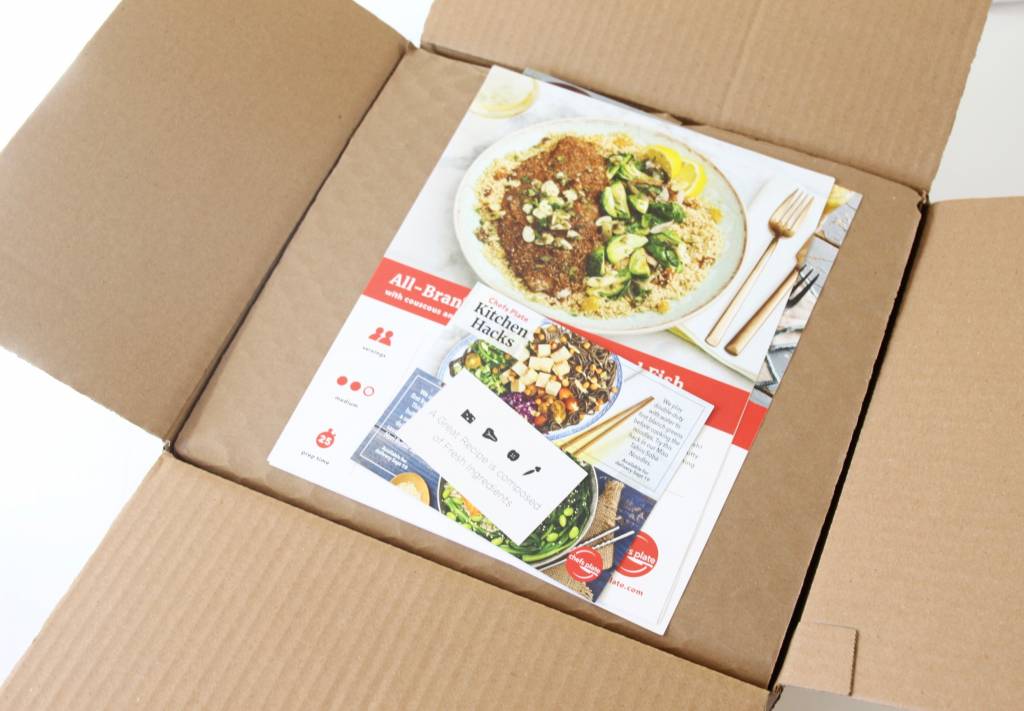 The Box: Chef's Plate
Cost:
2 Person Plan = $49.80 weekly for two meals/recipes
Family Plan = $78.00 weekly for two meals.recipes
What You Get: Choose from original recipes created by their culinary team & guest chefs. New recipes are introduced each week and feature land, sea and veggie options. You will receive everything you need to make each recipe. Choose from a two-person plan or family plan.
Ships to: Ontario, British Columbia, Alberta & Manitoba.
Shipping Cost: Delivery is free on all of our plans with the exception of our 2-person plan with 2 meals per week. There is a $6 delivery charge applied to this plan.
Coupon Code: Use my link to get $33 off your first order – CLICK HERE
Here's a look at the plates/recipes I order this week:
All-Bran and Almond Crusted Fish
With the help of All-Bran, we've discovered a uniquely delicious way to crust fish! Finished with a savoury almond and caper topping, the fish takes on a toasted nutty flavour. Served over whole wheat couscous with sautéed brussels sprouts, we're inviting you to think outside the box. 
I mostly ordered this dish because of the brussel sprouts, I love them! It's not vegan friendly, but I started incorporating fish into my diet about a year ago. I will eat it from time to time, mostly for the protein and healthy fat. I've mentioned it before, but I struggle with getting enough fat in my diet, and my body really needs it.
Thai Crunch Salad
Crisp and light, this spicy Thai salad is back by popular demand! Each ingredient makes a textural contribution – the purple carrots are shaved into curly tendrils, the snap peas are blanched for a refreshing bite while the won ton noodles provide a crunch. Cooling sour cream is juxtaposed with spicy green curry paste for a surprising and exotic dressing. 
I crave salads, it's true. Sometimes I just really need them in my life, well most of the time. And, I kind of wanted a recipe that would be quick and easy. I'm really limited on time right now. So this one fit the bill. I will probably make my own version of the dressing with vegan sour cream, but other than that everything looks amazing.
Chef's Plate Review September – Final Thoughts
If you live in Canada, you MUST check this subscription service out. Chef's Plate is probably my favourite subscription box discovery of the year. It forces me to take time out of my busy schedule twice a week to pour myself a glass of wine and test out new cooking techniques. So far I have done pita pizzas, stuffed peppers, and handmade ravioli. I probably never would have tried recipes like this on my own. Not to mention the fact that I am saving money and reducing my food waste. Seriously, it is amazing!
Coupon Code: Use my link to get $33 off your first order – CLICK HERE
XOXO
Explore.
Save.
Enjoy!
Sign up for a free account on A Year of Boxes to receive exclusive offers, be added to our monthly mailing list, and much more! We are always adding features to improve the experience for our users, from their valuable feedback!
Join Today!