Chef's Plate Review: Warm Pesto Chickpea Salad
Chef's Plate is a subscription service that delivers chef-designed recipes and fresh ingredients each week. There is no subscription or membership fee to join. Their recipes range from $8.99 per serving on the Family Plan up to $12.95 on the 15 Minute Meal Plan.
There just something so nice about a home-cooked meal enjoyed with loved ones. It's so much better than pre-made meals or takeout. Wouldn't you agree? But my time is extremely limited as of late….baby and work taking up most of it…..so I love the fact that Chef's Plate takes care of the recipe research, shopping and portion prep for me. It saves me a TON of time and allows me to still make dinner for my family at least three times per week.
Subscription Details
Chef's Plate has 3 subscription options to choose from:
Classic: The widest selection of recipes in one meal plan. Starting at $9.99 per serving. Choose 2-4 recipes per week. Each recipe is 2-4 servings.
Family: Exciting recipes the whole family will enjoy. Starting at $8.99 per serving. Choose 2-4 recipes per week. Each recipe is 2-4 servings.
Vegetarian: Delicious vegetarian recipes packed with fresh produce, whole grains and plant-based protein. Starting at $9.99 per serving. Choose 2-4 recipes per week. Each recipe is 2 servings.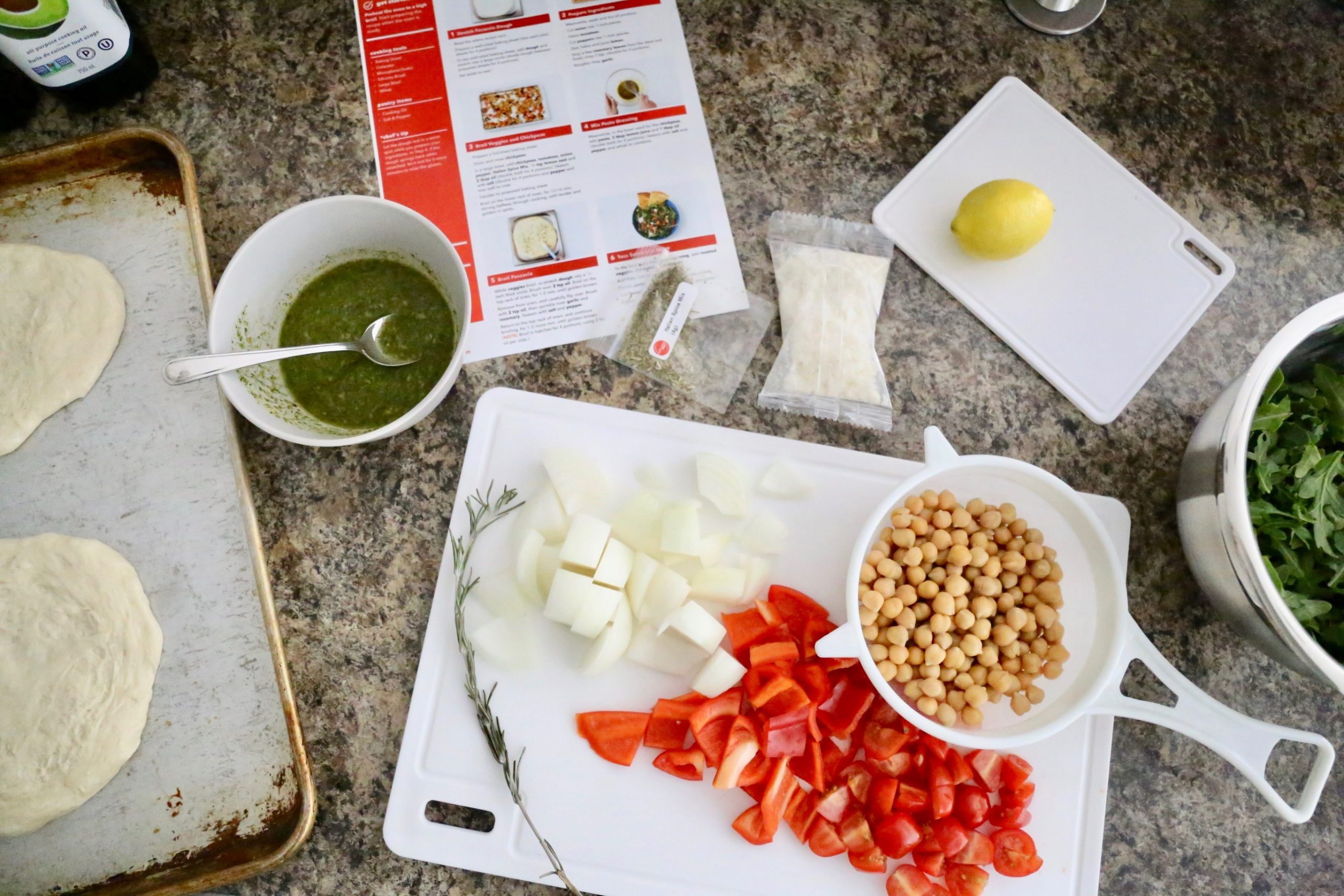 We order 3 new Chef's Plate recipes each week, and have been since August of 2016. Here's a look at one of the recipes we received this past week….
Warm Pesto Chickpea Salad
The warm flavors of dining alfresco inspire this pesto chickpea number. In place of traditional pasta, we're tossing chickpeas in a pesto vinaigrette, with warm bites of roasted veggies throughout. Scoop it up with rosemary acacia and transport yourself to a warmer day in Italy.
Ingredients:
1 can chickpeas
340g pizza dough
113g grape tomatoes
56g feta cheese
28g pesto
160 sweet bell pepper
113g red onion
1 lemon
56g baby arugula
7g rosemary sprig
6g garlic clove
4g Italian spice mix
Directions:
1: Stretch Focaccia Dough – Prepare well oiled baking sheet, add dough and stretch into a large circle, set aside to rest.
2: Prepare Ingredients – Wash and dry all produce, cut onion into 1-inch pieces, halve tomatoes, cut peppers into 1-inch pieces, zest and juice lemon, strip rosemary leaves and finely chop, roughly chop garlic.
3: Broil Veggies & Chickpeas – Prepare foil-lined baking sheet, drain and rinse chickpeas, in large bowl add chickpeas, tomatoes, onion, pepper, spice mix, 1/2 tsp lemon zest and 2 tbsp oil, season with salt and pepper, and toss to coat. Transfer to prepared baking sheet. Broil on the lower rack of oven for 13-16 minutes, stirring halfway through cooking, until tender and golden in spots.
4: Mix Pesto Dressing – In the bowl used for chickpeas add pesto, 2tbs lemon juice and 1 tbs oil, season with salt and pepper and whisk to combine.
5: Broil Focaccia – While veggies broil, re-stretch dough into a 1/2 inch thick circle. Brush over 2 tsp oil. Broil on the top rack of oven for 1-2 minutes, until golden brown. Remove from oven, flip, brush with 2 tsp oil, sprinkle with garlic, rosemary, season with salt and pepper. Return to oven and continue broiling, 1-2 minutes.
6: Toss Salad & Serve – To the bowl with pesto dressing, add roasted veggies, chickpeas and arugula. Add feta and toss well to coat. Divide pesto chickpea salad between plates. Cut focaccia into wedges and serve alongside.
Enjoy!
Warm Pesto Chickpea Salad – Final Thoughts
Love, love, love this recipe! It's easily one of my favorite Chef's Plate recipes to date. It's actually the second time I've made it and I loved it just as much, if not more, the second time around. It's fresh, healthy, warm, comforting and full of flavour all at the same time. The pesto dressing is the star of the dish. I'm tempted to get a jar of pesto to keep in the fridge so I can make the dressing again, and again, and again. The roasted veggies pair perfectly with the flavour of the arugula and the focaccia makes it a wonderfully complete meal. I will order this one again if the opportunities presents itself.
-AYOB Sarah