Earthlove Box Review Spring 2022
Earthlove is the premier Earth-first eco lifestyle subscription box full of clean and safe food, beauty, wellness, and home products that aims to make living sustainably and healing the planet easier. They kindly sent us this box for review.
They source products that are ethically and environmentally responsible, including zero waste packaging, natural ingredients, organic and non-GMO, gluten-free, cruelty-free, beegan/vegan, and fair-trade. Earthlove also supports artisans, makers, and small businesses in the US & Canada as well as companies making a difference around the world. They do the legwork for you to find the best truly sustainable essentials and self-care products that maintain the highest environmental standards. It's a win-win for you and the planet!
Each seasonal Earthlove box is packed with 6-8 full-sized sustainable + eco-friendly products by the world's best eco-conscious makers. Boxes may include one book, apothecary & botanical wellness, tea & healthy snacks, beauty & skincare, plastic-free swaps and other earth-friendly items along with a magazine with tips and ideas to live more mindfully with the earth. All products they feature are vetted against their strict criteria for sustainability and impact on the planet. For example, of the books featured in the boxes are called "last chance" books and by purchasing them they keep them out of landfills.
Their packaging is mindful and sustainable too! The boxes, stickers, and packaging materials are 100% post-consumer, biodegradable, and created with environmentally-friendly algae-based inks—the most non-harmful inks available.
Also, every box gives back! Earthlove is a proud member of 1% for the Planet and every season they partner with environmental non-profits who protect, restore, conserve the natural world and protect our ecosystems by giving to their cause.
Subscription Details
The cost of the box is $69.95 per quarter for quarterly or annual subscriptions. Shipping is a flat rate of $4.95 ($20USD to Canada, $35USD for international) or free US shipping with all annual subscriptions. New boxes are shipped on the 15th of each month at the beginning of the quarter (March, June, September & December). and will arrive to subscribers within 10 business days after shipping.
Spring Box Details
"Spring is such a magical time of year as the trees and flowers wake up and the land bursts forth with colour, vibrancy, and new energy. The robins have already returned to our farm fields and many seedlings for the Spring harvest already set in our greenhouses, with promise of bounty in the coming months. Spring is a time to rejuvenate, waking from the restful stillness of Winter and turning our attentions to new growth. How will the reviving energies of spring serve you? What do we need to let go to invite something new? This season our curation is packed with items to feel fresh, healthy, and grounded and help support you on your own path towards positive change and nourishment. Our updated box design by British artist Michaela Hobson reminds us to appreciate how spring comes alive. This season Earthlove members voted on learning about ways to help our pollinator friends – a topic close to my own heart as a natural apiarist – as well as helping conserve and protect endangered pollinators with our non-profit partner The Xerces Society. May this box bring you inspiration, support, and new energy this season!"
Here's a look at what's in this quarter's Earthlove box ($215 average total value):
Box Insert
Each quarterly Earthlove box includes a little magazine that includes the product information and value along with tips, DIY, inspiration, and stories to help you live more mindfully with the Earth. It's really nicely designed and it's even eco-friendly as it's printed on FSC-certified paper using waterless printing technology. This quarter the magazine includes a welcome note from the founder, product information and value, exclusive member discount codes from the brands included, and information on the featured cause of the quarter which happens to be the Xerces Society which supports endangered pollinators. It also features the seasonal challenge which is how you can help wild pollinators yourself, a brief introduction to natural medicine from Sun God Medicinals, "5 Areas in your Home you Need to Wipe Clean" from the Tru Earth team, information on Ayurvedic beauty for each skin type, tips for transitioning to natural hair care, information on why to choose sustainable hats, and ideas to prepare your bedroom for sleep. As usual it's packed with useful and fun information from the included brands.
Book of the Season ($16-28)
"This season Earthlove boxes include one of six books (four new titles and two from previous boxes – new titles). Here are our awesome picks for Spring!"
The book of the season that I received is "Miracle Country" by Kendra Atleework. Subscribers generally get to choose their seasonal book, but I didn't choose this one. However, I might have if I did have the choice as it sounds like a really good read! I love that some of the book choices are informational or educational, but I'm actually more excited that this is memoir form. It's nice to just read a story sometimes and not feel like you have to be learning something all the time. This will be a great read for some upcoming travel plans I have!
Heka Hemp Tincture, Sun God Medicinals ($55)
"This organic tincture reduces worry and stress to help you feel grounded and at ease. The herbs are grown by master herbalist Brie Malarkey on her sustainable farm in Shady Cove, Oregon as well as selected from other surrounding local organic farms. These medicinal herbs – skullcap, passionflower, milky oat tops, and hemp flowers – have been used for thousands of years to help ease anxiety. What we love about this tincture is just how potent it is – you can taste all the plants in the tincture (it tastes medicine-y, so you know it works ;)). A little bit goes a long way. If it's too spicy for you, dilute it in some water. Note: Canadians will receive their non-hemp version."
I'm always looking for ways to reduce anxious feelings and think this tincture sounds like an interesting and convenient thing to try for just that. I like that it's not just hemp, but also blended with other calming herbs to pack an extra punch. And I really like that it's organic and that they are transparent with sharing the 3rd party testing of the product too. I'm so curious to see if this really helps with calming anxiety.
Sustainable Hat, Storied Hats ($35-40)
"We adore these stylish and minimalist hats, especially while on a hike or working in the garden! They are not only the most sustainably and ethically-made hats we've ever come across with unparalelled craftsmanship, but each hat also gives back to social and environmental causes. Made from plant-based and upcycled materials like hemp, lyocell (wood pulp discarded from sustainable tree farms), used coffee grounds, apples, algae biomass, organic cotton, and more, these hats are durable, water resistant, and an exceptional accessory for your next outdoor adventure. They are logo-less too! Storied Hats is a small business located in San Francisco, California and the brainchild of Zach Maurin and Cameron Blossom. You'll receive one hat design from their current collections."
I really enjoy the uniqueness of this item! I've never received a hat before in a subscription box and have never known of a hat company that makes them so sustainably. The hat I got is made from abaca banana fibers and hemp – I had no idea a material like the canvas made from abaca banana even existed. I like the pattern and colors of the hat that I got and appreciate the neutral vibes of it. I generally am not a hat person and think my husband might get more use out of this one than me, but I'm glad to have found their brand and products through this box. I'll definitely be checking out the rest of their line.
Cleaning Strips, Tru Earth ($20)
"Did you know one person typically goes through more than 30 single-use bottles every year, just from household cleaners? That's 4.2 billion wasted single-use bottles per year! Made in Canada, these handy all-natural strips do the dirty work for you, killing 99.9% of bacteria, mold, fungi, and viruses hanging out on your surfaces. Just toss into a spray bottle, add hot water, and shake. That's it! They can be used to clean countertops, floors, toilets, and more. We love the lemon fresh all-natural scent and zero-waste packaging, too. Go get some spring cleaning done!"
I've tried this brand's laundry strips before and enjoyed the ease of use and zero plastic aspect. I don't think I even knew that they had a cleaning strip product, so this is a fun item to find in the box. It also looks super easy to use and I appreciate it's zero plastic packaging too. These are a perfect match for the included glass spray bottle and seem like the pair will make general cleaning quick and easy. I'm intrigued to see the cleaning power they have.
16oz Glass Spray Bottle, Earthlove ($12)
"We couldn't very well add strips without a reusable bottle, now could we? Made in the USA, this reusable glass bottle helps significantly reduce the need for single-use plastic sprays. The amber bottle also offers more protection against light damage, blocking UV rays that can impact cleaning products. For one bottle, use two Tru Earth cleaning strips."
This is an obvious choice for a box item since the cleaning strip product was also included. This bottle will be so perfect for putting that product to use. I don't generally love cleaning, but I'm so curious about the cleaning strips that I will certainly use them and this bottle really soon!
Natural Sleep Drink, Som Sleep ($3)
"Catch some restful zzzzzzs with Som Sleep's all-natural sleep drink. Som Sleep is a drugfree sleep solution to getting a proper 7-8 hours of deep sleep. This drink includes ingredients that are naturally found in your body and a healthy diet and helps promote relaxation, providing your body with nutritional support for restorative sleep patterns. Drink one can 30 minutes before you're ready to fall asleep. It's that eazzzy!"
Another product that will help with calming feelings, but this one specifically relaxes for sleeping. I also don't always get the best sleep so this really intrigues me too. It includes magnesium, L-theanine, GABA and melatonin – all great for getting better zzz's. I've tried all of those separately, so it will be interesting to see how they work together. And I'm curious how it tastes, I can't guess what flavor would be a peaceful, before-sleep flavor. I guess I'll have to wait and see!
Bloom Affirmation Cards, Chronicle Books ($10)
"Nurture your mind, body, and spirit through affirming thoughts that focus on self empowerment, feminine energy, and creativity. Created by Lynne Franks, these cards will direct you toward positive outlooks and actions with uplifting text that's illustrated with bright, colorful designs to further inspire a life worth living."
I love affirmation cards and really enjoy when they come in a subscription box. This deck is beautiful with it's illustrations and it's words. I love the connection it draws to plants and feminine energy, both paired to help plant seeds for a more bloom-filled life. I'll have to put these in a place where I remember to reference each morning in hopes of filling them with more and more inspiration.
'I Am Healing' Natural Aromatherapy Perfume, Neeta Naturals ($30)
"Immerse yourself in this alluring multilayered aroma handcrafted by Ayurvedic practitioner and wellness coach Neeta Singh. This all-natural, organic, and vegan perfume is sultry, warm, and inviting: the woody ylang-ylang aroma brings you back to your own roots and the rich notes of vanilla and jasmine mixed with uplifting citrus and calming lavender create a relaxing scent to find balance and strength. Neeta also infuses the perfume with an ethically-sourced rose quartz, which symbolizes joy, abundance, love, and inner healing."
Oh I love this! I really appreciate that the name of it is an affirmation in itself and can be said with each application. That makes it inspirational in it's purpose and aroma too. And the aroma really is amazing and seems intentional with it's notes. It's calming and grounding but also warm and a bit spicy for some inspiration and forward movement. I'll be applying this one daily for sure!
Organic Shampoo Gel Lovesong Beauty ($30)
"Revitalize and restore your hair with the first-ever dry shampoo gel. Composed of all-natural, vegan, and cruelty-free ingredients that cleanse, protect, soothe, and rebalance, this formula absorbs quickly and helps keep your roots feeling refreshed between washings. Ingredients like organic aloe leaf extract, witch hazel bark, wakame (seaweed), and nettles help to remove excess oil, offer relief against dryness, protect against environmental damage, and help stimulate hair growth. Usage: Apply 46 pumps to dry hair between washes. Lovesong Beauty is proudly female-founded and a member of 1% for the Planet."
I have been a fan of this brand for awhile now and love seeing their product in this box! My most used product of theirs is the leave-in conditioner, but this one is great too. I don't actually use a ton of dry shampoo, so that's why I like the other product better, but that's not to say this one isn't great too. It's such an interesting product with it's gel consistency since most dry shampoos are powdery, but it works just the same and smells great too! This is a great product to have in your hair product stash for quick refreshes.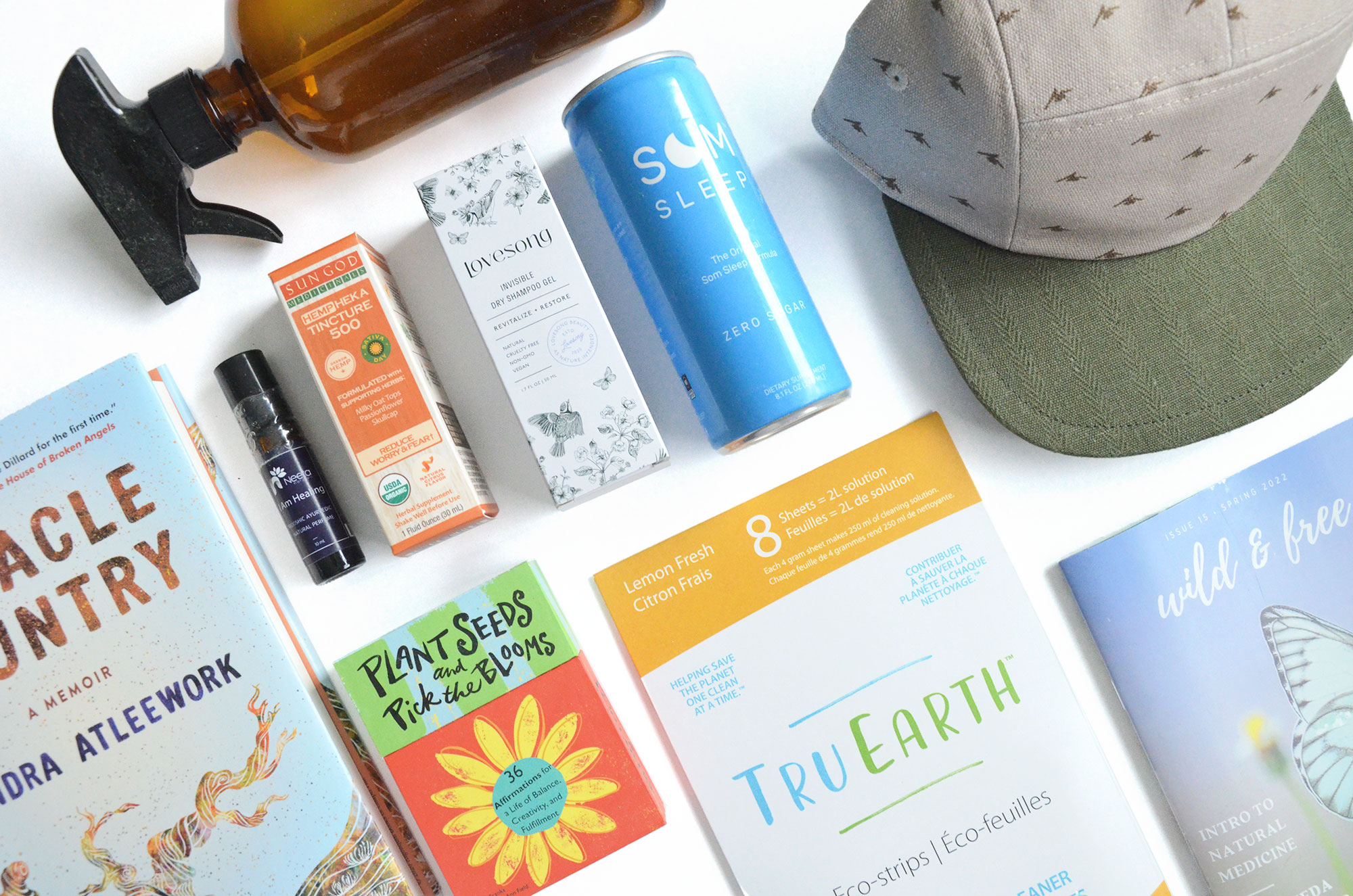 Earthlove Box Review Spring 2022 – Final Thoughts
What a bright, fun and fresh box Earthlove has sent for spring! I am just loving the variety and uniqueness of all the items included. I appreciate the calming products sent, like the tincture, roll-on perfume and sleep beverage for being reminders that rest and peace are still important as the spring energy starts buzzing. I love the hat for it's provided sun protection and for it's super thoughtful construction. I'm grateful for the inspirational affirmation cards that are a reminder to also plant seeds of positivity for personal growth throughout this season of planting and tending to mother earth too. Of course the cleaning items are a fantastic tool for all the planned spring cleaning and self-care items like the shampoo gel can never be beat in subscription boxes, especially when they come from a loved brand. Overall I'm really enjoying every thing that was sent along with the wonderful spring weather that's coming this way. Another wonderful box from Earthlove this season!
The Botanic Gal – http://www.botanicgal.com