Earthlove Box Review Winter 2021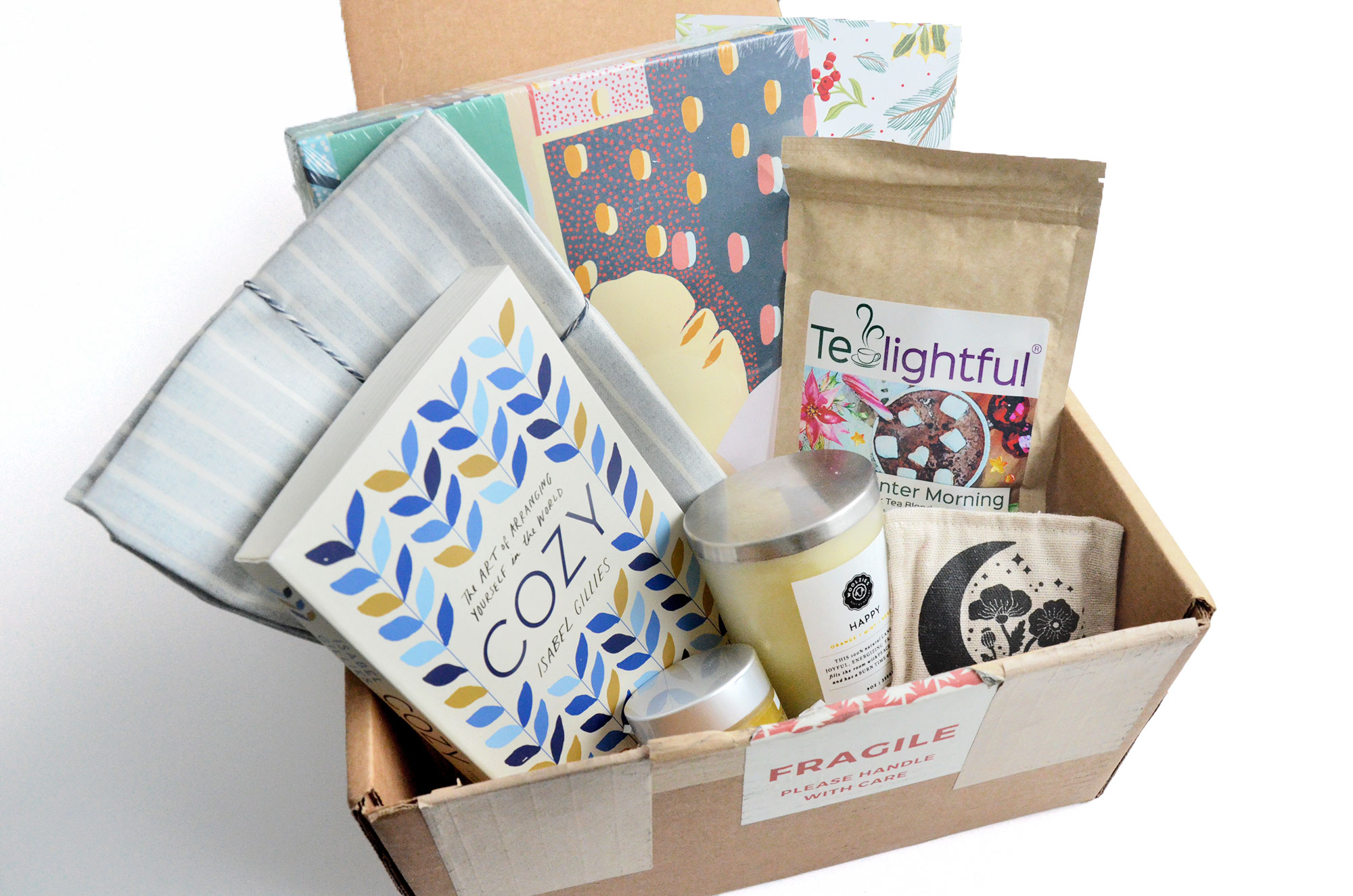 Earthlove is the premier Earth-first eco lifestyle subscription box full of clean and safe food, beauty, wellness, and home products that aims to make living sustainably and healing the planet easier. They kindly sent us this box for review.
They source products that are ethically and environmentally responsible, including zero waste packaging, natural ingredients, organic and non-GMO, gluten-free, cruelty-free, beegan/vegan, and fair-trade. Earthlove also supports artisans, makers, and small businesses in the US & Canada as well as companies making a difference around the world. They do the legwork for you to find the best truly sustainable essentials and self-care products that maintain the highest environmental standards. It's a win-win for you and the planet!
Each seasonal Earthlove box is packed with 6-8 full-sized sustainable + eco-friendly products by the world's best eco-conscious makers. Boxes may include one book, apothecary & botanical wellness, tea & healthy snacks, beauty & skincare, plastic-free swaps and other earth-friendly items along with a magazine with tips and ideas to live more mindfully with the earth. All products they feature are vetted against their strict criteria for sustainability and impact on the planet. For example, of the books featured in the boxes are called "last chance" books and by purchasing them they keep them out of landfills.
Their packaging is mindful and sustainable too! The boxes, stickers, and packaging materials are 100% post-consumer, biodegradable, and created with environmentally-friendly algae-based inks—the most non-harmful inks available.
Also, every box gives back! Earthlove is a proud member of 1% for the Planet and every season they partner with environmental non-profits who protect, restore, conserve the natural world and protect our ecosystems by giving to their cause.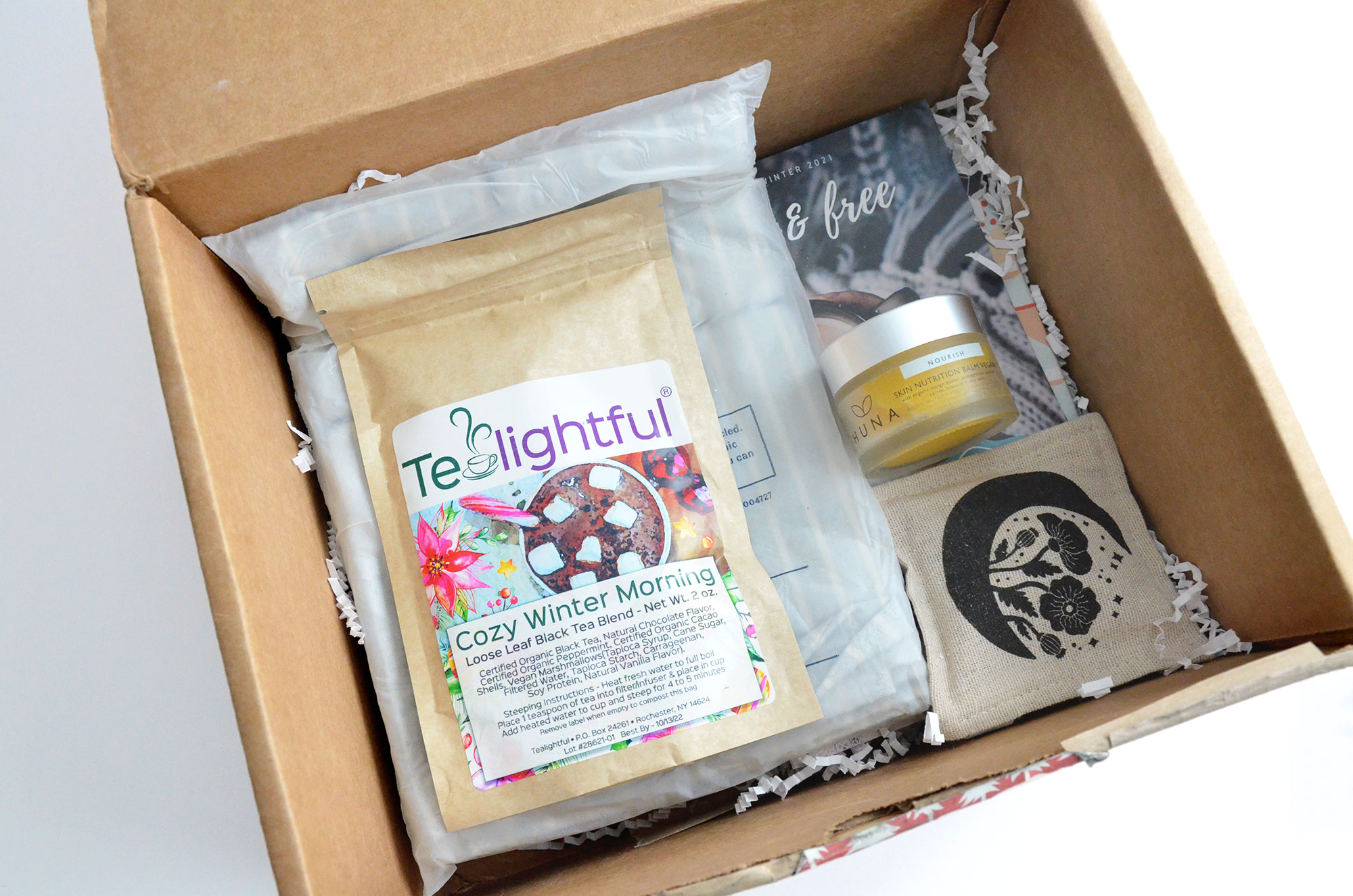 Subscription Details
Earthlove is $69.95 per quarter for quarterly or annual subscriptions. Shipping is a flat rate of $4.95 ($20USD to Canada, $35USD for international) or free US shipping with all annual subscriptions. New boxes are shipped on the 15th of each month at the beginning of the quarter (March, June, September & December). and will arrive to subscribers within 10 business days after shipping.
Winter Box Details
"From the Founder: As I write this introduction, the calming rain patters steadily on the farmhouse windows. Winter is here. Here in the Pacific Northwest we call it the 'Long Wet' and while it took me quite a long time to adjust to the cool rainy winters of Washington State from the dry, snowy cold we had been accustomed to in Northern Canada, the coming of the rains has become a welcome respite to toiling in the fields of Summer. Now is a time to slow down and to come together during the short days and long nights of winter. This curation has come together around the theme of 'coziness' – a time when we can cozy up with some hot tea, a warming candle, and a good book or invite a friend over for a hot meal and a fun evening of conversation (maybe over a relaxing puzzle!). Winter can be a difficult time for many, and we have also included items that help reduce stress and improve sleep. Earthlovers also voted to learn 'how to hygge' – a fitting challenge for the season! Every Earthlove Winter box helps provide clean water and improves waterway conservation for Navajo families, a community that has been especially struck by the pandemic. May this season's box bring you a little bit of comfort and joy this season and all the best in the new year ahead!"
Here's a look at what's in this quarter's Earthlove box ($170.45 total value):
Box Insert
Each quarterly Earthlove box includes a little magazine that includes the product information and value along with tips, DIY, inspiration, and stories to help you live more mindfully with the Earth. It's really nicely designed and it's even eco-friendly as it's printed on FSC-certified paper using waterless printing technology. This quarter the magazine includes a welcome note from the founder, product information and value, exclusive member discount codes from the brands included, information on the featured cause of the quarter which happens to be about the water crisis among the Navajo, a seasonal Hygge challenge, a meet the makers feature from the founder of Huna, and article on 3 ways Tea can be your Super Power, and more!
Books Of The Season ($17-$25)
"This season Earthlove boxes include one of three books. Here are our awesome picks for Winter: "Miracle in the Mundane", "Cozy", and "How to Make a Plant Love you""
I didn't choose my book this season, but I like to think it chose me. I'm thrilled that "Cozy" is what showed up as it's not only perfect for the season of winter, but really calls to me with the season of life I'm in. It seems like it might all be about Hygge from the title and look of the book, but the synopsis says true coziness is about identifying the truth of who you are to carry that with you no matter the environment you're in, so feel cozy, or comfortable, with whatever life throws at you. I know I could use a tune up on that practice, so I'm excited to read it this winter while I'm also staying cozy inside.
Organic Dream Pillow, Spirit Wild Farm ($10)
"Catch some Zzzs with this handcrafted organic lavender and mugwort dream pillow. Tuck this little sachet underneath your pillow to help promote restful sleep and good dreams. Placing herbs under one's pillow is an ancient practice dating back centuries and was originally used for protection, calming bad dreams, and even encouraging insight. Lavender is a soothing herb that brings restful quality sleep and mugwort has been used to reduce insomnia and enhance vivid dreams. If the scent begins to fade after a few months, simply apply a few drop of essential oils to rejuvenate your pillow. Happy dreaming!"
This is a cute little product that smells really nice and has a lovely printed design on it. I wasn't really sure how it would help with sleeping since I feel like you won't be able to smell the herbs if it's under your pillow, so I'm glad they included the little bit of history on the use in the description. I like the idea of it being protecting or helping to provide insight. I'm curious to put it under my pillow and test that out!
Nourish Nutrition Balm HUNA ($80)
"This vegan moisturizing balm intensely nourishes, replenishes, and protects while promoting healthy healing. Containing 22 all natural ingredients, including organic mango butter, pomegranate, avocado, carrot, broccoli and chia seeds — many of which are grown by the founders of HUNA, Heather and Corrado, on their farm in British Columbia, Canada – this balm hydrates and shield exposed skin from harsh environmental elements like wind and cold. To use: apply a small amount to your fingers to warm and massage over skin, focusing on dry, tight, and inflamed areas. Great for use as a cuticle conditioner, lip balm, and ankle/elbow softener."
This balm sounds so nourishing for skin. I love the simple, organic and natural ingredients it's made with and it's mild, comforting aroma. I like it's light texture and it feels nice on the skin, though it is a bit greasy so maybe better for nighttime application. It's also great that it's a multipurpose product so I'm more likely to use it up than any of it going to waste. I don't live in a harsh cold environment, but my skin is still getting dry and cranky this winter, so I can definitely still use a product like this. I'll be keeping this nearby for repeated application for sure.
All-Natural Candle, Woolzies ($20)
"We have been searching for a truly all-natural candle for y'all for a long, LONG time and finally found it! Unlike most candles, which are made with paraffin waxes and contain synthetic petroleumbased fragrances, Woolzies' candles are 100% allnatural, free of toxins, lead-free, scented with essential oils, and have an unbleached cotton wick – quite a feat for a candle! You'll receive one of three possible scents from their collection."
Of the three possible scent options, I received the "Happy" scent. It's a blend of orange, mint and neroli and smells very fresh, uplifting, and as the name suggests, happy! I really love anything that has a neroli aroma, so this is great. And I appreciate that they use essential oils for their aromas instead of fragrance oils. I will note that I really only burn beeswax candles in my home as they are generally the purest burn, so it's not my favorite type of candle to receive, but I do really like the aroma, so I might make an exception.
Botanical Puzzle, Lemonade Pursuits ($30)
"Cozy up on a stormy winter evening and enjoy a botanical 1000-piece puzzle! Based in Seattle, WA, Abigail Stavrand started Lemonade Pursuits after she discovered how much puzzles helped on her own path toward reducing her anxiety. Made in the USA, every puzzle is crafted from 100% recycled cardboard and biodegradable materials and uses soy-based inks, so not only will they help cultivate mindfulness, but they are Earth friendly too!"
I love puzzles and haven't done one in awhile so this is such a fun item to receive. I can't say I've gotten a puzzle before in a box so it's also a unique product choice. I really like the pattern on this puzzle with it's bright colors and abstract botanical print, but even if I didn't it would still be a fun image to piece together for enjoyment, not end product. Puzzles are the perfect cozy, stay-inside activity so I'm looking forward to putting it together in the slower coming months.
Organic 'cozy' Tea, Tealightful ($16)
"Charlene, the founder of Tealightful, crafted this special blend of tea just for you! Called 'Cozy Winter Morning', this organic loose leaf tea taste like a dreamy cup of tingly peppermint chocolate tea, complete with organic cacao shells and vegan marshmallows! Sip it mindfully as you watch the snowfall (or feel the cooler winds in the south!). Comes packaged in a compostable pouch."
This tea sounds really lovely and it's name is so fitting for the seasonal theme. I unfortunately don't drink caffeine so I won't be trying this one, which is a pity because it sounds really delicious. I'll have to settle for taking in the aroma when my husband enjoys it instead.
Upcycled Napkins, MEEMA ($28)
"This elegant and minimalist set of four cotton napkins are not only a stylish addition to a table setting, but also a great replacement for single use paper napkins. Made from upcycled denim in Guatemala in partnership with the Denim Project, MEEMA helps divert textiles destined for landfills, saving tons of water in the process."
These are lovely napkins! They almost feel too fancy for every day use since they are so eco-chic, but they are also inspiring me to use something like this regularly. I don't really use any kind of napkin generally, but it would actually be nice to include these in the dinner routine. I love that they take fibers from denim production that would normally be waste and make it into something useable, so cool!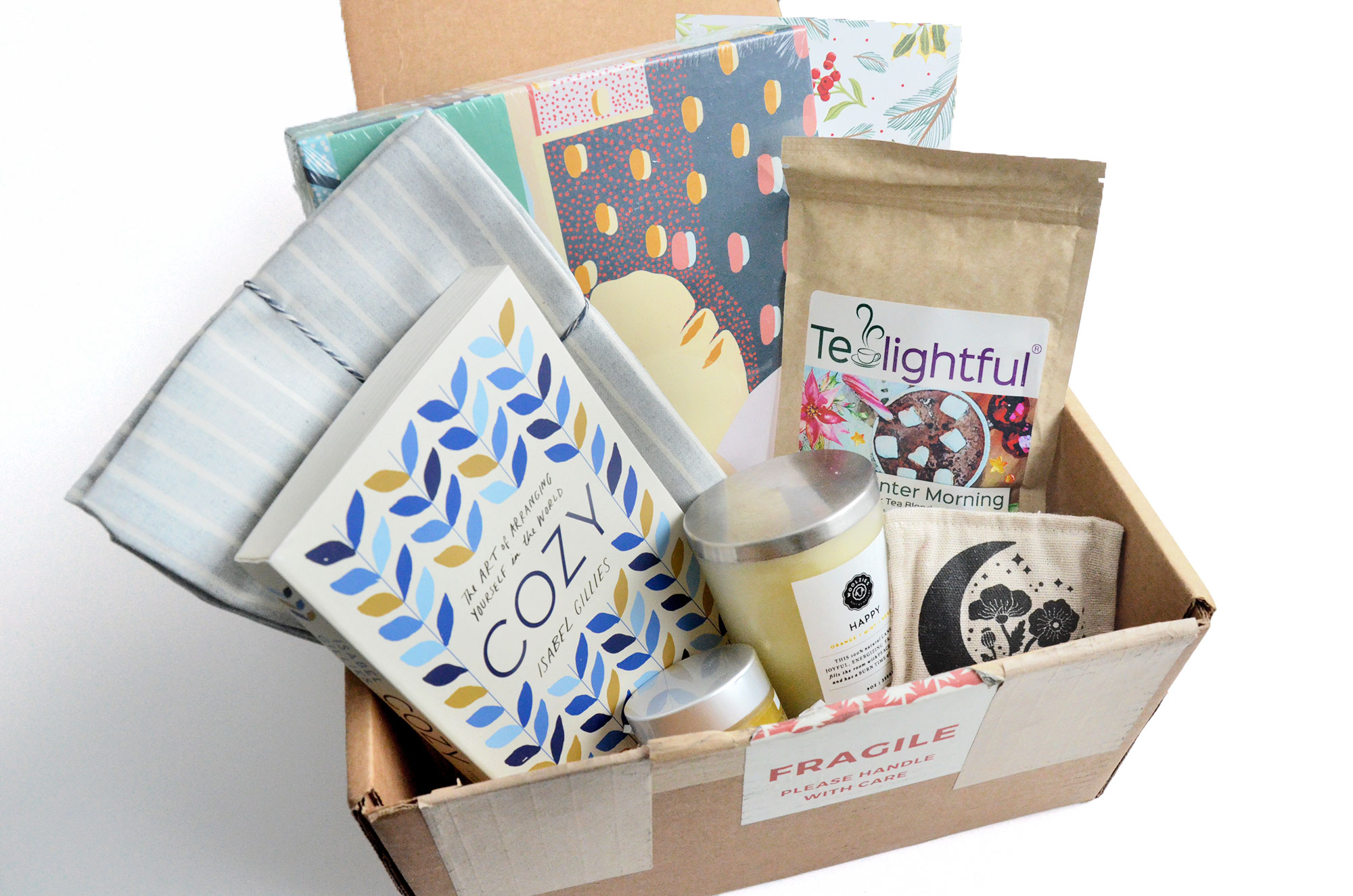 Earthlove Box Review Winter 2021 – Final Thoughts
I'm loving the theme of coziness for the winter Earthlove box. Even though I live in a warmer climate, I'm still craving all the cozy, warm, winter essentials. I feel like regardless of where you live, winter is a time for slowing down and turning inward a bit, so this box is just perfect with it's theme. The items included really encourage that natural tendency too, like the tea for creating a slow sip night ritual, the napkins for taking more time to enjoy a meal, the puzzle for spending less time watching TV and more time connecting with the loved ones, the balm for paying more attention to your skins needs and of course the book for carving out some me-time. I always enjoy what this box sends along and this season is no exception. Even when I can't use every single item included, I still think their selection is well-rounded, interesting, and right on (eco) point!
The Botanic Gal – http://www.botanicgal.com