Earthlove Review Fall 2020
Earthlove is an eco-friendly lifestyle subscription box full of clean and safe food, beauty, wellness, and home products that aims to make living sustainably and healing the planet easier. They kindly sent us this box for review.
They source products that are ethically and environmentally responsible, including zero waste packaging, natural ingredients, organic and non-GMO, gluten-free, cruelty-free, beegan/vegan, and fair-trade. Earthlove also supports artisans, makers, and small businesses in the US & Canada as well as companies making a difference around the world.
Each seasonal Earthlove box is packed with 6-8 full-sized sustainable + eco-friendly products by the world's best eco-conscious makers. Boxes may include one book, apothecary & botanical wellness, tea & healthy snacks, beauty & skincare, plastic-free swaps and other earth-friendly items along with a magazine with tips and ideas to live more mindfully with the earth.
Their packaging is mindful and sustainable too! The boxes, stickers, and packaging materials are 100% post-consumer, biodegradable, and created with environmentally-friendly algae-based inks—the most non-harmful inks available.
Also, every box supports a cause! Every season they partner with environmental non-profits who protect, restore, conserve the natural world and protect our ecosystems.
Subscription Details
The cost of the box is $59.99 per quarter for quarterly or annual subscriptions. Shipping is a flat rate of $4.95 ($20USD to Canada, $35USD for international) or free US shipping with all annual subscriptions. New boxes are shipped on the 15th of each month at the beginning of the quarter (March, June, September & December). and will arrive to subscribers within 10 business days after shipping.
Fall Box Details
"The care of the Earth is our most ancient and most worthy, and after all our most pleasing responsibility. To cherish what remains of it and to foster its renewal is our only hope."-Wendell Berry
Our harvest season is already in full swing here at the farm, which means that autumn is upon us! The stresses of this year have been collectively felt around the world and it all seems like too much sometimes, but even in change there is always hope. Flowers do not bloom forever, but deep roots mean they can return with fresh vitality or turn into something even more nourishing. Cultivate your roots, strengthen your spirit. Earthlove members voted on the guided journal in the Moment this season, which helps ground us and teaches us how to live in the present, as well as wildcrafted bath salts we make from flowers in our fields and gardens. We hope that both of these and the other goodies in this box bring comfort, respite, and ease. This season every Earthlove box supports cleaning up plastic from our oceans with Rozalia Project. Small changes make a big difference, both in terms of sustainable efforts and our lives. Stay safe and in good spirits!
Here's a look at what's in this quarter's Earthlove box ($201.50 (Vegan) or $194.50 (Beegan) total value):
Box Insert
Each quarterly Earthlove box includes a box magazine that is filled with tips, DIY, inspiration, and stories to help you live more mindfully with the Earth. It's really nicely designed and it's even eco-friendly as it's printed on FSC-certified paper using waterless printing technology.
Book of the Season: In the Moment by Jocelyn De Kwant ($16)
"Expanding on the idea of what it means to be mindful, In the Moment offers 365 unique prompts to encourage selfreflection, creative engagement, and appreciation for ordinary moments. This guided journal is divided into twelve sections, each one focused on a different approach to living a mindful life. The Nature chapter nudges you to look for heart-shaped leaves while you're out for a walk. The Body chapter includes a deep-breathing exercise to help restore your sense of calm. The Play chapter features nostalgic paper games and doodling activities that remind you what life was like before the constant distraction of screens. Filled with a mix of writing prompts, suggested activities, and space to draw, In the Moment is the perfect outlet for anyone who is looking for a practical approach to daily mindfulness."
What a fun book! I love fill-in and prompt books that get you thinking plus I'm really trying to increase my mindfulness so this is perfect. There is a prompt for each day of the year, or 365 of them that you wouldn't have to necessarily complete in a year (which is good because whenever I start something like that I inevitably get behind). The prompts are simple, thought-provoking and interesting, plus the illustrations are just so sweet and joyful. This will be a fun book to work through. I'm glad the Earthlove community chose it!
RECLAIMED SERVING BOARD SKRP ($85)
"These serving boards are handcrafted by Chris, the founder of SKRP, at his workshop in Ottawa, Ontario from 100% reclaimed skateboard decks and sustainably-sourced Canadian maple. Each board has different layers of colours and is a perfect size for a small cutting board, charcuterie, or serving board. Each one is completely unique and one-of-a-kind!"
This board is so cool! It's the perfect size for serving some cheeses or other treats on, perhaps for a wine pairing? It's so cool how they upcycle skateboards to create them and how each is unique. I like how the one I got has a raw wood edge and the stripes from the board are yellow and green – so fun! Also, this product has awesome value and would make a great gift if you couldn't use it yourself.
WILDCRAFTED BATH SALTS Spirit Wild Farm ($24)
"Community Item Pick! Who doesn't love a good soak? Handcrafted using wild yarrow, roses, wild chamomile, and lavender gathered around our fields and gardens here at the farm in Washington State, this rejuvenating wildcrafted bath soak combines restorative Epsom salts with Himalayan pink salt and organic, sustainably sourced essential oils. Unplug from the world and relax in luxury to feel calm and refreshed. If you don't have a bathtub, it also makes a wonderful foot or hand soak!"
Oh my gosh does this smell SO good! It's also probably the most beautiful bath soak I've seen too. It's made with tons of colorful dried flower buds and soothing salts along with bergamot, orange and geranium essential oils. I hardly want to use this one because it's so pretty, but simultaneously want to go take a bath with it right now since it smells so good. This was made by the founder of the box, so it's an extra special product!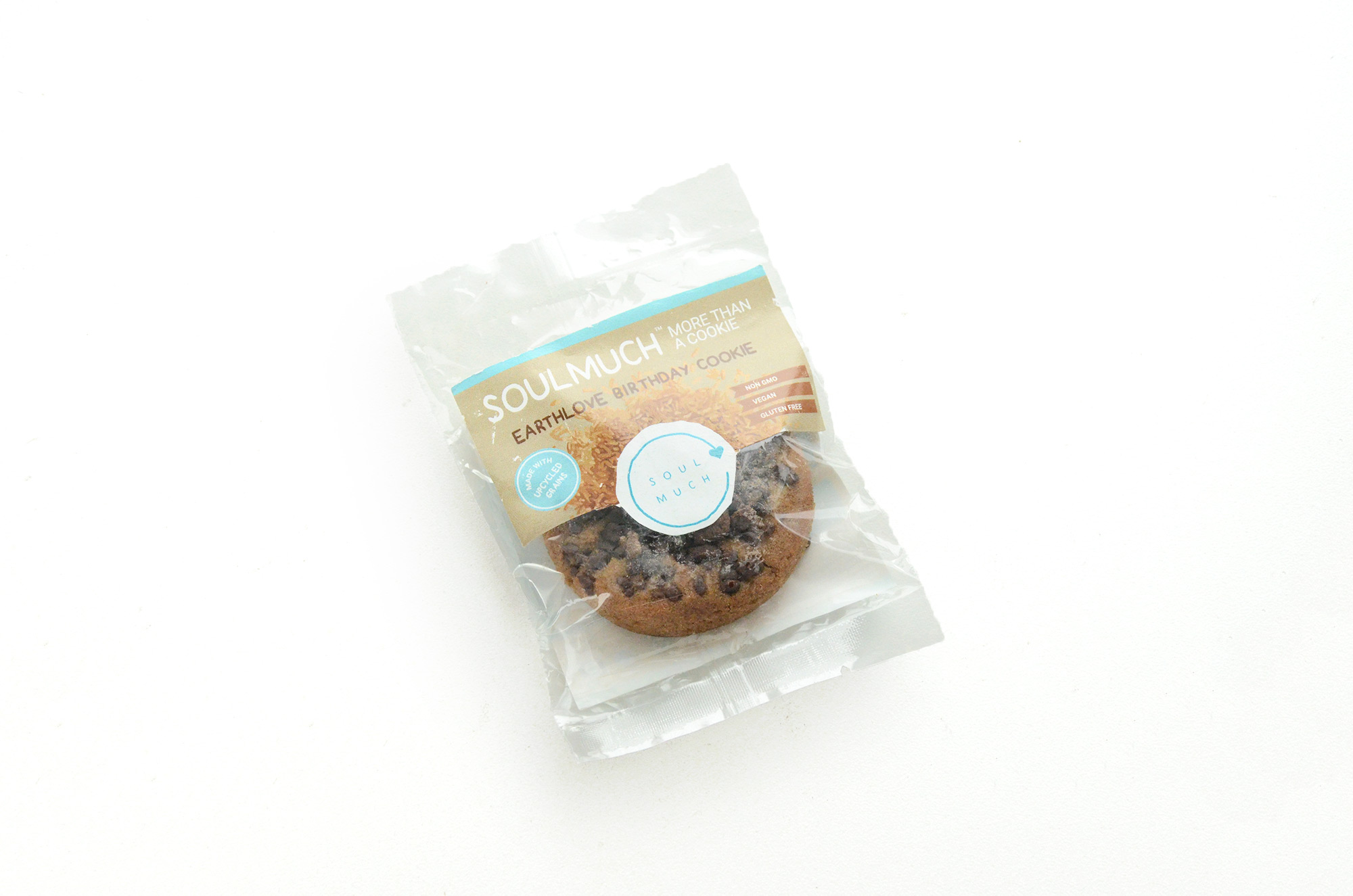 UPCYCLED VEGAN BIRTHDAY COOKIE SOULMUCH ($2.50)
"To celebrate Earthlove's second birthday, the team at SOULMUCH created a special birthday cookie just for you! SOULMUCH is on a mission to reduce food waste and partners with local businesses to gather leftover rice and quinoa and then grinds it onto their own flour blend to create a delicious upcycled cookie. All their cookies come packaged in a biodegradable cellophane sleeve made from the plant based material cellulose and will break down in the compost."
Happy second birthday to Earthlove! I love cookies so this is perfect! I've never heard of this cookie company before and I absolutely love how they up-cycle ingredients to reduce food waste while creating delicious treats. This cookie is a special birthday cookie specifically made for Earthlove and I think the flavor is like a chocolate chip. It's gluten-free and made without refined sugars so it makes the perfect no guilt treat.
PAIN RELIEF (BEEGAN BOX ONLY) Green Goo ($8)
"A zero waste alternative to petroleum-based salves packaged in plastic, Green Goo's all natural and organic salve helps soothe aches and pains. Powered by the herb Arnica, a powerful topical analgesic, this salve emulates hot and cold therapies with its ginger and peppermint oils. It's great for hikes, the outdoors, or when you're feeling sore."
This is great! I always have sore muscles and enjoy trying products to help them. This one smells nice – like minty cinnamon, but also extra-herbaly which makes me feel like it's really going to work. I like that it's plastic free packaging and the tin is super convenient to take along anywhere. I'll be trying this out before bed tonight to soothe my aching shoulders.
MASSAGE OIL ROLLER (VEGAN BOX ONLY) Mellow Root Herbals ($15)
"Handcrafted by Master Herbalist Aimee in Vermont, this organic and wildcrafted roll-on massages sore muscles or provides some relief. The tulsi and rose evokes a feeling of balance and relaxation. It also works great for meditation and setting positive intentions as an aromatherapy roller."
For reviewing purposes, I was lucky enough to receive this item along with the Beegan-box-only item too. It's a large massage oil roll on in which the roller ball itself would help ease muscle tension while the massage oil aroma provides relaxation. It smells so nice, like a sweet herbal scent. It's made with three simple organic ingredients and feels so nice on the skin. This would be another great product to use in the evening to wind down the day.
ORGANIC HYDROSOL Gemstone Organic ($24)
"This organic, all-natural hydrosol is handmade by Debra using her special blend of native trees, enhanced with essential oils, and includes a small amethyst stone and clear crystal points. The leaves and trimmings are hand-picked from a spiral grove held on sacred land in Northern California. This hydrosol is anti-septic, anti-inflammatory and energizing. It is incredibly healing to the skin and is made from trees that carry ancient wisdom. This earth knowledge grounds us and reminds us of our own ancient divinity."
I'm so intrigued to try this hydrosol out. I love the benefits it says to have and think it would be the perfect treatment for inflamed or fussy skin. It's very lightweight and has such an uplifting and crisp aroma- literally like the dew from a sunny forest. If I close my eyes it transports me there. I haven't tried this on my skin yet, but I love it already!
POT SCRUBBER Earthlove ($10)
"This handy little pot scrubber is great for replacing plastic scrubbers, which leach microplastics into the water, and for when you need a little extra elbow grease to scrub out a stubborn pot or other surface! It's made with organic bamboo and natural sisal fibre affixed to a sturdy handle for easy handling. This brush can be used 1-3 months (and longer with care). Don't leave the wood soaking in water since wood absorbs it and will cause the scrubber to split. To kill any bacteria on the bristles, dip it in vinegar. Moso bamboo is naturally anti-bacterial, but a little vinegar helps, too! At the end of its life, you can compost the entire scrubber with either your home compost or through commercial composting."
I was in need of one of these so this is perfect! It's great for scrubbing dishes and especially pots and pans. It's awesome that it's plastic free and can be composted once it's reached it's use capacity. The small size of this one and easy grip make it handy and easy to use too.
ORGANIC TEA Big Heart Tea Co ($9)
"Handmade in using organic ingredients, this herbal turmeric, peppercorn, and ginger loose leaf tea packs a punch! All three are antiinflammatories and great for strengthening your immune system and stimulating digestion. Their packaging is completely plastic free: the box can be recycled and the plant-based Soilon bag is completely compostable and non-harmful to the environment. Our favourite way to drink is is with a mix of water and oat milk with a dash of honey from our bees."
Herbal teas are my favorite (and really the only type of bev I drink besides water) so this is perfect for me! Plus I love the anti-inflammatory properties of turmeric and ginger. It's a looseleaf tea that just requires a steeper for making a cup of tea. It smells a little spicy and grounding. This seems like a good morning tea to get things flowing and ignite the day.
LIP WHIP True Moringa ($16)
"An essential item to keep your lips hydrated as we head into Autumn! This 100% all natural, vegan Moonlight White Gold Peppermint Lip Whip is made with cold pressed moringa – a miracle plant rich in beneficial fatty acids, antioxidants, and zeatin for healthier-looking, glowing skin. The unique blend of luxurious cocoa butter and moringa penetrate deeply into the skin to moisturize with animo acids and nutrients. It's lightly coloured and adds a nice buildable sheer, keeping your lips moisturized. True Moringa works directly with small farmers in Ghana by purchasing moringa at fair trade prices right at the farm. They also support the farmers by offering advice, inputs, finances, and other support to maintain their farm. Since launching in 2011, True Moringa has served over 5000 small farming families and planted over 2 million tree."
This lip balm is just so pretty – a gorgeous muted copper shade with the perfect amount of shimmer. It looks extra glam, but is muted enough for every day wear. I love that not only is it pretty, but it has amazing hydrating ingredients to take care of lips while you wear it. It smells like cool peppermint which is refreshing and calming. I look forward to using this to keep my lips from getting dry this winter while also helping me feel put together.
Earthlove Review Fall 2020 – Final Thoughts
Once again, I'm blown away by the contents of my Earthlove box! It truly is one of my favorites and each new box that comes keeps it at the top. It's always packed with items that are unique, high value and of course so eco-minded. I love that each month has a book that the community votes on and I think this might be my favorite one yet. I just hope I can stick to filling it out on a regular basis! It would make a good New Year's resolution I suppose! I'm also loving all the body care products that came this season, it's a great mix of things to provide some self care as we wind down the busy summer months. Everything is truly such a treat with this box and I can't say enough about the thoughtfulness and consideration that goes into choosing the items and giving back to the earth in the process. You've got to try Earthlove out!
The Botanic Gal – http://www.botanicgal.com