Earthlove Review Fall 2021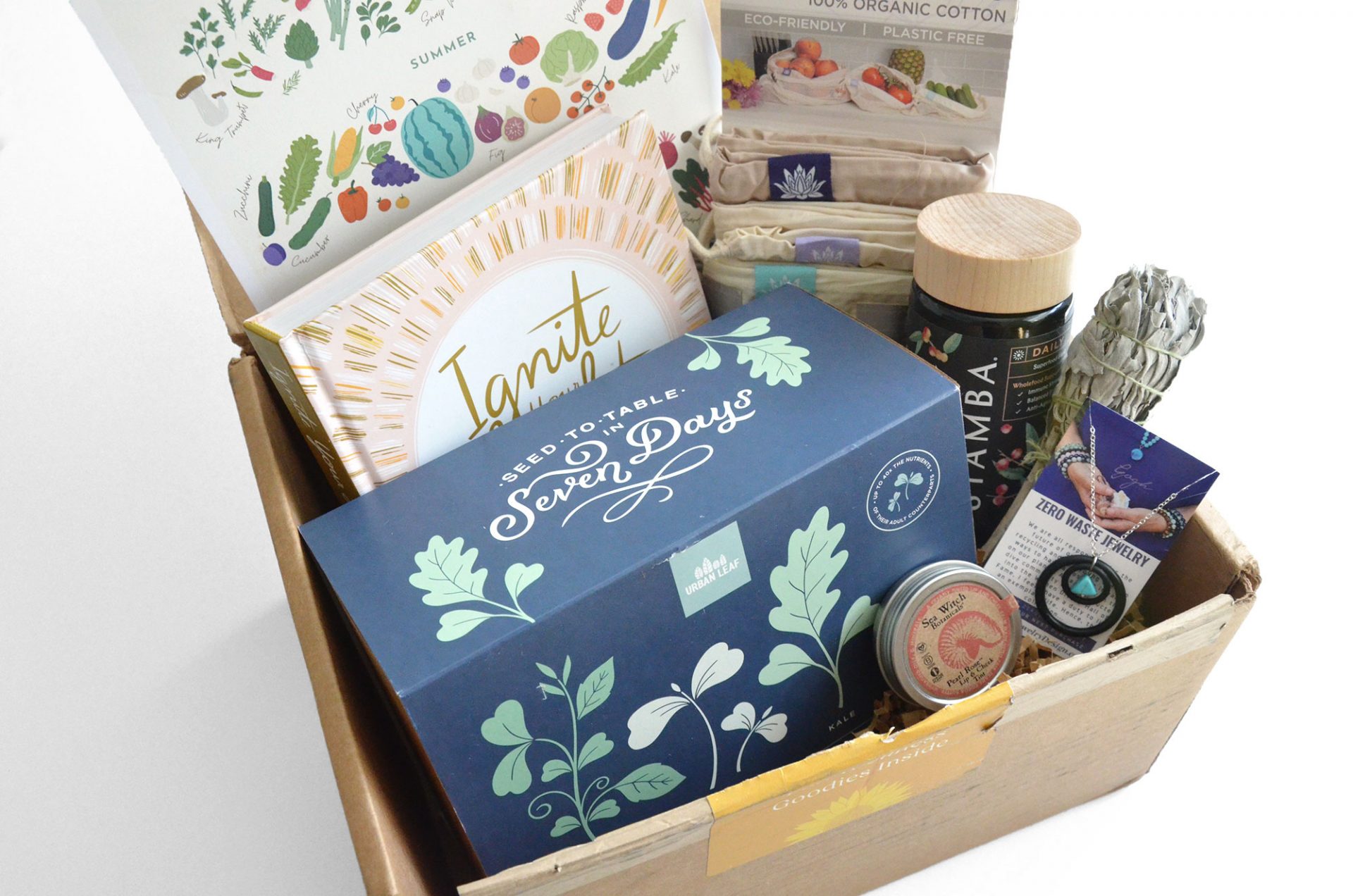 Earthlove is the premier Earth-first eco lifestyle subscription box full of clean and safe food, beauty, wellness, and home products that aims to make living sustainably and healing the planet easier. They kindly sent us this box for review.
Earthlove sources products that are ethically and environmentally responsible, including zero waste packaging, natural ingredients, organic and non-GMO, gluten-free, cruelty-free, beegan/vegan, and fair-trade. Earthlove also supports artisans, makers, and small businesses in the US & Canada as well as companies making a difference around the world. They do the legwork for you to find the best truly sustainable essentials and self-care products that maintain the highest environmental standards. It's a win-win for you and the planet!
Each seasonal Earthlove box is packed with 6-8 full-sized sustainable + eco-friendly products by the world's best eco-conscious makers. Boxes may include one book, apothecary & botanical wellness, tea & healthy snacks, beauty & skincare, plastic-free swaps and other earth-friendly items along with a magazine with tips and ideas to live more mindfully with the earth. All products they feature are vetted against their strict criteria for sustainability and impact on the planet. For example, of the books featured in the boxes are called "last chance" books and by purchasing them they keep them out of landfills.
Their packaging is mindful and sustainable too! The boxes, stickers, and packaging materials are 100% post-consumer, biodegradable, and created with environmentally-friendly algae-based inks—the most non-harmful inks available.
Also, every box gives back! Earthlove is a proud member of 1% for the Planet and every season they partner with environmental non-profits who protect, restore, conserve the natural world and protect our ecosystems by giving to their cause.
Subscription Details
The cost of the box is $59.99 per quarter for quarterly or annual subscriptions. Shipping is a flat rate of $4.95 ($20USD to Canada, $35USD for international) or free US shipping with all annual subscriptions. New boxes are shipped on the 15th of each month at the beginning of the quarter (March, June, September & December). and will arrive to subscribers within 10 business days after shipping.
Fall Box Details
"From the Founder – Ah, lovely Autumn! We are already in the full swing of harvest here at the farm, plucking plums, apples, pears, currants and quince and enjoying the bounty that comes with the season. While autumn is a time for pumpkin spice lattes, crisp morning walks, and cozy sweaters, it is also about enjoying the fruits of our labour and embracing the many transitions of life. This season the Earthlove community voted on how to make healthy and mindful food choices as the main eco challenge- a topic that I think resonates deeply for us all as we navigate the quagmire of 'modern' food in this day and age (and the hidden pesticides, additives, carbon footprint, wastefulness and more that comes with it). This curation also came together organically around this topic (pun intended!), with many of the items helping us make healthier and more sustainable choices, whether that is growing our own food, shopping sustainably, reducing our use of single-use plastic, consuming more superfoods, learning to eat seasonally, or caring for our bodies in ways that don't harm it or the Earth. Nourishment must also include the mind and spirit and Szilvia Gogh's zero waste necklace and Juniper Ridge's smudge stick provide symbols and tools for wisdom, hope, and cleansing our spaces. I hope you enjoy this curation and season! -Dr. Serina Patterson Founder of Earthlove"
Here's a look at what's in this quarter's Earthlove box ($209.33 total value):
Box Insert
Each quarterly box includes a little magazine that includes the product information and value along with tips, DIY, inspiration, and stories to help you live more mindfully with the Earth. It's really nicely designed and it's even eco-friendly as it's printed on FSC-certified paper using waterless printing technology. This quarter the magazine includes a welcome note from the founder, product information and value, exclusive member discount codes from the brands included, information on the featured cause of the quarter which happens to be about Reducing Ocean Plastic (each box removes 1lb of plastic from the ocean!), the seasonal challenge which revolves around eating mindfully, a meet the maker feature from Szilvia Gogh of Gogh Jewelry, a list of 35 ways to use produce bags to go plastic free, information on how to get started with micro greens, an look at what's actually in a fragrance, an article on defining a superfood and a snippet of earth wisdom on how to cleanse your space with sage. As always, it's an enjoyable and informative read!
BOOK OF THE SEASON ($22-27)
"Each season Earthlove boxes include one of three books. Here are our awesome picks for Autumn! Eat Like a Fish", "The Backyard Herbal Apothecary", and "Ignite Your Light"."
I could not decide which book I wanted this season! I mean, I generally have trouble since the book choices are always so good, but I want to read these all! I ended up choosing "Ignite Your Light" and am happy I did. I've enjoyed the authors other books and this one sounds delightful. It's an inspirational guide book intended to light up your life through beauty, healing and personal energy. It includes recipes, profiles on the 13 leading factors that power your inner light, fresh takes on self-care rituals and simple shifts that improve your long-term happiness. It's a lovely hardcover book that will not just be helpful, but look nice on the bookshelf.
SEASONAL FOOD ART PRINT, Spirit Wild Farm ($18)
"This season members voted on making healthy and mindful food choices, so we designed an art print to help you accomplish this goal! Whether you are trying to eat more seasonally, focusing on healthy eating, or simply want to spice up your kitchen with a bit of art this 8×10 art print will keep you inspired, healthy, and nourished in the spring, summer, autumn, and winter."
This is so wonderful! I had been wanting a piece of art like this for awhile now. I'm very interested in trying to eat as seasonably as possible, but I can never keep track of what foods are actually in season so this beautiful visual is such a great tool. I like how it mostly looks like a piece of art, but is useful too. It's soft yet vibrant colors will look great in my kitchen!
UPCYCLED SCUBA NECKLACE, Gogh Jewelry ($29)
"A true statement piece! Designed especially for Earthlove members, this zero waste necklace is handmade by jewelry designer and world renowned diver Szilvia Gogh using O-rings that have been discarded from scuba gear. Szilvia repurposes them into gorgeous pieces to show that even upcycled jewelry can be beautiful. Each necklace is also affixed with a turquoise gem -a symbol of wisdom, tranquility, protection, and hope. Since she uses real gemstones and various O-rings the sizes and shapes will vary, making each piece completely unique."
I love Gogh Jewelry and am so happy to find one of their pieces in this season's box! I like the simplicity and neutral design of this necklace. Anyone could wear this anywhere, it would match a ton of outfits. Of course it's especially cool that it's made from recycled scuba parts. So much creativity in this design!
MICROGREENS KIT Urban Leaf ($45)
"Packed with healthy vitamins and nutrients, these kits are a great way to incorporate more healthy greens all year round! Each kit is made in the USA from biodegradable and compostable materials and includes four USDA organic seed packets for easy growing. Perfect for both beginner and seasoned growers, these microgreens can grow in low light or a sunny location and it only takes seven days to start harvesting sprouts. The bamboo fiber trays and 100% organic grow mats create a self-watering hydroponic system so you can take the stress out of remembering to water too! The kit includes enough seeds for twelve harvests. Great for smoothies, sandwiches, salads, and more!"
What a fun item! I've never received anything like this in a subscription box before so this is unique and exciting to try out. I've actually not ever really got into eating micro greens, but have thought about it since I've read they house a lot of nutrients. This will be the perfect way to try them out and will make a fun project I can do with my little one. It contains everything you need to get the micro greens growing and the kit is made from sustainable materials too which is a great bonus. Of course, this kit is also a great way to continue gardening into the winter too since you can do it inside. Looking forward to trying this one out!
ORGANIC PRODUCE BAGS Lotus Sustainables ($xx)
"Say goodbye to single-use plastic bags for good! This set of 100% organic bags includes three sizes (small, medium, and large) and is great for a trip to the grocery store and keeping produce fresh. These bags can also be used for snacks, travel, storage, washing delicates, and more! See page Il for more ideas. Machine wash in cold water and hang to dry."
This is a great and handy produce bag set. I actually have a set of these, but I don't think you can have too many produce bags, especially if you focus on including more and more fruits and vegetables in your diet with each trip to the store you make. These help reduce waste so much since those pesky plastic produce bags are used for such a short time. I know I'll get a lot of use out of these on future grocery trips.
SAGE SMUDGE STICK Juniper Ridge ($6)
"Burning sage ("smudging") – an ancient healing tradition among Native American tribes like the Lakota, Chumash, and Cahuilla – has long been used as a way to cleanse and purify a space. White sage is antimicrobial and antibacterial, repels insects, and neutralizes allergens in the air like dust and mold. Smudging can also help reduce stress and anxiety and promote mindfulness. Juniper Ridge's white sage sticks are sustainably sourced in California and 10% of sales are donated to Indigenous and First Nations groups as well as wilderness conservation. See page 18 for instruction on how to smudge."
This is perfect! I recently moved and have been wanting to sage my new place to clear any negative energies. I wanted to do this right when I moved in (a great time to do it!), but just didn't get around to it. Better late than never though! I especially like that this sage is sustainably sourced and that they give back to Indigenous groups with purchase.
PEARL ROSE LIP + CHEEK TINT Sea Witch Botanicals ($xx)
"Keep your lips hydrated this season with Sea Witch Botanicals' shimmering Pearl Rose lip and cheek tint. Handmade in their Bellingham, WA studio, this light reddish-pink vegan tint is crafted using ethically-sourced all-natural organic butters, oils, and waxes that will leave your lips revitalized and nourished. This tint can also be used as a subtle blush for cheeks or as a light eye shadow. Sea Witch Botanicals is a certified B Corp, 100% carbon neutral, member of the Toward Zero Waste initiative, and donates thousands of dollars to environmental and social causes each year."
This lip and cheek tint is so pretty! It's the perfect rosy pink color that looks rich in the tin, but applies more sheer and with a hint of shimmer and gloss. It smells nice, like sweet and nutty cocoa butter. I appreciate that it's a multi-use product so there's less to purchase and less waste. This will be a more exciting way to keep lips hydrated during the upcoming cooler months.
DAILY SUPERFOOD BLEND, Stamba ($65)
"Unlike most supplements that contain isolated or synthetic ingredients, STAMBA's DAILY Immune+ superfood blend is meticulously curated with the most beneficial all-natural and sustainably-sourced whole foods from around the world. Filled with certified organic prebiotics, antioxidants, adaptogens, and other powerhouse ingredients like chaga mushroom, yacon root, and camu camu, this blend works synergistically to bring your body into balance, bolster the immune system, improve digestion, and maintain vitality in the face of daily stresses. For best results, take four capsules daily preferably prior to, or between meals. You may take more than one serving as your body needs since each capsule contains raw whole foods and there is no risk to taking more as you need them."
This sounds so interesting! It seems like an overall health boost, which I and I'm sure many of us could use. I read the box curators review on this from Instagram and it sounded like these were great for improving her wellness, it was a glowing review. It made me even more curious to try these out. Since the cooler months are slower paced and sometimes less fresh produce is available, this is a great alternate for getting extra nutrients in.
Earthlove Review Fall 2021 – Final Thoughts
I love the theme around eating sustainably and healthy this month. Fall is such a great time to slow down and take more time to make nourishing healthy meals and food choices. Plus it's a great time to try new foods and switch it up from the summer menus. Everything in this month's box will definitely help with that inspiration. I almost didn't get the food connection weaving throughout all the items until I read the intro letter, which I'm so glad is included. I guess that's my sign I need to slow down and be more mindful of many things, food included! As usual every thing in the curation is fantastic, but I especially can't wait to try out the micro-greens kit (what a fun way to winter garden!) and am so curious about the superfood supplement, the reviews sound amazing. Overall, I'm once again super happy with my Earthlove box and would recommend anyone check this box out, whether your an earth lover or not!
The Botanic Gal – http://www.botanicgal.com