Earthlove Review Spring 2020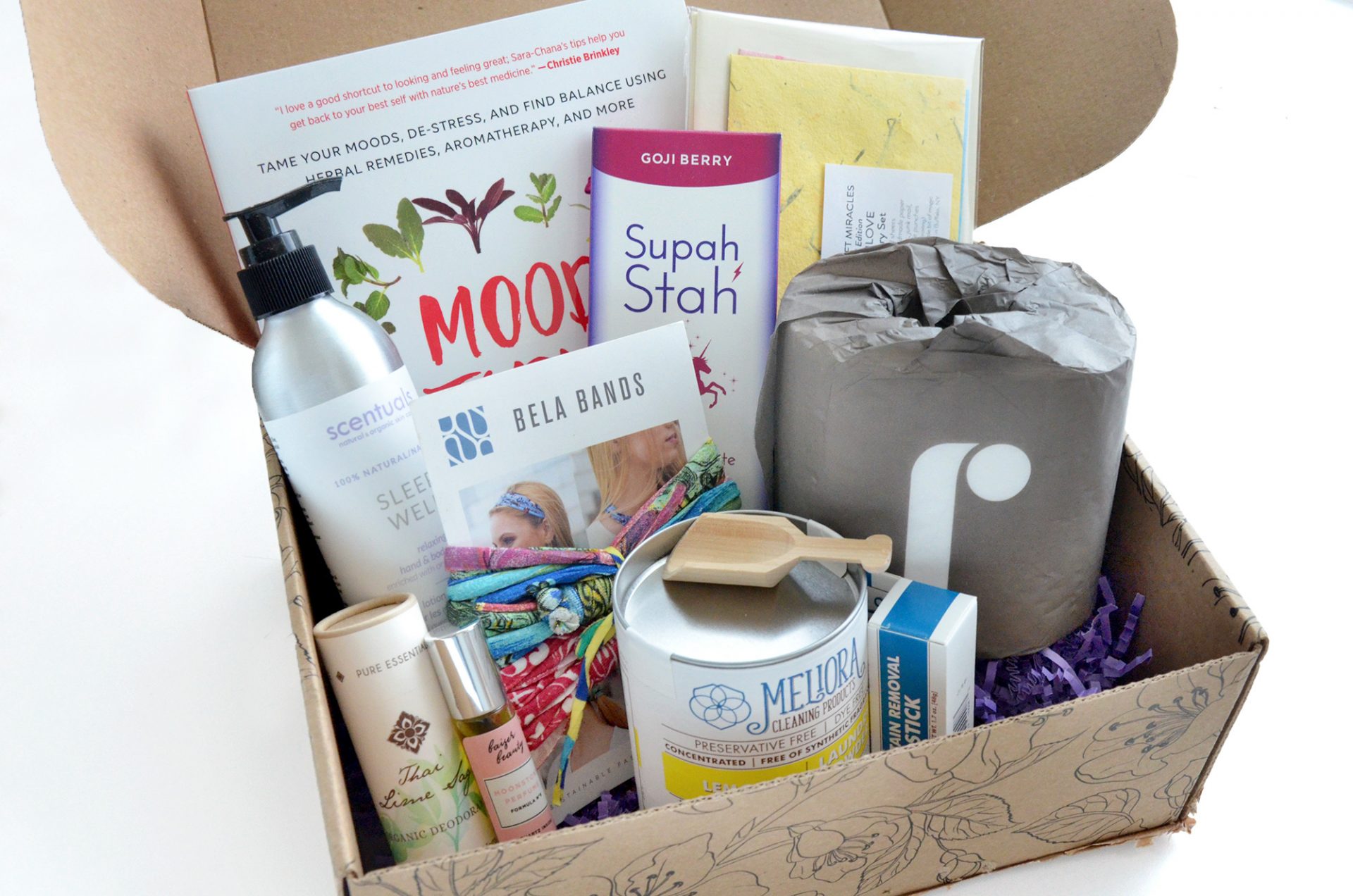 Earthlove is an eco-friendly lifestyle subscription box full of clean and safe food, beauty, wellness, and home products that aims to make living sustainably and healing the planet easier. They kindly sent us this box for review.
Earthlove source products that are ethically and environmentally responsible, including zero waste packaging, natural ingredients, organic and non-GMO, gluten-free, cruelty-free, beegan/vegan, and fair-trade. Earthlove also supports artisans, makers, and small businesses in the US & Canada as well as companies making a difference around the world.
Each seasonal Earthlove box is packed with 6-8 full-sized sustainable + eco-friendly products by the world's best eco-conscious makers. Boxes may include one book, apothecary & botanical wellness, tea & healthy snacks, beauty & skincare, plastic-free swaps and other earth-friendly items along with a magazine with tips and ideas to live more mindfully with the earth.
Their packaging is mindful and sustainable too! The boxes, stickers, and packaging materials are 100% post-consumer, biodegradable, and created with environmentally-friendly algae-based inks—the most non-harmful inks available.
Also, every box supports a cause! Every season they partner with environmental non-profits who protect, restore, conserve the natural world and protect our ecosystems.
Subscription Details
Earthlove is $59.99 per quarter for quarterly or annual subscriptions. Shipping is a flat rate of $4.95 ($20USD to Canada, $35USD for international) or free US shipping with all annual subscriptions. New boxes are shipped on the 15th of each month at the beginning of the quarter (March, June, September & December) and will arrive to subscribers within 10 business days after shipping.
Spring Box Details
"The deep roots never doubt spring will come." -Marty Rubin
"Our robin friends have returned to the farm fields, crocuses are pushing up out of the soil, and the wild bees are waking from the long wet. Spring is just around the corner with new energy, reinvigorating the land. Since this is a leap year, this season's curation is about feeling refreshed and revitalized, gaining new strength and taking a leap into something new!
This curation also marks our first official Community Pick vote! Members got to pick the book theme, one item, and the environmental cause we support this season and I am excited to curate this box alongside our vibrant and thoughtful Earthlove community. Based on the majority vote, every Earthlove box will be supporting wildfire recovery in Australia, including replenishing forests and animal conservation."
Here's a look at what's in this season's box ($170.45 total value):
Box Insert
Each quarterly Earthlove box includes a box magazine that is filled with tips, DIY, inspiration, and stories to help you live more mindfully with the Earth. It's really nicely designed and it's even eco-friendly as it's printed on FSC-certified paper using waterless printing technology. This quarter the magazine includes a meet the maker article from Unearth Malee, the deodorant company; an article called "Creating an Eco-Friendly Paper Business" by the founder of the stationary company; information on how the TP company is changing the toilet paper industry; an article on sustainable fashion; a look at what's in your tea bag; information on wild cocoa from Supah Stah; tips on how to sleep well; information on this month's cause partner with happens to be the Wildfire Recovery in Australia and a bit of earth wisdom. Lots and lots of good stuff!
Monthly Book: Moodtopia ($17.99)
"Do you deal with daily stress, nagging anxiety, feeling overwhelmed, or constant mood swings (or know a friend or family who could use some support)? This book from Sara-Chana-Master herbalist RH(AHG) and classical homeopath-is packed with tools, tips, and strategies to help tame your moods through the use of herbs, adaptogens, aromatherapy, color therapy, feng shui, intuition, homeopathy and so much more. Sara-Chana shares the best natural remedies to help combat stress and promote peace of mind and general health. She shows how herbs and other natural approaches are a gentle way to enhance one's emotional state. With an easy-to-implement 90-day program, Moodtopia teaches us to harness the power of nature coupled with our own inner strength to achieve optimal emotional and mental wellness."
Oh my goodness does this look like a good book! I'm so excited it was the chosen book of the quarter! It was a community vote item and the community totally chose well. I've been working really hard on reducing stress and balancing my mood and mental state so I'm sure this will be so informative and helpful. It includes gentle, medication-free ways to enhance mental and physical health. It has tons of tools, tips and information including things like a list of herbs by concern, strategies for liver support and natural ways to combat stress & anxiety. I really can't wait to get started on reading and learning from this book!
NATURAL DEODORANT Unearth Malee ($10)
"Feel refreshed with this all-natural, organic Thai Lime Sage Deodorant. Thai Lime invigorates the senses and contains antioxidant properties, while clary sage reduces inflammation. Sage's grounded scent also boosts mental strength and confidence – a great way to start the day! It's 100% free of aluminum and packaged in a zero waste compostable container. Gently push on the bottom to use."
I love trying out new natural deodorants so this is great! This one is made with organic ingredients and includes no baking soda so it works for sensitive skin. It smells so bright and citrusy, but not at all overpowering. I love lime so this is right up my alley! The essential oil blend used not only contributes to the scent, but was also chosen because the oils are antibacterial which helps with keeping odors at bay. Another great thing about this product is the completely plastic-free packaging. I've had a great experience with this type of tube deodorant before so I'm sure this one will work just as well.
Sleep Well Lotion from Scentuals ($17.21)
"Community Item Pick! Made with all-natural ingredients including organic argan, olive, and other soothing essential oils, this relaxing Sleep Well lotion will soothe your senses while hydrating and nourishing your skin as you slumber away into a restful sleep."
This is one of the items that the Earthlove community voted on to include in the box. Since this is my first box I didn't participate in the vote, but the community picked well! I love this lotion! I have been having trouble getting uninterrupted sleep so I've been upping my tactics to get better zzz's. This lotion will be perfect for my arsenal of sleep helpers as I didn't have anything like it in the collection yet. It smells really nice and soothing. I'm not sure of the scent, it's an secret blend of essential oils (it doesn't say on the bottle which are included, but if it's the same as some of their other sleep products than it's likely lavender, vanilla, jasmine, ylang ylang, sandalwood, clary sage and chamomile. I can definitely pick up those notes, so it's gotta be similar. The lotion is soothing to skin and absorbs really nicely. I'm putting this on my nightstand tonight and will be slathering it on before bed.
Fromula N°9 Moonstone Perfume from Baiser Beauty ($65)
"This all-natural formula increases sensuality, repels bad energy, and elevates the low frequencies in your body, leading to a state of Inner peace. A blend of bergamot, coriander, neroli, jasmine, rose, and jojoba oil with a rose quartz, this aromatherapy perfume can be used to meditate and balance emotions."
An all natural perfume that smells good and has a lingering scent is hard to come by so this is a treat! This smells really, really nice- a crisp, clean and uplifting floral scent. It certainly would work well for energizing, yet is also relaxing too. I really like the intention with this perfume that it helps increase positive vibes and bring the wearer peace. The immersed rose quartz definitely helps with that as it connects to your heart center and brings about feelings of self love and acceptance which leads to inner peace. This would be great for a meditation session, but would also be perfect for every day wear. Since it's a roller ball it's easy to keep in your purse for replication too. The scent seems to hold strong and linger without fading too quickly.
Stationary Set from Papercraft Miracles ($16)
"Each set made exclusively for Earthlove members comes with four 100% recycled paper sheets handmade by master papercrafter Janna and her team in Buffalo, NY. Each piece of paper is upcycled with scraps of cut grass, junk mail, fabric pieces, and hole punches and is a perfect size for sending a Spring greeting or making something! The wrapper is home compostable too. "
Such a pretty stationary set! Handmade paper is so beautiful and unique. I like that they use scrap paper with extras added in for pizzaz. These cards are a great example of utilizing resources that would otherwise be discarded to the max. I like to write my grandma letters so these will be perfect for that but they could also be used for a craft project too. The cards are a single sheet (not folded) and come with envelopes for mailing.
Belabands from Dona Bela Shreds ($14)
"Upcycling is the next trend in fashion, which is good news for the environment! Handmade in the USA, these BelaBANDS are made from textile remnants from fast fashion and keep textiles out of landfills. They are also multifunctional: use them as a scrunchie, scarf, or bracelet for a casual look or pop one in your gym bag for a fun addition to your athleisure wardrobe! Since these are made from fabric scraps, they come in assorted colours and every set is one of a kind."
This is a fun and useful item! There are two headbands included, each made from different upcycled fabric. I love that they've found a use for excess waste created by fast fashion companies. Each headband is made from 6 strips of fabric that's stretchy, yet sturdy enough for multiple uses. They'd be great for use while exercising or for face washing to keep hair out of your face. Of course they'd be nice for everyday use as well. They are a little tight on my head (I think I have a larger head), but they stay in place nicely and really don't feel too uncomfortable.
Wildcrafted Tea from Hobbs Tea ($9)
"Discover four Hawai'i Grown whole leaf tea blends from Hobbs Tea! Sustainably wildcrafted by regenerative farmers on the slopes of Kīlauea Volcano, this tea is watered only by rain. The bushes benefit from heavy mists, cloud cover, and the natural shade of native ohi'a lehua trees and large curly ferns. Situated above two active lava tubes, the garden's fertile volcanic soil yields a smooth, sweet brew that is low in tannins. These hand-tied tea bags from Jamie and her team are unbleached, plastic and nylon free, and biodegradable. Each oversized bag can be steeped seven times without losing taste and potency. Start with a hot brew, then turn it into an iced tea!"
I am a total tea drinker and really enjoy trying new blends and varietals so this is a great product to find. This is a variety pack that includes the following teas: Hawaii Black (high caffiene), Hawaii Green & Hawaii Oolong (medium caffeine) and Hawaii White (low caffeine). Unfortunately I don't drink caffeine, but I will probably still try out the White tea because I'm really intrigued by how this tea is produced and appreciate the organic and pure aspect of it. I want to know what the Hawaiian rainforests taste like! This tea is sustainable, certified organic, and bagged by hand – amazing! I like that the packaging on these tea bags is biodegradable too. It says the sachets are packaged in a biodegradable envelope, but mine is in what seems like plastic, not sure if that's previous packaging or if it's plant based? Regardless, it seems like all current packaging is fully biodegradable.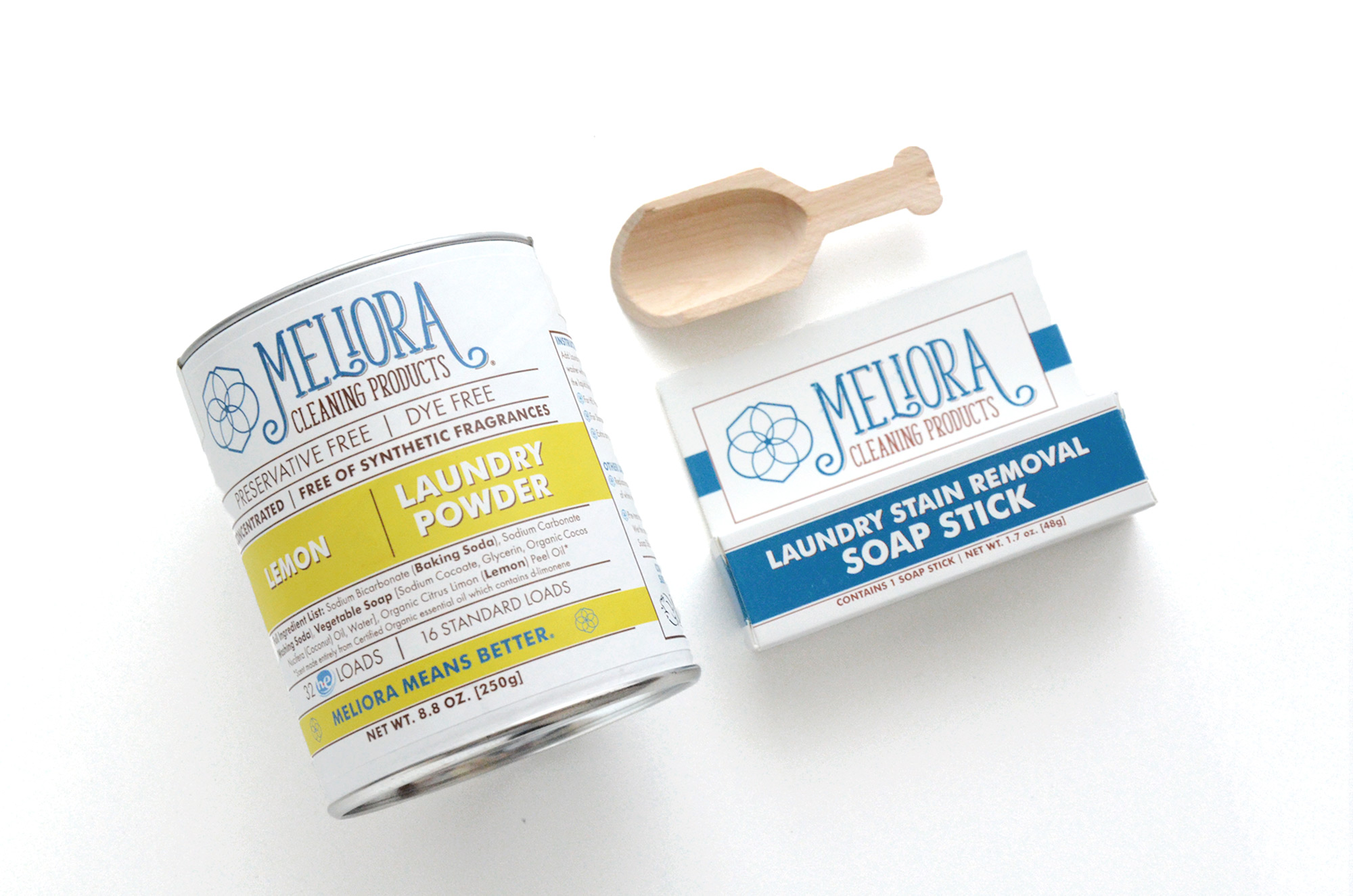 Zero Waste Laundry Starter Kit + Wooden Scoop from Meliora Cleaning Products ($14)
"Who doesn't love the smell of fresh laundry? Meliora's Starter Kit is your go-to people and planet-friendly laundry option, especially if you don't have the time to make it yourself. All of Meliora's laundry powders are free of synthetic fragrances, dyes, preservatives, palm oil, and brighteners. They also donate a portion of the proceeds to environmental causes. To use Meliora's stain remover stick, simply wet the fabric and rub the stick onto the stained area, then wash as usual. We also included a reusable wooden scoop made by woodcrafters in the USA."
This is so perfect! I just got a brand new washing machine after our old one died so I've been really jazzed about finding new laundry products to try. I've actually tried the stain stick before and really like it. It has a little learning curve as it's not as simple as the spray bottle stain removers, but it's still very easy to use. I know this laundry detergent is made with super clean ingredients and so I've been meaning to try it when our current one was going to run out, now I can! This can contains 32 HE uses or 16 standard load uses and you can purchase larger containers that do up to 128 or 512 HE loads. The scent of this one is lemon (from lemon essential oils) and they also have unscented, lavender or lavender-lemon-clove. So many options! I also especially like the cute little wooden scoop that comes with this! This company is actually a local company here in Chicago so I love the product even more because of that. Supporting local when I can is important so once I get hooked on this I'm sure I'll be repurchasing.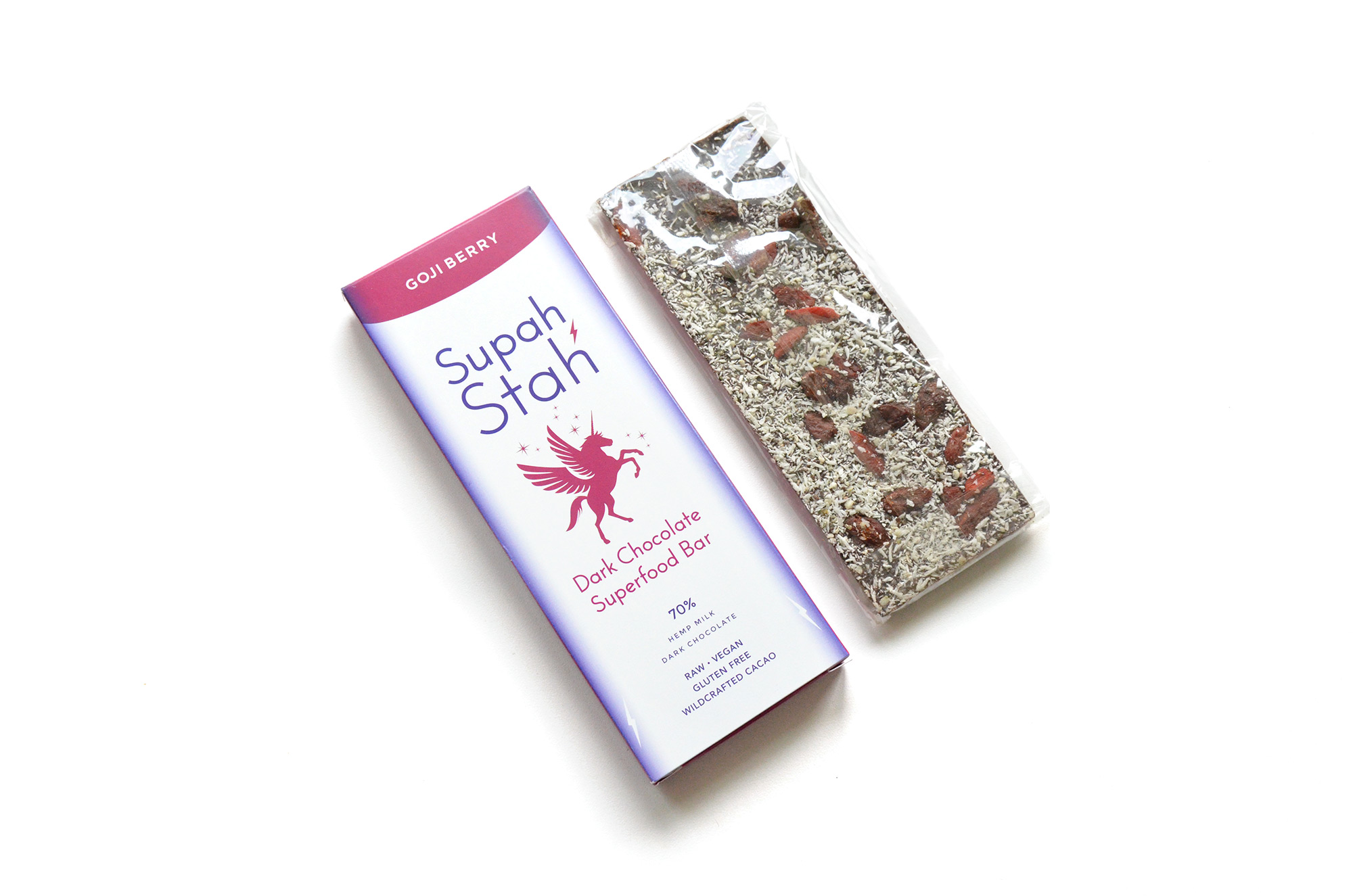 Chocolate Bar from Supah Stah ($6)
"Enjoy a sumptious 100% organic dark chocolate superfood bar and be a Supah Stah! Handcrafted in small batches by Erika Wright, they're made with a wilcrafted heirloom cocoa called Arriba Criollo Cacao that's sustainably harvested by 450 wild harvesters in Ecuador-the only source in the world for wild harvested cacao, which has a higher nutritional and mineral content than regular chocolate bars. All their beans are sourced from seed-propagated trees thriving in diverse ecosystems, fed by rain and spring water. Supporting this cacao preserves and protects the heirloom varieties and maintains biodiversity. Supah Stah wrappers are also home compostable!"
Chocolate is one of my favorite items to find in a subscription box. I just love it and love trying out new flavors! This one is dark chocolate with goji berries so it will have a fruity hint. It also includes hemp seeds, coconut flakes, chia seeds, maca root and cinnamon so it has a ton of healthy superfood benefits too. I love that the berries and coconut aren't just mixed into the chocolate, but are more like decorations on top. It makes it look almost too pretty to eat! The ingredients are all organic and there is no sugar added – it's only sweetened with coconut palm sugar. And I love that the packaging, including the wrapper is all compostable. Can't wait to try this one out! It might be consumed in one sitting!
Bamboo Toilet Paper from Reel ($1.25)
"Go tree-free with bamboo toilet paper! Bamboo toilet paper is an Earth-friendly alternative that helps reduce deforestation, the use of chemicals, and plastic (plus it's stronger and softer than TP made from hardwoods!). It's biodegadeable, free of inks and dyes, and is tested safe for septic systems. For each roll sold, Reel donates a personal, biodegradable toilet to one of the 2.4 BILLION people who have no access to their own toilet."
I have really been wanting to try out bamboo toilet paper (that seems like a really adult thing to say haha) so I was happy to find a roll in this month's box. And ironic, yet very good timing that it showed up during the quarantine when there has been a sort of toilet paper shortage – too funny! Since bamboo is a much more sustainable crop to grow it makes this TP the most eco-friendly option for disposable toilet paper. It's also packaged without plastic so it keeps waste to a minimum. It's the same size as a standard roll and feels just as soft and strong. It might be slightly thinner than some papers on the market, but that doesn't seem like it would be a problem. When researching this product I've noticed that all bamboo TP's seem to be sold out or back ordered right now (not surprising), but I'll likely be ordering this in the future when it's back in stock.
Earthlove Review Spring 2020 – Final Thoughts
This is my first time reviewing Earthlove Box and I'm in love! It has easily risen to the top of my subscription box review list, and I have reviewed a ton of amazing boxes so that says a lot. It is filled, and I mean filled with amazing goods. When unboxing it felt like I just kept pulling more and more items out. The number of items alone makes this box a great value, but the quality of the items takes that value up several notches too. Using earth conscious products is really important to me so the mission of this subscription box to only send sustainable and eco-friendly products really fits my lifestyle. The detail that goes into this box to keep it as earth-friendly as possible is noticeable too. From the thoughtful selection of products that use natural and sustainable ingredients and packaging, to the materials used to package the box itself – no stone was left unturned. It's clear Serina, the founder, is passionate about spreading the word and love for the earth. I already gushed about the individual products themselves above and can't even call out a favorite here below because everything is just so good. Collectively the items were such a wonderful variety that cross many different categories which is always awesome in a subscription box. I really enjoy that they work to create a community around this box too and starting with this box had let the subscribers vote for the monthly book, the cause partner and a few items that would be included. That makes it fun, interactive and exciting. I love that this season's cause parter supports the wildfire recovery in Australia (a portion of the proceeds from purchases of this box goes to help that cause). I already cast my vote for the summer box so I can't wait to see what items come out on top, what other items will accompany them and what cause partner they'll support!
The Botanic Gal – http://www.botanicgal.com