FabFitFun Review Fall 2018
FabFitFun is an AMAZING subscription box that ships quarterly and is filled with the most fab items, hand-picked by the FabFitFun Team! You get to indulge in fashion finds, glam beauty secrets, and fab fitness gear guaranteed to make you feel like a VIP all year-long. They kindly sent us this box for review.
Every time the Fall FabFitFun box rolls around I am reminded of the Fall 2016 box which was my all-time favourite subscription box EVER! I think to myself, will this year's Fall box be as good as that box? Will I ever like a subscription box as much as I liked that one? Usually the answer is no, but the Fall 2018 FabFitFun box comes pretty darn close.
Subscription Details
FabFitFun annual memberships have some really awesome perks that we've never really spoken about before so I wanted to take a moment and outline those below. Here are the benefits if you sign up for an Annual Subscription….
Purchasing an annual membership will make you a Select member! Each season, they will email you before your order ships and allow you to personalize certain items in the box such as what color of a certain item you'd like to receive based on the options that season.
Annual Members also enjoy early shipping. This means boxes are shipped within 7-10 business days of the start of the priority shipping window.
$20 in instant savings.
Box customization, which means you can pick and choose the designs and colors of certain box products for your seasonal boxes.
Early access to seasonal Add-Ons!
Here's a look at the items we received in the Fall 2018 FabFitFun box….
First up, let's go over the items that are in every box….
BeautyBlender ($20)
Seamlessly blend cream, powder, and liquid formulas. Use the pointed end on the sides of your nose and under your eyes and the rounded end to buff product in to the rest of your face.
Tip: Before using, wet the sponge with water and squeeze out the excess liquid.
You all know I'm not really a makeup girl, most days I don't wear any at all, but the odd time I do wear a little foundation this blender is my best friend. I love the way it applies foundation – it's easy, seamless and leaves a natural look.
Simply Whimsical Tea Towels ($14.99)
This set features two playful gray patterns that are sure to perk up your mood every time you walk into the kitchen.
These super cute tea towels match my decor scheme perfectly. My entire house is white and grey. I would love a few more of these.
Skin & Co Roma Blue in Capri ($22)
This multipurpose shower gel is inspired by the lemon farmers in Capri, Italy and is deliciously scented with wild sage, lemon and alpine rose.
Believe it or not, shower gel is one of my favourite skincare items to receive in subscription boxes. It's one of those items I hate purchasing, not sure why, but I love to have it on hand in all of my bathrooms. This one has a lovely scent and is a generous size.
GlamGlow Bubblesheet Oxygenating Deep cleanse Mask ($18)
Watch it activate into a tingling 3-D bubble experience. The micro bubbles instantly invigorate and detoxify the skin, revealing a glowing, deeply purified complexion.
This is another item that's nice to have on hand. I don't use sheet masks often but every now and then the mood strikes to lay down with a good book and a cup of tea while I pamper my skin. I usually share these with my niece, she LOVES a good face mask.
Luna Rica Bar (sponsored)
Take time for yourself and break into a perfectly-portioned LUNA Rica Bar. It's made from recognizable ingredients like dates and nuts, making it a nutritious snack.
Granola bars are a favourite snack of mine. If I had it my way there would be a subscription box for snack bars alone. This is a flavour I haven't tried before and it sounds really good.
And now we will look at the items subscribers could choose/customize…..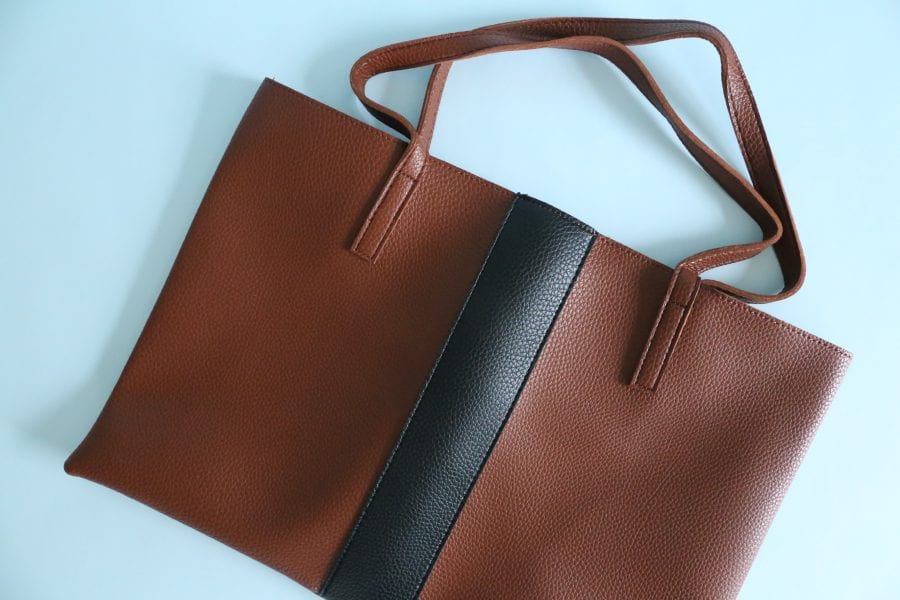 Vince Camuto Lucky Tote ($128)
Comfortably carry your everyday essentials in this giant tote. It features a soft interior and a hanging slip pocket to store your keys, lip balm and more.
Yes, yes, yes. As soon as I saw that this item was one of the customization options for Annual Subscribers I knew I needed to have it. Subscribers could choose from this gorgeous tote and a 6-piece brush set. The tote was available in this Red Desert color or black. I already have a black tote so I was super happy to see the Red Desert option. It's a simple tote, not much to it, but it's the perfect color for Fall and I have a feeling it will be my go-to for the next few months.
PS – It's made of vegan leather so they get bonus points for that!
Alfred Teapot ($26)
Sip in style with this ceramic teapot designed by L.A. – based tea spot Alfred Tea Room. It has a stainless steel lid, a wide-lipped infuser, and a dripless spout to make tea time enjoyable.
Here we have a cute little teapot. Annual Subscribers got to choose between this item and a french press. This might be the only item in the box that doesn't really excite me. I would have loved to see a travel mug or coffee mug in it's place but we have received those items in past boxes so I totally understand why they went with a teapot instead.
Cylo Cobra Bluetooth Wireless Earbuds ($40)
Jam out in style with these chic and comfy bluetooth earbuds. The onboard controls and neck strap help you enjoy your music tangle-free.
After the tote, this is my second favourite item in the box. I have a slight obsession with wireless earbuds. Annual Subscribers could have received these (in white or black) or an umbrella. The earbuds were a no-brainer for me. I will use them on a daily basis.
Grown Alchemist Polishing Facial Exfoliant ($67)
Gently exfoliate dry skin to reveal a radiant and moisturized complexion. It's formulated with glucomannan from konjac to absorb oils and pink grapefruit to fight free radicals.
Here we have one of the beauty customization options. Annual Subscribers got to choose this exfoliant, a hydra-repair cream, or a hydra restore cream. All options were from the same brand and I would have been happy with any of them.
Farmacy Dew It All Total Eye Cream ($38)
Fine lines and dark circles, be gone. This moisturizing eye cream helps minimize visible signs of aging, stress and fatigue while reducing the appearance of dark circles.
This was the second beauty customization item and Annual Subscribers could have chosen this eye cream, a lipstick duo or a detox bath. I am super happy with my choice because I love testing out new eye creams. They say to use the tip of your ring finger to gently tap on your eye area.
FabFitFun Review Fall 2018 – Final Thoughts
At first glance I wasn't sold on the Fall FabFitFun box, but upon further inspection I came to the realization that it's actually pretty amazing. Depending in the items subscribers received the total retail value of the box could have been between $285 and $375. It's for this reason that I always recommend FabFitFun to anyone just starting out with subscription boxes. You really can't go wrong with this box. It has the best value, amazing brands and quality items. I am happy with everything I received in the Fall box with the exception of the teapot. The tote and the earbuds are my favourite items in the box and I'm excited to test out all the beauty products. I think the only thing I am missing is a jewelry item, but other than that the Fall FabFitFun box is pretty darn amazing.
XOXO