FabFitFun Review Spring 2016
It's safe to say that FabFitFun is in a subscription box category of it's own. It's hard to compare this box to other lifestyle subscription boxes because it's just SO amazing. Every season they release a new box full of awesome products. I honestly don't know how you couldn't love this box.
If you aren't familiar with FabFitFun it is an AMAZING subscription box that ships quarterly and is filled with the most fab items, hand-picked by the FabFitFun Team! You get to indulge in fashion finds, glam beauty secrets, and fab fitness gear guaranteed to make you feel like a VIP all year long.
The Box: FabFitFun VIP
Cost: $49.99 per quarter
What You Get: Curated by Giuliana Rancic and the FabFitFun Team you will get $120+ in Beauty, Fitness, Fashion, and Wellness Finds for only $49.99 per season. Items include full-size, premium products delivered 4 times per year.
Where Does it Ship: US & Canada
Shipping Cost: FREE to US & $8 to Canada
Coupon Code:Use coupon code "YEAR10″ to save $10 off the Spring box – CLICK HERE
FabFitFun really needs to start shipping monthly. I can't even imagine the excitement level if I was to see this box in the mail every 30 days. Today we are looking at the Spring box and at first glance it appears as though we have a pretty great product mix.
Herb Garden by MakersKit ($35) – Oh my gosh, this is absolutely perfect!! Now that I am spending more time in the kitchen, I have been going through herbs and spices like nobody's business. With this nifty little kit I get to grow my own herbs, and I couldn't be more excited.
Contour Kit by ISH ($32) – You all know I don't wear a lot of makeup, I actually try to wear as little as possible, so a contour kit won't really fit into my daily routine, but the kit includes a blush and a highlighter, and I definitely love my blush!
Bath Bomb Trinity by Jus D/Amour ($28) – Bath bombs are AMAZING! I honestly wish I had a never-ending supply of them. These ones include organic ingredients and essential oil blends…..I love them already.
Keratin Gloves & Socks ($9.98) – Eeek!! The box just keeps getting better and better. I've never used Keratin gloves or socks and I am so excited to try them. My hands and feet get very dry every time the seasons change, so these came at the perfect time.
Tag Necklace by Jook & Nona ($65) – I don't think a lifestyle box is completely unless it contains some sort of pretty accessory. This necklace has my name written all over it. I definitely prefer gold jewelry to silver, and I am happy with the tag I received. Subscribers received one of 4 designs – love, happy, inspire, or dream.
Shaving Lotion by HelloLegs ($19.95) – This is too funny. I've had a shaving lotion in my "to try" drawer forever, and finally just pulled it out. I have been loving it so much that I was hoping to receive another one…..and here it is.
Argan & Hemp Oil Therapy by Marrakesh ($22.99) – I love hair oil! I have been growing my hair out for the last couple years and it definitely needs a little love. This Argan formula will leave your hair soft, frizz-free, and shiny.
Yoga Mat Strap by Merrithew ($14.99) – I absolutely LOVE that FabFitFun includes some sort of fitness item every season, but I have said that before. I work out at home 2-3 times per week so this resistance cord will definitely come in handy.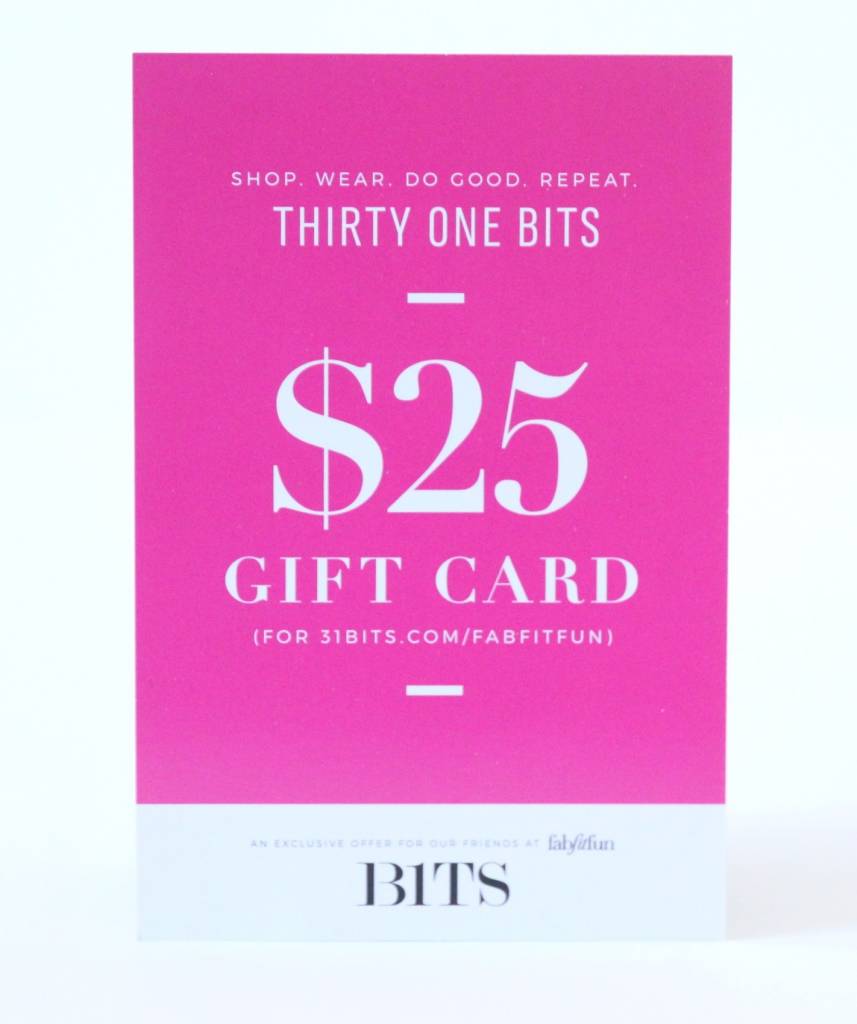 $25 Gift Card by 31 Bits ($25) – Normally I'm not a fan of gift cards in subscription boxes, but I absolutely LOVE 31 Bits. They have some really amazing necklaces. This will probably be the first gift card that I will actually get use out of.
$30 Gift Card by Sterling Forever ($30) – I've never heard of this company before so I had to do a little research. Their jewelry is actually really pretty, and they have some great pieces to choose from under the $50 price point.
Thoughts: This just might be my favourite FabFitFun box to date. I feel like I will get the most use out of the items in this box compared to all my other FabFitFun boxes. I will definitely be using the herb kit, bath bombs, gloves, resistance band, and argan oil. I will probably wear the tag necklace on a regular basis, and will definitely be putting the 31 Bits GC to use. The Spring box has a total value of $282.91, which is pretty darn amazing if you ask me. This box makes me feel like it's my birthday, how can you not love it!
XOXO