FabFitFun Review Spring 2017
FabFitFun is an AMAZING subscription box that ships quarterly and is filled with the most fab items, hand-picked by the FabFitFun Team! You get to indulge in fashion finds, glam beauty secrets, and fab fitness gear guaranteed to make you feel like a VIP all year-long. They kindly sent us this box for review.
FabFitFun is easily one of the better subscription boxes on the market. In some aspects they dominate the subscription box world, but they have been around since the beginning and have definitely earned their stripes. They have the subscription box thing down. From price point, to packaging, to recognition, to quality brands……they have it all covered.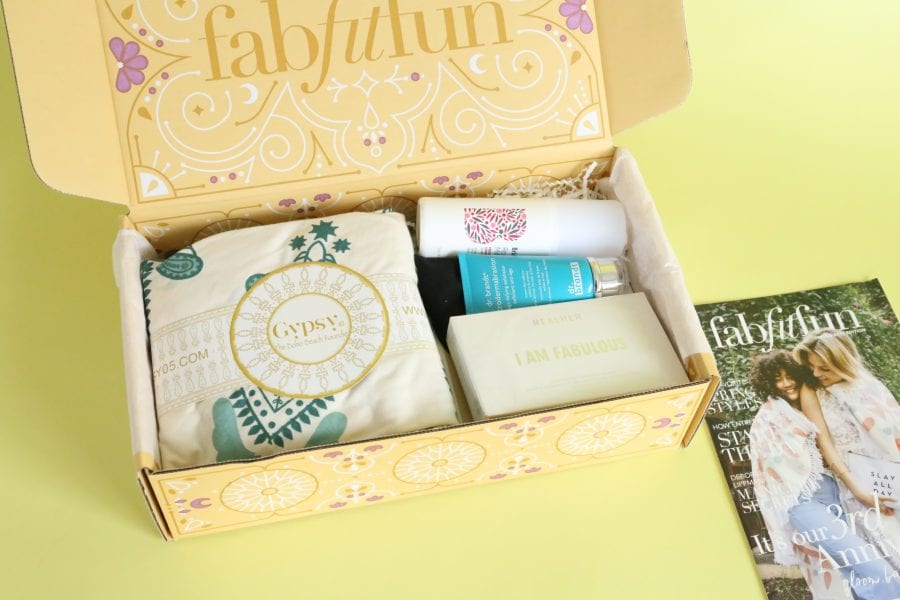 Every season FabFitFun comes out with a new box design, and they are ALWAYS super cute. They have done this for quite some time, but have really stepped up the design game as of late. The Spring packaging is no exception. It is gorgeous! I almost hate to open it……almost.
Every season we also receive a product booklet/magazine. It has a note from the editor, information about the products, brand spotlights, tips & tricks and suggestions on how to use the products. They also partner with a different charity every quarter, and for the Spring box, the charity is More Than Me.
Here's a closer look at the items we received in the Spring 2017 box, featuring 7 female-founded brands:
Gypsy05 Roundie – Value $50
Whether you are headed to a picnic, the beach, or a springtime concert, get around town with the perfect roundie. It will be your picnic go-to this season. 
I have to be honest, when I saw the spoilers for this item, I wasn't too excited about it. I just couldn't picture myself using it, and was planning on gifting it. But, now that I have it in front of me, I absolutely love it. I think it is super fun, colourful and different. I think there were 3 different color options available. Annual subscribers got to choose their color while quarterly subscribers were surprised. I'm more than happy with yellow/teal combo I received. I feel like I am going to get a lot more use out of this than originally planned.
MILLY Zip Pouch – Value $45
Spring break means that travelling with wet bikinis is inevitable. Keep your suits safe and away from your other valuables with this water-resistant bag. 
This is another item subscribers could have received in different colours. I belive there were four pastel shades to choose from. Once again, I am happy with the color I received. This is a gorgeous shade of blue. I am always excited to receive bags like this. They come in very handy. I can certainly see myself using this in my beach bag, but I will also use it in my travel bag.
LUV AJ Diamond Kite Crawler Earring Set – Value $85
You'll be smiling from ear to ear in this stunning set of climbers and studs. It's made of 14k rose gold and adorned with sparkling stones, so these baubles will be great for any occasion. 
I received LUV AJ jewels for the first time just over a year ago and have been a huge fan of this brand ever since. I was actually just thinking the other day how much I love my LUV AJ ring and necklace (that I currently own). Now I have a pair of gorgeous stud earrings and crawlers to match. I love that they went with rose gold. I have two really cute rose gold bracelets from other subscription boxes that were in desperate need of matching earrings.
Deborah Lippmann Nail Polish Set in Blue Orchid/Like a Virgin – Value $19
These beautiful hues are springtime in a bottle. Whether you receive "Blue Orchid" or "Shape of My Heart" alongside "Like a Virgin" you're sure to nail it this season. 
I absolutely LOVE these beautiful shades. I use to prefer bright nail polish but over the last few months my preferences have changed and I find myself reaching for pale shades again and again. I've never heard of this brand before so I had to do a little research. I found out that all of their nail lacquers are formulated to be 7-Free and they are Vegan.
Karuna Hydrating+ Face Mask Set – Value $28
Dry, dehydrated skin is no match for this deep-conditioning sheet mask. Made out of 100% natural wood-pulp finer, this single-use mask allows pores to fully absorb essential nutrients and nourishing ingredients for ultimate hydration. 
Soooo, I may or may not be wearing one of these masks as I write this review. I was intrigued by the fact that it is made from wood-pulp fiber, that it is made with Chinese liquorice, and that it is free of parabens, sulphates and phthalates. It's too soon to tell if it will do the trick but so far it smells, nice, feels nice and is very relaxing.
REALHER Lip Kit in Deep Red – Value $48
Talk about lip service! Made from natural ingredients, this liquid lipstick, plumping lip gloss and lip liner trio are so pretty you'll be kissing the mirror before you leave the house. 
Red lipstick dresses up any outfit, even boyfriend jeans and a white tee are worthy of a red lip. What I love most about these is that they are made with shea butter and jojoba seed oil. I currently use a lip conditioner made with jojoba and I absolutely love it. Subscribers received one of three lip kit shades – deep red, deep nude, or neutral pink.
Dr. Brandt Microdermabrasion Age Defying Exfoliator
 – Value $79
Reveal radiant and renewed skin! This formula contains aluminum oxide crystals, lactic acid, and smoothing botanicals to polish away dead cells and leave you with bright, smooth, healthy-looking skin. 
I try to use an exfoliator once a week. My skin responds very well to it, but I'm particular about the brand I use. Apparently this one receives rave reviews. It uses aluminum oxide crystals and soothing botanicals to polish and smooth skin.
Briogeo Rosarco Milk Reparative Leave-In Conditioning Spray – Value $20
Does your hair need some extra love? This ultra-lightweight spray is fortified with a unique blend of rose hip, organ, and coconut oils to improve hair's softness, strength and moisture levels, while acting as a barrier against heat. 
I've been paying special attention to my hair lately which is something I never had to do until a few months ago. The Winter did a number on my hair this year. It's super dry and dull right now, so I'm actually very exited about this particular item. Not only is it great to help my hair through the Winter woes, it will also be a great little addition to my Summer beach bag……if it lasts that long.
 FabFitFun TV!
We also received a card announcing the release of FabFitFun TV. It's a new feature that is FREE for subscribers only. Every season they will release new videos.
Nature's Bounty Hair Skin and Nails Vitamins

 (40 count)

 – Sponsored Item

Is it weird that I get really excited about the sponsored products in every box? I think it's because most of the time they are practical items, and I am a huge fan of practical items in my subscription boxes. These are made with biotin which is something I have been taking on a regular basis since cutting my hair off. Yup, I'm trying to grow my hair back fast, and I am willing to try anything. I should also mention that these taste amazing. Just like little gummy candies. You would never know they were full of nutrients.
FabFitFun Review Spring 2017 – Final Thoughts
I have to admit, I was really worried about this season's FabFitFun box. I was worried that it wasn't going to live up to the hype. The main spoiler kind of put me off and I just assumed the rest of the box would follow suit. I should know better by now. FabFitFun ALWAYS puts together a great box and I should never lose faith in that. The Spring 2017 box has a value of $369 and that is craziness! With my coupon code you can get this box for only $40. Most of the items in the box cost more than that on their own. One thing is for sure, you will never be disappointed in the value or the quality of the items when it comes to FabFitFun. I actually have no clue how they do it, but they have managed to have the best subscription box on the market season after season. It really is a must-have for any subscription box addict.
XOXO