FabFitFun Review Summer 2016
FabFitFun Review Summer 2016
FabFitFun Review Summer 2016 – In a way, FabFitFun dominates the subscription box market. They are one of the original subscription boxes, they are backed by a celebrity (or at least they use to be), the value is always amazing, and the brands are exceptional. In a way, they are "the" lifestyle subscription box.
FabFitFun Details
If you aren't familiar with FabFitFun it is an AMAZING subscription box that ships quarterly and is filled with the most fab items, hand-picked by the FabFitFun Team! You get to indulge in fashion finds, glam beauty secrets, and fab fitness gear guaranteed to make you feel like a VIP all year-long.
The Box: FabFitFun VIP
Cost: $49.99 per quarter
What You Get: Curated by Giuliana Rancic and the FabFitFun Team you will get $120+ in Beauty, Fitness, Fashion, and Wellness Finds for only $49.99 per season. Items include full-size, premium products delivered 4 times per year.
Where Does it Ship: US & Canada
Shipping Cost: FREE to US & $8 to Canada
Coupon Code:Use coupon code "YEAR10″ to save $10 off the Summer box – CLICK HERE
Shipping Details
This month's FabFitFun box is bigger than it normally is. That makes me think there are some pretty fun items inside. I am also LOVING the new box design. It is bright, pretty, and fun! They include a product booklet every month, which contains a note from the editor, product info, recipes, lifestyle tips and more. It's actually really fun to look through. This season's box is all about celebrating salty, sun-kissed splendour that is Summer. I absolutely LOVE Summer boxes, they always end up being my favourites.
FabFitFun Everyday Beach Waves Spray
You know what they say, "you can take the girl to the beach, but you can't take the beach out of the hair". Ok, so maybe that's not how it goes, but one of our favorite parts of summer is rocking beach waves everyday. That's why we created this amazing spray with a light hold to give you effortless texture while conditioning and protecting with meadow foam seed oil. 
This spray doesn't smell the best, but I am still going to try it. The bottle doesn't really have any directions, and I kind of wish it did. I have never tried the beach wave thing, and I'm not too sure how to do it. Do we just spray it in and let is air dry? Do we have to scrunch it? Etc……I need more info.
OSEA Atmosphere Protection Cream
A lightweight moisturizer that protects skin from dehydration and damage from environmental aggressors. The super emollient algae base ensures instantaneous absorption while the advanced blend of dermal proteins increases elasticity and leaves a matte, silky finish. An amazing, invisible base for makeup application.  
It's really hard for me to test out face products, and that's kind of a bummer. This one sounds really great, and I really want to try it. I will just have to gift it to a friend and let them try it out.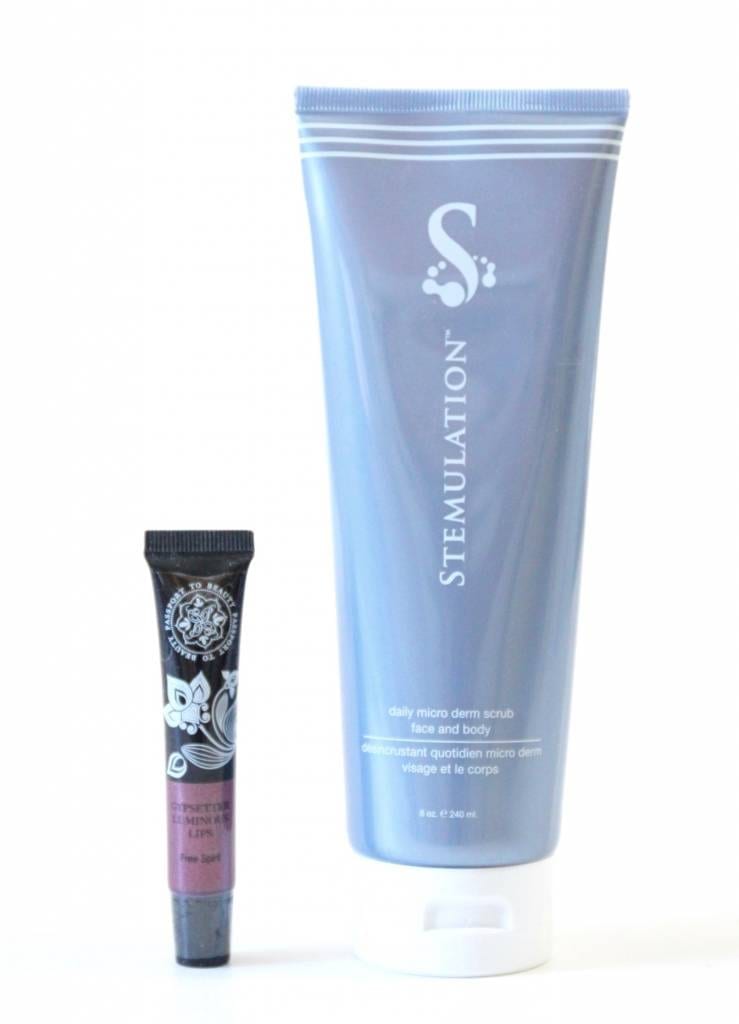 Stemulation Daily Micro Derm Scrub
This gentle exfoliating cleanser is formulated with natural ingredients to help refresh and energize the look of dull and damaged skin. Developed to clean refresh and renew skin texture. Leaving skin feeling smooth and healthy with vibrancy you can see. 
Now this one excites me! I don't like to test out new face products due to the fact that my skin is overly sensitive right now, but I do like to use face scrub every so often. I haven't purchased one for quite a while so this showed up at the perfect time.
Passport To Beauty Gypsetter Luminous Lips
Gypsetters praise the powerful healing benefits of Vitamin E. Rich in hydration and antioxidants, our multi-dimensional high shine gloss will be your favorite travel companion for a sexy hydrated pout!! Available in 3 beautiful natural shades that will make the most of any smile!!
This ins't really a shade I would typically wear, but I've heard great things about this brand. It also comes in a really pretty pink shade. I think I would have preferred that one.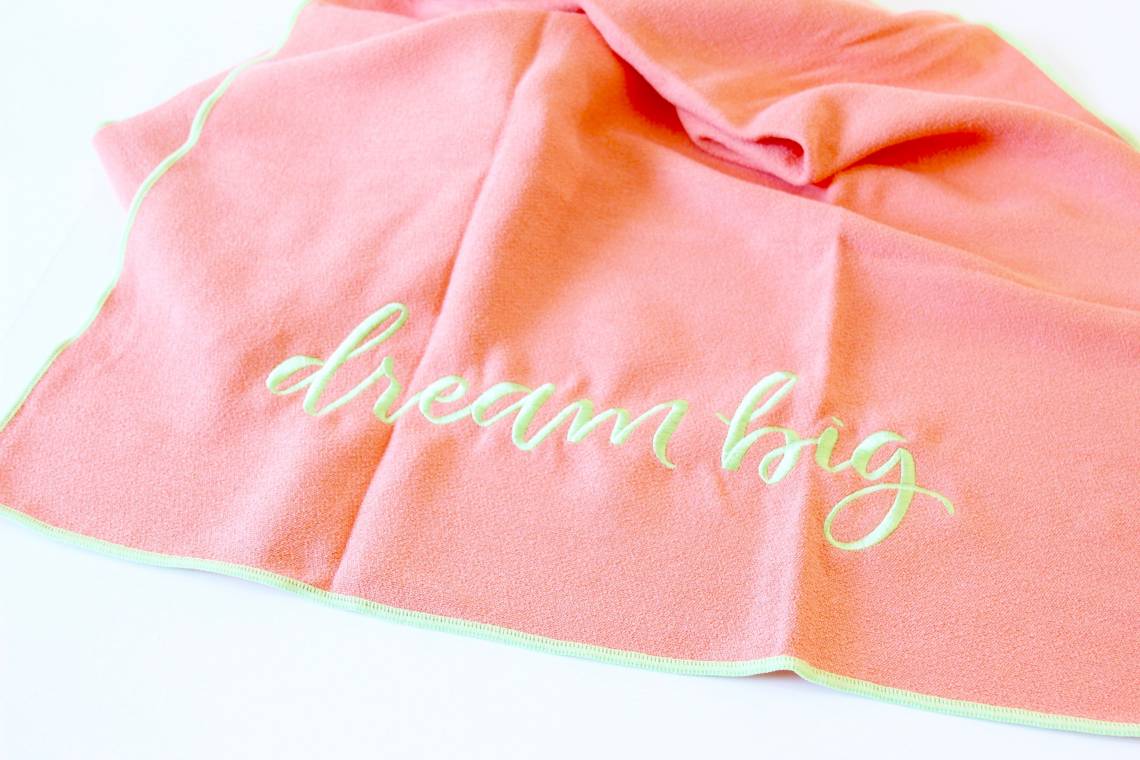 Summer & Rose Yoga Towel
Namaste all day with a little added positivity. Lay this moisture-wicking towel over your yoga mat and find your own personal happy place with the help of a motivational mantra. Yep, it really is mind over matter. 
Yes! Now I am even more excited. I mentioned in a previous review that I just started back with my trainer and as a result I have been on the hunt for some cute yoga towels. Getting your butt kicked by your trainer is so much more fun when you have cute accessories. Subscribers got to choose one of three colors, and I actually prefer the blue one. It says "more happy, less worry".
Trina Turk "Seas The Day" Canvas Tote
We're totes ready for summer. No, seriously. We've got your Trina Turk canvas tote all packed and ready to go with our on-the-go must-haves. Whether you carry this fun, bright bag poolside, to the beach, or simply running errands around town – you'll know you've got it all in the bag. 
Canvas totes are my thing. I love them! I'm not loving the color, but that's a minor detail. It says to use this one for the beach, but I'm not much of a beach girl, so I will use it as a gym bag. I'm going to be so stylish for my next training session! Annual subscribers got to choose one of three colors. I love the yellow one, it says "sunshine and saltwater".
Betches Betchsicles Champagne Ice Pop Molds
FabFitFun and Betches have joined forces to bring you something to celebrate: Betchsicles! Fill these champagne bottle-shaped ice pop holds with your favourite juice (or maybe a little bubbly!) and enjoy the frozen festivities all summer long.
If I would have received these 3 months ago I wouldn't have been excited at all. But I recently discovered the wonderful world of coconut milk fudgesicles and I am officially hooked! These bad boys will be put to use ASAP.
Burt's Bees BB Cream Samples, Compeed Blister Cushion Sample, $35 coupon code from Hello Fresh
I'm not a huge fan of samples, or coupon codes, but it is important for you to see every item that comes in the box.
FabFitFun Review Summer 2016 – Final Thoughts
There's something about a Summer themed subscription box that makes me happy. I'm not even that crazy about Summer (I prefer Fall and Spring) but the subscription boxes they come out with this time of year are always really fun. I love that this one contained all your Summer essentials – towel, beach bag, beach wave spray, exfoliator and popsicle maker.
The Summer FabFitFun has a value of $228, which is amazing as per usual. Yes, most of the items are things I have received before or already own, but that just means this isn't a "discovery box" it would be classified as a "value box". There's a big difference, and each will appeal to a different kind of subscriber. I personally love both kind of boxes, as well as "convenience boxes". FabFitFun is a very popular subscription box, and for good reason. I always love this box, it's a keeper!
XOXO