FabFitFun Review Summer 2018
FabFitFun is an AMAZING subscription box that ships quarterly and is filled with the most fab items, hand-picked by the FabFitFun Team! You get to indulge in fashion finds, glam beauty secrets, and fab fitness gear guaranteed to make you feel like a VIP all year-long. They kindly sent us this box for review.
FabFitFun is one of the most popular subscription boxes on the market. In fact, it's one of the first subscription boxes I came across when I discovered the wonderful world of sub boxes. It will forever be known as the subscription box with the best value.
Subscription Details
FabFitFun annual memberships have some really awesome perks that we've never really spoken about before so I wanted to take a moment and outline those below. Here are the benefits if you sign up for an Annual Subscription….
Purchasing an annual membership will make you a Select member! Each season, they will email you before your order ships and allow you to personalize certain items in the box such as what color of a certain item you'd like to receive based on the options that season.
Annual Members also enjoy early shipping. This means boxes are shipped within 7-10 business days of the start of the priority shipping window.
$20 in instant savings.
Box customization, which means you can pick and choose the designs and colors of certain box products for your seasonal boxes.
NEW! Early access to seasonal Add-Ons!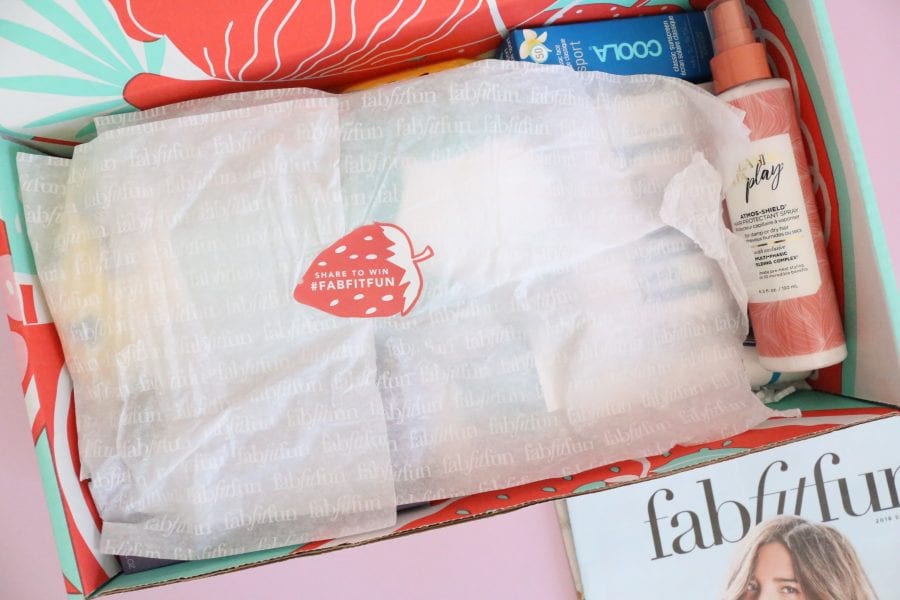 Here's a look at the items we received in the Summer 2018 FabFitFun box….
Summer & Rose Beach Towel ($55)
We collaborated with Rocky Barnes to create these oversized towels that are made from microfibre (the sand won't stick!). So grab your bestie, it's time to sunbathe.
This really is the perfect item for a Summer box. I LOVE having cute beach towels for last-minute trips to the lake. I live in a gorgeous town know for its beaches so beach towels are a must.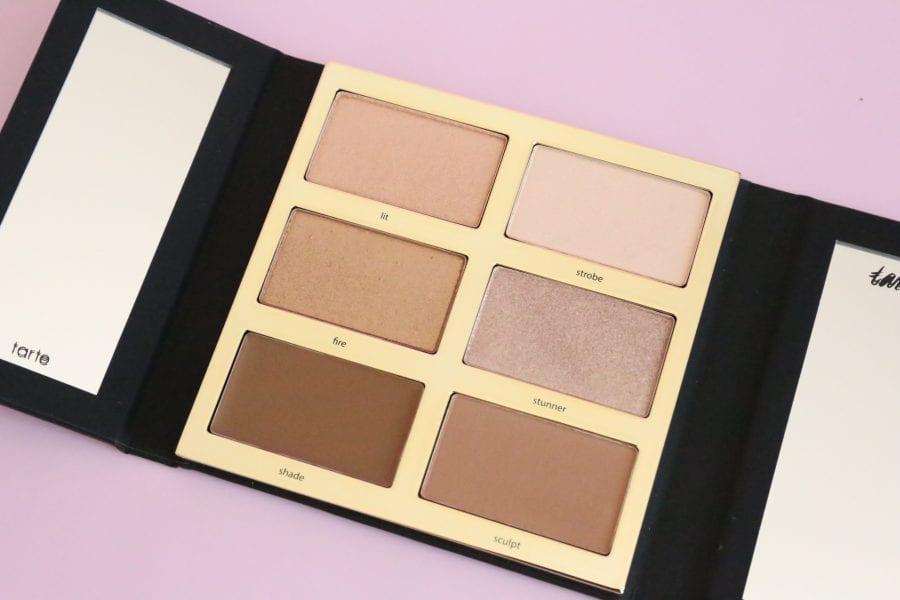 Tarte Tarteist PRO Glow Highlight & Contour Palette ($45)
With six pigmented powder and cream shades, this is the perfect kit for creating glowing, chiseled looks that will take you from day to night.
Tarte is one of my favourite brands when it comes to makeup. They have amazing products and great formulas. I won't get use out of this particular palette but I know someone who will.
Orlando Pita Play Atmos-Shield Hair Protectant Treatment Spray ($34)
In just a few spritzes, this treatment spray creates an invisible, weightless veil that shields the hair from harmful UV damage, heat styling tools and free radicals.
This is a beach bag must and another item perfect for a Summer box. I go to great lengths to make sure my hair is protected so I will definitely get use out of this spray.
Vasanti Brighten Up! Enzymatic Face Rejuvenator ($29)
Get glowing skin with this exfoliating cleanser! Its gentle formula effectively removes dead skin cells to reveal a smooth, even complexion.
I'm trying to remember if I have received this brand before and I don't think I have. Summer is the perfect time to add an exfoliator to your skincare routine.
Aromatherapy Associates De-Stress Muscle Gel ($39)
Made with an invigorating blend of essential oils, this best-selling muscle gel instantly cools aches and soothes tired muscles over time.
Essential oils are my jam so I am more than happy to receive products made with them. Muscle Gel is one of those items I don't use often but am always happy to have on hand.
Foreo Luna Fofo ($89)
Guess what? You're one of the first to get your hands on FOREO's newest revolutionary device. It is powered by Bluetooth technology and advanced skin sensors to create a totally personalized profile, which is sent straight to the newly launched FOREO LUNA app.
I hate to say it but I just might be the one and only person who isn't excited to see this item in the box. I feel like I need to spend more time researching this gadget because as of right now it totally confuses me.
Coola Face Sport SPF 50 White Tea Moisturizer ($32)
This SPF 50 sunscreen doubles as a moisturizer. It's 80-minute water-resistant formal is made with 70% organic ingredients, so you can splash, swim, and soak up the sun, worry-free.
Oh……LOVE this!!! I am a bit of a sunscreen fanatic. I don't like to tan my skin at all so I wear a lot of sunscreen this time of year. Coola is a really great brand and it's made with 70% organic ingredients. This is already in my beach bag.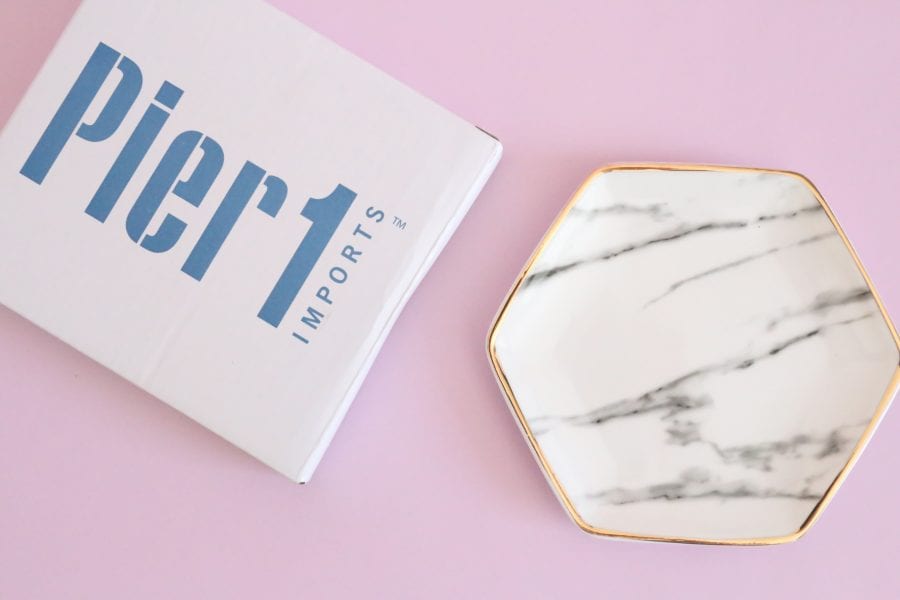 Pier 1 Imports Marble Ring Dish ($14.99)
Use this dish as a perfect catch-all for rings, keys, or loose change. Its timeless marble design and golden trim will glam up any part of your home.
Catch-all trays are the perfect little home decor item. Place it beside your bed, on your desk or the entry table.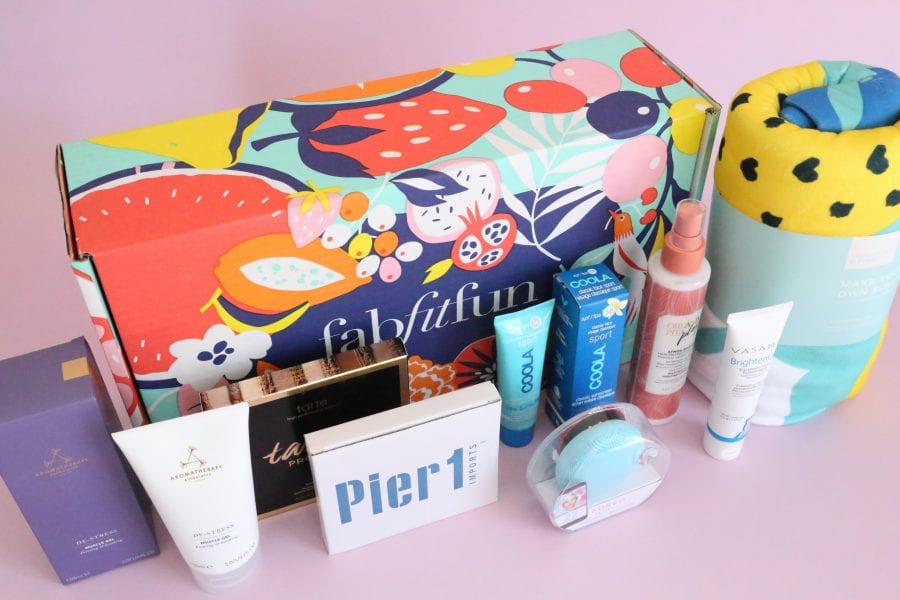 FabFitFun Review Summer 2018 – Final Thoughts
The Summer FabFitFun box has amazing value, as per usual, and it is packed full of summer-worthy items. It's not my favourite box but I certainly appreciate the curation. There were quite a few customization options this season and my box ended up being a little too skin-care focused for my liking. I received this box for review and didn't have the option to customize it, but had I been able to choose different options I certainly would have loved this box. Subscribers had some really great choices this season – a pretty train case, a gorgeous ring, a sports loop and a wallet…..just to name a few. Even though the Summer FabFitFun box wasn't my favourite it continues to be one of the boxes I look forward to the most.
XOXO