FabFitFun Review Winter 2018
FabFitFun is an AMAZING subscription box that ships quarterly and is filled with the most fab items, hand-picked by the FabFitFun Team! You get to indulge in fashion finds, glam beauty secrets, and fab fitness gear guaranteed to make you feel like a VIP all year-long. They kindly sent us this box for review.
Coupon Code: Use code YEAR10 to get $10 OFF the Winter box! – CLICK HERE
FabFitFun is easily one of the best box we receive. It's definitely a favorite and we aren't the only ones who feel that way. Did you know that they officially hit 1 million members?? How crazy is that! If that right there doesn't tell you how amazing this box is, I don't know what will.
Subscription Details
FabFitFun annual memberships have some really awesome perks that we've never really spoken about before so I wanted to take a moment and outline those below. Here are the benefits if you sign up for an Annual Subscription….
Purchasing an annual membership will make you a Select member! Each season, they will email you before your order ships and allow you to personalize certain items in the box such as what color of a certain item you'd like to receive based on the options that season.
Annual Members also enjoy early shipping. This means boxes are shipped within 7-10 business days of the start of the priority shipping window.
$20 in instant savings.
Box customization, which means you can pick and choose the designs and colors of certain box products for your seasonal boxes.
Early access to seasonal Add-Ons!
Here's a look at the items we received in the Winter 2018 FabFitFun box….
Mark & Graham Colorblock Throw ($49)
Cozy up with this woven throw which features a stripe design and cool fringe detailing. Hand wash cold and lay flat to dry.
Such a great item for a Winter box. Nothing says Winter like a night spent in front of the fire with a cozy blanket. Subscribers could have received Gray or Ivory and I am extremely happy with my choice.
Bearpaw Combo Set: Headband & Pop-Top Glove Duo ($45)
Slip on the ultra-soft, 100% polyester sherpa-lined headband and fingerless gloves to beat the winter chill all season long.
This little combo couldn't be more perfect. I hike every day and now that it is cold outside I need to keep my ears and hands covered. I will get a lot of use out of this headband/glove duo.
PS – How cute will the headband be with a pony or a messy bun!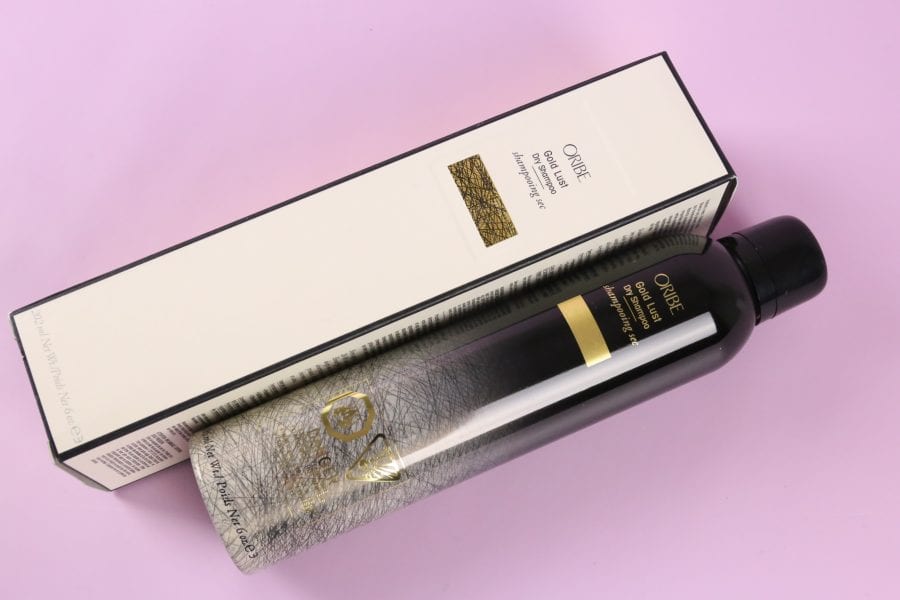 Oribe Gold Lust Dry Shampoo ($44)
It's so easy to achieve lust-worthy locks. Use this sulfate-free dry shampoo to absorb product buildup, oil and impurities while soothing the scalp and restoring strength and softness.
This is a must-have product for me. I keep at least one bottle of dry shampoo on hand at all times. I try to only wash my hair every 3 days and use dry shampoo on the days in between. They say to spray 8-10 inches from scalp, then massage into scalp until the product is completely absorbed.
Richer Poorer Reina Over The Knee Textured Sock ($24)
Equally cute and cozy, these socks are made from recycled yarn to keep you warm on even the coldest of nights. For extra warmth, wear the socks over leggings or tights with knee-high boots.
This is another must-have item for me, especially this time of year. I wear over the knee socks or leg warmers on a regular basis when it's cold outside. I love the way they look with boots and with tights. And…..this particular color/pattern will go with everything.
Brooke Burke Body Sliders ($18)
Follow fitness expert Brooke Burke on FabFitFunTV as she guides you through challenging workouts with the sliders. Disks are to be used on carpet surfaces.
I can't even tell you how excited I am about these body sliders. I was so happy to see a fitness product in the box and even more excited when I discovered that they were carpet sliders. I work out at home or outside on a daily basis and I have always wanted to add a slider workout to my fitness routine. Sometimes a girl has to workout in her bedroom, with her Bath & Body candle lit and a Christmas movie on the TV. Just sayin'……..
Bonus: It's super easy to find slider workouts on YouTube and Pinterest. I already have a few picked out.
Ways of Will Elevate Essential Oil Set: Sweet Orange & Eucalyptus Oil ($31)
Unlike typical essential oils, these oils can be applied directly onto the skin. Eucalyptus helps with sore muscles and cold symptoms, while Sweet Orange eases stomach cramps and headaches.
You can never go wrong with essential oils…..never! Or in my opinion at least. I currently have 3 oil diffusers in my house. One in the bedroom, one in my office and one in the kitchen. And……this oil combo we received would make a really great Christmas scent.
Thrive Causemetics Brilliant Eye Brightener ($24)
Infused with macadamia and meadowfoam oil, this silky champagne eye brightener instantly highlights and brightens your eyes. Highlight the inner corners of your eyes for a brightening effect.
I am loving the sound of the ingredients in this highlighter – macadamia and meadowfoam oil. And, it is a gorgeous color.
Ahava Hydration Cream Mask ($33)
Enriched with mineral spring water, shea butter, and vitamin E, this rich, creamy mask softens and smooths the skin while providing intense hydration and comfort. Use it as a three-minute hydration boost or as an overnight sleeping mask.
I have never used an overnight sleeping mask before but I am totally open to the idea. It would be a great way to give your skin a little boost of hydration while you sleep. And just think how great your skin will look when you get up in the morning!
Blaq Hydrogel Eye Mask with Hyaluronic Acid ($29)
Is your under-eye area puffy or swollen? Detox and de-puff with this activated charcoal eye mask for a refreshed look. Leave the eye mask on for 10-15 minutes before carefully peeling it off the skin.
This is a nice product to have on hand for those days when you feel like your skin needs a little TLC. I will often use eye masks, or face masks, when I am having a blah day and need an excuse to take a few minutes to just lay down and catch up on Teen Mom episodes. Anyone else do the same thing?
FabFitFun Review Winter 2018 – Final Thoughts
The Winter FabFitFun box is packed full of items that I will get use out of on a regular basis. That right there adds a ton of value to the box. Let's break it down – the socks and the glove/headband combo will be worn on a regular basis over the winter months, the essential oils will be used in my diffuser regularly, the body sliders will become part of my workout routine, the throw is already on my couch and will keep me cozy most nights of the week while I watch Christmas movies, the dry shampoo will be used 2-3 times per week since I don't wash my hair daily, and depending on how my skin responds to the cream mask, it just might become a weekly ritual. So basically, FabFitFun delivered me a box of Winter essentials for only $49.99! What's not to love about that!
XOXO