FabFitFun Review Winter 2017
FabFitFun is an AMAZING subscription box that ships quarterly and is filled with the most fab items, hand-picked by the FabFitFun Team! You get to indulge in fashion finds, glam beauty secrets, and fab fitness gear guaranteed to make you feel like a VIP all year-long. They kindly sent us this box for review.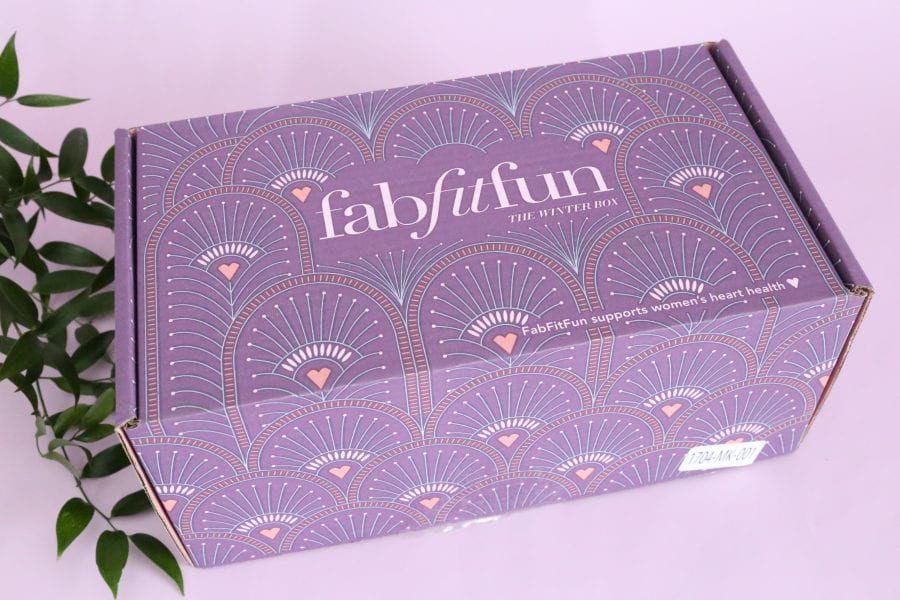 FabFitFun always has been and always will be at the top of my list when it comes to Lifestyle Subscription Boxes. It's the perfect starter box for subscription newbies and it's just as exciting for us subscription box pros. You really can't beat the value and curation. Every single FabFitFun box I have reviewed has had amazing value and the perfect mixture of items. I'm the type of person who prefers to receive a little bit of everything as opposed to a bunch of products from the same category. Every girl needs to experience FabFitFun at least once in their life.
Subscription Details
FabFitFun annual memberships have some really awesome perks that we've never really spoken about before so I wanted to take a moment and outline those below. Here are the benefits if you sign up for an Annual Subscription….
Purchasing an annual membership will make you a Select member! Each season, they will email you before your order ships and allow you to personalize certain items in the box such as what color of a certain item you'd like to receive based on the options that season.
Annual Members also enjoy early shipping. This means boxes are shipped within 7-10 business days of the start of the priority shipping window.
$20 in instant savings.
Box customization, which means you can pick and choose the designs and colors of certain box products for your seasonal boxes.
NEW! Early access to seasonal Add-Ons!
Here's a look at the items we received in the Winter 2017 FabFitFun box….
BB Dakota Poncho – $70
Whether you're lounging, at the office, or traveling this season, this ultra-cozy knit poncho will be your chic defense against chilly nights and overzealous air conditioning. The poncho features a reversible stripe pattern in three colorways: Black, Mulberry, and Charcoal. -Made from 65% acrylic and 35% polyester. -Female-Founded Company -Made in China.
First up we have this amazing poncho. I'm kind of sad this didn't arrive in time for our trip to Mexico. It would have been the perfect travel piece. It would have kept me warm on the plane and would have been a nice coverup for the cool evenings. BB Dakota is a really great brand, I'm happy to see FabFitFun partner up with them and would love for them to do it again in a future box. This piece is reversible so I could wear it on the grey side or the black side. Subscribers could have received Black, Charcoal or Mulberry. I am extremely happy with the color I received.
DOUCCE Freematic Eyeshadow Pro Palette – $70
Your new go-to palette is here! With eight matte and shimmer shadows along with one highlighter, these silky smooth powders will glide on for a smudge-free finish. Apply dry for a more natural finish or apply wet for a more long-lasting dramatic look. Oh, and the magnetic wells allow you to replace or swap out the colors for a customized palette!
Out of all the makeup I receive in subscription boxes, my favorite always ends up being the palettes. I love how convenient they are and that I receive a few different colors. Subscribers could have received two different color palettes – Smokey or Nude. I received Nude and am quite happy with it because the colors are neutral and will complement all different skin tones. But, the Smokey palette does look really pretty as well. It has a couple shades of purple and I love a purple shadow.
Homemade by Ayesha Curry Ceramic Mug – $16
This cozy oversized cup was designed with love by Ayesha Curry, New York Times best-selling author, TV host, restaurateur, chef, and mom. It's perfect for all your favorite beverages, whether it's hot cocoa and marshmallows, or something a little more grown-up (wink wink). Enjoy!
Oh my goodness!!! This is amazing. You all know how much I love my coffee mugs so it should come as no surprise that I am loving this item. Coffee mugs are an item I am always happy to receive. I have the cutest little coffee bar in my kitchen and I proudly display all my favorite mugs on one of the shelves (the other shelf is reserved for my David's Tea obsession). Any who…..subscribers could have received one of three designs and just like the poncho and the palette I am extremely happy with my selection. I'm a little sad this didn't arrive in time for Valentine's Day but better late than never. This gorgeous little mug calls for a pink tea latte. I recently purchased a new tea blend from David's Tea and apparently it makes the most delicious latte…….a pink latte!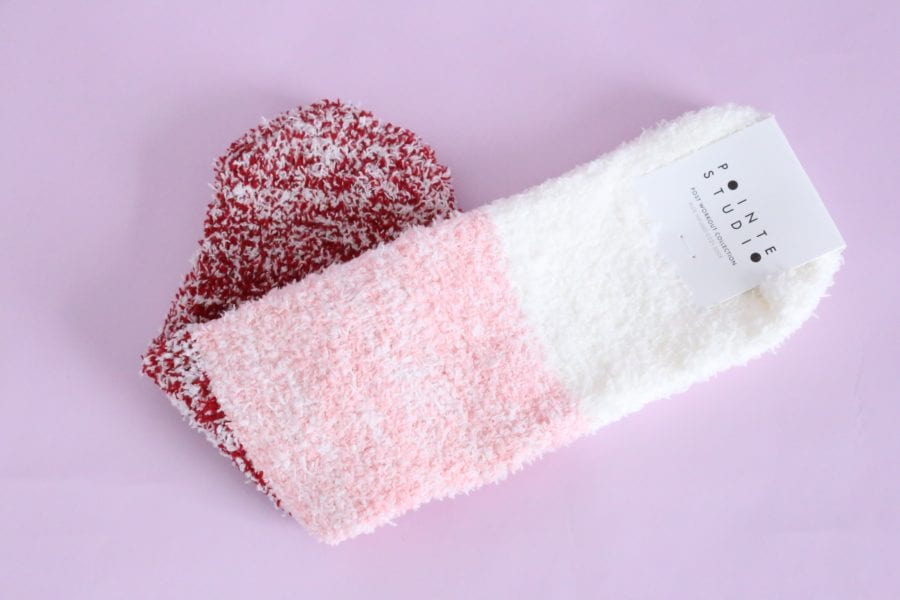 Pointe Studio Aloe Infused Cozy Socks – $19
Whether you're lounging or lunging, this sock is a must-have. Not only do aloe-infused socks provide unrivaled comfort, but the cozy material also keeps your feet warm and moisturized in the winter chill. Oh, and they last up to 25 to 30 washes! Made from 98% polyester and 2% spandex – One size fits women's 5-11.
At first glance I thought these were just a cute pair of fuzzy socks, but after reading the actual product description I discovered that they are aloe-infused. That is crazy! I've never heard of such a thing. I'm intrigued by the fact that they last 25-30 washes. Do they start to wear down after a few washes? Regardless, I love how soft they are and I love the idea behind them. My feet have been extremely dry the last few weeks so these are much-needed.
Kate Somerville ExfoliKate Intensive Exfoliating Treatment – $75
This fan-favorite and award-winning product dramatically smooths skin with both physical and chemical exfoliation, improves overall skin texture, reduces the appearance of pores, and turns back the clock on some of those fine lines and wrinkles. Use day or night, once or twice a week for just two minutes to achieve that "Hollywood glow."
I feel like I have received this before but for the life of me I can't remember which box it was in. Anyways, this is a reputable brand that receives great reviews. I'm taking a break from testing out new skincare for the next little bit but my Stepmom has agreed to do it for me. I have given her a few of the beauty products from past FabFitFun boxes and she has loved all of them, really and truly. She appreciates the quality of the items we receive in this box as well as the brands. I think she will really love this particular product.
8 Other Reasons Nine Lives Choker – $58
The Nine Lives Choker features a micro ball chain and comes pre-layered for easy multi-layered styling. It also has a lobster clasp closure and measures approximately 18″ in length including the extender. Made from base metal alloy – Rose Gold choker has 14K + Copper Plating + E coat to avoid or change skin color.
I've had my eye on this style of necklace for quite some time. I've seen a few of my favourite Instagramers wearing this exact style – choker with a drop piece – with their cute little tanks and shorts in the summer and I absolutely love the way it pulls the outfit together. I use to stay away from y-style necklaces that fall between my cleavage but now I actually really love the way it looks. Go figure.
This Works Deep Sleep Pillow Spray – $29
Enjoy a peaceful night's sleep with This Works' best-selling Deep Sleep Pillow Spray. Proven to help you fall asleep faster and feel more refreshed come morning, simply spritz it onto your pillow before bed to reduce sleep associated anxiety and improve sleep quality. It features This Works' natural award-winning signature blend of lavender, vetiver, and chamomile to calm both the body and mind.
Oh…..this is a fun product! I usually keep some sort of natural sleep aide beside my bed. I don't have trouble sleeping often but every month or two I'll have a restless night and therefore appreciate products like this. So far I have use an essential oil roller, a wrist balm and a line spray. I've never tried a spray specifically for my pillow and am really looking forward to testing it out.
Nelson j Beverly Hills Moisture Healing Hair Mask – $23
This hair mask features an argan oil 7 formula, which detangles hair, controls frizz, prevents color fading, seals split ends, protects from chlorine and salt water, restores silkiness and shine, and enhances hair's natural body. Not only that, the 100% argan oil moisturizing treatment provides long-lasting and effective results for color-treated, dry, or damaged hair.
Every season subscribers have the choice or products from a couple different categories. This season there was a Wellness category and a Beauty category. This item is from the beauty category and subscribers could have opted to receive this healing mask or Energizing Eye Masks. I would have loved either item. My hair is very dry this time of year so I will definitely get use out of this hair mask. You can use it a couple ways – leave on in the shower for 1 minute, or let it sit for 5 minutes under a dryer or steamer. I actually really like the fact that you can apply it at the beginning of your shower and rinse it out at the end.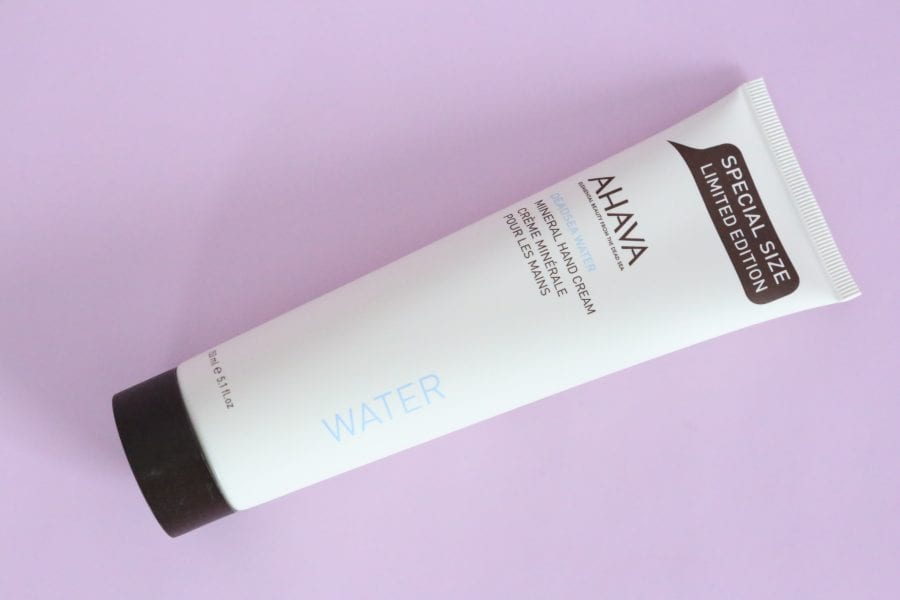 AHAVA Mineral Hand Cream – $33
Experience the wonders of the Dead Sea — no passport required! This mineral-rich hand cream instantly improves skin's moisture level, smoothing rough, dry skin, and restoring suppleness. Formulated with Dead Sea minerals, witch hazel, and allantoin, it will protect your hands all season long.
Lastly we have a mineral hand cream. It might not sound as exciting as the eyeshadow palette or the pillow spray but it's an item I appreciate receiving. I've mentioned this before but sometimes my favorite items end up being the practical items. Every girl needs a good hand cream during the Winter months and this girl is no exception. I actually have it sitting beside me as we speak. I've been cooking all day, in and out of the kitchen and my hands are taking a beating with all the dishes I've had to wash. I just applied this cream and it instantly moisturized my extremely dry hands. I wish I knew what the scent was because it's very pretty. It kind of reminds me of my grandma, but in a good way. Oh, and its paraben free.
FabFitFun Review Winter 2017 – Final Thoughts
My Winter 2017 FabFitFun box arrived very late. I almost thought it wasn't going to show up, well to be totally honest, I was convinced I had missed out on the Winter box altogether. And let me tell you, I was beyond sad. I had seen all the spoilers for this box, specifically the mug and the poncho and I was SO excited to receive it. I knew it was going to be one of the best FabFitFun boxes, maybe even better than the Fall 2016 box, which I still rave about. Anyways, it finally arrived, just the other day, and I almost cried tears of joy (not really, but almost). I was so happy to get my hands on the Winter box and it definitely didn't disappoint. It was everything I was hoping it would be. I love that we received a cozy fashion accessory, a comfy pair of socks, a cute little mug, and versatile makeup item and some beauty essentials. They really did an amazing job with the Winter box, it has officially taken over as my favorite FabFitFun box to date. Prior to this it was the Fall 2016 box. Can all the FabFitFun boxes look like this? Would that be too much to ask? I hope you all were able to get your hands on this box, and if not, make sure you sign up for the Spring box, or at least get yourself set up with a membership prior to next Fall. Fingers crossed we will see boxes like this every year going forward.
XOXO