FabFitFun Welcome Box Review Fall 2016
FabFitFun Welcome Box Review Fall 2016
Two FabFitFun boxes in one month! I feel like I hit the jackpot. I am kind of obsessing over FabFitFun right now because the Fall 2016 box was epic! I still can't get over all the amazing items we received in the last box. I think that one is going to go down in history as one of the best subscription boxes ever. But….seeing as it is sold out, and I believe their Winter box is also sold out, they have released a new Welcome Box which new subscribers will received as their first shipment.
FabFitFun Details
If you aren't familiar with FabFitFun it is an AMAZING subscription box that ships quarterly and is filled with the most fab items, hand-picked by the FabFitFun Team! You get to indulge in fashion finds, glam beauty secrets, and fab fitness gear guaranteed to make you feel like a VIP all year long. This box was provided complimentary for review and may include affiliate links.
The Box: FabFitFun VIP
Cost: $49.99 per quarter
What You Get: Curated by Giuliana Rancic and the FabFitFun Team you will get $120+ in Beauty, Fitness, Fashion, and Wellness Finds for only $49.99 per season. Items include full-size, premium products delivered 4 times per year.
Where Does it Ship: US & Canada
Shipping Cost: FREE to US & $8 to Canada
Coupon Code:Use coupon code "SARAHZ10″ to save $10 on your first box – CLICK HERE
The items in the Welcome Box are items that have been included in previous boxes. Therefore, I am very familiar with all of them. Right off that bat I see a couple of favourites. Let's have a closer look.
Doctor D. Schwab Flawless Skin Fluid
This lightweight moisturizer is perfect under makeup or on its own to smooth and visually correct uneven skin tone. All natural ingredients including grape stem cell extract and powerful peptides help to balance and brighten the skin and improve the appearance of unwanted pigmentation to give your skin a youthful-looking, flawless glow.
Out of all the items in the Welcome Box, this is the only one I haven't used/tested. You all know that I am extremely picky with my face products, and I only recently started venturing away from my regular skincare program. This face cream just happens to be all natural, so I can definitely see myself testing it out this time around.
Ora Brush #11 & #20
This duo will help you become a total beauty pro! Brush #11 is the perfect eyeshadow application tool and Brush #20 is designed to help you apply concealer/correct any liquid or silk peptide foundation.
I love it when subscription boxes include makeup tools. It's a product we don't receive often enough. I don't wear foundation so I have only used the #20 brush a few times, but I wear eyeshadow every day so I use the #11 on a regular basis.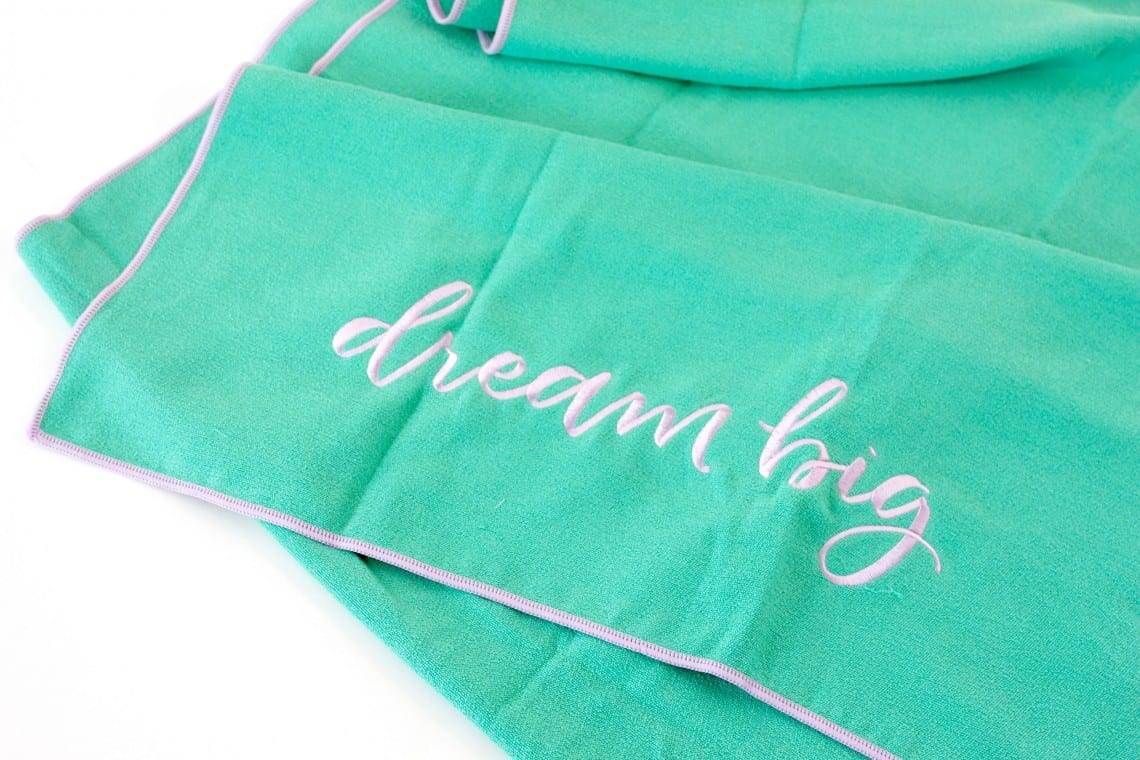 Summer & Rose Yoga Towel
Namasté all day with a little added positivity. Lay this moisture-wicking Summer & Rose Yoga Towel over your yoga mat and find your own personal happy place with the help of a motivational mantra. Yep, it really is mind over matter.
This was one of my favourite items from the SUMMER BOX. I heard a couple of reviewers say that they weren't too excited about receiving a yoga towel because they don't do yoga. But this towel can be used for more than just yoga. I use it for stretching, as a gym towel, as a beach towel, etc…..
Lather AHA Hand Cream with Evening Primrose
We gotta hand it to you — your hands do a ton of work. And in winter the harsh weather can really wreak havoc on your hands. Treat them to LATHER's unbelievably rich formula that contains alpha hydroxy acids to encourage cell renewal and help minimize the appearance of wrinkles and age spots. Infusions of chamomile, combined with evening primrose and lemongrass, make sure your hands are baby soft and healthy-looking all winter long.
I gave this item to my Stepmom the first time around, but she keeps it by the sink and I end up using it every time I go there for dinner. Therefore, I am extremely happy to now have my own jar. I will keep it beside my bed.
HISY Battery Charger
Stay charged, revved, and ready wherever you go! Whether you're at a concert or on a plane, you'll be thankful for this powerful portable charger to help keep you at 100%. Each lightweight device has a 2600 mAh Lithium Ion Battery for charging strength, and can give one full charge for iPhone 4/4S/5/5S/5C/6 along with plenty of other devices. Yup, this little baby has got us singing, "I've got the power!"
This is one of those items that isn't overly exciting, but it's so darn practical. I keep mine in my car, and will be putting the second one in the BF's truck. These little gadgets are lifesavers.
Jook & Nona Tag Necklace
You might wear your heart on your sleeve, but we wear ours on our jewelry! The Jook & Nona Tag Necklace is made of 18k gold-plated stainless steel engraved with words to live by. Whether you get "Love," "Happy," "Inspire," or "Dream," this piece is sure to help you radiate positive energy while adding a simple chic touch to any outfit.
This necklace was included in the SPRING 2016 BOX and I am SO excited to have a second one. I received "Love" the first time around, and I wear it ALL the time. If you follow me on Instagram you have probably seen it at least a couple of times by now.
Oscar Blandi Pronto Dry Shampoo Invisible Spray
No water? No problem! Oscar Blandi Pronto Dry Shampoo is the ultimate time saver. It refreshes, revives, and rejuvenates the hair in a matter of minutes — no water or blow dryer required. Soaking up oil, removing product buildup, and boosting volume, we couldn't live without this uh-mazing spray.
Dry shampoo is always a good idea. I am always happy to receive more.
Popchips Ridges
Big crunch, bold flavour. It's no wonder PopChips Ridges are our go-to when we're craving a snack! We love that these chips are never fried, contain no added preservatives, no synthetic color, and no artificial flavours.
This is a sponsored item but I'm actually really excited about it. I really enjoy Popchips and have been wanting to try the new ridged version. I already know I am going to love them.
FabFitFun Welcome Box Review Fall 2016 – Final Thoughts
I think it is a really great idea that FabFitFun has a Welcome Box for new subscribers. Seeing as the Fall & Winter boxes are sold out, if you were to sign up right now you would have to wait until the Spring to get your first box. These handy little Welcome boxes will tide new subscribers over and make the wait for the Spring box a little more bearable. In regards to the items specifically, I am really happy with them. It's a nice mixture of products from past boxes. I was SO happy to see the necklace and yoga towel, those are by far my favourites. And……..can I just say how excited I am about the Winter box!! Make sure to check back for the review. I have a feeling it is going to be a good one.
XOXO