Frock Box Review & TRY-ON March 2021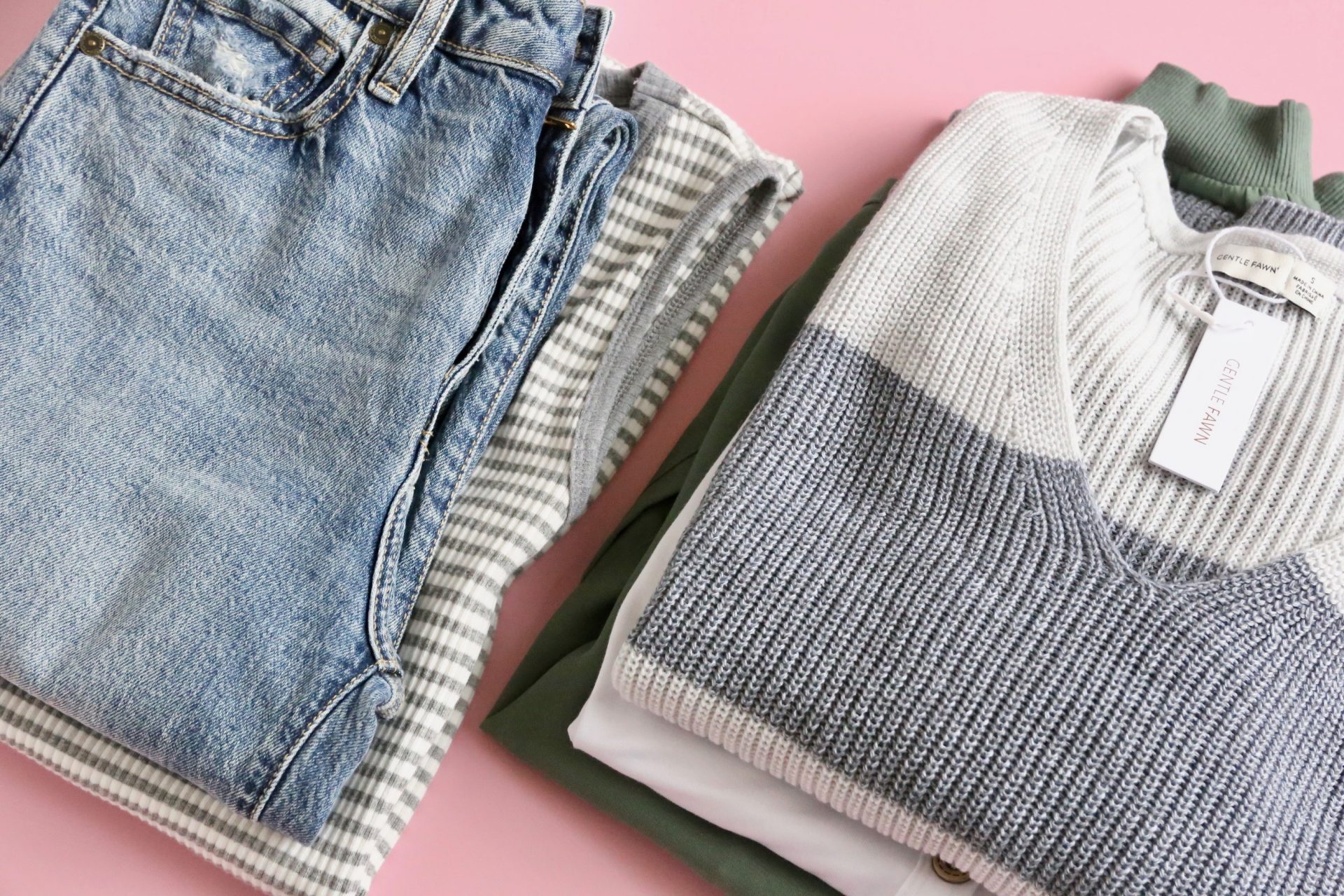 Frock Box brings a unique, stress-free shopping experience to your home with the help of your very own personal stylist. With something for everyBODY, you belong in their tribe with sizing XS – 3XL. They kindly sent me this box for review.
Being stuck at home for the last year has really opened my eyes to fashion subscription boxes. With no opportunity to go to the mall when in need of a new outfit, fashion subscription boxes have truly saved the day. A cute new pair of jeans can really brighten one's mood, and having your own personal stylist just makes the experience that much better. New outfits, personal stylist, and trying things on in the comfort of my own home……just a few of the reasons I am obsessed with my Frock Box deliveries as of late.
Subscription Details
Frock Box has a few options to choose from:
Frock Box Favorites: The Frock Box Favourites Box styling fee is $24.95 which is credited toward your final purchase. All five items are individually priced based on your budget and once you've tried on your pieces and sent back your returns, you'll be charged for the items you've chosen to keep.
Shoe Box: For $64.99 receive one pair of shoes featured in their monthly collection. A great way to complete any look!
Gold Box: For $99.95 you will receive an entire outfit. Outfits may include a top + bottom, dress, or a top + cardigan. You may also receive a piece of jewellery to tie the outfit together.
Coupon Code
Coupon Code: Use code AYEAROFBOXES for $25 OFF Your 1st Box! – CLICK HERE
Here's a closer look at my Frock Box Favorites for March….
Tucker Sweater ($78.99)
This sweater fits my style preferences perfectly and I fell in love with it the moment I put it on. It fits nicely, looks super cute (and effortless) with a pair of jeans and runners, and makes for the perfect mom outfit. I may get a white lace bralette to wear under it as the v-neck is a little low, but I still love it.
THIS IS A KEEPER!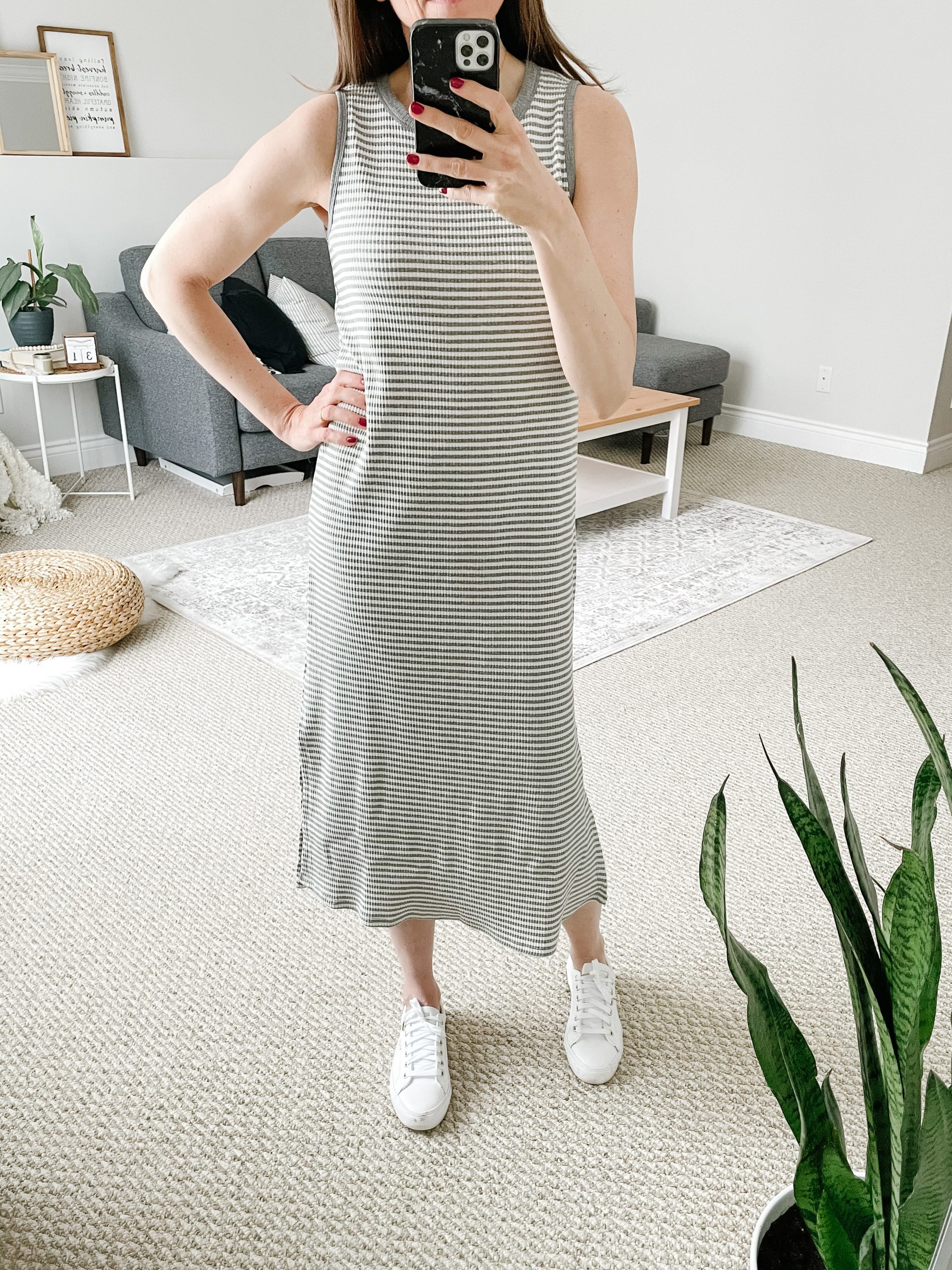 Audrey Knit Midi Dress ($59.99)
At first I thought this dress might be one size too big but I actually really love the way it fits. It is so comfortable and makes for such a cute outfit when paired with the jacket. Note – I never would have thought to wear the two together if it weren't for my stylist.
It also fits my style preferences perfectly because I love midi dresses, I love stripes and I love neutral colors.
THIS IS A KEEPER!
High Rise Mom Jeans ($79.99)
I was SO hoping to see a pair of jeans like this in my box this month and here they are! I am obsessing over the style, cut and color. They are giving me serious 80's vibes and I am here for it. Sadly they are one size too small so I will leave my stylist a note letting her know that she hit the nail on the head with the style, but I have a wide waist for my frame and when jeans don't have any stretch to them I usually have to go up a size.
Note: I'm wearing them in all the photos as they fit in the hips and legs, they are just too small in the waist. Makes it hard to breath, lol.
THESE ARE A RETURN!
Long Sleeve Bomber Jacket ($65.99)
This little bomber jacket is perfect for Spring. I never thought I would say this but I'm kind of getting sick of my big bulky sweaters. I'm craving lightweight pieces right now and this jacket is exactly that. My stylist mentioned pairing it with the midi dress and if she wouldn't have mentioned that I never would have paired the two together. She also said to pair it with the tee and jeans so here we are….such a cute outfit!
THIS IS A KEEPER!
Short Sleeve Button Front ($44.99)
This little white tee is absolutely perfect. It's loose-fitting, super soft, has just a little bit of style, and it will go with so many things.
THIS IS A KEEPER!
Frock Box Review March 2021 – Final Thoughts
I need to take a moment to sit back and truly appreciate the wonderful box my Frock Box Stylist put together for me. Not only are her selections spot on, but her style note is thoughtful and even mentions pieces from my previous box. For example, she mentioned pairing the white tee and bomber jacket with the white sneakers from my February box. How thoughtful is that?! This is a subscription that truly brightens my day. I'm beyond impressed with my first two boxes and am already excited to receive my next box, and the one after that, and the one after that……..
-AYOB Sarah