Frock Box Review & TRY-ON December 2021
Frock Box brings a unique, stress-free shopping experience to your home with the help of your very own personal stylist. With something for everyBODY, you belong in their tribe with sizing XS – 3XL. They kindly sent me this box for review.
This will officially be my first try-on/clothing review in the new house and I'm pretty darn excited about it. I can't even tell you what a lovely delivery my December Frock Box was to receive the week we moved in. I was beyond exhausted, totally burnt out, and SO in need of a little sunshine. That's exactly what my December Frock Box was – a wonderful little pick-me-up in the midst of total chaos. This truly is one of my favorite boxes two receive.
Subscription Details
Frock Box has a few options to choose from:
Frock Box Favorites: The Frock Box Favourites Box styling fee is $24.95 which is credited toward your final purchase. All five items are individually priced based on your budget and once you've tried on your pieces and sent back your returns, you'll be charged for the items you've chosen to keep.
Shoe Box: For $64.99 receive one pair of shoes featured in their monthly collection. A great way to complete any look!
Gold Box: For $99.95 you will receive an entire outfit. Outfits may include a top + bottom, dress, or a top + cardigan. You may also receive a piece of jewellery to tie the outfit together.
Coupon Code
Coupon Code: Use code AYEAROFBOXES for $25 OFF Your 1st Box! – CLICK HERE
Here's a closer look at my Frock Box Favorites for December….
Note From My Stylist
Hi Sarah, this month we selected some comfy, casual pieces in some of your favorite patterns – plaid and leopard. We thought you could pair the white basic tee with either the cardigan or plaid top open with the straight cut denim. We LOVE the green colour of the knit dress and thought it would work well with the boots from your October box.
-Brittany
Note: I am always asked who my stylist is because she does such an amazing job, so let's give a little shoutout to Brittany, I would be lost without her:)
Distressed Boyfriend Denim ($99.99)
First up we have one of my favorite clothing items to receive – demin! I wear jeans pretty much every day so I am ALWAYS happy to see them in my monthly delivery. These ones are pretty great – I love the color, the cropped length, and the boyfriend fit. They are a tad too big, but definitely still wearable. Actually, I'm wearing them as we speak.
THESE ARE KEEPERS!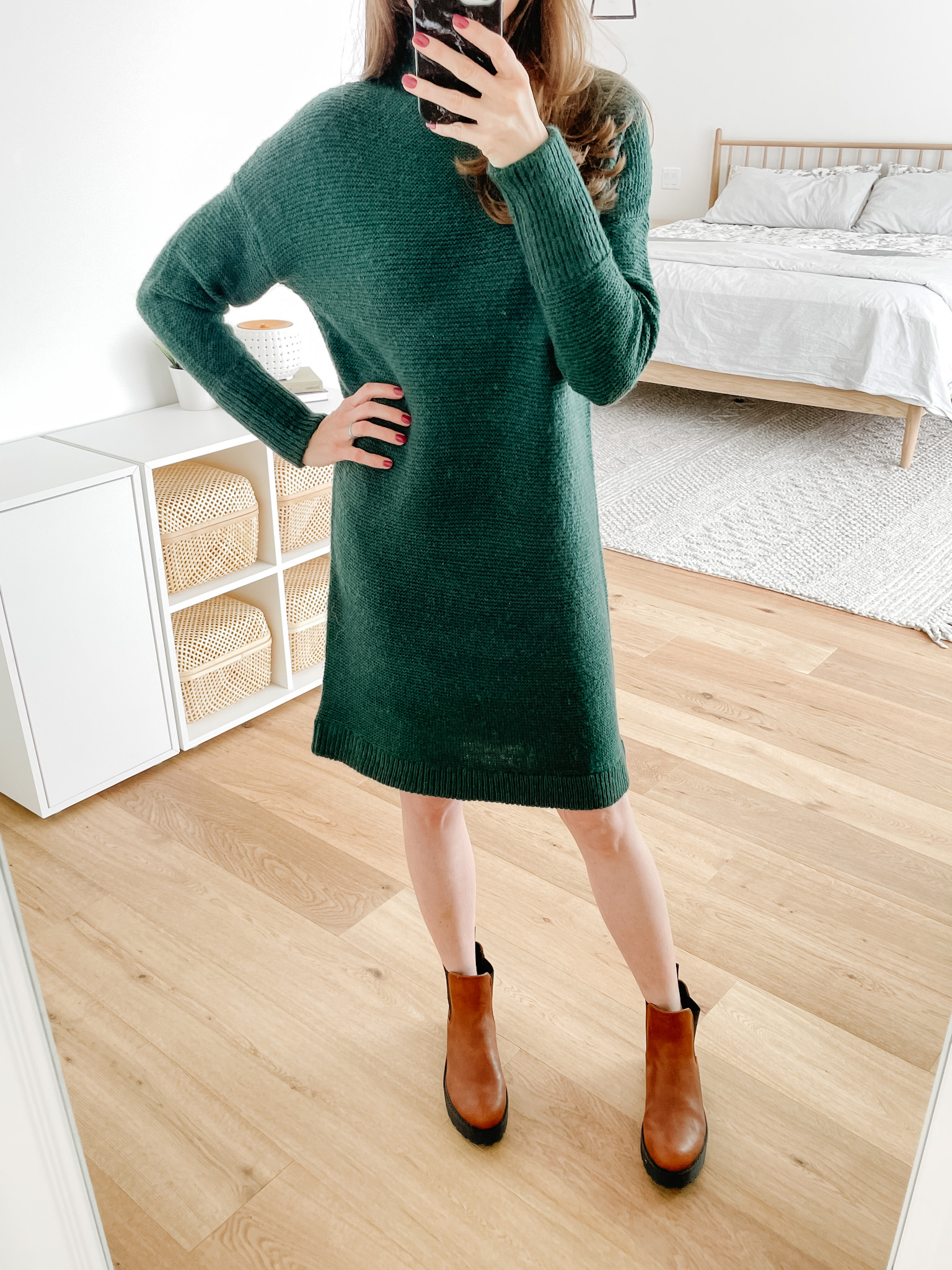 Knit Mock Neck Dress ($99.99)
Next up we have this gorgeous green sweater dress. The color is amazing and it fits me perfectly. I have styled it with the boots from my October box, and I also tried it with the camel jacket from my October box because the 3 together make for the perfect winter outfit.
THIS IS A KEEPER!
Animal Print Cardigan ($89.99)
I love, love, love a good animal print. It's one of the few patterns I will actually wear so I was happy to see this in the package. Here I have paired it with the jeans (from this month's delivery) and a black bodysuit. I could probably wear this with all of the jeans I have received in my Frock Box deliveries to date. I love this peice and will wear it often.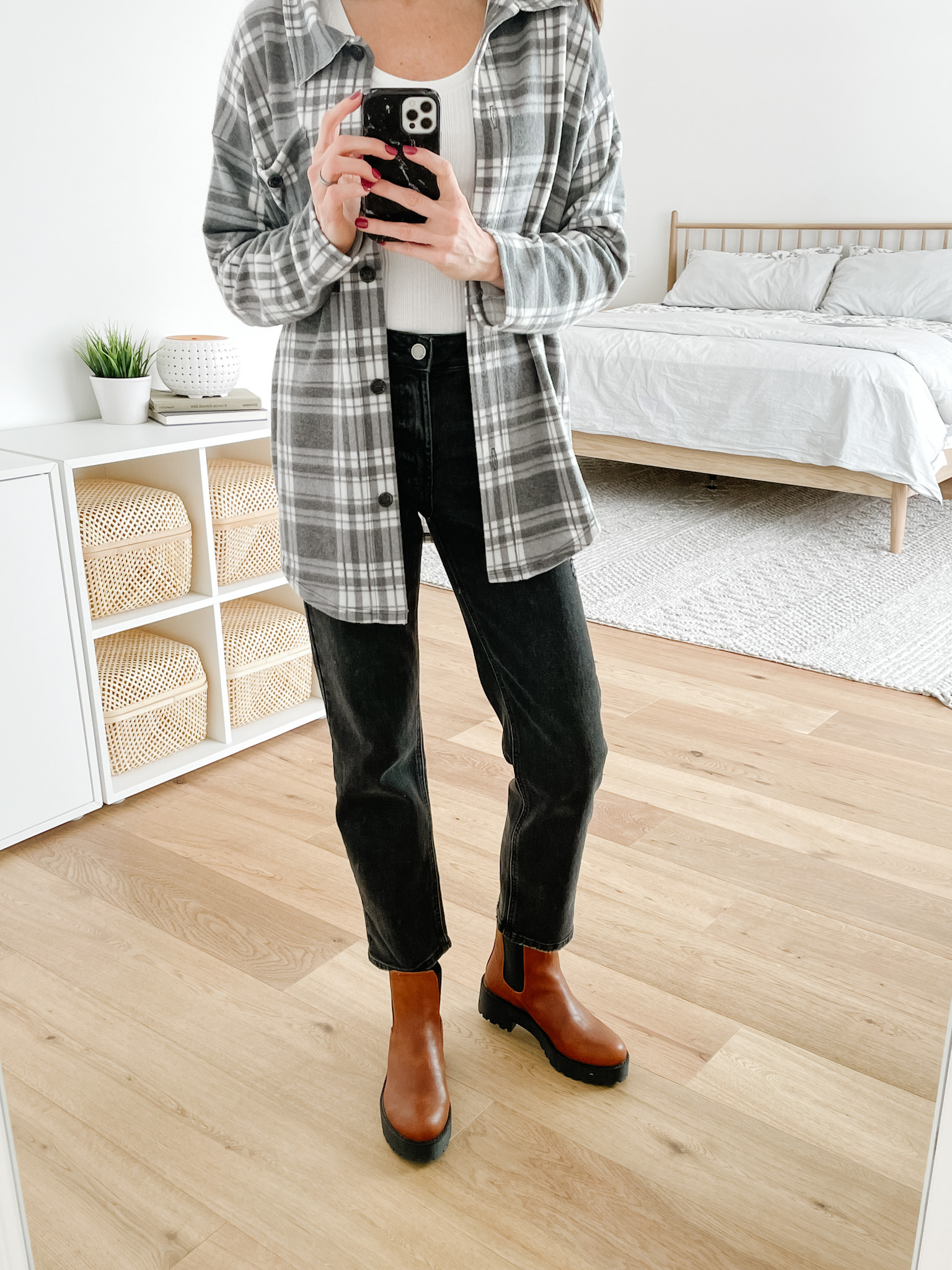 Plaid Button-Up ($69.99)
Let's talk about this plaid top……I am in LOVE! It's this really great flannel type material, it's thin, SO soft, and has a little stretch to it. I love the way it fits and if I'm not careful could easily end up wearing this more often than I should.
THIS IS A KEEPER!
Sienna Henley Tee ($54.99)
This cute little white top is a closet staple and something I very much appreciate receiving. This is the kind of item that everyone needs in their closet, and something I can mix and match with SO many peices I already own. It's perfect for layering, it can be worn year-round, etc…..
THIS IS A KEEPER!
Cost Breakdown
I always like to do a cost breakdown for you, just to show you what an amazing deal you get if you keep everything as opposed to only keeping 4 items. But, as per usual I want to keep everything. The only item I was kind of on the fence about are the jeans, so lets pretend I want to return them.
Note: if I keep everything in the box I will receive 25% OFF
Dress – $99.99
Cardigan – $89.99
Plaid Top – $69.99
Tee – $54.99
TOTAL (without the plaid top) = $314.96
And here's the breakdown if I keep everything….
Dress – $99.99
Cardigan – $89.99
Plaid Top – $69.99
Tee – $54.99
Jeans – $99.99
TOTAL (minus 25%) = $311.21
As you can see, I save money by keeping all of the items as opposed to only keeping four. So…..if you are on the fence about just one of the items in your box make sure you do a cost breakdown before sending anything back.
Frock Box Review & TRY-ON December 2021 – Final Thoughts
Can we just take a moment to appreciate just how wonderful Frock Box is? I honestly can't say enough about this subscription and even though I have probably said this before, I am going to say it again – this is a subscription every lady needs in their life.
My December Frock Box was exceptionally wonderful. It includes all my faves – jeans, basic top, plaid, animal print and a little something to get me out of my jean rut every now and then (a super comfy dress). Is it possible that my Frock Box deliveries get better and better every month?
-AYOB Sarah