Frock Box Review & TRY-ON July 2021
Frock Box brings a unique, stress-free shopping experience to your home with the help of your very own personal stylist. With something for everyBODY, you belong in their tribe with sizing XS – 3XL. They kindly sent me this box for review.
So……I've been thinking about something…..please feel free to tell me if I am crazy or not. I have been loving my Frock Box deliveries SO much, and get SO much wear out of almost all of the pieces, that I have been thinking about subscribing to a second box. Is that crazy? Or is it smart? lol
Subscription Details
Frock Box has a few options to choose from:
Frock Box Favorites: The Frock Box Favourites Box styling fee is $24.95 which is credited toward your final purchase. All five items are individually priced based on your budget and once you've tried on your pieces and sent back your returns, you'll be charged for the items you've chosen to keep.
Shoe Box: For $64.99 receive one pair of shoes featured in their monthly collection. A great way to complete any look!
Gold Box: For $99.95 you will receive an entire outfit. Outfits may include a top + bottom, dress, or a top + cardigan. You may also receive a piece of jewellery to tie the outfit together.
Coupon Code
Coupon Code: Use code AYEAROFBOXES for $25 OFF Your 1st Box! – CLICK HERE
Here's a closer look at my Frock Box Favorites for July….
Note From My Stylist
Hi Sarah! Try pairing the tank (sized up for comfort), cardigan and jeans (a fun color for summer but also works well into the fall) with sneakers for a casual look. I also thought you could pair the dress with the hat and sneakers for a cute look. As your stylist, I want to provide you with pieces that you love along with some that push you out of your comfort zone in order to build a diverse wardrobe. Is there a new color or piece you would like to try next month?
Tank Midi Dress – $129.99
I've been hoping to receive another dress in one of my boxes, and I LOVE a good animal print, but this one might be a little too dressy for me. I like my dresses super casual……but, with that being said, after playing around with it and styling it different ways I definitely became more comfortable with it. Plus, it looks super cute with the Moto Jacket from my April box and the Jean Jacket from my June box.
THIS IS A MAYBE!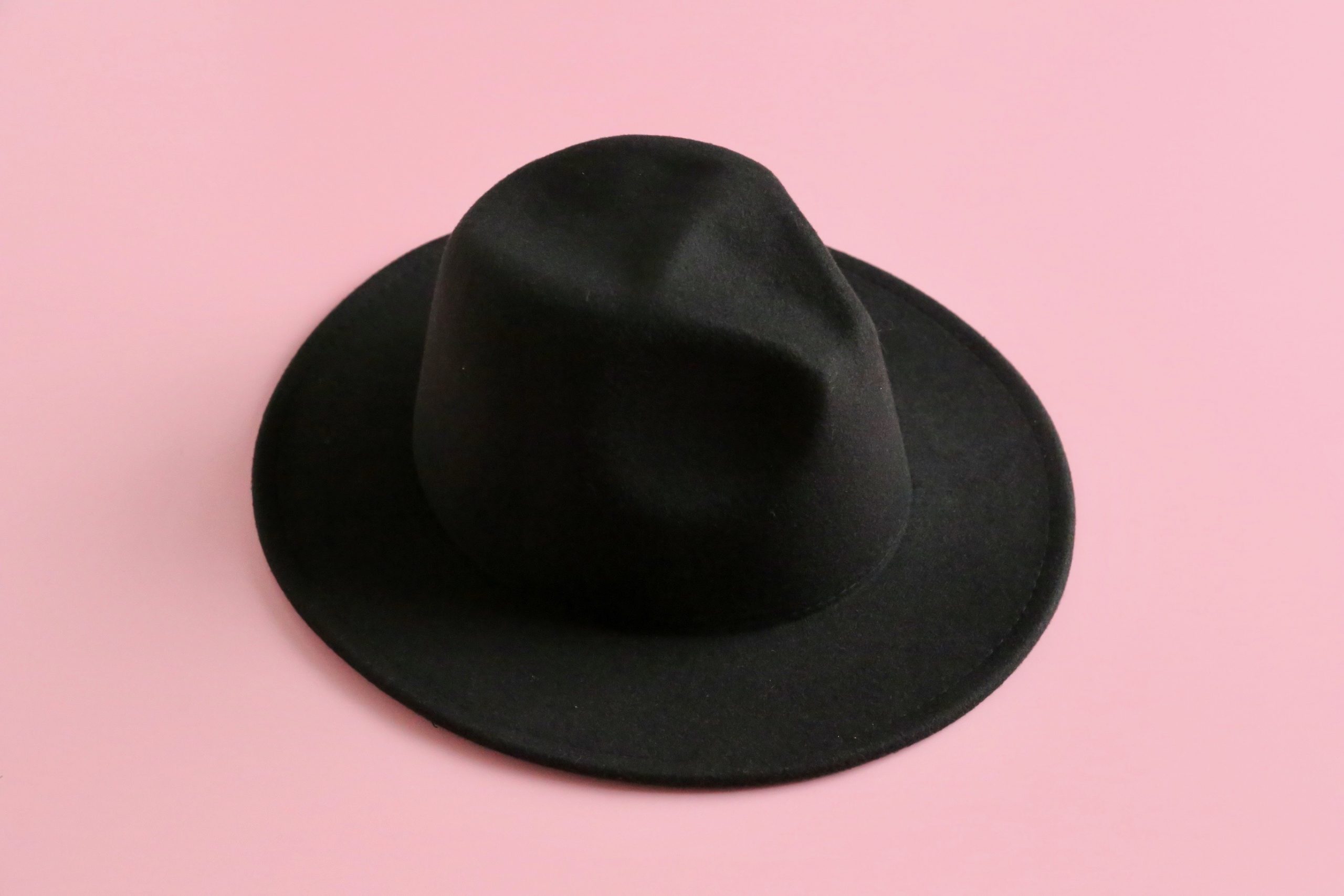 Fedora Hat – $44.99
I have a secret obsession with hats, and I've even purchased a couple over the last 6 months, but I don't feel 100% confident in them. I seriously need to change this way of thinking because I love the way they look on other people, and they are such a great way to effortlessly add style to your outfit. This one is great because it is black (my fave) and it fits me perfectly.
THIS IS A KEEPER!
Long Cardigan – $49.99
I am absolutely loving this cardigan, and the price point makes me appreciate it that much more. My stylist said to pair it with the jeans and tank so that's exactly what I did. Such a cute outfit as we head in to fall. Perfect for errands, coffee dates, school pick-ups, etc…..
THIS IS A KEEPER!
High Rise Classic Straight Jean – $134.99
Ugh…..these jeans……where do I start…..First of all, I LOVE the fit and I LOVE the style. They are so comfortable to wear and the crop fit is exactly what I have been wanting to add to my wardrobe. But, I'm not 100% sold on the color. Don't get mer wrong, I am definitely going to keep them, but they might take a little getting used to. I'm just not sure how I feel about the coloured jean trend as of yet. Now…..if they were black, washed black, or grey…….
I might have to ask my stylist if they are available in different colors:)
THESE ARE KEEPERS!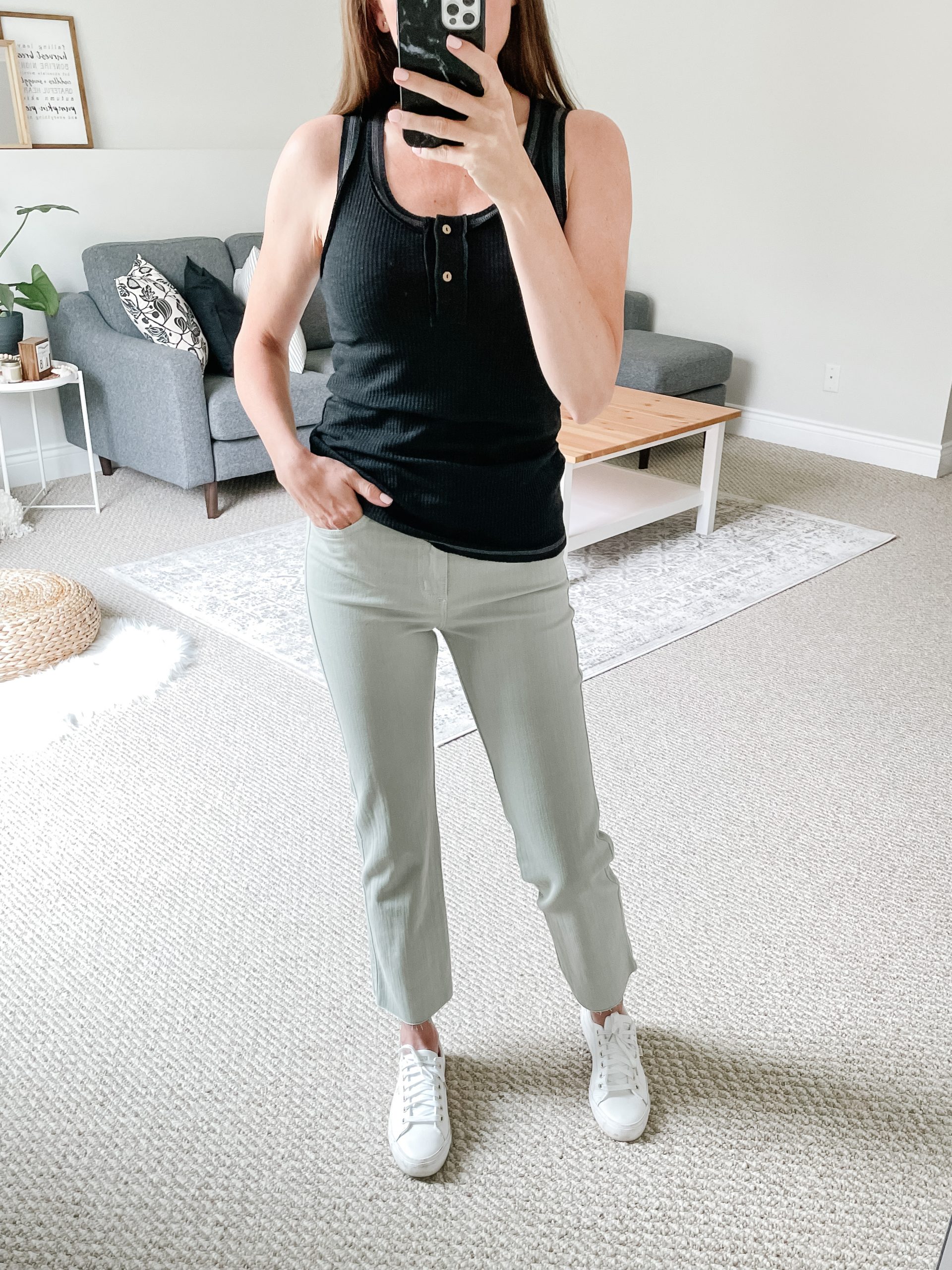 Ribbed Cotton Henley – $41.99
Lastly we have this super cute, super comfy tank. My lovely stylist took it upon herself to size me up (from small to medium) and I am SO glad she did. I like my tops to have a bit of room in them, and that's exactly how this one fits. It's the perfect addition to my wardrobe as I can wear it with almost all of the bottoms I have received to date, and it's a great layering piece as we head in to fall.
THIS IS A KEEPER!
Cost Breakdown
I love this month's Frock Box (as per usual) and am going to keep everything, but let's just play around with some numbers. Lets say that I want to return the dress as it's just a tad too "dressy" for my liking. Here's the breakdown…..
Note: if I keep everything in the box I will receive 25% OFF
Hat – $44.99
Cardigan – $49.99
Jeans – $134.99
Tank – $41.99
TOTAL (without the dress) = $271.96
And here's the breakdown if I keep everything….
Dress – $129.99
Hat – $44.99
Cardigan – $49.99
Jeans – $134.99
Tank – $41.99
TOTAL (minus 25%) = $301.47
This month because one of the items I would potentially return is a higher value item, the difference between keeping 4 items as opposed to 5 isn't that much. But…..it's still amazing value because if I do end up keeping the dress it's really only costing me $29.51 which is pretty darn awesome.
Frock Box Review & TRY-ON July 2021
This will be my 6th Frock Box delivery and I am happy to report that I have loved all of them. My stylist does such an amazing job and I often feel like she knows me better than I know myself. My July box brought with it an awesome accessory, super comfy jeans, a tank that I will get a TON of wear out of, a cozy cardigan perfect for Fall, and a beautiful animal print dress. I plan on keeping every item in the box this month, even though I am kind of on the fence about the dress. I've also made a note to touch base with my stylist and ask if the jeans come in different colors because they fit me so darn well!
Now…..should I subscribe to a second box or shouldn't I? Oh the decisions 🙂
-AYOB Sarah