Frock Box Review & TRY-ON June 2022
Frock Box brings a unique, stress-free shopping experience to your home with the help of your very own personal stylist. With something for everyBODY, you belong in their tribe with sizing XS – 3XL. They kindly sent me this box for review.
My June Frock Box is here and it arrived at the perfect time! We are taking a little road trip to the island (Parksville, BC) on Monday and all of the items I received in my June box make perfect road trip outfits!
Subscription Details
Frock Box has a few options to choose from:
Frock Box Favorites: The Frock Box Favourites Box styling fee is $24.95 which is credited toward your final purchase. All five items are individually priced based on your budget and once you've tried on your pieces and sent back your returns, you'll be charged for the items you've chosen to keep.
Shoe Box: For $64.99 receive one pair of shoes featured in their monthly collection. A great way to complete any look!
Gold Box: For $99.95 you will receive an entire outfit. Outfits may include a top + bottom, dress, or a top + cardigan. You may also receive a piece of jewellery to tie the outfit together.
Coupon Code
Coupon Code: Use code AYEAROFBOXES for $25 OFF Your 1st Box! – CLICK HERE
Here's a closer look at my Frock Box Favorites for June….
Note From My Stylist
"Hi Sarah! Try pairing these lightweight joggers with the stripe tank tucked in, the denim jacket and the slip on sneakers. We thought we'd go a little safer this month after some color and shorts in our last shipment. Try the ocean color dress with the slip on sneakers and demin jacket as well. You'll notice the difference in this denim jacket and the one you have tried on with April's dress is the cropped cut. This is much more flattering when paired with a dress as it hits closer to your natural waist, giving more definition."
Leopard Sneakers ($74.99): I love anything leopard and I also love sneakers so these are absolutely perfect for me. They feel very comfortable on my feet and they go perfectly with the outfits my stylist put together for me this month.
THESE ARE KEEPERS!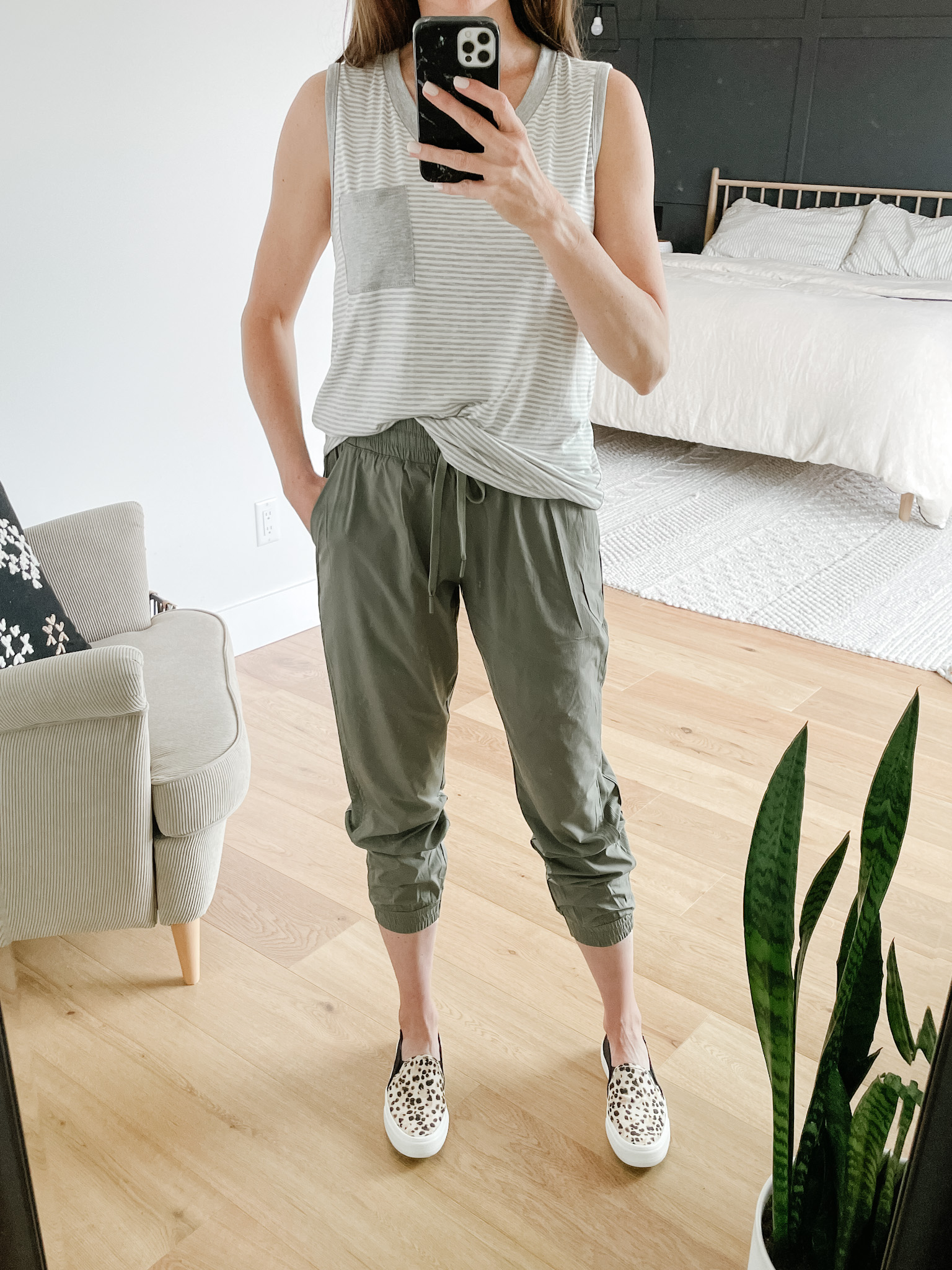 Stripe Top ($49.99): I'm not totally sold on this top. When I first pulled it out of the box I thought it looked like a pyjama top. The material is very soft and it fits nicely so I just might have to try styling it a few different ways…..and, it does look very cute with the pants.
THIS IS A MAYBE!
Jogger Pant ($99.99): I am in love with these pants. They are absolutely perfect for hours spent in the car (while still looking cute). The material has a little stretch to it and the olive color makes them very versatile.
THESE ARE KEEPERS!
Cropped Denim Jacket ($69.99): I think it is so great that my stylist took note of a jacket I tried on with a previous Frock Box dress and took it upon herself to send me one that she thought would be more flattering. I LOVE it!
THIS IS A KEEPER!
Sleeveless Dress ($109.99): This isn't necessarily something I would have picked out on my own, and it's not love at first sight, but it's SO comfortable and a very easy piece to throw on. It will be great for running errands, coffee dates, etc….
Cost Breakdown
As always…..let's do a cost breakdown so you can see what an amazing deal you get if you keep all of the items as opposed to 4. I will pretend I want to return the stripe top.
Note: if I keep everything in the box I will receive 25% OFF
Leopard Sneakers ($74.99)
Jogger Pant ($99.99)
Cropped Denim Jacket ($69.99)
Sleeveless Dress ($109.99)
TOTAL (without the top) = $354.96
And here's the breakdown if I keep everything….
Leopard Sneakers ($74.99)
Stripe Top ($49.99)
Jogger Pant ($99.99)
Cropped Denim Jacket ($69.99)
Sleeveless Dress ($109.99)
TOTAL (minus 25%) = $303.72
As you can see I basically get the stripe top for free…..AND save money if I choose to keep all of the items as opposed to 4.
Frock Box Review & TRY-ON June 2022 – Final Thoughts
My June Frock Box brought with it some really great pieces for our upcoming road trip, and I love that the jacket goes with both outfits as well as outfits from previous boxes. I'm not totally sold on the top or the dress, but overall they are really great pieces and SO comfortable. I very much appreciate the attention to detail when it comes to curating my boxes. My stylist always takes into consideration pieces I have received in previous boxes. I just absolutely adore this subscription!
-AYOB Sarah