Frock Box Review & TRY-ON March 2022
Frock Box brings a unique, stress-free shopping experience to your home with the help of your very own personal stylist. With something for everyBODY, you belong in their tribe with sizing XS – 3XL. They kindly sent me this box for review.
Spring is the perfect time for a wardrobe re-fresh so I was even more excited than usual to receive my monthly Frock Box delivery. I am in the mood for Spring cleaning, closet clean-outs and new clothes! And, with the warmer weather comes the chance to put away some of my heavier pieces and get out the t-shirts, dresses and lighter colors.
Subscription Details
Frock Box has a few options to choose from:
Frock Box Favorites: The Frock Box Favourites Box styling fee is $24.95 which is credited toward your final purchase. All five items are individually priced based on your budget and once you've tried on your pieces and sent back your returns, you'll be charged for the items you've chosen to keep.
Shoe Box: For $64.99 receive one pair of shoes featured in their monthly collection. A great way to complete any look!
Gold Box: For $99.95 you will receive an entire outfit. Outfits may include a top + bottom, dress, or a top + cardigan. You may also receive a piece of jewellery to tie the outfit together.
Coupon Code
Coupon Code: Use code AYEAROFBOXES for $25 OFF Your 1st Box! – CLICK HERE
Here's a closer look at my Frock Box Favorites for March….
Note From My Stylist
"Hi Sarah! Try pairing the culotte (sized up one as they fit tight), leopard top and washed black button front top for a cute Spring look with sneakers. I also included this dress, which would look amazing with a denim jacket and sneakers. Lastly, try the cardigan with your favourite tee and the culottes. Let me know how these work for you so I can adjust next month if needed."
Long Sleeve Sweater ($109.99)
I love, love, love this sweater! I used to prefer long cardigans but I have been loving shorter styles as of late. I also love the chunky knit and the neutral colors. My stylist nailed it with this first piece.
Here I have paired it with a bodysuit and jeans from previous boxes.
THIS IS A KEEPER!
Culotte Jean ($79.99)
Oh….these jeans…..where do I start? They are SO out of my comfort zone but they are SO cute and SO on trend. The cream color is a little intimidating seeing as I have a 2 year old, but I also really love it for Spring. Aside from that I love the fit! They are so comfy and I appreciate that my stylist took it upon herself to size me up.
THESE ARE KEEPERS? (I think)
Printed Round Neck Top ($49.99)
I am a huge fan of animal print so I am always happy to see it in my boxes. This top specifically is super soft, so comfy and it hangs nicely. It has a very loose fit and flares out at the bottom so it might be a good match for leggings, and if I wear it with denim I will tuck it in or tie it in a knot.
THIS IS A KEEPER!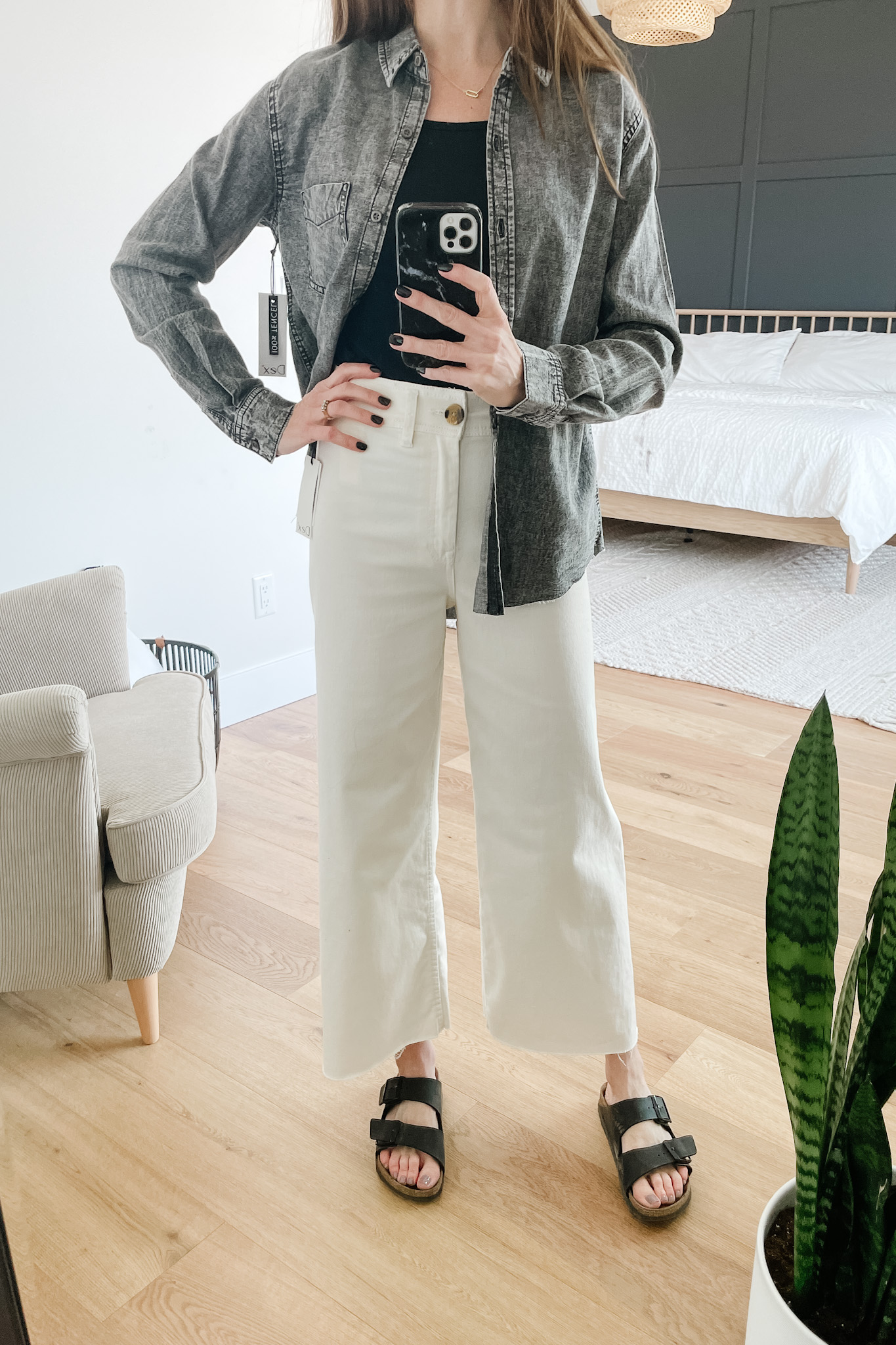 Long Sleeve Tencel Top ($74.99)
I am really loving this button up top but to be totally honest I am having trouble styling it. I think it will end up being one of those pieces that I only wear with a couple different outfits.
THIS IS A KEEPER!
Stripe Midi Dress ($89.99)
I was so happy to see a dress in the box this month because dresses are something I want to start wearing more often. This one has a nice fit and is actually very flattering. I would have preferred if the stripes were black as opposed to navy though. I'm just really not a fan of navy. Black is my ride or die. I definitely want to keep it but I might just pop my stylist a note for future boxes.
THIS IS A KEEPER!
Cost Breakdown
I always like to do a cost breakdown for you, just to show you what an amazing deal you get if you keep everything as opposed to only keeping 4 items. But, as per usual I want to keep everything so we will have to "pretend" that I might want to return the jeans.
Note: if I keep everything in the box I will receive 25% OFF
Long Sleeve Sweater ($109.99)
Long Sleeve Tencel Top ($74.99)
Printed Round Neck Top ($49.99)
Stripe Midi Dress ($89.99)
TOTAL (without the jeans) = $324.96
And here's the breakdown if I keep everything….
Long Sleeve Sweater ($109.99)
Long Sleeve Tencel Top ($74.99)
Printed Round Neck Top ($49.99)
Stripe Midi Dress ($89.99)
Culotte Jean ($79.99)
TOTAL (minus 25%) = $303.71
As you can see, I save money by keeping all of the items as opposed to only keeping four. So…..if you are on the fence about just one of the items in your box make sure you do a cost breakdown before sending anything back.
Frock Box Review & TRY-ON March 2022 – Final Thoughts
My March Frock Box brought with it some really great pieces to transition me from Winter to Spring. It did, however, bring up a few little notes for me to share with my stylist. I think this makes for a great opportunity to learn more about what I like and don't like, it makes me think about my actual style preferences, and it also gets me out of my comfort zone and trying new things. And who knows……maybe the jeans will end up being my new faves!
-AYOB Sarah