Frock Box Review & TRY-ON March 2023
Frock Box brings a unique, stress-free shopping experience to your home with the help of your very own personal stylist. With something for everyBODY, you belong in their tribe with sizing XS – 3XL. They kindly sent me this box for review.
Subscription Details
Frock Box has a few options to choose from:
Frock Box Favorites: The Frock Box Favourites Box styling fee is $24.95 which is credited toward your final purchase. All five items are individually priced based on your budget and once you've tried on your pieces and sent back your returns, you'll be charged for the items you've chosen to keep.
Shoe Box: For $64.99 receive one pair of shoes featured in their monthly collection. A great way to complete any look!
Gold Box: For $99.95 you will receive an entire outfit. Outfits may include a top + bottom, dress, or a top + cardigan. You may also receive a piece of jewellery to tie the outfit together.
Coupon Code
Coupon Code: Use code AYEAROFBOXES for $25 OFF Your 1st Box! – CLICK HERE
Here's a closer look at my Frock Box Favorites for March…..
Note From My Stylist
"Hi Sarah! We've chosen pieces that we think will work so well for building your capsule wardrobe. The knit sweater and cropped pant combo is a great cozy, on the go spring look. The striped tee can be paired either with the cardigan or lightweight jacket and your favourite denim. Let us know what you think."
Striped Shirt: Love, love, love this first item. It almost has an athletic tee kind of material and it is so comfy. It's long enough for leggings and lightweight. I paired it with a long trench style jacket and got so many compliments on this outfit when I wore it yesterday.
THIS IS A KEEPER!
Bomber Jacket: This lightweight bomber jacket is perfect for spring, very on trend, and a great addition to my capsule wardrobe. Here I have paired it with the dress from last month's box but there are so many other ways I can wear it – with jeans, shorts, grey, olive, beige…..you name it.
THIS IS A KEEPER!
Black Cardigan: A black cardigan is a closet staple and another must-have item for the perfect capsule wardrobe. It will pair with so many things in my closet and just so darn easy to throw on.
THIS IS A KEEPER!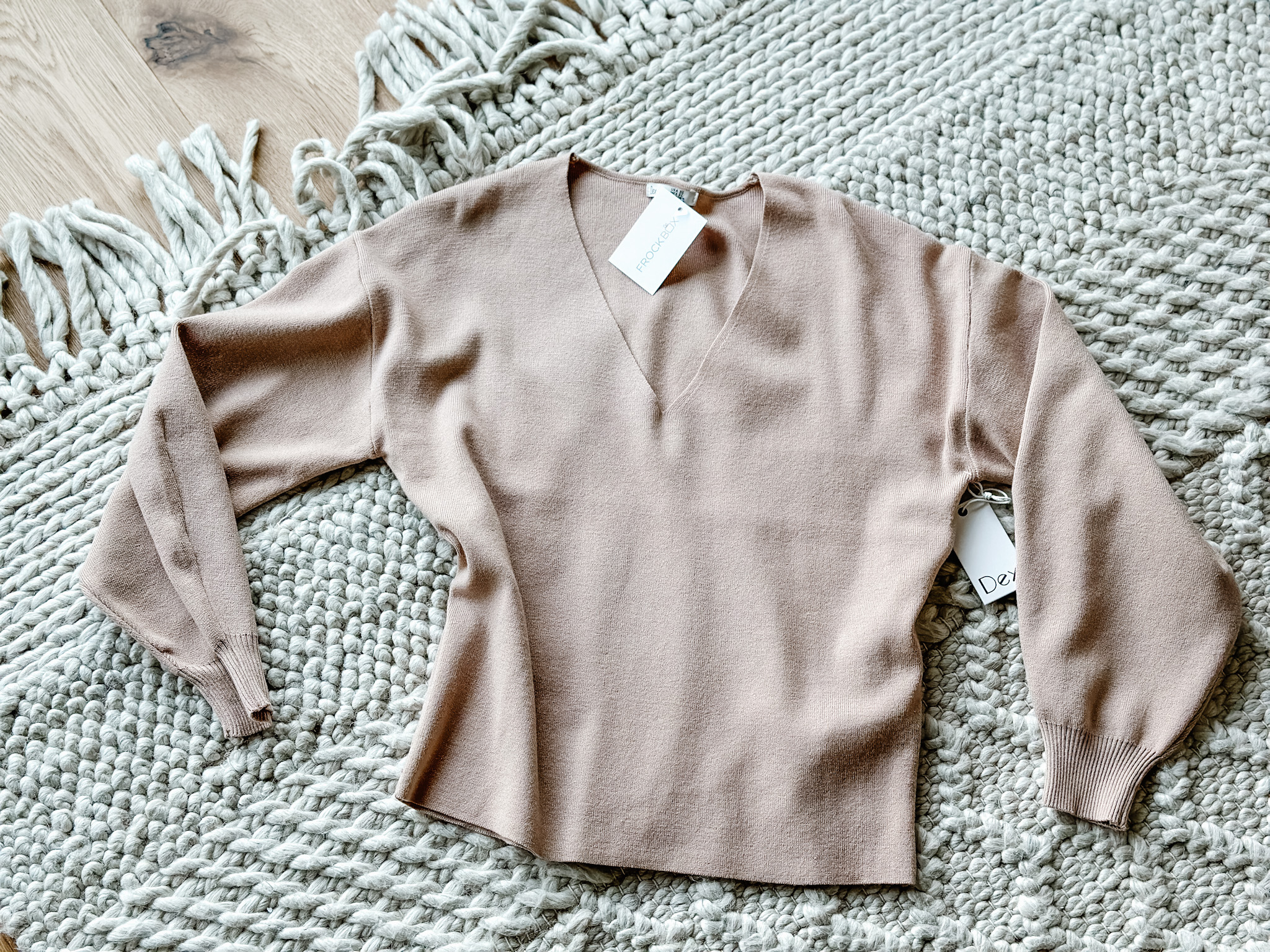 Sweater Combo: This little sweater and cropped pant combo is so cute but sadly it is too big. I love the style and the color and will definitely be trying to get it in a smaller size.
THIS IS A RETURN!
Frock Box Review & TRY-ON March 2023
This month's Frock Box was a bit of a miss but only because 2 of the items are a size too big. If it weren't for that small detail I would have given this month's collection the biggest 10 OUT OF 10! I love the colors, the styles, and the fact that everything is suitable for my capsule wardrobe.
-AYOB Sarah