Frock Box Review & TRY-ON May 2023
Frock Box brings a unique, stress-free shopping experience to your home with the help of your very own personal stylist. With something for everyBODY, you belong in their tribe with sizing XS – 3XL. They kindly sent me this box for review.
Subscription Details
The Frock Box Favourites Box styling fee is $24.95 which is credited toward your final purchase. All five items are individually priced based on your budget and once you've tried on your pieces and sent back your returns, you'll be charged for the items you've chosen to keep.
Coupon Code
Coupon Code: Use code AYEAROFBOXES for $25 OFF Your 1st Box! – CLICK HERE
Here's a closer look at my Frock Box Favorites for May…..
Sweatshirt – Love, love, love! The color is perfect, the length is perfect and I like the button/collar detail. Here I have it paired with shorts from a previous Frock Box. This outfit fits my style preferences perfectly. It's casual, cute and comfortable.
Button-Up Shirt – Here again I feel like my stylist is reading my mind. I have been wanting to get a shirt like this. Button up, oversized and easy to wear. I love the color and I love the fit. It's dressy and casual at the same time. Here I have it paired with jeans from a previous Frock Box.
Tank – This tank is perfect for my capsule wardrobe, it fits great and it goes with everything. Perfect on it's own or as a layering piece.
Shorts – These shorts are one size too big but other than that I love them. The length is great (I can't do short shorts, lol) and they are very comfortable. Here I have them paired with the black tank. If they were a different size I would definitely be keeping them.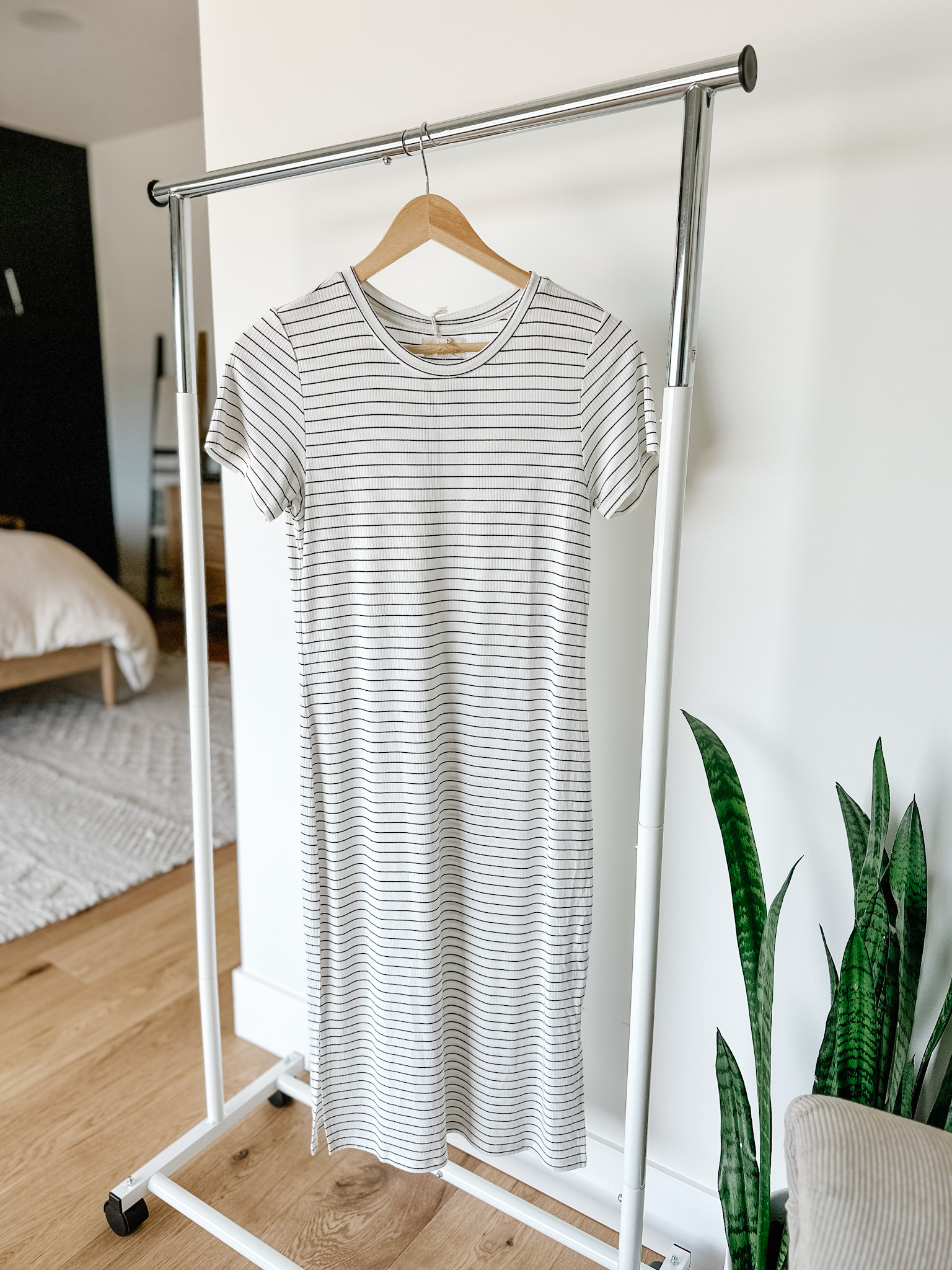 Dress – And lastly, this super cute dress. The color is a little intimidating but it's way more flattering on than I thought it would be. I can also pair it with the black bomber jacket or denim jacket from previous boxes.
Frock Box Review & TRY-ON May 2023
Can I just say how much I have been loving my Frock Box deliveries the last few months?! And how much I appreciate them?! I can't even describe how nice it is to have someone else do the shopping for you, taking your style preferences in to consideration, and having the items delivered to your door. It saves me time, it saves me money, and I end up finding pieces I never would have found on my own. Frock Box is one of my "must-haves"!
-AYOB Sarah