Frock Box Review: Valentine Gift Box 2021
Frock Box brings a unique, stress-free shopping experience to your home with the help of your very own personal stylist. With something for everyBODY, you belong in their tribe with sizing XS – 3XL. They kindly sent me this box for review.
Frock Box is a Canadian fashion subscription box that has been shipping sine 2015. I've had my eye on it for quite some time because I LOVE clothing subscription boxes and I'm excited to be reviewing it for you. This month I was lucky enough to review a Frock Box Favorites Box and the Valentine Gift Box. Both have exceeded my expectations and I already know that Frock Box is going to be a new fave. Today we are looking at the Valentine Gift Box.
Subscription Details
Frock Box has a few options to choose from:
Frock Box Favorites: The Frock Box Favourites Box styling fee is $24.95 which is credited toward your final purchase. All five items are individually priced based on your budget and once you've tried on your pieces and sent back your returns, you'll be charged for the items you've chosen to keep.
Shoe Box: For $64.99 receive one pair of shoes featured in their monthly collection. A great way to complete any look!
Gold Box: For $99.95 you will receive an entire outfit. Outfits may include a top + bottom, dress, or a top + cardigan. You may also receive a piece of jewellery to tie the outfit together.
Today we are looking at their limited edition Valentine Gift box. It was $199.99 plus $9 shipping. The Gift Box Valentine Edition is a collection of their favourite things on a day that celebrates love – including ourselves! Perfect for yourself, a Galentine, or your special someone!
Here's a closer look at the Valentine Gift Box from Frock Box……spoiler alert….I am in LOVE!
Corkcicle ($48)
12oz Stemless Ashley Woodson Bailey. We make things that cool. We make cool things. Keeps your drink cool for up to 9 hours or hot for 3.
This was the first item I saw when I opened the box and it put a smile on my face instantly. A quick way to my heart is via reusable mugs. This one is especially perfect because of the pretty floral print. I am all about pretty colors and patterns right now so I will be using this often.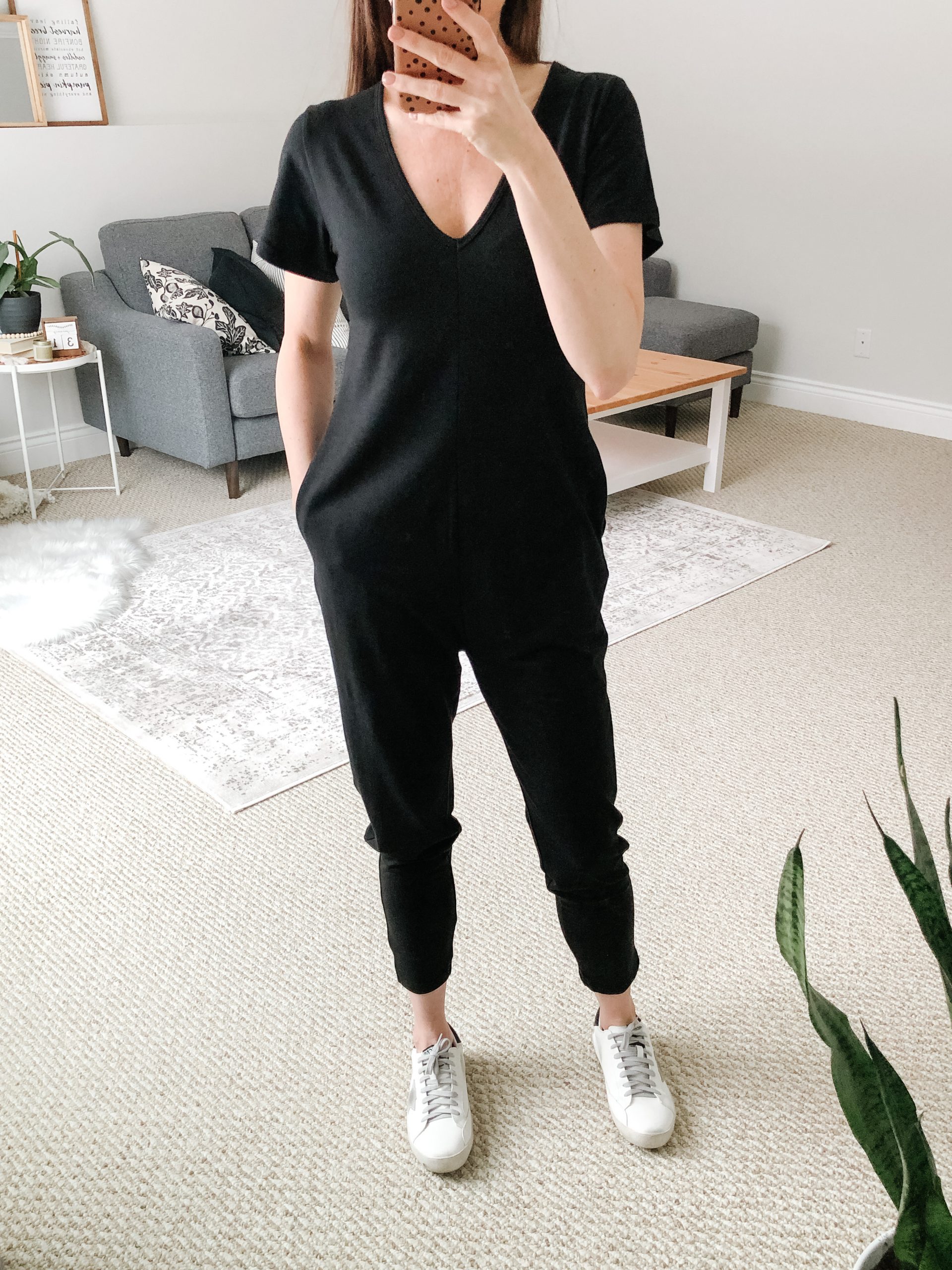 Smash + Tess Sunday Romper ($120)
It's Sunday Funday and what better way to celebrate than being comfortably chic? Oh….and maybe another round of mimosas. You know what they say, "a Sunday well spent brings a week of content." Mission accomplished.
Oh my goodness! How exciting is this?! I've been meaning to order a Smash + Tess romper but for some strange reason I kept putting it off. I was absolutely thrilled to see this in the box. It's an amazing brand and…..it has the cutest fit!! If you've been on the fence about these rompers because you aren't sure if you can pull it off…..take it from me, you can!! I never thought a romper would look good on me but the moment I put this one on I fell in love. It is SO flattering and SO cute! I may need to order another one!
Engravables Charcuterie Board ($65)
Amanda is a super talented Alberta entrepreneur who offers personalized designs for weddings, decor, keepsakes, memorials, gifts and much more!
I honestly feel like this box was curated specifically for me because charcuterie boards are my new obsession. It took me forever to jump on the trend and now that I have, there's no turning back. This one is beautiful and unique. And, it will make for the perfect Valentine's date night snack. I'll create a fun little board of vegan goodies for my husband and I to enjoy after baby goes to bed.
eLiasz and eLLa Earrings ($26)
eLiasz and eLLa is an independent Canadian jewelry and accessory brand inspired by urban diversity and culture. eLiasz and eLLa thrives in the positive and competitive Canadian indie jewelry design scene.
Last but not least we have these adorable heart earrings. These have my name written all over them because I love hearts and I love studs. I can see myself wearing these daily. They are tiny and adorable and perfect for Valentine's Day!
Gift Card
We also received a $30 gift card via email valid towards any subscription at Frock Box.
Frock Box Review: Valentine Gift Box 2021
I can't even begin to tell you how much I love the Valentine Gift Box from Frock Box. So much so that I am trying to figure out in my head the next holiday that they might possibly offer another limited edition gift box. Mother's Day maybe?! If they do, I will be the first one to sign up. The Valentine Gift Box is absolutely perfect for me and I love the mixture of items. Clothing, jewelry, a reusable mug and a pretty new kitchen decor item. I call it kitchen decor because not only will I use the charcuterie board for serving but I will also use it as a decor piece in our new kitchen. The Valentine Gift Box from Frock Box gets a big ol' A+ from this girl!
-AYOB Sarah