Goddess Provisions Box Review April 2022
Goddess Provisions is a monthly subscription box that helps light up your soul and nourish your inner goddess to grow your spiritual practice. They kindly sent us this box for review.
Goddess Provisions was created as a way to share tools found to help connect with your divine feminine and grow your spiritual practice. They know we all share in the "busy-ness" of life, but believe in the importance of taking the time to manifest journal, meditate, frolick around in nature, pet kittens, practice yoga, have reiki healing sessions, do tarot card readings, drink green juice, write out the things we're grateful for, check the astrology forecast and charge our crystals under the full moon. If you enjoy these simple pleasures too, they know you're going to feel like their monthly box was curated just for you by a true soul sister.
Each month you'll receive a thoughtfully curated box that contains 5-7 FULL SIZE products including items like crystals, aromatherapy, superfoods, apothecary beauty & spiritual tools. All items will be 100% vegan and cruelty-free because they cherish our furry friends. They consciously package each curation in kraft paper boxes made from 100% recycled materials that are printed on with plant-based inks. Also, for every box and boutique item sold, they plant a tree!
Subscription Details
There are 4 subscription options for Goddess Provisions:
$33/month for month-to-month
$99 or $33/month for 3 month pre-pay
$178 or $29.66/month for 6 month pre-pay
$333 or $27.75/month for 12 month pre-pay
Shipping to United States is free, Canadian shipping is $15, and International shipping is $25. First time subscribers will be shipped to by the 20th of the month. Ongoing subscribers boxes ship during the first week of each new month.
April Box Details (Total Value $111)
The April box theme is "Third Eye Open" and includes tools for seeking clarity while helping to protect yourself from negative energy too.
Here's a look at what's in this month's Goddess Provisions box:
Box Insert
I love this box's insert! Every month they have new cover art created by their resident artist (@creativewannbe_) to match the theme and it's always so beautiful. The inside of the insert contains product information, uses and value along with coupon codes from many of the creators. Opposite from the product information information about fun products in their marketplace. Overall it's just so nice to look at and the cover art could totally be framed!
Radiating Intuition Pouch ($33)
"Channel positivity and good vibes with this zippered pouch, perfect for storing crystals or a pocket-sized tarot or oracle deck."
This is such a beautiful pouch! It's not huge (maybe 5-6 inches diameter), so would be great for the suggested use of storing crystals or decks. I almost wish it has a little loop handle on it so you could use it as a clutch too. It's too pretty just to leave at home!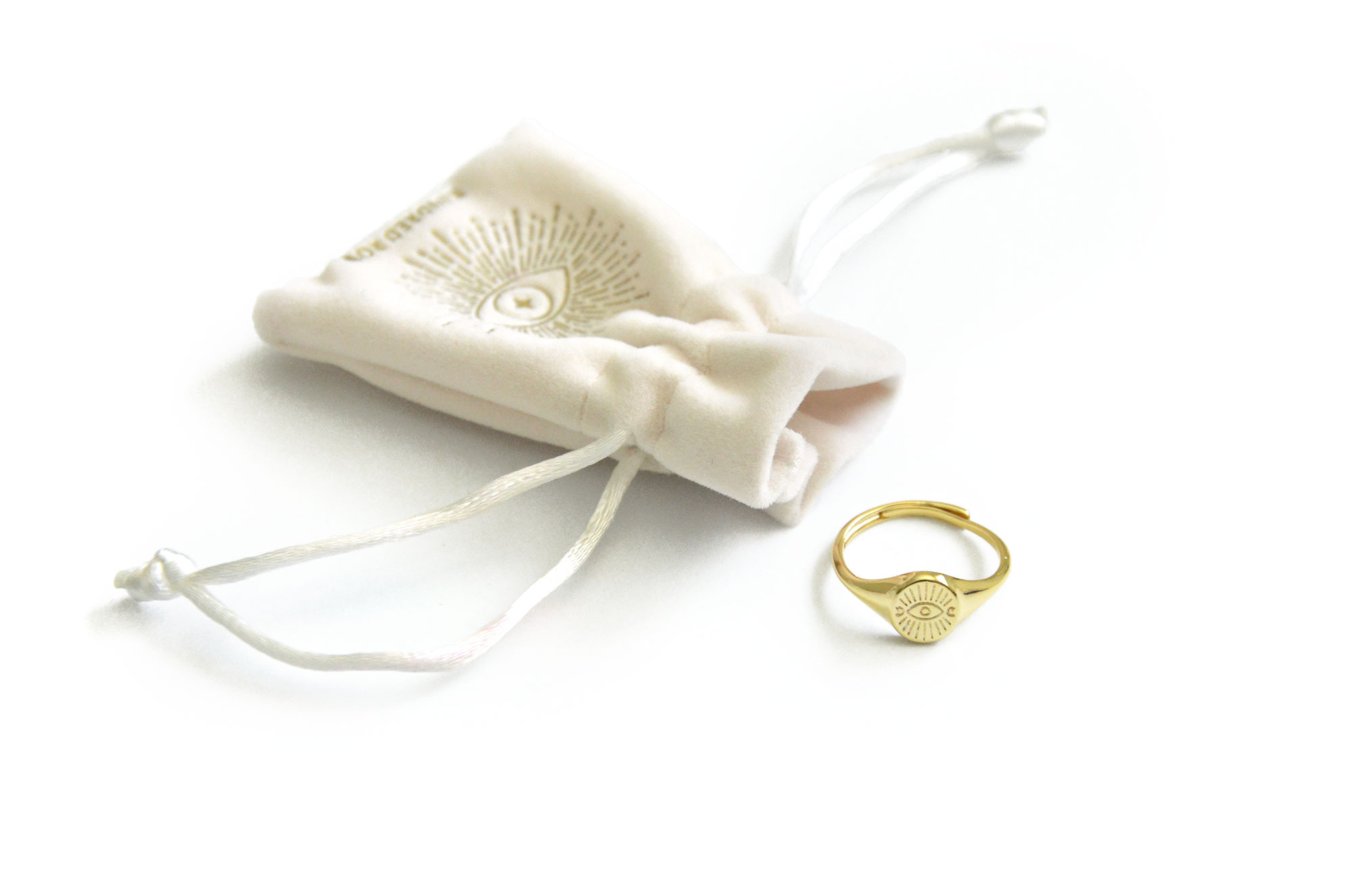 Kindred Row Evil Eye Signet Ring ($33)
"Wear this adjustable 14K gold-plated ring to help protect yourself from negativity. To care for your ring, avoid submerging in water and clean using a soft cloth."
I really like this simply designed ring with it's evil eye motif and gold color. Not only does it look chic, but when worn it's said to help ward off negative energies, so it's a multi-tasker. I appreciate that it's adjustable too so it can fit many different sized hands.
Inner Eye Ceramic Dish ($22)
"Cleanse and store your items in this ceramic dish designed to remind you of your inner power. Add herbs or pink salt to help further cleanse any stones or jewelry of negative energy."
This dish is perfect for storing the lovely ring above when not in use. Any energies the ring might have gathered while worn can be cleansed right off each night. I love the imprinted design and the neutral colors are just beautiful.
Luna & Quartz Evil Eye Body Oil ($11)
"Ward off the evil eye with this shimmering, vegan body oil infused with black tourmaline and clear quartz for cleansing, protection, and grounding."
This body oil is no just pretty to look at with it's bright and bold blue shimmering hue, but is intentional with the grounding and protecting healing powers it carries from containing and being infused with healing stones. It has 5 or 6 little gemstone floating in the oil for additional benefit beyond just making your skin feel better. The aroma is pretty sweet smelling and floral-like. I almost thought it would be a bit more earthy and herbal smelling, but it's alright. I think it might be a tad too sweet for me, but I like the properties and intentions it has so will give it a try for incorporating into some routines.
Chakra Oracle Trading Cards ($7)
"Turn inward and consult your energetic centers to find where you may need to send a little extra love. Intuitively pull a card to discover which chakra needs attention or could offer wisdom at that time."
I'm so glad to have another collector pack of these. They've come in several (but not all) of my recent boxes and it's always fun to see what designs and inspiring words are inside. These cards are chakra related so have pretty pastel rainbow colors, sweet and simple related designs and a couple words on each chakra's connection. I look forward to using these for reflecting!
K2 Jasper ($5)
"Connect to your higher chakras and strengthen your psychic abilities with this high vibrational stone."
This is an interesting stone and one I don't think I've heard of before. I like the neutral base color that has a bit of blue running throughout. It's a great pair for this month's theme with it's ability to enhance psychic abilities and connect to the chakras. It would be great to use in conjunction with the above cards.
Goddess Provisions Box Review April 2022 – Final Thoughts
I am really connecting to this month's Goddess Provisions theme as I could really use some introspection right about now. These tools might just inspire those kinds of reflections along with being useful and beautiful items just as they are. Once again, the items sent to pair with the theme are unique, interesting, and things I've not really received before from a subscription box. I love that they not only coordinate with their uses and the healing energies they possess, but also in their beautiful blue hues and eye motifs. I'm looking forward to applying these tools to my self-discoveries this month!
The Botanic Gal – http://www.botanicgal.com