Goddess Provisions Box Review – April 2023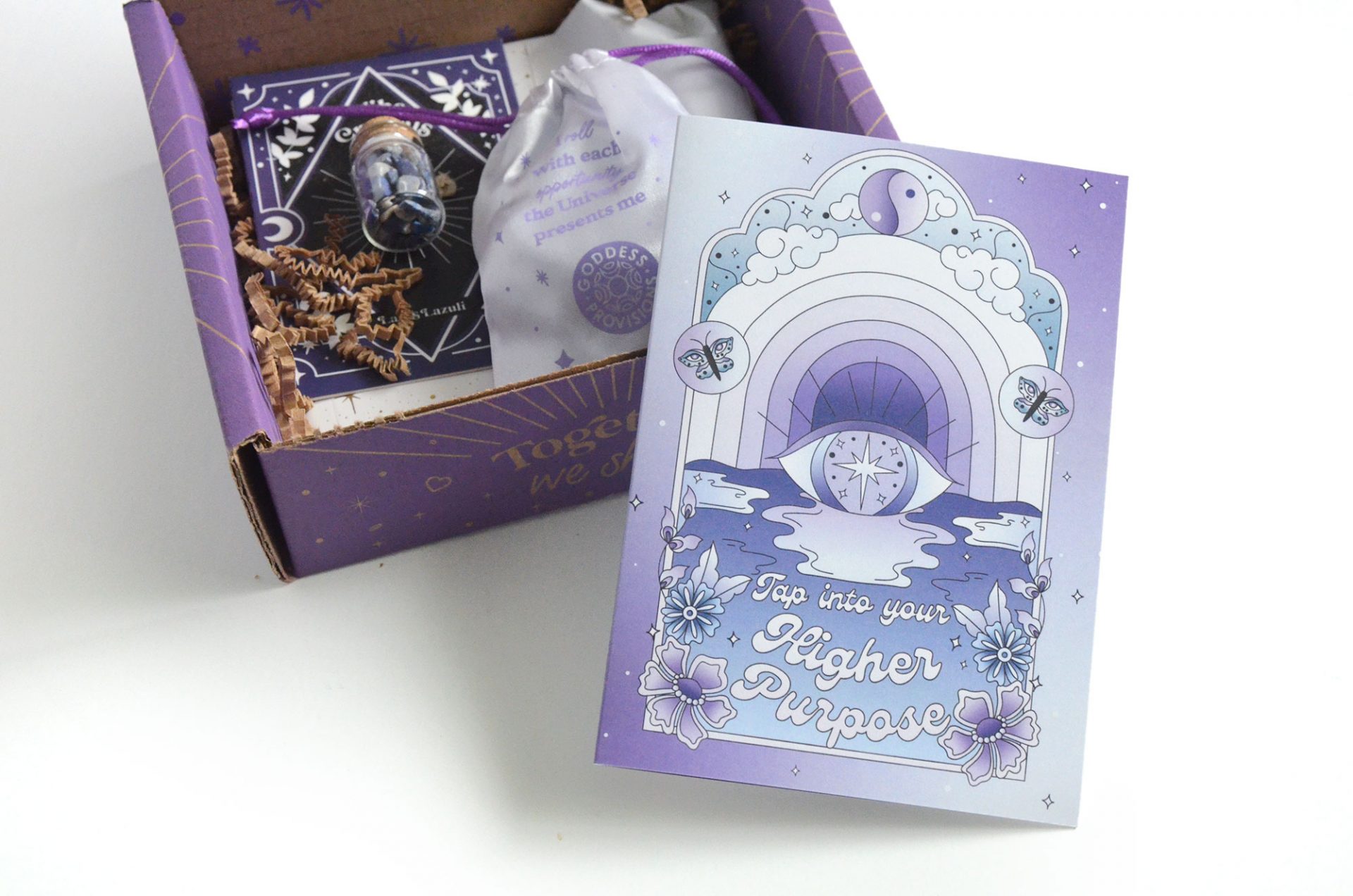 Goddess Provisions is a monthly subscription box that helps light up your soul and nourish your inner goddess to grow your spiritual practice. They kindly sent us this box for review.
Goddess Provisions was created as a way to share tools found to help connect with your divine feminine and grow your spiritual practice. They know we all share in the "busy-ness" of life, but believe in the importance of taking the time to manifest journal, meditate, frolick around in nature, pet kittens, practice yoga, have reiki healing sessions, do tarot card readings, drink green juice, write out the things we're grateful for, check the astrology forecast and charge our crystals under the full moon. If you enjoy these simple pleasures too, they know you're going to feel like their monthly box was curated just for you by a true soul sister.
Each month you'll receive a thoughtfully curated box that contains 5-7 FULL SIZE products including items like crystals, aromatherapy, superfoods, apothecary beauty & spiritual tools. All items will be 100% vegan and cruelty-free because they cherish our furry friends. They consciously package each curation in kraft paper boxes made from 100% recycled materials that are printed on with plant-based inks. Also, for every box and boutique item sold, they plant a tree!
Subscription Details
There are 4 subscription options for this box:
$33/month for month-to-month
$99 or $33/month for 3 month pre-pay
$178 or $29.66/month for 6 month pre-pay
$333 or $27.75/month for 12 month pre-pay
Shipping to United States is free, Canadian shipping is $15, and International shipping is $25. First time subscribers will be shipped to by the 20th of the month. Ongoing subscribers boxes ship during the first week of each new month.
April Box Details (Total Value $100)
The April box theme is "Age of Aquarius" and contains tool to help you connect with cosmic energies. According to dictionary.com, "In astrology, the term Age of Aquarius refers to a period of time (associated with the zodiac sign Aquarius) that is believed to bring an increase in harmony in the world." So this month's box should help you not only connect, but align in harmony with the energies around you."
Here's a look at what's in this month's Goddess Provisions box:
Box Insert
I love this box's insert! Every month they have new cover art created by their resident artist (@best.wiishes and @madeby_meraki) to match the theme and it's always so beautiful. The inside of the insert contains product information, uses and value along with coupon codes from many of the creators. Opposite from the product information is information on how to use the included divination dice. Overall it's just so nice to look at and the cover art could totally be framed!
Divination Dice Set ($28)
"Unlock the mysteries of the universe with this glittering set of six resin dice. Call on the power of numerology, the moon, the Zodiac, the planets, the Houses, Tarot, and the elements, all in lavender bags nestled inside a white satin pouch. New to Divination Dice? bit.ly/divination_dice"
This is such an interesting insight seeking tool. I've not heard of these before and am always up for learning new things and ways of interpreting life's experiences. They not only seem fun and useful, but they are so pretty too. I love the purple color and glittery gold accents. I also appreciate that it came with a little explanation booklet for us newbies, very helpful. The kind of encompassing vibe they have with including all kinds of insight tools in one goes with the Aquarius theme of harmonizing energies quite well too!
Dreamymoons Manifest Book ($25)
"Embark on a transformative journey with Manifest, the ultimate guide to practical manifestation that will help you unlock your full potential and turn your wildest dreams into reality. This interactive book is a must-have for anyone seeking to discover their own magic and create the life they truly desire."
This is such a lovely little book! I wish I could take a pic of every single page because there is such lovely art and design to it. It's a workbook style with a lot of space for answering some prompting questions with information and inspiration too. Manifestation of something is really a coming together and harmonizing of energies, so another great Age of Aquarius related tool.
Manifesting Magic Pen ($7)
"Unleash your inner goddess with this enchanting purple metal barrel, black ink pen, featuring clear quartz crystals and leaves. Let the power of manifestation flow as you manifest magic with the mystical energy of nature and the universe."
The perfect pen to use while filling out the above workbook! I like manifest text on the side to really make it pair well with the book. The mix of quartz crystals and little purple leaf/petals is also so pretty.
Holy Santo Lapis Lazuli Vibe Crystals ($10)
"Elevate your energy and protect your aura with powerful High Vibration Crystal Minis, expertly chosen to match their individual energies and help you align with their unique vibrations. Embrace the empowering energy of Lapis Lazuli, with its celestial blue hues to discover your authentic self and connect with divine guidance, shielding yourself from any spirits of darkness along the way."
I've always liked the vibrant blue hue swirled throughout this stone, it's so pretty! And this little jar is just too cute also. It would be such a cute addition to an altar top. The small size of the stones allows for carrying many different places and spreading the wonderful protecting vibes and giving of guidance everywhere you go. Or you could always share the little stones with others too, giving is harmonic!
Soapylayne Age Of Aquarius Perfume ($25)
"Tap into the transformative essence of the Aquarian Age with this new age blend expertly crafted to inspire freedom, creativity, and harmony. Imbued with the essence of amber, lemon, vetiver, bergamot, sweet orange, rose absolute and ylang ylang essential oils in sunflower oil, this balanced blend awakens the mind, opens the heart, and helps you connect with the planet and humanity in a profound and meaningful way."
What a lovely perfume oil! Of course the name itself is a perfect match for this months theme, but it also just smells so beautiful and expanding. It's aroma really does feel connecting to the earth with it's grounding notes and inspirational with it's sweet florals too. I love the idea of using it as a perfume, but I suppose you could also use it in a diffuser too for meditation time.
Larvikite ($5)
"Stimulate your creativity, wisdom, and intellect with this crystal that evokes inner strength and is commonly used in meditation to produce inner visions. This mystical stone is known to enhance psychic abilities, helping us see ourselves through our Higher Self and promote clarity to past-life recall visions, making it a powerful tool for anyone seeking to connect with their higher consciousness."
A stone that aids in finding inner vision is so perfect to pair with the included manifestation workbook. A great duo for insight into your higher consciousness. I like that it specifically feels like it ties to the other tools so well.
Final Thoughts
I can't get that 5th Dimension song out of my head right now, but I love 60's music so not a bad thing! I love the interesting theme this month's Goddess Provisions box has that inspired me to look into what Age of Aquarius actually meant. I really like and connect to the harmonizing idea it carries The items included in this month's box are all so fun, but I especially appreciate being introduced to the divination dice concept and the workbook is such a lovely tool. Everything included in this month's box ties to the theme well and even coordinates well with the colors and kind of airy tie to the Aquarius sign. A very harmonized collection indeed!
The Botanic Gal – http://www.botanicgal.com