Goddess Provisions Box Review August 2021
Goddess Provisions is a monthly subscription box that helps light up your soul and nourish your inner goddess to grow your spiritual practice. They kindly sent us this box for review.
Goddess Provisions was created as a way to share tools found to help connect with your divine feminine and grow your spiritual practice. They know we all share in the "busy-ness" of life, but believe in the importance of taking the time to manifest journal, meditate, frolick around in nature, pet kittens, practice yoga, have reiki healing sessions, do tarot card readings, drink green juice, write out the things we're grateful for, check the astrology forecast and charge our crystals under the full moon. If you enjoy these simple pleasures too, they know you're going to feel like their monthly box was curated just for you by a true soul sister.
Each month you'll receive a thoughtfully curated box that contains 5-7 FULL SIZE products including items like crystals, aromatherapy, superfoods, apothecary beauty & spiritual tools. All items will be 100% vegan and cruelty-free because they cherish our furry friends. They consciously package each curation in kraft paper boxes made from 100% recycled materials that are printed on with plant-based inks. Also, for every box and boutique item sold, they plant a tree!
Subscription Details
There are 4 subscription options for Goddess Provisions:
$33/month for month-to-month
$99 or $33/month for 3 month pre-pay
$178 or $29.66/month for 6 month pre-pay
$333 or $27.75/month for 12 month pre-pay
Shipping to United States is free, Canadian shipping is $15, and International shipping is $25. First time subscribers will be shipped to by the 20th of the month. Ongoing subscribers boxes ship during the first week of each new month.
August Box Details (Total Value $122.66)
The August Goddess Provisions theme is "Emapth's Toolkit" and comes with several unique and useful tools for your self-discovery journey. I'm so intrigued by the concept of being empathic and have often felt I had similar traits myself, so these items will be so interesting to use and learn from.
Here's a look at what's in this month's Goddess Provisions:
Box Insert
I love this box's insert! Every month they have a different artist create the cover art to match the theme and it's always so beautiful. This month's cover design is by @TARNELLISART and is color and theme matched perfectly. The inside of the insert contains product information, uses and value along with coupon codes from many of the creators. Opposite from the product information is more information on the Moon Wisdom Club you can join for an enhanced experience that includes rituals, guidance and astrological updates. Overall it's just so nice to look at and the cover art could totally be framed!
COPPER CHARGING PLATE ($33)
"As a conductor, copper moves energy and amplifies thoughts. Use this altar tool to clear your field from anything that's no longer serving & to charge sacred items with your highest intention."
What a beautiful and unique item! Not only do I love the use and concept, but the copper color and imprinted design is so pretty. I like the idea of using this to infuse positive energies and intentions into inspirational items. It will be so easy to incorporate into a meditation or for just storing items on at an altar for them to soak up the vibes. It will be so lovely set up on my altar which I'm conveniently working on setting up now since we just moved.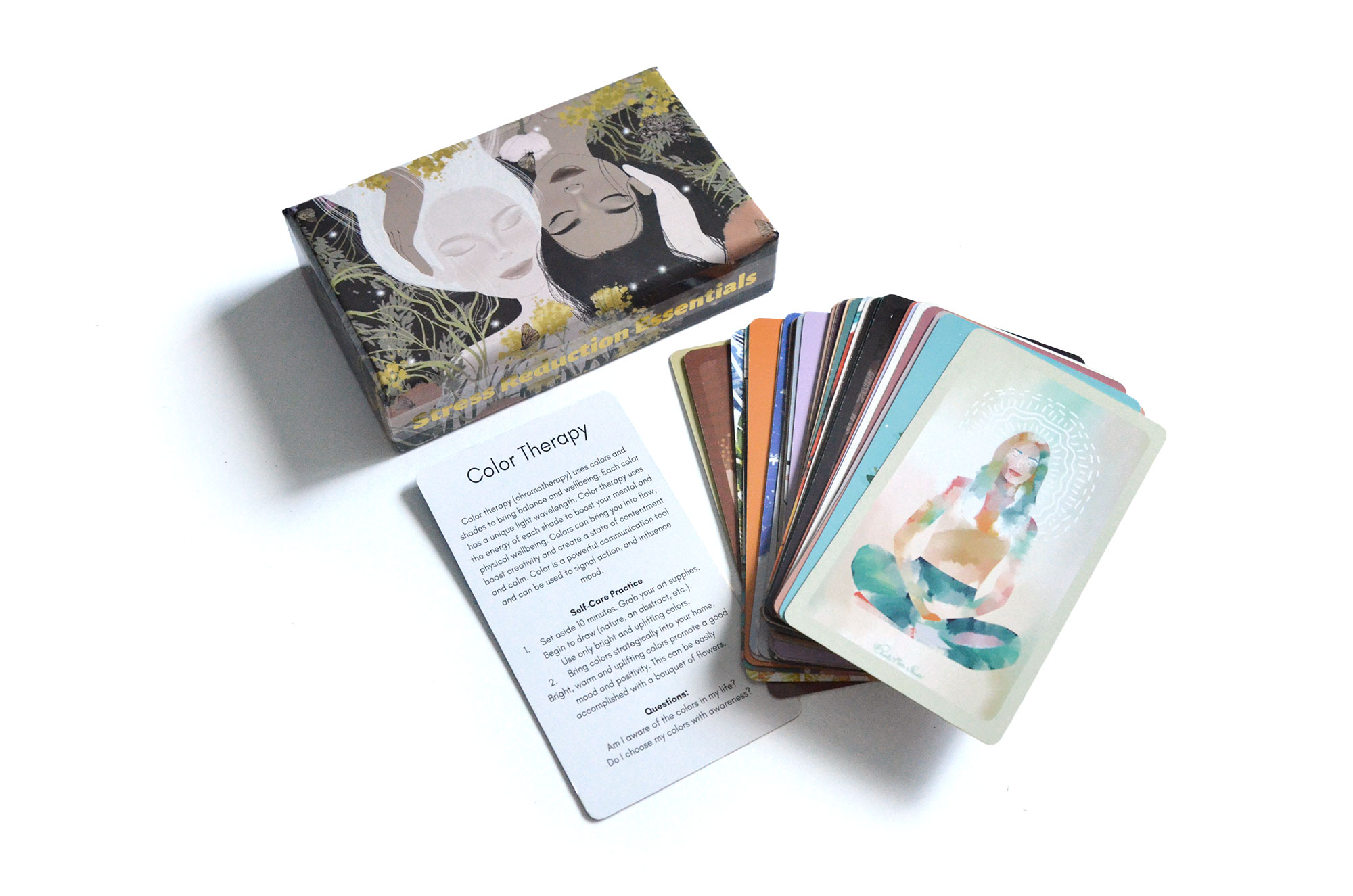 ERESONANCE STRESS REDUCTION ESSENTIALS DECK ($22.66)
"These cards include healing techniques from 41 female artists who've channeled the gifts from their practices into beautiful art. Intuitively pick a card to expand your self-care routine & find peace within."
I love this item! These cards are so cute and so full of great information. Each card has a description of a tool you could utilize for stress reduction (ie: yoga or crystals), a self care practice you can do to incorporate the tool and a question you can reflect or meditate on to gain further understanding. You just pull a card and follow the directions for increased self-care, which will in turn lead to less stress. I love that each card was designed by a different artist which not only supports a ton of independent artists, but makes the deck unique and beautiful. I will be using this item a lot – need all the stress reduction I can get!
HEALING HAND INCENSE HOLDER ($22)
"This mango wood holder features a brass plate etched with celestial symbolism to call in protection, divine connection & clarity."
The design of this incense holder is so pretty! It's simple, yet bold with it's gold plated design atop wood. The symbolism is wonderful for reflection which is interesting since the gold itself is reflective too. It holds 3 sticks near the base of the palm for maximum aroma power. I have a few other incense holders, but I think the simple design of this one is my favorite yet.
GREEN TEA & LAVENDER INCENSE STICKS ($15)
"This soothing blend promotes relaxation and harmony. Burn it during your healing rituals to remove energy blockages and strengthen spiritual health."
This smells so lovely! Some incense is too overpowering or earthy so I like that this one has a more warm, floral and herbal aroma. I like the idea of burning it to help remove energy blocks, but I also like the idea of just burning it for the enjoyment of the aroma. Either way, you'll benefit from the mind-soothing scent.
PASTEL RAINBOW CHAKRA WAND ($18)
"Use this pointed wand for energy work. With the unified powers of clear quartz, amethyst, angelite, green aventurine, yellow aventurine, sunstone and rose quartz crystals, it's the perfect tool to balance & align the chakras."
How unique! I love the subtle rainbow hues this has. I saw a sneak peak of this item so I actually expected it to be a bit more vibrant than it actually is, but it's still pretty and the stones healing powers are what matters more than the colors anyway. I like the idea of using it to balance the chakras and maybe use for a meditation doing just that too. This will look so pretty set out on an altar.
Digital Bonus: THE 7 CHAKRAS ($12)
"Access a chakra guide that you can use as a map to understand the connection between your physical body, mindset, emotions and energy."
This connects with the stone above so well and since the chakras are so closely aligned with emotions and feelings, this seems like the perfect informational companion to this month's theme.
Goddess Provisions Box Review August 2021 – Final Thoughts
I just love everything in this month's Goddess Provisions box! Not only is it all such a pretty collection together, but every tool is simple, yet effective in accessing your inner empath for self discovery. Of course you don't have to be an empath to benefit from using these tools, but they apply to the concept so well. I especially love the Stress Reduction Cards and the Charging Plate, but you can never go wrong with a crystal, a beautiful incense holder and the aroma from the incense itself to provide clarity and focus too. I can't wait to set all of these tools up in my soon-to-be-created altar in my new home for helping me to find stillness and breath in the midst of busyness and emotions that an empath often feels in excess. And I can't wait to do further reading on what empath characteristics are truly all about. I like that this box always inspires further discovery – so fun!
The Botanic Gal – http://www.botanicgal.com