Goddess Provisions Box Review December 2021
Goddess Provisions is a monthly subscription box that helps light up your soul and nourish your inner goddess to grow your spiritual practice. They kindly sent us this box for review.
Goddess Provisions was created as a way to share tools found to help connect with your divine feminine and grow your spiritual practice. They know we all share in the "busy-ness" of life, but believe in the importance of taking the time to manifest journal, meditate, frolick around in nature, pet kittens, practice yoga, have reiki healing sessions, do tarot card readings, drink green juice, write out the things we're grateful for, check the astrology forecast and charge our crystals under the full moon. If you enjoy these simple pleasures too, they know you're going to feel like their monthly box was curated just for you by a true soul sister.
Each month you'll receive a thoughtfully curated box that contains 5-7 FULL SIZE products including items like crystals, aromatherapy, superfoods, apothecary beauty & spiritual tools. All items will be 100% vegan and cruelty-free because they cherish our furry friends. They consciously package each curation in kraft paper boxes made from 100% recycled materials that are printed on with plant-based inks. Also, for every box and boutique item sold, they plant a tree!
Subscription Details
There are 4 subscription options for Goddess Provisions:
$33/month for month-to-month
$99 or $33/month for 3 month pre-pay
$178 or $29.66/month for 6 month pre-pay
$333 or $27.75/month for 12 month pre-pay
Shipping to United States is free, Canadian shipping is $15, and International shipping is $25. First time subscribers will be shipped to by the 20th of the month. Ongoing subscribers boxes ship during the first week of each new month.
December Box Details (Total Value $109.50)
The December Goddess Provisions box theme is "Winter Solstice" and includes tools to help create rituals to harness the power of the seasonal shifts. I often find seasonal shifts to be challenging, especially when the days get dark so early, but the solstice is a reminder that brighter days are coming and these tools should help me through until then!
Here's a look at what's in this month's box: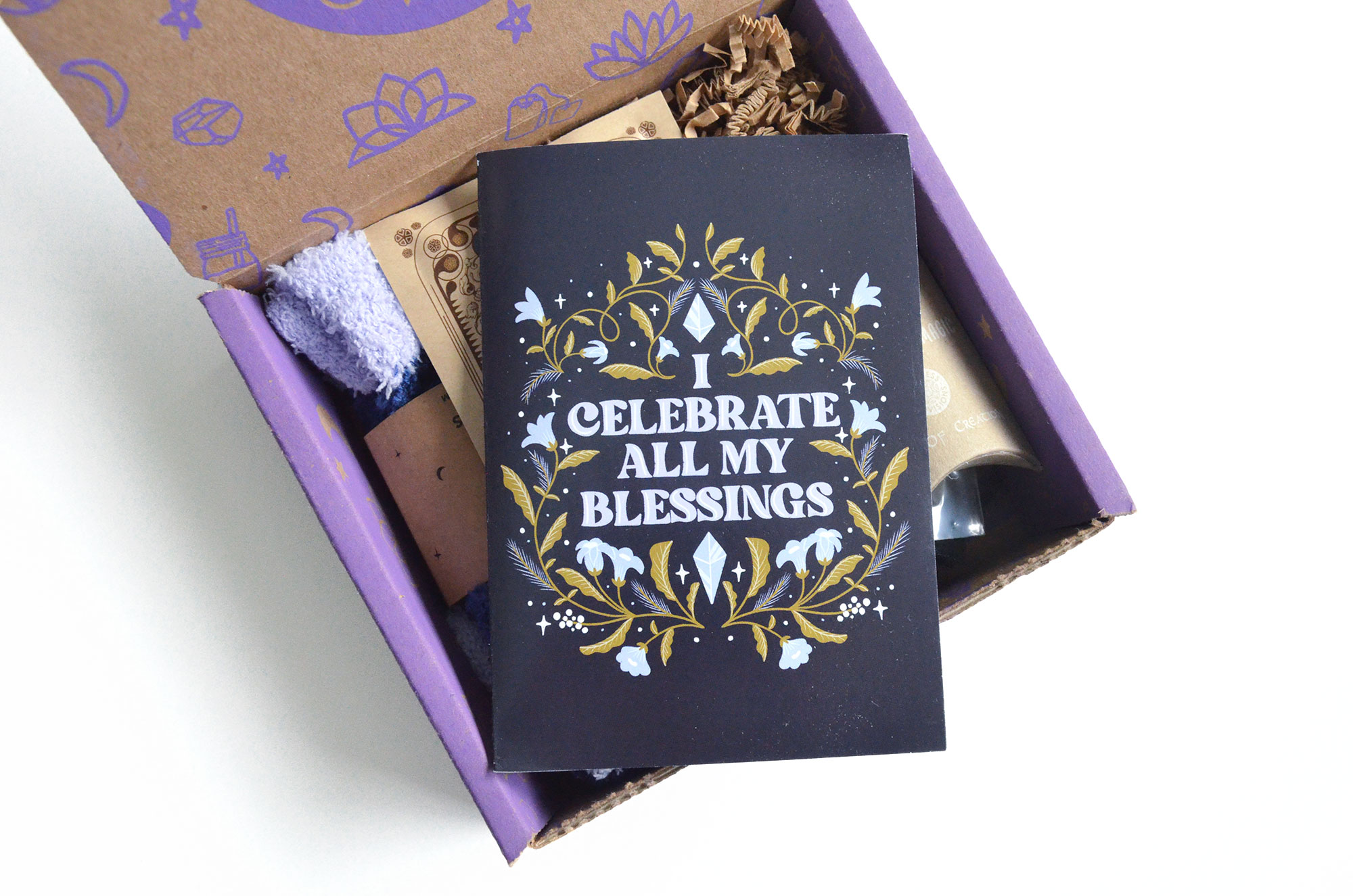 Box Insert
I love this box's insert! Every month they have a different artist create the cover art to match the theme and it's always so beautiful. This month's cover design is by @creativewannabe_ and feels very wintery and crisp. I love the message to use as one to focus on when turning inward during the cold months of winter. The inside of the insert contains product information, uses and value along with coupon codes from many of the creators. Overall it's just so nice to look at and the cover art could totally be framed!
Fuzzy Dreams Socks ($12)
"Slip into something cozy on a cool winter's night. These fuzzy socks are the perfect addition to an evening by the fire, writing out your solstice intentions with a cup of warm tea."
Fuzzy socks are a winter necessity and these are super cute. I love the color combo and the fun time keeper (I can't remember what those are actually called) patch on each one too. It's a positive reminder that time keeps moving forward and that winter and short days don't last forever. I was needing a few fresh pairs of fuzzy socks this season so I'm glad these were in the box.
Icy Glow Candle from Lit Rituals ($10)
"This handmade soy blend candle is lightly scented with clove and eucalyptus essential oils and decorated with salt to symbolize ice and connecting to the present moment."
This is a lovely candle that looks and smells like winter. It's comforting winter-like aroma is cool and spicy, making it feel extra cozy once it's burning I'm sure. I think it might have some clear quartz crystals in it? That plus the addition of salt gives it a cool look and an extra wintery feel.
Celestial Magic Ritual Lighter Case from Seed of Creation ($33)
"Upgrade your ritual tools for the turn of the season. This brass lighter case will adorn any regular-sized Bic lighter in magic."
This is so cool! I don't actually have a lighter (yet) that this case will work on, but now I have a reason to get one. I love the idea of jazzing up a boring lighter to make it look prettier and more vibey for an altar set-up. This will be perfect for pairing with a wintery candle or incense for a cozy meditation session. The energy it gives off is sure to enhance any rituals it's added to.
Coconut Cream Dark Chocolate Bar ($6.50)
"Enjoy a decadent treat without the guilt. This creamy dark chocolate bar is dairy-free, gluten-free, and free of refined sugars for a delightfully sweet treat."
Yum! This sounds absolutely delicious! The caramelized coconut mylk flavor really intrigues me, it sounds so good. I like that this bar is made without refined sugar and only a handful of simple and organic ingredients too. I'm into the ritual of having a little chocolate square in the evening time and really look forward to trying this one out for a night time wind down.
Clear Quartz Ring from Hiouchi Jewels ($44)
"Connect with the healing energy of Clear Quartz. Made from the metal of the psychic mind, this adjustable silver-plated ring not only accents your outfits but helps you channel psychic energy."
What a beautiful ring! I love the details and the neutral stone color. I personally also like the larger size of the stone, it makes a statement. And how fun that it's said to help channel psychic energy? Maybe I can use it to see how long this winter season is expected to last!
Blue Chalcedony ($4)
"Enter the new season with harmony and clear of energetic blockages. Use this balancing stone to help guide you to make the best decisions for your spiritual growth."
I don't have this stone in my collection yet and love the pale blue color. It's very wintery feeling and matches the theme well. The wintertime is a great time to slow down and focus on growth and with this stone assisting with guiding growth it's sure to come in handy this season.
Goddess Provisions Box Review December 2021 – Final Thoughts
I love this month's Goddess Provisions theme with it's icy, cool, yet cozy vibes. I really don't care for winter or the shorter days so am always excited once we hit the winter solstice and days inch toward longer light and warmth. Every item in this box certainly helps cheer my mood about the short days and dreary weather though. I don't even have a lighter in the style of the lighter case, but I think I'm most excited about that item as it's so unique and cool. Though, I am also really excited about the chocolate and I can never have enough fuzzy socks too. Overall, every item is wonderful and useful for slowing down, appreciating the moment (even if it's a cold and dark one) and reminding me to use the down time to look inward for growth. This box is always one of my favorites!
The Botanic Gal – http://www.botanicgal.com