Goddess Provisions Box Review – December 2022
Goddess Provisions is a monthly subscription box that helps light up your soul and nourish your inner goddess to grow your spiritual practice. They kindly sent us this box for review.
Goddess Provisions was created as a way to share tools found to help connect with your divine feminine and grow your spiritual practice. They know we all share in the "busy-ness" of life, but believe in the importance of taking the time to manifest journal, meditate, frolick around in nature, pet kittens, practice yoga, have reiki healing sessions, do tarot card readings, drink green juice, write out the things we're grateful for, check the astrology forecast and charge our crystals under the full moon. If you enjoy these simple pleasures too, they know you're going to feel like their monthly box was curated just for you by a true soul sister.
Each month you'll receive a thoughtfully curated box that contains 5-7 FULL SIZE products including items like crystals, aromatherapy, superfoods, apothecary beauty & spiritual tools. All items will be 100% vegan and cruelty-free because they cherish our furry friends. They consciously package each curation in kraft paper boxes made from 100% recycled materials that are printed on with plant-based inks. Also, for every box and boutique item sold, they plant a tree!
Subscription Details
There are 4 subscription options for Goddess Provisions:
$33/month for month-to-month
$99 or $33/month for 3 month pre-pay
$178 or $29.66/month for 6 month pre-pay
$333 or $27.75/month for 12 month pre-pay
Shipping to United States is free, Canadian shipping is $15, and International shipping is $25. First time subscribers will be shipped to by the 20th of the month. Ongoing subscribers boxes ship during the first week of each new month.
December Box Details (Total Value $106)
The December box theme is "Spirit Allies" and is filed with all kinds of tools to channel energies from your spirit helpers.
Here's a look at what's in this month's Goddess Provisions box:
Box Insert
I love this box's insert! Every month they have new cover art created by their resident artist (@best.wiishes) to match the theme and it's always so beautiful. The inside of the insert contains product information, uses and value along with coupon codes from many of the creators. Opposite from the product information about a fun product in their marketplace, the 2023 Moon Wisdom Planner that looks like a great tool for manifesting a great new year. Overall it's just so nice to look at and the cover art could totally be framed!
Spirit Allies Oracle Deck ($24.99)
"Connect to the guides all around you with this vibrant 60-card oracle deck and guidebook. Written by jill @goddessprovisions & cidney @cidney.elizabeth, illustrated by jay @creativewannabe, and published by sterling ethos @unionsqandco."
Such a lovely oracle deck! I love the colors, the artwork and the chosen allies on each card. I also really appreciate the guidebook it comes with for extra explanation and guidance. Using these would be such a grounding part of a daily ritual. I'll have to incorporate these in my intentions for the new year.
Cosmic Serpent Oracle Card Holder ($18)
"Embrace your routine and display your daily oracle pulls with this mystical card holder. Inspired by our serpent guides, remember the power of transformation each time you lay out a card."
Of course this is a great pairing for the oracle cards above. It's wood material is simple, yet beautiful and the design on it is lovely and intricate with it's moon phases incorporation and shimmery gold coloring. It holds the cards perfectly and would be a nice addition to an altar space for reflection.
Divine Guidance Planchette Ornament ($14)
"Commonly associated with the ouija board, the planchette is a tool that can be used to find the answers you seek. Hang this on a tree, in your window, or on a doorknob to remind yourself that the answers are always within reach."
Well this would be the perfect ornament to add to a festive spiritual magic tree! I don't have one of those per say, but that would be a fun theme for one for sure. Since I don't have one, I will certainly find another home for this as suggested. I like it's design and the reminder that answers are always within reach. A grounding reminder for sure!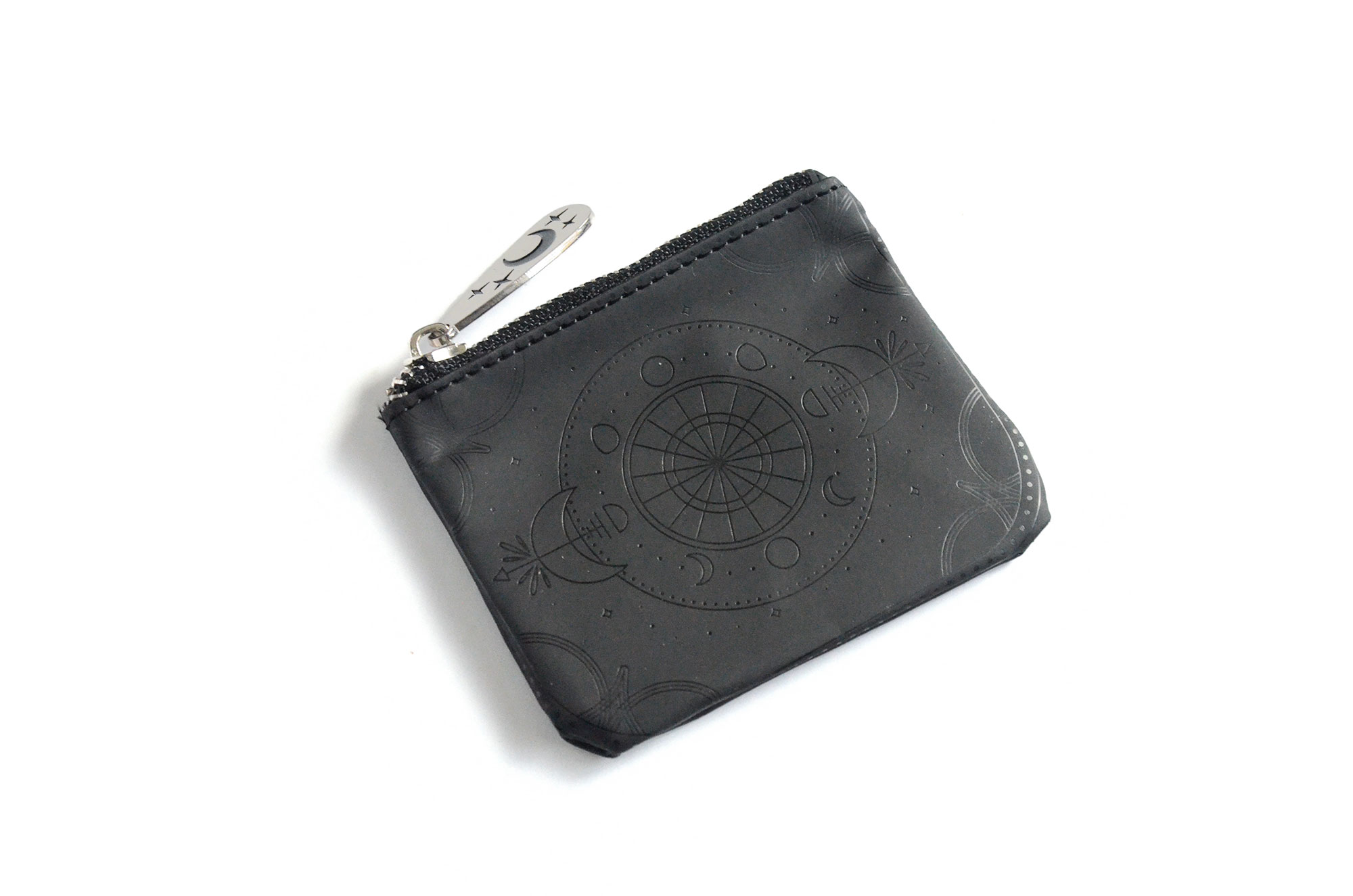 Celestial Magic Coin Purse ($11)
"This vegan leather coin purse is the perfect holder for your loose change or to keep your crystals, money and other valuables from disappearing into the depths of your bag."
This item is cute and useful. I like the monotone design that's detailed when you take the time to study it. I like the moon phases and the moon on the zipper too. I'm always in need of little pouches for organizing so this will be useful for sure.
Moon Magic Necklace ($38)
"Clear your chakras and help remove energetic blockages with this clear quartz necklace. Wear this when you are seeking clarity or connection to your spirituality."
What a pretty necklace! I like the small pendant size and also the clear quartz that was chosen for it. It has great healing properties that can be useful often. Of course, the moon emblem on it is so cute too, a subtle yet effective design touch.
Clear Quartz
"The Clear Quartz on your necklace is known as one of the "master healer" crystals. Wearing this stone can help you connect with your psychic abilities and amplify the properties of any other stones you're working with."
Aside from the vast healing properties of this stone, I love that they chose it for it's look too. The simplicity of the clear crystal stone makes it wearable with many outfits. Plus it's hazy white color works well with the moon vibes.
Final Thoughts
I like this theme for a year end box. Kind of like an encompassing box of tools for all your spiritual needs. Perfect for wrapping up a year of wonderful spiritual tools received. I especially love all the moon phases in the designs throughout as a reminder that throughout a year we all go through many phases too. Whether or not that was intentional, it makes me think that and I feel it's a great reminder. I will definitely enjoy using all these tools as I consider my intentions for the coming year ahead and really look forward to seeing what fun things Goddess Provisions will come up with to send in next years boxes!
The Botanic Gal – http://www.botanicgal.com